TRADITIONAL MOUNTAINEERING ™


www.TraditionalMountaineering.org ™ and also www.AlpineMountaineering.org ™

™
FREE BASIC TO ADVANCED ALPINE MOUNTAIN CLIMBING INSTRUCTION ™
Home | Information | Photos | Calendar | News | Seminars | Experiences | Questions | Updates | Books | Conditions | Links | Search

Brittany Griffith autographs a photo for TraditionalMountaineering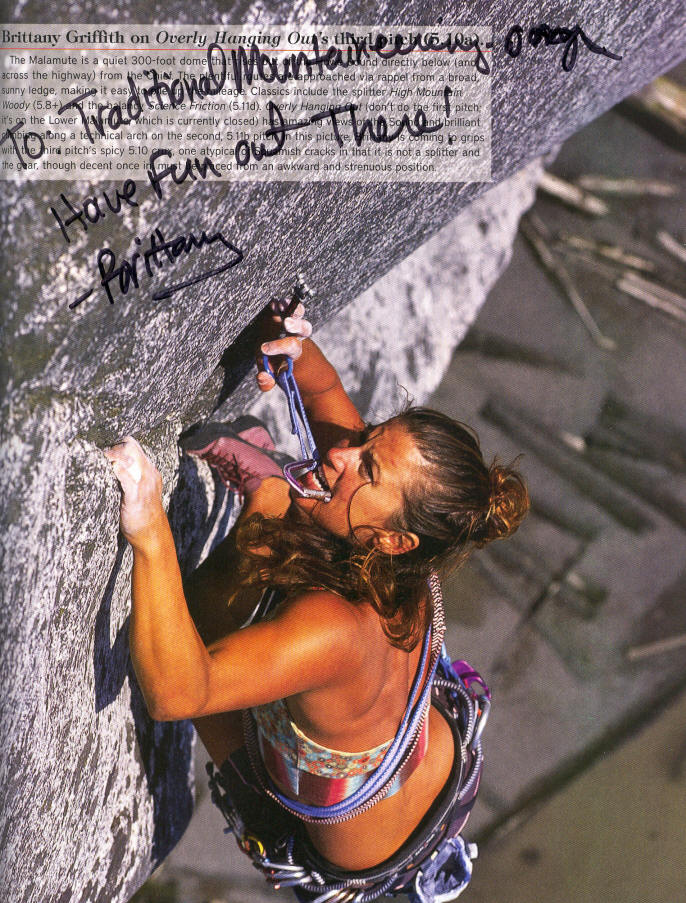 Brittany Griffith has climbed big walls in Yosemite, red-pointed 5.13b, competed on the NORBA pro downhill circuit and holds a black belt in Tae Kwon Do
Never one for complacency, Brittany's climbing prowess has seen her on-sight 5.12c and saunter up such notable Smith Rock routes as Oxygen (13b), The Backbone (13a), Darkness at Noon (13a) and Taco Chips (12d). Always humble, Brittany is quick to dismiss her amazing grace, insisting she loves gravity sports too much to limit herself to just one.

Her three state championships in three different disciplines speak to a balanced approach to excellence that resonates with Patagonia's core values and commitments.

Favorite Patagonia Products
"If you were here, it would be easy. I would simply unzip my Freightliner (MAX), which has dual purposes of checked baggage and my closet away from home, and peer into it. The contents of this bag get packed, worn, unpacked, washed, and then repacked for the next trip countless times a year.

Because the bag weighs 10 lbs. 3 oz. and my toiletries weigh 2 lbs 6 oz., I only have a 37 lbs. 7 oz. clothing allotment."

Criteria for what goes into this bag
"Must be useful for a minimum of two activities. Example: Climbing pants I can wear to the pub (Hemp High Wire), a warm coat I can wear at camp but still looks good with a skirt (Women's All Around Down). Capilene Silkweight bottoms are fabulous for multi-purposes. In a larger size they serve as pajamas or lounge-around pants, and if sized smaller they are great under skirts, and of course, their intended purpose, as long underwear. "My new favorite top is the Wool 2 Performance Base-layer in black. It is a great piece that works for everything and doesn't get stinky for at least four days, AND it is dead sexy unzipped, with a tiny bra peeking through underneath. Very effective for après ski excursions.

"The Down Sweater and Specter are my fast and light pieces that come with me to the top of 1,500-foot free climbs, as well as 30,000 feet on a 747. Liner socks, you wouldn't think that they would have any other function than the obvious, but they are the only socks I can wear under my knee-high black leather boots.

"Men's Silkweight boxers serve as running shorts, sleepwear, hiking hot approaches and the odd, very odd, hotel fitness room workout. They've even been known to make it into the Jacuzzi in emergencies. "Doing laundry in foreign countries is very expensive so these garments must not take five days to drip dry and must look acceptable slightly soiled. Ultimately, within these categories, I must always have something soft and something sexy, but always simple."

Retrospective
"The year 2005 was not limited to the rocks. I was home for just 53 days, climbing, surfing, snowboarding or mountain biking in eight different countries – and from coast to coast in the States – where I experienced various cultures, climates, accents and drinking establishments. "My climbing goals and projects no longer focus on difficult grades or firsts. This might well be attributed to my dwindling attention span, or the fact that for me, my life as a 'climber' has evolved into something a little less specific. "What drives me now is getting out there, packing in as many adventures and experiences that I can in hopes of promoting the concept that we can live with less and have more. I would like to see my travels take me places where I can offer something in return to the communities and environments I come in contact with. Perfect granite and warm saltwater would be nice, too!"

My recent Calendar
January – snowboarding in Idaho and Colorado, ice climbing in Colorado, surfing in Mexico
February – shooting for Discovery Channel TV series in Chicago, Milwaukee and Denver; home in Oregon for three days, climb and snowboard; meet with accountant March – climbing, surfing in California; climbing Nevada
April – climbing in France, the Czech Republic and Poland (lots of beer and wine)
May – climbing in Utah, West Virginia and Colorado
June – climbing in Washington, Idaho and California
July – clubbing in Chicago, radio talk show with Stan and Terry; climbed some snowy volcanoes in Oregon Cascades and the Squamish chief three times;
August – climbing in Montana, Idaho, Utah and Canada
September – climbing in Washington, Sierras, Utah, SoCal and Boston, yes, Boston
October – climbing in Joshua Tree, Indian Creek, Black Canyon and Smith Rock
November – Climbing, but mostly driving around in a van, with southeast Patagonia rep in North Carolina and South Carolina; photo shoot in Joshua Tree
December – snowboarding Oregon, and climbing in England, France and Spain; Haircut Upcoming Projects China, Africa and Malaysia; several women's climbing clinics at Smith Rock and kids outings in Washington in conjunction with Vertical World in Seattle.

http://www.patagonia.com/usa/patagonia.go?assetid=1879

Read more . . .


ABOUT ALPINE MOUNTAINEERING


The Sport of Alpine Mountaineering


Climbing Together


Following the Leader


The Mountaineers' Rope


Basic Responsibilities


The Ten Essentials


Our Mission

Notable Events
Free solo climber Michael Reardon swept from Irish sea cliff and drowns
Bend's Mountain Link Guides put four climbers on the summit of Everest!
Climbing Aconcagua with Mountain Link from Mendoza to the summit A 23 minute video by Whitaker Productions


HERA , Rebeckah Berry and the Climb for Life at Smith Rock State Park
Royal Robbins speaks on 40 Years of Adventure, first ascents and first descents
Steve House of Bend and Vince Anderson summit Rupal Face Alpine Style


REI opens new store in Bend Oregon
Patagonia by Pandora's Backpack get a new website
Tommy Caldwell free climbs both The Nose and Freerider in a day
Climbing Mount Hood in April with Arlene Blum and friends
Tomaz Humar rescued from Rupal Face in Pakistan
Jim Ratz, NOLS Director, AMGA Director and Environmental Leader dies in climbing accident
Climbers summit Rainier, Adams and Hood in 28 hours!
Pandora's Backpack opens in downtown Bend Oregon
Ed Viesturs summits Annapurna
Jim Angell, master trail builder, dies at age 76
Fred Beckey, "Will Belay For Food!!!
Smith Rock "Spring Thing"
About Brad Washburn by Michael Chessler
Top of the world: Bend team set to scale Mt. Everest
Annapurna, a woman's place is on top
The search for Peter Starr
Seven summits in twenty-four hours in Oregon Cascades
Mountaineers mourn Ira Spring
Climbing Legends returning for another shot at Everest
Fred Beckey, icon and living legend
Galen and Barbara Rowell die in plane crash
Mike Bearzi spearheads donation of rescue cache to Smith Rock
Veteran alpinist Mike Bearzi dies while climbing in Tibet
Bend's Midge Cross with women's team on Everest!
Bend's Nancy Knoble climbs Aconcagua!

SMITH ROCK
American Alpine Club's 2007 Annual Meeting in Bend Oregon
Smith Rock Detour Bouldering Contest and Reel Rock Tour
Redmond Fire Department rescues a senior hiker at Smith Rock
Smith Rock Spring Thing in 2006
Smith Rock Spring Thing 2006 volunteer's party at the Barn
HERA climb for life fundraiser at Smith Rock
HERA climb4life party at the Smith Rock Barn
American Alpine Club and Traditional Mountaineering build another rescue cache at Smith Rock
Smith Rock Spring Thing Improvements
Smith Rock Spring Thing 2004 Party!


Smith Rock hiking in the spring
Smith Rock from above the Burma Road
Smith Rock rescue cache by AAC/ORS and TraditionalMountaineering
Smith Rock weekend
Smith Rock Monkey Face practice

AUTOGRAPHS
Brittany Griffith, Patagonia Athlete and American Alpine Club Ambassador
Garrett Madison, Mountain Link Senior Guide
Robert Link autographs a poster
AAI Senior Guide Michael Powers guides the classic peaks of Switzerland
JJ Justman autographs a summit photo for TraditionalMountaineering
Eric Simonson autographs a photo for TraditionalMountaineering
Scott Backes signs a book for TraditionalMountaineering
Ed Viesturs autographs a poster for TraditionalMountaineering
Ed Viesturs summits Annapurna
Jim Frush autographs a photo of Al Gore and son summitting Mt. Rainier

Search this site!
Copy and paste these search suggestions:

Alpine Mountaineering
Light and fast alpine climbing
Accidents in North American Mountaineering