TRADITIONAL MOUNTAINEERING ™


www.TraditionalMountaineering.org ™ and also www.AlpineMountaineering.org ™

™
FREE BASIC TO ADVANCED ALPINE MOUNTAIN CLIMBING INSTRUCTION ™
Home | Information | Photos | Calendar | News | Seminars | Experiences | Questions | Updates | Books | Conditions | Links | Search

Top of the world: Bend team set to scale Mt. Everest

Top of the world: Bend team set to scale Mt. Everest
Only one in five make the summit; local firm's founder did so in '90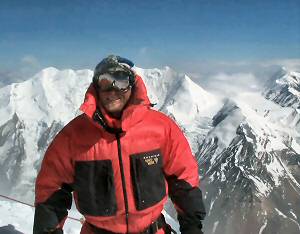 Jeff Justman of Bend, co-leader of Everest summit bid,
posed at Camp 3, 21,500-foot-level of Dhaulagiri,
world's seventh-tallest peak. (Photo by: Mountain Link)



By Barney Lerten
Bend.com
Posted: Sunday, March 14, 2004 8:42 PM

March 14 - Jeff Justman just moved to the High Desert last fall, but it's nowhere near as high as the place he's visiting next - and if all goes well, he'll soon be among the relative few who have reached the highest spot on the planet.

A mountaineering guide service that moved to Bend just last September is about to take on the ultimate challenge: Reaching the summit of Mount Everest, at 29,035 feet the world's tallest peak. And you will be able to "go along" with them, thanks to the Internet and live coverage of the "Mountain Link Everest 2004" expedition.

It's a daunting challenge, as Justman, 31, knows: "Right around 20 percent (who attempt the climb) make it" to the summit. But he's got a lot of training and an expert advisor on his side, in hopes of beating those odds.

Mountain Link founder Robert Link is no stranger to the challenges of the Everest climb. He made the summit of the Himalayan peak in 1990 with the Everest Peace Climb, which put Russian, American and Chinese climbers on the summit together, history's most successful Everest expedition. Link, a pioneer of American mountaineering, also was among the first Americans to scale the world's third-highest peak, Kangchenjunga, at 28,169 feet.

Justman – a guide for 10 years, the past six with Mountain Link – will co-lead the expedition with fellow Mountain Link guide Lhawang Dhondup, a Tibetan native who has reached the summit of Everest and numerous other Himalayan peaks. Dhondup also will be the "Sirdar," the head climbing Sherpa.

"Our expedition will have five Sherpas, who happen to be the strongest Sherpas in the world," said Justman, whose firm also moved to Bend last September, from San Francisco.

Justman will be making his first Everest climb, but he's participated in two Himalayan expeditions: to Dhaulagiri, at 26,794 feet the seventh-highest peak on the globe, with Mountain Link two years ago, and Manaslu, No. 8 on the list, at 26,781 feet.

Sherpas are a tribe in Nepal that come from the highest regions and are known for their superior physiological ability to deal very well with very high altitude. As the backbone of Himalayan climbs, they assist expeditions in carrying their gear up the mountain and putting in the climbing routes.

'Leap-frogging' up Everest

Also on the small expedition will be a man and woman from New York City who have climbed with Mountain Link around the world, Justman said. The woman hopes to be the first native of the island of Malta to reach the summit, he said.

The group leaves the U.S. on Thursday, March 18 for Kathmandu, Nepal, beginning a journey expected to last about two months.

"First, we have to trek to Everest Basecamp, which is over 17,000 feet," Justman said. Once they reach that point – already three times the altitude In a sense, you are slowly leap-frogging up the mountain, getting used to the increasingly thin air.

"If a person went from sea level and were able to fly to the summit of Everest and get dropped off, it would take about five minutes before the person would pass out and die from lack of oxygen," he said. "So climbers must properly acclimatize by gradually climbing high and sleeping low."

From basecamp, they will climb to 19,000 feet and make "Camp 1," then return to basecamp to sleep. A few days later, they climb back to Camp 1 and stay there, Justman explained. Then they climb above Camp 1, to about 22,000 feet, and make Camp 2, but again return to the lower altitude of Camp 1 to sleep.

"In a sense, you are slowly leap-frogging up the mountain, getting used to the increasingly thin air," Justman said.

The plan is to make four camps, the highest at almost 27,000 feet. From there, they will make their summit attempt, sometime in May, depending on the weather.

"In any climbing expedition, the most important thing is to return to the lowlands alive and healthy," Justman said.

On the Mountain Link Website, "we're going to be providing stories, photos, pretty much live as they are going on," Justman said.

Number of summit tries growing

Last year, record numbers of climbers attempted Mount Everest, according to the Website www.everestnews.com.

"Sources tell EverestNews.com the mountain is loaded with snow this winter," the site states. "This appears to be causing some expeditions to cancel, along with the usual reason - money! Last year, record numbers of climbers resulted in over 200 summits in bad weather conditions."

"Good weather is expected to bring hundreds of summits per year on Everest in the future," the Website said, adding that "500 summits in a single year could occur with good weather conditions in the very near future, with many Sherpas summiting the mountain two or more times in a season."

The weather is the one element out of the climbers' control, Justman said, which is why the success rate is so low and the risks so high: "If the weather is bad, you can't sit at 27,000 feet, waiting for when the weather is good."

Why take the risk? The most famous answer – "Because it's there" – was spoken by British climber George Mallory, whose remains were found on the mountain only five years ago, 75 years after his team's disappearance on the peak in 1924. Whether he ever made the summit, just hours away when last seen, remains a matter of fierce
conjecture and debate.

It took 30 years after Mallory's "Because it's there".
George Mallory, answering "Why climb Everest?" - he died on the peak

disappearance before another British expedition leader, Sir Edmund Hillary, and Sherpa Tenzing Norgay became the first climbers to reach the summit, and safely descend again. This year, on May 29, marks a half-century since their pioneering, successful summit.

Justman figures Bend is a great place to prepare for such a challenge.

"I am amazed with Bend," he said. "For one thing, there is every outdoor pursuit to enjoy, from road cycling, kayaking, skiing – everything. Secondly, because of that, it seems that everyone in Bend loves to get out and enjoy the outdoors. It's the healthiest community I have ever seen."

Still, he said, there's little comparison between a climb up Smith Rock (or an indoor climbing wall) and the type of expedition he's about to lead.

"You do have rock climbing here – you climb the rock, sit in the sunshine," he said. "Then you have high-altitude mountaineers. It's a little different style climbing, a little more suffering. You can't go back to the car when you're done and have a beer."

Climbers need oxygen - and cash

Many climbers will start using oxygen above 25,000 feet. "At that altitude, your body cannot utilize enough energy through your body's food storage," Justman said. "Literally, your body needs so much energy that it begins to eat itself."

"Which is why part of my training routine is not only to do cardiovascular and lift weights at Gold's Gym, but I spend the last month before I depart eating as many cheeseburgers, bacon, donuts and drinking the fine beer at Deschutes Brewery to fatten up," he said. "I typically will lose 20 to 30 pounds on a Himalayan expedition."

There's costs beyond the physical, of course. Justman said many people who hear that climbing Everest costs $65,000 a person "think there is big money in high-altitude mountaineering." But it costs a lot – including a "very large" permit fee, he said, not to mention gear, hotel costs, etc.

"So there is not much profit in the Himalayan game," he said. "I climb because it's the ultimate challenge – not just Everest, but every mountain I climb. It is physically, mentally and emotionally challenging."

But he calls it "impossible, even with photos, to describe the beauty of standing on the world's highest mountains. It's unfortunate few people get to see that beauty, because once you do, it changes your outlook on life – for the better."

Ironically, Justman grew up in one of America's least mountainous states – Wisconsin. As it turns out, he said with a laugh, "Some of the best mountaineers come from the flatlands."


click
The rest of the story:
Bend's Everest climber relishes all-time high
Jeff "J.J." Justman says reaching world's tallest spot was a challenge
By Barney Lerten
Bend.com
Posted: Thursday, May 27, 2004 10:37 PM


May 27 - Jeff Justman is back home in Bend from the highest point on the planet, and that's about as surreal a sentence for him as it sounds. But less than two weeks after reaching the 29,035-foot summit of Mount Everest, he's ready to leave the small, chummy Westside office of Mountain Link, head back outdoors and spend the summer climbing some more.

Justman – call him "J.J.," everyone does – soon will be back leading trips up Mount Rainier – less than half as tall as Everest, but a challenge nonetheless – as a senior guide with Rainier Mountaineering Inc. If he makes it to the top seven times, that'll make an even 100. He's also planning a trip to Russia, with company founder (and previous Everest summiteer) Robert Link, to again scale 18,500-foot Mount Elbrus.

From 1953, when Sir Edmund Hillary famously reached the summit of Everest, through the year 2000, only about 1,300 people had followed in Hillary's footsteps, though many more tried and turned back, for a variety of reasons. The idea, the notion of such a climb is obviously far more popular and easy than the reality. It's still a rarified club, as some 80 percent who make the attempt don't make the summit.

Justman's journey to Kathmandu was a perfect example – while he, a fellow guide from Portland and four Sherpas made it to the summit, a New York City couple who intended to make the journey as well had to turn back – Liz Price, when she learned she was pregnant, and her fiancée, Joe Hughes, when he suffered pulmonary edema.

That's something that usually can happen when teams try to acclimatize too quickly and move up too fast, surely not the case for this expedition, which began in late March and reached the summit only about a week later than planned, despite the medical issues.

"It definitely was more difficult than I thought it was going to be," Justman said Thursday, a couple of days after arriving home.

The 31-year-old former collegiate Nordic ski racer has climbed peaks all over North and South America and has certificates in outdoor emergency care, Level II avalanche awareness and the philosophy called "Leave No Trace." But for those who think mountain climbers must want to be alone (as Greta Garbo once said), get this: he also has a master's degree in interpersonal and organizational communication.

As his e-mail dispatch after Summit Day indicated, they struck gold in the one element you can't control: the weather, usually harsh and foul, at best, but on Sunday, May 16, amazingly clear and calm for "the top of the world."

"The biggest challenge, even on a good summit day like we had, is the combination of the physical and mental strain altitude has on you," Justman said, which in Everest's case is something of a 50-50 split. He talked of having to be like "the Little Train that Could," saying, "'I think I can, I think I can.' Once your mind says 'I can't,' the ball game is basically over."

Justman quoted his mentor, Link, on a climb of Mount McKinley: "It doesn't matter how strong you are. It matters how tough you are."

More than 100 people had climbed Everest this year by around the time the Mountain Link group made it to the top. "In the climbing community, when something becomes popular, you get a group of people who knock it: 'Tons of people go there, tons of people climb it.' … Unless you have climbed Everest, you cannot say anything about it."

Some have made it to the summit without supplemental oxygen, but for Justman, it was not only necessary, but part of the scariest point, when his mask froze up. It happens at that high an altitude, and there's an opening at the front to knock the ice off, but that wasn't doing any good for Justman and he "literally became scared for my life." Fortunately, lead Sherpa Lhawang Dhondup had an extra mask on hand, pulled it out and that made all the difference.

He wasn't about to try it without oxygen. "I've lost enough brain cells to altitude," he said with a laugh. "I'm not going to become any more dumb."

The climbing party headed out of base camp around 9:30 p.m., climbing a steep face in the darkness. But it's not exactly a free-spirited journey, since there's a fixed route, and a fixed line – a rope attached in the mountain – that climbers clip onto, so "if you start to fall, you're not going to go anywhere." That doesn't alleviate the danger, though, not by a longshot.

Still, on this day, it was more like the Bend Parkway at rush hour, with over 80 climbers attempting the summit, due to the good conditions. Unfortunately, he said, by the time they got going, "pretty much everyone was ahead of us," including some who simply were not moving. "We said, 'Hell with this,'" unhooked and moved up the route to get going.

So how big is the summit itself? Justman compared it to a large table top: "Probably 15 could squeeze onto it." He said that since they were all guides and Sherpas, not paying customers to keep watch over, they had made the trip without taking a break, and that's what he asked for when they reached the summit, so they had some hot tea.

The group reached the summit around 6:30 a.m., just as the son rose, for a truly magnificent view, looking down on a layer of low clouds. Many have made the top in a cloud cover that made it impossible to see anything, but on May 16, "you could see all the peaks in the Himalayas," Justman said. And the temperature was a "beautiful zero to 10 degrees." Huh? Well, at that altitude, minus-20 to minus-30 is the norm.

What was the emotion of the moment? "Definitely exhilaration," he said. "Very happy." And a sense of accomplishment, of course. But the work is far from over, at that point.

"You think, 'We made it up here,' and it's hard, but getting back down is even harder. You know, as a guide, people will push themselves too hard." And so, like the trip up, Justman took inventory of how he was doing and feeling. "The last thing you would want to do on the highest mountain in the world is have a problem coming down."

According to www.everestnews.com , at least a half-dozen climbers have died on Everest this spring, and one is missing. The disappearance happened three days after Justman's summit climb.

There's another "ultimate summit" test many climbers try – to scale all 14 of the world's peaks that soar to 8,000 meters (26,000 feet) or higher. Justman has made the top of three, so far.

But for the cozy club of successful Everest climbers, there's a scene straight out of "Indiana Jones" – a wall to sign at the famous bar, the Rum Doodle. A wall protected under glass, with just about every successful summit climber's signature.

Justman said he didn't get to add his name, because he didn't have proof of his adventure's success (yet). That'll be coming in the mail – a certificate like the one Link has, high atop an office bookshelf, from the Nepalese government. And he figures he'll be back, perhaps as soon as next year, to climb Everest again, and sign that wall.


click

Read more . . .
Mountain Link website
Robert Link autographs a poster
Bend team set to scale Mount Everest
Dispatches from Mountain Link's Everest summit
Photos of JJ's Everest summit
JJ Justman autographs a summit photo for TraditionalMountaineering

About Alpine Mountaineering: Interesting essays reviewed 03.01.04


The Sport of Alpine Mountaineering


Climbing Together


Following the Leader


The Mountaineers' Rope


Basic Responsibilities


The Ten Essentials


Our Mission

Alpine climbing on snow and ice: FAQs reviewed 05.01.04
How long is the traditional alpine mountaineering ice axe?
What about climbing Mt. Hood?
Is alpine mountaineering the root of the many sports of climbing?
What should I know about travel over hard snow and ice?
How can I learn to self belay and ice axe arrest? 6 pdf pages


What should I know about climbing Aconcagua?

Search this site!
Copy and paste these search suggestions:

"Light and fast alpine climbing with Midge Cross"
"Accidents in North American Mountaineering"