TRADITIONAL MOUNTAINEERING ™


www.TraditionalMountaineering.org ™ and also www.AlpineMountaineering.org ™

™
FREE BASIC TO ADVANCED ALPINE MOUNTAIN CLIMBING INSTRUCTION ™
Home | Information | Photos | Calendar | News | Seminars | Experiences | Questions | Updates | Books | Conditions | Links | Search

Eric Simonson
"Climber, Guide, Instructor, Peak Bagger, International Mountain Guides Director,
and Unhurried Seven Summiter"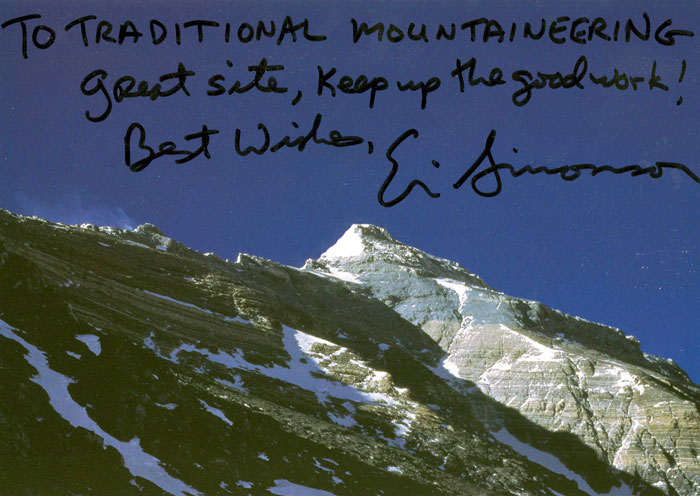 Copyright© 1999 by Andy Politz, May 1, 1999 - The 1999 Mallory and Irvine Research Expedition. All Rights Reserved.
Mt. Everest's summit and Northeast ridge with the First, Second, and Third Steps
from the same spot as viewed by Odell on June 8, 1924.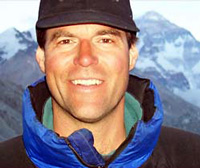 Eric Simonson
Climbing & Trekking Guide
International Mountain Guides Director
"Eric has been a professional mountain guide since 1973 and has personally conducted over 85 major expeditions around the globe, including over 25 to the Himalayas. He has become recognized internationally as one of the world's premiere mountaineering expedition leaders, specializing in climbs of Mt. Everest and the other classic 8,000m peaks of the Himalayas. During his thirty-year professional career he has spent over 5,000 days of active guiding, and is a Senior Certified Alpine Guide and Ski Mountaineering Guide with the American Mountain Guides Association, for which he served from 1998 to 2002 as a member of the Board of Directors.

Eric's guiding experience in the U.S. includes over 270 successful ascents of Mt. Rainier and 16 ascents of Mt. McKinley in Alaska. His international guiding and climbing resume includes expeditions on every continent of the globe, including ascents of the "Seven Summits" and eleven expeditions to Mt. Everest, reaching the summit in 1991 via the North Ridge. Other adventures have included Peak Communism (Tajikistan), Carstensz Pyramid (Irian Jaya), Cho Oyu (Tibet.), the National Geographic Society 1998 GPS Expedition (re-measuring Everest), and several scientific expeditions including high altitude botanical research on Mt. Kenya, recovering geologic samples from the Patriot Hills in Antarctica, glacial geology and snowline research in the Himalayas, and radiometric surveying in the western USA for the Department of Energy.

In addition to being a co-owner and active manager of International Mountain Guides, Inc., Eric is a co-owner and active manager of Mt. Rainier Alpine Guides. He co-authored Ghosts of Everest, published by The Mountaineers Books in October 1999, sharing the story of my 1999 Mallory & Irvine Research Expedition and recently named as one of the 20th Century's 50 best mountaineering books by the American Alpine Club. He also co-authored Detectives on Everest, published by The Mountaineers Books in July 2002, recapping the 2001 Mallory & Irvine Research Expedition which conducted the world's highest archeology project and culminated with the accomplishment of the highest mountaineering rescue in history."
###
Eric Simonson is a real guy who lives in the Pacific Northwest. Recently, friends of mine from Bend summited Mt. Rainier with "Simo". I had hoped to join that adventure but I had to cancel. I talked to Eric on the phone and have also exchanged emails. Be assured that he will be there personally, for you, on adventures from Rainier to Everest. Go to his web, linked below, and check out the trips he is leading. Go, if space is available. We thank him for his nice comments and autograph!
--Webmeister Bob Speik

Read more . . .
Eric Simonson's website

About Alpine Mountaineering:


The Sport of Alpine Mountaineering


Climbing Together


Following the Leader


The Mountaineers' Rope


Basic Responsibilities

Cuatro Responsabiliades Basicas de Quienes Salen al Campo


The Ten Essentials

Los Diez Sistemas Esenciales

TECHNICAL MOUNTAINEERING
What is the best traditional alpine mountaineering summit pack?
What is the best belay | rappel | autoblock device for traditional alpine mountaineering?
What gear do you normally rack on your traditional alpine mountaineering harness? Photos?


What is the best traditional alpine mountaineering seat harness? Photos?
Can I use a Sharpie Pen for Marking the Middle of the Climbing Rope?
What are the highest peaks in Oregon? Alphabetically?

CARBORATION AND HYDRATION
Is running the Western States 100 part of "traditional mountaineering"?
What's wrong with GORP? Answers to the quiz!
Why do I need to count carbohydrate calories?
What should I know about having a big freeze-dried dinner?
What about carbo-ration and fluid replacement during traditional alpine climbing? 4 pages in pdf


What should I eat before a day of alpine climbing?

ALPINE CLIMBING ON SNOW AND ICE
Winter mountaineering hazards - streams and lakes
Is long distance backpacking part of "traditional mountaineering"?
How long is the traditional alpine mountaineering ice axe?
What about climbing Mt. Hood?
What is a good personal description of the south side route on Mount Hood?
What should I know about travel over hard snow and ice?
How can I learn to self belay and ice axe arrest? 6 pdf pages


What should I know about snow caves?
What should I know about climbing Aconcagua?