TRADITIONAL MOUNTAINEERING ™


www.TraditionalMountaineering.org ™ and also www.AlpineMountaineering.org ™

™
FREE BASIC TO ADVANCED ALPINE MOUNTAIN CLIMBING INSTRUCTION ™
Home | Information | Photos | Calendar | News | Seminars | Experiences | Questions | Updates | Books | Conditions | Links | Search

Mountain Link's Senior Guide Garrett Madison moves to Bend, Oregon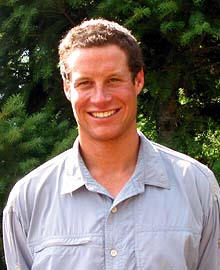 GARRETT MADISON


Garrett is a native of the Pacific Northwest who enjoys the many aspects of mountaineering objectives. He has been guiding for Rainier Mountaineering, Inc. for five years and climbs regularly in the Olympic and Cascade mountains. Garrett's particular specialty is in ski mountaineering and the vast possibilities this developing sport has to offer.

Climbing Resume
59+ summits of Mount Rainier
1 expedition to Mount McKinley
2 ascents of Mt. Blanc
Cho Oyu and Ama Dablam
2 ascents of the Grand Teton
Northwest Volcanoes
French Alps
Rock climbing in Thailand

Certifications
Wilderness First Responder
U.S. Avalanche Level II

Mountain Link
I am pleased to announce that Mountain Link has moved north to Bend, Oregon. This Central Oregon community is rich with local outdoor activities such as rock climbing, mountaineering, skiing, mountain biking and river sports. I look forward to having our business closer to the mountains, open spaces and the lifestyle that fits our passion for adventure. Being closer to the mountains will afford us the opportunity to build more domestic instructional programs in the nearby Cascades.

Mountain Link recently broadened its horizons internationally by offering trips to Mount Vinson in Antarctica and Mount Elbrus in Russia. The trips were blessed with great success. It has always been our goal to take on the challenge of exploring new adventures with first class service. We continue to work hard to stay on the leading edge of adventure travel.

While Mountain Link continues to grow and change, our philosophy and priorities remain the same: quality instruction in the latest mountaineering techniques and remembering to enjoy the process of mountaineering. Our guides are not only world-class climbers, but also exceptional teachers. Their true talents lie in their ability to mentor others, giving our customers great memories and climbing experiences that will serve them on future adventures.

I invite you to join us on one of our upcoming trips. The first step is always the most difficult, then it is just one after the other, and before you know it you are living the dream.

Come, tie into adventure!
-Robert Link

Copyright© 2004 by Mountain Link, LLC. All Rights Reserved.

Read more . . .
Mountain Link website
Robert Link autographs a poster
JJ Justman autographs a photo for TraditionalMountaineering
Bend team set to scale Mount Everest
Dispatches from Mountain Link's Everest summit
Photos from JJ's expedition to the top of Everest

About Alpine Mountaineering: Interesting essays reviewed 05.01.04


The Sport of Alpine Mountaineering


Climbing Together


Following the Leader


The Mountaineers' Rope


Basic Responsibilities


The Ten Essentials


Our Mission

Alpine climbing on snow and ice:
FAQs reviewed 05.01.04
How long is the traditional alpine mountaineering ice axe?
What about climbing Mt. Hood?
Mount Hood - climbing accident claims three lives -Final Report and our Analysis

Notable mountain climbing accidents Analyzed

Is alpine mountaineering the root of the many sports of climbing?
What should I know about travel over hard snow and ice?
How can I learn to self belay and ice axe arrest?
6 pdf pages

What should I know about climbing Aconcagua?
Bend's Nancy Knoble climbs Aconcagua

Search this site!
Copy and paste these search suggestions:

"Light and fast alpine climbing with Midge Cross"
"Accidents in North American Mountaineering"