TRADITIONAL MOUNTAINEERING ™


www.TraditionalMountaineering.org ™ and also www.AlpineMountaineering.org ™

™
FREE BASIC TO ADVANCED ALPINE MOUNTAIN CLIMBING INSTRUCTION ™
Home | Information | Photos | Calendar | News | Seminars | Experiences | Questions | Updates | Books | Conditions | Links | Search


Search this site!
Read more:
Print the flyer for a friend:
Royal Robbins speaks about "40 Years of Adventure, First Ascents and First Descents"

A joint adventure by TraditionalMountaineering.org and Tower Theater Foundation
This event was a great success! Over 400 people filled the Tower Theater.
Royal Robbins is an inspirational speaker! Thanks to everyone who participated!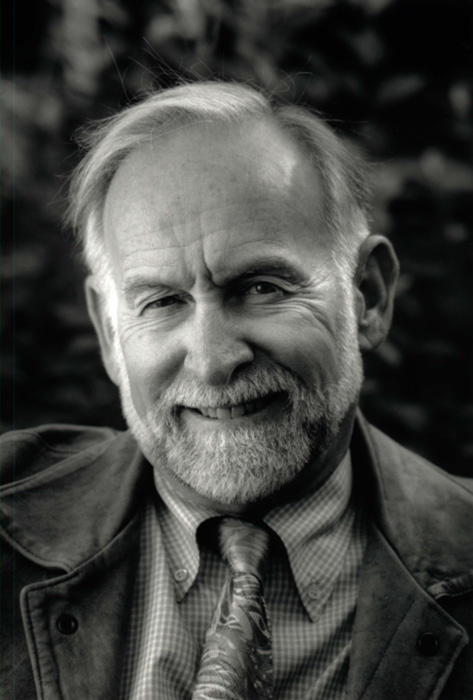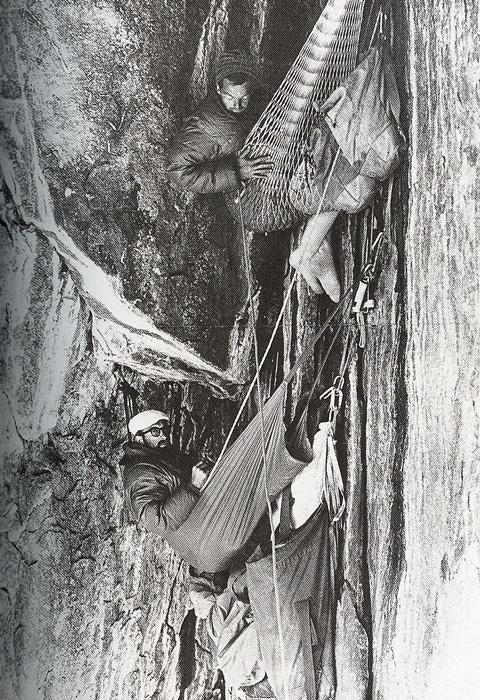 Royal Robbins today and Royal Robbins in 1964 after six days on the North American Wall of El Capitan with Yvon Chouinard, Chuck Pratt and Tom Frost.
Chuck Pratt took the photo.

"ROYAL ROBBINS: 40 YEARS OF ADVENTURE, First Ascents and First Descents"
Wednesday, March 22, 2006, 7PM, at the Tower Theater
Royal Robbins is one of the most influential American climbers of the twentieth century. A contemporary of Yvon Chouinard, Tom Frost, Warren Harding and other icons, Robbins became a major developer of techniques for big walls such as El Capitan and Half Dome, invented the Yosemite Decimal System, still in use for grading climb difficulty, and helped set a standard of ethics for clean climbing, without pitons or fixed ropes. Harding was first up El Capitan, but by the spring of 1968, when he soloed the second ascent of the Muir Wall, he had made either the first or second ascents of all of El Cap's major faces, as well as the first ascent of the Northwest Face of Half Dome.

Robbins was also named one of many "paddlers of the century" in Paddler magazine's January/February 2000 issue. He made the switch from pioneering ascents to pioneering descents as he mastered rivers over rock in later years. He has made over 30 descents in California and Chile and more recently, he has run rivers in Norway and Russia, being among the first Westerners to visit a remote section of Siberia to run the Bashkaus River.

In the late 1960's Robbins and his wife, Liz, started their business now named "Royal Robbins". The company continues to do incredibly well today, primarily selling clothing for outdoor enthusiasts. Always active environmentally, Robbins and Liz stepped up efforts made by their company toward planetary stewardship. They retired from business in March 2003 and remain very active in living Adventure.

Robbins tours the country yearly, presenting his "Forty Years of Adventure" slide program and donating the proceeds, now amounting to tens of thousands of dollars, to worthy conservation groups such as the Yosemite Fund, the American Hiking Society, and the Access Fund. This is a rare opportunity to hear his entertaining commentary.

He is the author of the classics "Basic Rockcraft" and "Advanced Rockcraft". His biography, "Royal Robbins - Spirit of the Age", by climbing author Pat Ament, was published in October 1992. Bring your books! Learn more about Royal Robbins at www.TraditionalMountaineering.org.

This presentation is a joint venture between Tower Theatre Foundation and TraditionalMountaineering.org, the net proceeds of which, will be donated to the Deschutes Basin Land Trust's Skyline Forest project. Skyline Forest is a 33,000 acre working forest between Bend and Sisters that the Land Trust hopes to acquire and conserve. The Deschutes Basin Land Trust has been preserving land for wildlife, scenic views, and recreation since 1995. Learn more at www.deschuteslandtrust.org

This benefit event was made possible by substantial contributions from Patagonia by Pandoras Backpack, Outward Bound Wilderness.org, Alder Creek Kayak & Canoe, Sun Country Raft Tours and Deschutes Brewery. Please thank them!

Tickets are on sale on-line at www.towertheatre.org or at the Tower Theatre box office, open Mon - Fri 11.30 - 4.30 PM. The event occurs Wednesday evening, March 22, 2006, with an open Reception at 6PM and the Program at 7PM.

Ticket prices are $8 in advance and $10 at the door.
Sponsors
Patagonia by Pandora's Backpack, Outward Bound West, Alder Creek Kayak and Canoe, Sun Country Raft Tours and Deschutes Brewery are important Sponsors of this Skyline Forest Benefit. We should make it clear that these four Sponsors contributed more than just their names endorsing a program for a poster. They have in large part, covered the Tower Theatre costs by their contributions to this fund raising Event for our Bend community's Skyline Forest Project!

Alder Creek Kayak and Canoe is Oregon's premiere paddle sports shop and instructional Center, whether you paddle whitewater kayaks, sea kayaks or canoes. Alder Creek has the boats and gear you need to get out on the water and classes to elevate your paddling skills. When paddling is on your mind, stop by our Bend location on the Deschutes River, 805 SW Industrial Way, Suite 6, and talk with the friendly and knowledgeable staff. 541-317-9407 or shop on line at www.aldercreek.com.

Sun Country Raft Tours serves all of Central Oregon with locations convenient to Bend, Sunriver, Redmond, Eagle Crest Resort and Black Butte Ranch. Whether you choose the Upper Deschutes River, McKenzie River, North Umpqua River or Lower Deschutes River your rafting trip with Sun Country Raft Tours is sure to be the highlight of your vacation. Call now for your 2006 Whitewater Rafting Reservations! 800-770-2161 or call Dennis Oliphant. 541-382-6277. www.suncountrytours.com

Patagonia by Pandora's Backpack is the exclusive full service Central Oregon store for high quality Patagonia outdoor clothing and gear. Patagonia clothing is respected worldwide and sets the standard for quality, design and outdoor fashion. Patagonia is owned by Yvon Chouinard who climbed with Royal Robbins in the 1960s and 1970s. Rod and Katie Bien own Pandora's Backpack and they have pledged 1% of sales to the preservation and restoration of the natural environment. Visit Patagonia at 920 NW Bond Street in downtown Bend. Call Rod at 541-382-6694. Patagonia by Pandoras Backpack

Outward Bound Wilderness has delivered growth and discovery to more than 200,000 participants since 1962. From scaling windswept mountain peaks to riding a surging river, Outward Bound Wilderness expeditions range from four days to three months and are offered to youth, teens, adults and families across the United States. For information about Outward Bound Wilderness courses and scholarships contact Neil Gibson, ngibson@outwardboud.org, 503-243-1993.
Deschutes Brewery, located in Central Oregon along the banks of the wild and scenic Deschutes River, has brewed handcrafted traditional ales since 1988. Starting out as a small brewpub in the heart of downtown Bend, Deschutes' first beers were Black Butte Porter, Bachelor Bitter and Cascade Golden Ale. Learn more at www.deschutesbrewery.com Please contact them at 541-382-9242.
Endorsements
Note: I am pleased to copy a recent posting on the RockClimbing.com bulletin board:
"Last night my local climbing/mountaineering club had Royal Robbins as a presenter, and I just felt like sharing. He was a very engaging speaker, and his vitality and passion for climbing really shone through his words. He began the presentation showing an old climbing photo that had inspired him as a youth - he said that the qualities of boldness, calm under duress, and adventure that seemed to be embodied by the climber in the photo inspired his early love of climbing. He said that while he may not always have been the most graceful of those he climbed with (names which of course read like a Who's Who of climbing of his generation), he was often able to achieve his climbing goals through sheer stubbornness/desire/force of will. He ended the presentation with a summary of why he loves climbing so much ... the last thing is something that resonated with me, which is "We climb to feel more fully alive." Got my signed copy of Basic Rockcraft. If you ever have a chance to hear him speak, don't pass it up! Inspiring!" by harmonydoc, posted: 07 Dec 2005
A recent Northwest event announcement:
This is a rare opportunity to see "the father of modern US rock climbing." He's also featured on the cover of this month's issue of Rock and Ice magazine. This a rare NW appearance by one of the leading figures in American climbing history, so come on out for what's sure to be a great event! April 2005.

Royal Robins has spoken to the following audiences:
Banff Film & Book Festival - Evening Program for attendees;
American Alpine Club - Keynote speaker;
The Mountaineers - Speaker at annual dinner;
The Mazamas - Speaker at annual dinner;
Outdoor Recreation Coalition of America - National Outdoor Summit, Washington DC.
Access Fund - Key speaker, annual Rendezvous, last three years.
--Webmeister Speik

Read more . . .
Royal Robbins Outdoor Clothing
Dan Osman
Reinhold Messner
Tomaz Humar

About Alpine Mountaineering:


The Sport of Alpine Mountaineering


Climbing Together


Following the Leader


The Mountaineers' Rope


Basic Responsibilities

Cuatro Responsabiliades Basicas de Quienes Salen al Campo


The Ten Essentials

Los Diez Sistemas Esenciales

TECHNICAL MOUNTAINEERING
What is the best traditional alpine mountaineering summit pack?
What is the best belay | rappel | autoblock device for traditional alpine mountaineering?
What gear do you normally rack on your traditional alpine mountaineering harness? Photos?


What is the best traditional alpine mountaineering seat harness? Photos?
Can I use a Sharpie Pen for Marking the Middle of the Climbing Rope?
What are the highest peaks in Oregon? Alphabetically?

CARBORATION AND HYDRATION
Is running the Western States 100 part of "traditional mountaineering"?
What's wrong with GORP? Answers to the quiz!
Why do I need to count carbohydrate calories?
What should I know about having a big freeze-dried dinner?
What about carbo-ration and fluid replacement during traditional alpine climbing? 4 pages in pdf


What should I eat before a day of alpine climbing?

ALPINE CLIMBING ON SNOW AND ICE
Winter mountaineering hazards - streams and lakes
Is long distance backpacking part of "traditional mountaineering"?
How long is the traditional alpine mountaineering ice axe?
What about climbing Mt. Hood?
What is a good personal description of the south side route on Mount Hood?
What should I know about travel over hard snow and ice?
How can I learn to self belay and ice axe arrest? 6 pdf pages


What should I know about snow caves?
What should I know about climbing Aconcagua?

AVALANCHE AVOIDANCE
Young Bend man dies in back county avalanche
What is an avalanche cord?
Avalanche training courses - understanding avalanche risk
How is avalanche risk described and rated by the professionals? pdf table
How can I avoid dying in an avalanche?
Known avalanche slopes near Bend, OR?
What is a PLB?
Can I avoid avalanche risk with good gear and seminars? pdf file

SNOWSHOES AND CRAMPONS
Why do you like GAB crampons for traditional mountaineering?
What should I know about the new snowshoe trails
What are technical snowshoes?
Which crampons are the best?
What about Boots and Shoes?


YOUR ESSENTIAL SUMMIT PACK
What are the new Ten Essential Systems?
What does experience tell us about Light and Fast climbing?
What is the best traditional alpine mountaineering summit pack?
What is Light and Fast alpine climbing?
What do you carry in your day pack? Photos?


What do you carry in your winter day pack? Photos?


What should I know about "space blankets"?
Where can I get a personal and a group first aid kit? Photos?

YOUR LITE AND FAST BACKPACK
Which light backpack do you use for winter and summer? Analysis pdf


What would you carry in your backpack to climb Shasta or Adams?


What is the best traditional alpine mountaineering summit pack?
Photos of lite gear packed for a multi day approach to spring and summer summits
Backpack lite gear list for spring and summer alpine mountaineering 4 pdf pages

ESSENTIAL PERSONAL GEAR
What clothing do you wear for Light and Fast winter mountaineering?
What do you carry in your winter day pack? Photos?


Which digital camera do you use in the mountains?
What about Boots and Shoes?


TRADITIONAL KNOWLEDGE
How did you become interested in traditional mountaineering techniques?
Who is Conrad Messner?
What is traditional slacklining or highlining?
What are some of the comments you have received?
Who was Peter Starr?
Who are the Mazamas?
What is an avalanche cord?
Who were the notorious Vulgarians?
How was top rope climbing practiced in the 1970s?
What is a Whillans sit harness?
What is a dulfersitz rappel?
How do I self-belay a rappel?

BACKCOUNTRY NAVIGATION
How accurate is the inexpensive hand-held GPS today?
What are some good Central Oregon Geocaches?
What is the Public Land Survey Grid? pdf
What is the UTM Grid? six pdf pages
Which GPS do you like?


Which Compass do you like?


How do you use your map, compass and GPS together, in a nut shell?
How can I learn to use my map, compass and GPS?
Do you have map, compass and GPS seminar notes? six pdf pages