TRADITIONAL MOUNTAINEERING ™
www.TraditionalMountaineering.org

™ and also www.AlpineMountaineering.org ™

©
FREE BASIC TO ADVANCED ALPINE MOUNTAIN CLIMBING INSTRUCTION™
Home | Information | Photos | Calendar | News | Seminars | Experiences | Questions | Updates | Books | Conditions | Links | Search

Suggest a Link!

"down and out!"
SELECTED TRADITIONAL ALPINE MOUNTAINEERING LINKS
Selected Links | Organizations | SAR | Insurance | Managers | Outdoors | E-Retail | Local | Carbos | Tools | Clothing | Boots | Travel Gear | Women | DWR | Topos | Navigation | PCT | Avalanche | Weather | Cams | Guides | Schools | Expeditions | Books | Photographs | Environmental | Climbing | Adventure | Other | Travel | Magazines | Links | Micro Brew | Best Webs
SELECTED LINKS WE LIKE
Terra Galleria fine alpine images
.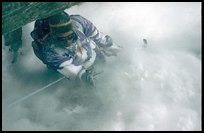 the dirtbag diaries by fitz cahall
Hans Nyberg panoramas.dk


cascadeclimbers.com
MOUNTAINEERING ORGANIZATIONS
The American Alpine Club
See the New AAC Video Promo
and an older one: You're gonna need somebody on your bond


The Access Fund
American Safe Climbing Association
UIAA The Mountaineers
Mazamas
Mazama Climb Schedule for 2011
Chemeketans
Obsidians
Santiam Alpine Club
Central Oregon Avalanche Association
OutdoorDads
OSU Mountaineering Club
University of Oregon Outdoor Club
TraditionalMountaineering
Angeles Chapter, Sierra Club
Mountaineering Training Course (BMTC)
Wilderness Travel Course (WTC)
Mountaineering Section of the Potomac Appalachian Trail Club
Professional Climbing Guides Institute
Solid Rock
Cascades Mountaineers
United States Snowshoe Association
ZAGREB - MATICA, Croatia
The Mountaineering Council of Scotland
MOUNTAIN RESCUE UNITS
Mountain Rescue Association
Portland Mountain Rescue
Hood River Crag Rats
Clackamas County Sheriff's Search and Rescue Unit
Pacific Northwest Search & Rescue
Corvallis Mountain Rescue
Deschutes County Sheriff's Search and Rescue Unit
Seattle Mountain Rescue
MOUNTAIN RESCUE INSURANCE
FireMed
AirLink
AAC Rescue Benefits "You're gonna need somebody on your Bond"


Christopher Van Tilburg, M.D.
RESOURCE MANAGERS
Deschutes National Forest
Bend-Ft Rock District Recreation
Mt. Bachelor, a permit holder from the Deschutes National Forest
BLM
Yosemite National Park
Oregon State Parks/Smith Rock
USGS - Cascades Volcanoes
Mount Rainier Climbing BlogSpot
Gifford Pinchot National Forest - Mt. Adams
Mt. St. Helens National Volcanic Monument
LOCAL OUTDOOR CLUBS
Bend Backcountry Alliance
Central Oregon Nordic Club
Meissner Nordic Club
MBSEF
COTA
CORK

FAVORITE LOCAL OUTDOOR STORES


Patagonia by Pandora's Backpack
Mountain Supply
Redpoint Climber's Supply
Sunnyside Sports
Pine Mountain Sports
The Footzone


These favorite outdoor stores discount to our Subscribers!
E-RETAIL STORES
REI
REI Outlet
Mountain Equipment Coop
Eastern Mountain Sports
Pro Mountain Sports
Mountain Gear
Sierra Trading Post
Supertopo
OutdoorGearLab
Altrec.com
Tahoe Mountain Sports Campmor
A-16
GoLite
CampMan
Mountain Tools
Oregon Mountain Community
BackpackingLight
tribevine
Climb Max
Whittaker Mountaineering
First Ascent
Mile Marker Sports, SportHill 3SPF
Backcountry Gear
Mountain Laurel Designs
Sahalie
Sportif
ZPacks
Rohan
eXped
J. Peterman Company
Land's End
TaigaWorksCanada

CARBOS
ClifBars
CLIMBING TOOLS
Black Diamond
Black Diamond Alpinism 2012
Petzl
Trango
GAB
SMC
Wild Country
Tom Frost
Metolius
Entre Prises, USA
Maxim Tech Cord
Blue Water Rope
Sterling Rope
FIXEhardware
PMI Rope
Yates
MOUNTAINEERING CLOTHING
Patagonia at Bend
Royal Robbins
The North Face
Marmot
RailRiders and RailRiders Video
Mountain Hard Wear
First Ascent/EddieBauer
MontBell
Lowe Alpine
GoLite
Arc'Teryx
SportHill® XC 3SP
Ibex Wool
Smartwool
ThorLo
Sportif USA
Feathered Friends
Steep Planet
Beyond Fleece
NAU
Finisterre, UK
Icebreaker, NZ
Integral Designs, Canada
MOUNTAINEERING BOOTS/SHOES
La Sportiva
Koflach
Montrail
Merrell
Lowe
Five.Ten
RedChili.de
Vibram
Stealth
Dave Page Cobbler
MOUNTAIN TRAVEL GEAR
Gregory Packs
Wild Things
Golite
TNF
Osprey
Dana Design
Black Diamond
NEMO
NEMO video
NunatakUSA
Mountain Laurel Designs
Cascade Designs
Mountain Safety Research
Thermarest
Platypus
Outdoor Research
Katadyn Mini
Katadyn Pur Hiker Pro
Leki
Rainy Pass Repair
RESTOP
No Rinse
GossamerGear
Acme Whistles
Crazy Creek
Mountainsmith
Bear Pepper Spray
STRAPits
MAINLY FOR WOMEN
--Recommended by Tommie Speik
Woman Climbing Biographies
Title9Sports
Mary Orvis Marbury
Duluth Trading Co. for women
Devi Outdoors
OpEd - Wake up young women!
RESTOP
Gorsuch
Annapurna, a woman's place is on top
DWR, WATERPROOFING AND CLEANING SYSTEMS
Gore-Tex®
Windstopper®
Nikwax
Wash your down sleeping bag with Backpacker®
TOPOGRAPHIC MAPS
USGS
Garmin TOPO and TOPO 24k
MyTopo - Terrain Navigator
National Geographic TOPO
HuntingGPSMaps
Topozone
raven® maps and images
SuperTopo/Yosemite
east view cartographic
OziExplorer
LAND NAVIGATION
Suunto
Garmin
Magellan
Avocet Vertech
Geocaching®
MapTools
MapTools on the UTM Grid
NOAA
Magnetic Declination
UTM zones
SPOT Satellite Messenger
BACKPACKING and HIKING
Pacific Crest Trail Association
PCTA Mid Oregon
Current conditions on the PCT
American Long Distance Hiking Association
Shawn Forry
Ray Jardine
Yogi's Guides
The Light Weight Backpacker
Song for The Badlands and our friend Jim Witty
Todd's Desert Hiking Guide
Grog's Animated Climbing Knots
Trails and Wildflowers with Keith and Barbra McCree
BackpackingLight
OutdoorDads-Portland
Linda "Gottago" Jeffers
Trail Journals
AVALANCHE AVOIDANCE
US
NW
Forest Service National Avalanche Center - Avalanche Awareness
Central Oregon Avalanche Association
Mt. Shasta Avalanche Center
Avalanche.org
Aiare
Avalanche Avoidance
SledSpace
COCC
Three Sisters Backcountry Inc.
WEATHER
NOAA
NOAA Windchill
Oregon Climate Service OSU
WEATHERCAMS
ODOT Pass Cameras
Mt. Shasta
Mt. Bachelor
SmithRock.com
Sierra Nevada and Yosemite
OREGON GUIDE SERVICES
First Ascent
Chockstone Climbing Guides
Smith Rock Climbing Guides
Mazama Climb Schedule
Central Oregon Adventures
Oregon Peak Adventures
Timberline Mountain Guides
RiverDrifters
Sun Country Tours
Ouzel Outfitters
CogWild
SCHOOLS
American Mountain Guides Association Exum Mountain Guides
American Alpine Institute
Rainier Mountaineering, Inc.
Alpine Ascents International
NOLS NOLS on YouTube
Wilderness First Aid Leave No Trace
Wilderness Medicine Institute
Outward Bound
PCTA Trail Skills College
Coyote Trails
Sierra Mountain Center
Sierra Rock Climbing School
Apex Mountain School
Joshua Tree Rock Climbing Guides
Rock Climbing Company-UK
Wilderness Education Association
Alex Lowe
Mount Rainier Climbing BlogSpot
Alpine Mountaineering
Traditional Mountaineering
EXPEDITIONS RMI Guides
Alan Arnette's Mt. Everest Blog 2012
On Mt. Everest with National Geographic, MSU, TNF, Mayo Clinic led by Conrad Anker
with Montana State University
with The Mayo Clinic
with The North Face
Annabelle Bond climbs the Seven Summits in one year!
Eric Larsen
Mount Everest, The British Story
International Mountain Guides
Mosaic Adventure: Nepal, Tibet and Bhutan
Ian Taylor Trekking
Mountain Madness
American Alpine Institute
Mountain Link
Dan Mazur, Summit Climb and Summit Trek
Dave Hahn, Rescue on Mount Everest
Craig Van Hoy's GoTrek
Ed Viesturs
Xperience Aconcagua
Aconcagua Experience
Aconcagua Adventures
AndeExperience Rudy Parra
Andes Mountain Guides
Africa Summit Climbing
EverestHistory
US Travel Safety Abroad
The Katmandu Post
Mount Everest Net
Rock Solid Trekking & Expedition
RockandIce - UK
Societa Guide Alpine Courmayeur
The Mountain Company - UK
Aspiring Guides - NZ
World Mountain Guide - Horizon Montagne
PatagonianGuides.com
Bells from Everest
The Explorer's Web
MOUNTAINEERING BOOKS
The Mountaineers Books
Adventurous Traveler
Chessler Books
The Ernest Press UK
75 Scrambles in Oregon
Joe Simpson
Top of the World Books
MOUNTAIN PHOTOGRAPHS
Mountain Light, Galen and Barbara Rowell
Larry Carver
Terra Galleria Images
Bruce Jackson
Andrew Holman
MZs Classic Photos of Everest
Tom Evans- El Cap
Virtual Cascades by Robert A. Halterman
Dave Morgan
Robert Speik
Gary Calicott
Mike Putnam
Tuan's mountaineering site
Jimmy Chin
Hans Nyberg - panoramas.dk
SELECTED ENVIRONMENTAL SITES
Yosemite Conservancy
High Desert Museum
ONDA
COEC
Trap Free Oregon
Mirror Pond
Deschutes Land Trust
The Conservation Alliance
Raincoast
Our Ancient Trees
Defenders of Wildlife
Bend Backcountry Alliance
Wild Wilderness
Great Old Broads for Wilderness
SOLV
LetsPullTogether
FSEEE
Gaia Ki
Vandevert Ranch
Japan Tsunami Arial Images
America in 1940
Crow Black- Artist
Charles Darwin
ROCK CLIMBING SITES
CascadeClimbers
SummitPost
MountainCommunity
MountainZone
TraditionalMountaineering
Spiritone/Smith Rock
SuperTopo
ElCap Report by Tom Evans
High Places with Steph Davis
Katie Brown and Alex Honold shoot a commercial in Moab Utah
Summit Post folks discuss The Commercial
The Warrior's Way
RockClimbing
ADVENTURES
Ed Viesturs
Matt and Joanne
Amar Andalkar
CascadeClimber
Neon Canyon, Escalante UT, Hyper Heidi
Dave Hahn Describes an Everest Rescue
American Alpine Institute trip reports
El Capitan, camp out on a porta-ledge
Mountain Zone
Ascending the Giants
OTHER INTERESTING LINKS
Webshots
85 Billion Archived Web Pages
Newspaper Archive
Frazil Ice
YouTube
twitter.com
TRAVEL
Hiking Switzerland with Hilloah
Red Wall Climbing Bar
WinterTraveller.Co.UK
A cool current currency converter
Avalon Panorama Europe
Maps-Store: Carte e Guide di tutto il Mondo
MAGAZINES WE LIKE
BackpackeR®
NorthWest Mountaineering Journal
Outside
Climbing
Rock & Ice
Alpinist
OTHER'S CLIMBING LINKS
Mazama Links
The Outdoor Directory UK
Chockstone
MICRO-BREW
Beer Advocate
Oregon Beer
Deschutes Brewery
Diebels
BEST WEBS
The White House
The White House - Reality Check
FoundationForChange
Recovery.gov
The President speaks with the House Republicans
Note: All of our "favorite links" were re-confirmed again, during April 2015. Let us know if you like our links! This 'Mountaineering Links' Page Googles pretty well, too. --Webmeister Speik



WARNING - *DISCLAIMER!*
Mountain climbing has inherent dangers that can in part, be mitigated



LINKS WE LIKE