TRADITIONAL MOUNTAINEERING™
www.TraditionalMountaineering.org™ and also www.AlpineMountaineering.org™

™
FREE BASIC TO ADVANCED MOUNTAIN CLIMBING INSTRUCTION™
Home | Information | Photos | Calendar | News | Seminars | Experiences | Questions | Updates | Books | Conditions | Links
Scott Backes autographs a book for TraditionalMountaineering
Click on an image to see the full version. Broadband people can click here to see the full sized page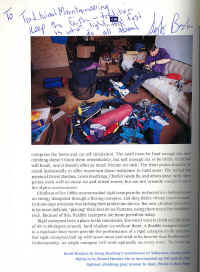 Photo© by his friend Mark Twight
Scott Backes is one of the worlds foremost alpinists. He is also a very nice guy. He graciously penned the impossibly long name of our web on this photo of him in Extreme Alpinism by Mark Twight and James Martin. He is "surrounded by 400 pounds of the lightest climbing gear known to man."
Steve House, Scott Backes and Mark Twight climbed the Czech Direct on Denali. The first ascent, in 1986, required 11 days and approximately 1000' of fixed rope. Kevin Mahoney and partner (Ben Gilmore) made the second ascent over 8 days in May, 2000. The Backes/ House/ Twight team climbed it in 60 hours non-stop. They carried no bivouac gear apart from a 2lb Down or Polarguard jacket each. The trio brought two stoves in order to melt enough snow to stay hydrated. Starting with just 22oz of fuel for each, these ran out of gas at hour 48. A total of 55lbs was split between two packs, (18lbs were water), leaving the leader pack-free to move fast.
Search his name on our Google Search page of our web (click on the "world wide web" option) to find out more about Scott's huge achievements. --Bob Speik
Read more
. . .
What is the sport of traditional alpine mountaineering?
What is light and fast traditional alpine mountaineering?
What do you carry in your winter summit pack?


WARNING! *Disclaimer!*