TRADITIONAL MOUNTAINEERING ™
www.TraditionalMountaineering.org ™ and also www.AlpineMountaineering.org ™

™
FREE BASIC TO ADVANCED ALPINE MOUNTAIN CLIMBING INSTRUCTION™
Home | Information | Photos | Calendar | News | Seminars | Experiences | Questions | Updates | Books | Conditions | Links | Search

Read more:
Climbing together - a traditional mountaineering leadership ethic
Every group hiking, backpacking or climbing together has a leader, named or not:


The leader may be the one who got folks together for the adventure, or


The most experienced person.


Beware the person who tends to assume leadership by inexperienced but confident opinion.

The leader should establish the mission:


Folks will stay together and share the experience, or


Everyone is climbing solo and is not responsible for anyone (like some Everest climbers).


The climb is exploratory, folks will continue until any member is not comfortable, or


The purpose is to summit and anyone who is not comfortable will be escorted down or situated in a safe and warm (cool) spot and picked up on the way down. This is a time-honored, common, fair and safe practice. No one is permitted to return on their own, solo.

The leader should evaluate the individuals in the group:


One less conditioned, less experienced, less equipped member of the group can spoil the adventure for the others and it is the leaders responsibility to avoid this situation.

Every member should have the Essential Systems, Ten or otherwise:


Mountaineering Clubs have established over years of experience with thousands of trips and climbs, that every member should carry personal clothing and other Essential Systems which can be pooled in an emergency to save a body part, a life or a friendship.


If you think this is foolish, think again. If you don't know the Essential Systems, shame on you.

A turn-around time should be established:


The reasonable time necessary to return to camp or car is the first consideration to be established.


Changeable weather conditions should be taken into account.


Read Into Thin Air to learn more about this imperative.

The popular concept of Light and Fast hiking, backpacking and climbing must be used with the admonition Experienced and Trained:


Light equipment often means inability to deal with an accident and having to stay in one place, without warming exercise.


Fast is limited by the least conditioned and/or experienced member of the group.


Experienced means you know the route, the techniques, your abilities and those of your group.


Trained means you have the aerobic capacity, strength, balance, agility and over all fitness and athleticism to accomplish your goal and so do your companions.

--Climb on! Bob Speik
Copyright© 1995-2017 by Robert Speik. All Rights Reserved.



WARNING - *DISCLAIMER!*
Mountain climbing has inherent dangers that can in part, be mitigated
Read more . . .


About Alpine Mountaineering:


The Sport of Alpine Mountaineering


Climbing Together


Following the Leader


The Mountaineers' Rope


Basic Responsibilities

Cuatro Responsabiliades Basicas de Quienes Salen al Campo


The Ten Essential Systems

Los Diez Sistemas Esenciales

Our Leader's Guidelines:


Our Volunteer Leader Guidelines


Sign-in Agreements, Waivers and Prospectus This pdf form will need to be signed by you at the trail head


Sample Prospectus Make sure every leader tells you what the group is going to do; print a copy for your "responsible person"


Participant Information Form This pdf form can be printed and mailed or handed to the Leader if requested or required


Emergency and Incident Report Form Copy and print this form. Carry two copies with your Essentials


Participant and Group First Aid Kit Print this form. Make up your own first aid essentials (kits)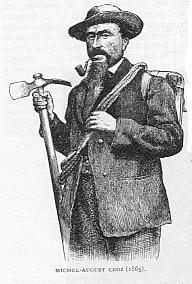 A leader will always emerge!