TRADITIONAL MOUNTAINEERING ™
www.TraditionalMountaineering.org ™ and also www.AlpineMountaineering.org ™

™
FREE BASIC TO ADVANCED ALPINE MOUNTAIN CLIMBING INSTRUCTION ™
Home | Information | Photos | Calendar | News | Seminars | Experiences | Questions | Updates | Books | Conditions | Links | Search

HERA Climb for Life at Smith Rock State Park
Rockin' against cancer
Climb for Life event comes to Smith Rock this month
The Bulletin
by Abbie Beane
May 2, 2006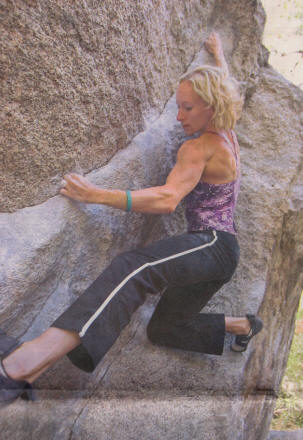 Photo submitted by Ben Moon
Rebeckah Berry of Bend climbs in the HERA Foundation Climb 4 Life event in Salt Lake City in September 2005. The next Climb4Life, which donates proceeds to ovarian cancer treatment and research, is slated for May 12 to 14, 2006 and will be held at Smith Rock State Park near Terrebonne for the first time in the Foundation's four year history. Berry plans to volunteer at the event.
Sean Patrick isn't lost in translation
As an experienced climber and ovarian cancer survivor, she knows exactly what perseverance, intuition and personal strength mean on and off the rocks.

"The skills I learned in climbing about personal responsibility and trusting my intuition helped me to get diagnosed," Patrick explained from her home in Carbondale, Colo., last week. "I knew something was wrong, so I did my homework. What I've learned in climbing has translated to success in everyday life: going when you don't want to go, perseverance in getting to the top of a very tough climb."

Patrick, now 55, was diagnosed with ovarian cancer in 1997. Five surgeries and two clinical trials - or research studies involving the trial of new treatments, such as drugs or medical devices -later she started up the HERA (Health, Empowerment, Research and Advocacy) Foundation, a nonprofit organization to help raise funds for ovarian cancer research grants. In particular, the grants enable an early detection test for ovarian cancer, and better treatment and prevention of the disease.

One of the foundation's primary fundraisers is now HERA Climb for Life events, which have been hosted since 2002 in locales ranging from Grand Teton National Park in Wyoming to Las Vegas to Salt Lake City. The next Climb for Life event, slated for May I2 through I4, will be held for the first time in Central Oregon at Smith Rock State Park near Terrebonne.

"I needed to put a new face on the disease," said Patrick. "I was shocked (after being diagnosed). I thought this was a disease of elderly women with a family history (of ovarian cancer). I was healthy. I mountain biked, skied, climbed, and had no family history, so I thought I didn't need to worry."

Although the first HERA Climb for Life was planned as a low profile event in Yosemite National Park with a small group of Patrick's friends, that all changed when Patrick was training for the event on an ordinary Wednesday in Colorado.

"I had a recurrence and was (taken by air ambulance) out of the area," recalled Patrick. "I was given four to six weeks to live or the choice of having surgery with a 20 percent chance of surviving (the surgery). At the time I'd been in remission for two years. I was stable. "

For Patrick, the decision was simple: She would have the surgery. Against the odds, Patrick survived the surgery, and shortly thereafter the Climb for Life idea took off.

Peter Metcalf of Black Diamond Equipment company allowed Patrick to hold the first HERA Climb for Life on the company's campus in Salt Lake City in September 2002, during national ovarian cancer awareness month.

To date, HERA has staged more than 20 Climb for Life events. One of the most memorable of those events to Patrick was her summit of the 13,770-foot (according to Wikipedia) Grand Teton.

"I love rock climbing, but I could have done without the long hike (to the first pitch of the Grand Teton)," noted Patrick. "After seven surgeries I have a high 'princess factor' (am more high maintenance)."

Patrick first got into climbing in her late 30s. "It was always something I wanted to do. So after I got a divorce, it was my gift to myself to take a climbing class in Colorado," said Patrick. "I fell in love, became obsessed. It's not a sport, it's a lifestyle. I spent every free moment I had in the summertime climbing. I was working on my first (5.)12a (on a scale of difficulty from 5.0 to 5.16, anything less considered a hike or scramble) when I had my first surgery. Now I'm comfortable with an 8 or 9."
Although Patrick can talk extensively about the sport of climbing - the importance of technique, contact strength and body tension - she has never lost sight of climbing's higher purpose for her life.

"I've survived five years since being (taken away by air ambulance) so I need to make a difference now," mused Patrick, who calls herself the "executive grand pooh-bah in charge of shameless begging" of the HERA Foundation. "And I think we've done a lot. We've funded nine research projects (since 2002) and give away over 85 percent of the money we raise."

Although Stephanie Manzo of Bend had never organized a large-scale event before, she decided to try to coordinate a HERA Climb for Life event at Smith Rock after reading an article about Patrick in "Climbing" magazine.

"I was touched by her story," said Manzo. "I thought we needed to have a Climb for Life at Smith (Rock). There's a good climbing community here, and we have the infrastructure."

Manzo recalled e-mailing Patrick about the idea in June of last year. Patrick wrote back only 15 minutes later, encouraging Manzo to attend last September's Climb for Life in Salt Lake City before forging ahead with such an undertaking at Smith Rock.

"Salt Lake was great. There were over 200 climbers," noted Manzo, 27. "But we can only allow 50 in a first-time location."

Manzo, originally from Salem, began climbing only three years ago under the wing of her boyfriend at the time. Part of the reason she moved to Central Oregon was her love of climbing at Smith Rock.

"I do this because I love to climb, but also because, as a woman, I know how important reproductive health is," noted Manzo. "I like the fact that Sean pushes for early detection."

Patrick said she is in the process of trying to recruit women with ovarian cancer from the High Desert to join the Climb for Life event at Smith Rock,
scheduled for May 12-14.

"When we go climbing we're all about having fun," added Patrick persuasively. "Once one of my friends brought a battery operated blender along on a climb to make margaritas. We call that 'spa climbing.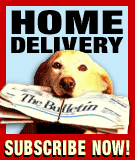 Learn more in The Bulletin!
HERA Founder Sean Patrick Passes Away
AAC News
January 23, 2009

AAC member Sean Patrick, creator and executive director of the HERA Foundation and Climb4Life events, lost her long battle with ovarian cancer January 20. Patrick, a resident of Carbondale, Colorado, was 57.

A longtime climber, Patrick was diagnosed with ovarian cancer in 1997, nearly two years after experiencing her first symptoms. She underwent numerous surgeries that kept the cancer at bay, though at one point she was given only a few weeks to live.

Meanwhile, in 2001 Patrick began organizing Climb4Life events, which have drawn large crowds and raised thousands of dollars for ovarian cancer research and education campaigns. In 2002, she created HERA (Health, Empowerment, Research, Advocacy). HERA has partnered with numerous outdoor-industry companies to make teal-colored HERA gear—carabiners, rock shoes, ropes—with a portion of the proceeds benefiting the foundation's work.

The HERA Foundation has vowed to continue Patrick's work, under the interim leadership of Lisa Carmichael, organizer of the organization's Colorado Climb4Life events. This year, Climb4Life events will be held in Washington, D.C. (February-March); Colorado (June); and Salt Lake City (September).

Visit Outside's blog to read a full news story about Patrick's death. Click here to read a feature article about Patrick and HERA by AAC member Lizzy Scully.
http://americanalpineclub.org/news/herafoundersean
Note in May 2006: We met Rebeckah Berry at Patagonia by Pandora's Backpack where she was helping out one afternoon. Rebeckah is pro climber and instructor who regularly competes in sport climbing contests and has recently moved to Bend Oregon from Salt Lake City Utah! We expect to hear more from Rebeckah and we will post the news here at TraditionalMountaineering.org. --Robert Speik

Read more . . .
HERA Climb for Life Home Page
News about the Smith Rock Spring Thing
Smith Rock Spring Thing in 2006
Smith Rock Spring Thing 2006 volunteer's party at the Barn
HERA climb for life fundraiser at Smith Rock
HERA climb4life party at the Smith Rock Barn

SMITH ROCK EXPERIENCE REPORTS
Warning!! ** Belayer drops climber off the end of the top rope
Smith Rock - Fall on rock, protection pulled out
Smith Rock - WARNING - belayer drops climber off the end of the top rope
Smith Rock - inadequate top rope belay
Smith Rock - climber injured on the approach
Smith Rock - WARNING - belayer drops climber off the end of the top rope
Smith Rock - belay error - novice sport climber injured
Smith Rock - fall on rock, protection pulled out
Smith Rock - fall on rock - poor position, inadequate protection
Smith Rock - pulled rock off - fall on rock, failure to test holds, exceeding abilities
Smith Rock - belay error - fatal fall on rock

SMITH ROCK PHOTOS
American Alpine Club and Traditional Mountaineering build another rescue cache at Smith Rock
Smith Rock Spring Thing Improvements
Smith Rock Spring Thing 2004 Party!


Smith Rock hiking in the spring
Smith Rock from above the Burma Road
Smith Rock rescue cache by AAC/ORS and TraditionalMountaineering
Smith Rock weekend
Smith Rock Monkey Face practice

TRADITIONAL KNOWLEDGE
Who were the notorious Vulgarians?
How was top rope climbing practiced in the I970s?
What is a Willans sit harness?
What is a dulfersitz rappel?
How do I self-belay a rappel?