TRADITIONAL MOUNTAINEERING™
www.TraditionalMountaineering.org™

™
FREE BASIC TO ADVANCED MOUNTAIN CLIMBING INSTRUCTION™
Home | Information | Photos | Calendar | News | Seminars | Experiences | Questions | Updates | Books | Conditions | Links
Galen Rowell and Barbara Cushman Rowell die in plane crash on August 11, 2002
August 12, 2002
Sierra Club Mourns Deaths of Galen and Barbara Rowell
Today the Sierra Club mourns the loss of award winning landscape photographer Galen Rowell and his wife Barbara.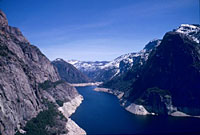 In his three decades as a professional photographer Galen Rowell's work was featured in several national magazines and he produced over a dozen books. In 1984 he won the Ansel Adams Award which honors photographers who use their talents to contribute to conservation efforts. Barbara Rowell was a pilot and a photographer in her own right, whose work is being featured in an upcoming Sierra Club Books release, Mother Earth.
"Galen is widely recognized as one of the most distinguished and pioneering nature photographers of this era. We feel privileged to have had the opportunity to work with him on several projects. We also feel deeply the loss of his wife Barbara, who was instrumental in many of those projects," said Helen Sweetland, publisher of Sierra Club Books.
While Galen and Barbara Rowell's passing brings us deep sadness, the images in his photographs will serve as a lasting reminders of their lives, their work, and the landscapes that they loved.
--Sierra club web


Mountain Light, Galen and Barbara Rowell