TRADITIONAL MOUNTAINEERING ™
www.TraditionalMountaineering.org ™ and also www.AlpineMountaineering.org ™

™
FREE BASIC TO ADVANCED ALPINE MOUNTAIN CLIMBING INSTRUCTION™
Home | Information | Photos | Calendar | News | Seminars | Experiences | Questions | Updates | Books | Conditions | Links
Seven summits in twenty-four hours in Oregon Cascades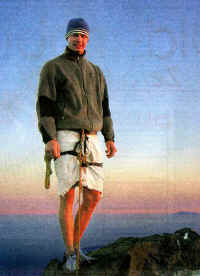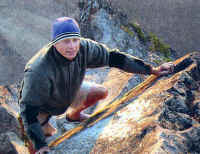 photos © Eric Von Heideken
Click an image for the full size, broadband folks click here for the full page
SUMMIT TIMES SEVEN
Bend climber reaches the tops of seven peaks in two days to help the disabled

By Jim Witty
The Bend Bulletin
September 13, 2003

Kendall Cook's story is enough to make an arm chair adventurer slump into an overstuffed recliner in a sweaty, exhausted heap.

Cook, who lives in Bend, is a mountain climber and an adaptive ski instructor. Through his work with disabled skiers and his experiences with gutting it out to the top, Cook knows challenges are tailor made to be overcome.

So Labor Day morning found Cook up and about early, preparing to climb Mount Thielsen in the Central Oregon Cascades.

By day's end, he'd reached the top of Thielsen and Mount Bailey and Scott Mountain and Mount McLoughlin.

Then he woke up the next morning and climbed North Sister and Middle Sister and South Sister before slumping into ... a sweaty, exhausted heap.

"Physically, I couldn't make it up Broken Top at that point," Cook said.

We'll let it slide, Kendall.

Cook raised a few thousand dollars for Oregon Adaptive Skiing - through pledges - for his efforts. But more importantly, he hopes his exploits will increase public awareness of the group's mission: to improve, through sports and recreation, the quality of life for people with disabilities.

Founded in 1996, Oregon Adaptive Skiing is supported by grants from corporations and foundations as well as program fees and individual donations. The program pairs specially trained volunteer skiers with specially trained and equipped disabled athletes. The volunteers ride up the mountain with the adaptive skiers and ski down with them, teaching technique the first few sessions, tagging along only to offer a hand up after they've learned.

"It gives people the freedom of movement that their bodies don't offer them anymore because of their disability," said Cook. "You see people just shred it."

Cook's 48-hour epic began at 3:30 a.m. on Labor Day at the foot of 9,182-foot Mount Thielsen. He summited and was back at the car (and to his girlfriend and support crew, Melanie Shaffer) by 8 a.m.
Mount Bailey was next.

He started up the 8,363 massif at about 9 and returned to his vehicle at 11:30 a.m.

Speed climbing.

It took him roughly an hour to scale Scott Mountain and then he was off to 9,495-foot Mount McLoughlin, a formidable peak that took Cook about 4 1/2 hours to complete.

"That was crux," he said. "Coming down in the dark was one of the most difficult parts."

But he made it down safely and spent the next few hours dozing in the car as he and Shaffer sped north.

Twenty-four hours after his manic vertical journey began, Cook was striding out from the Pole Creek Trailhead near Sisters, four peaks and a couple of hours sleep under his belt.

He was up and down North and Middle Sister (10,085 feet and 10,047 feet) in six hours.

"At the top of Middle Sister it was 2 in the afternoon and I was feeling good," Cook remembers. "This is where the tide changed."

Cook took a "bad route through an endless rock field" and exhaustion began catching up to him.

When he was finally off the mountain, he rested for a while and fueled up on salt and vinegar potato chips and jerky.

Cook took the north route up South Sister (10,358 feet), and bonked at the top.

"It really hit me," he said. "I started dry heaving, feeling the exhaustion and the dehydration, both."

He limped down the South Sister Climbers trail and met Shaffer - who had brought lots of food and water - part way down.

Broken Top, the eighth peak, was not to be.

"That's definitely the most spent I've ever been," Cook recalled. " ... I had lots of blisters and cuts but I didn't lose any toe nails. I took a few spills."

A couple of days later, Cook described his marathon, the fire back in his eyes.

"Next year, I would like to go back and do the eight," he said. "I didn't do Jefferson to Bachelor this time because of the fires."

If all goes as planned, Cook will tackle Mount Jefferson, Three Fingered Jack, Mount Washington, North, Middle and South Sister, Broken Top and Bachelor Butte in a similar fund/awareness raising expedition.

For more information about or to donate to Oregon Adaptive Skiing, write to Central Oregon Resources for Independent Living (CORIL), 20436 Clay Pigeon Court, Bend, OR 97702. Contact: Kendall Cook at 383. 4968 or eightsummitchallengeC hotmail.com.
##


You really should subscribe to this newspaper!
Read more
North Sister summit with crux photos of snow conditions at the time
North Sister summer crux photos
Three Sisters Marathon
North Sister - Martina Testa tragedy
North Sister summer solo
Lost climbers claimed by Three Sisters
Basic responsibilities of the wilderness traveler
The Ten Essentials
Climbing together
Following the leader