TRADITIONAL MOUNTAINEERING™
www.TraditionalMountaineering.org™

™
FREE BASIC TO ADVANCED MOUNTAIN CLIMBING INSTRUCTION™
Home | Information | Photos | Calendar | News | Seminars | Experiences | Questions | Updates | Books | Conditions | Links
Snowshoes keep up with times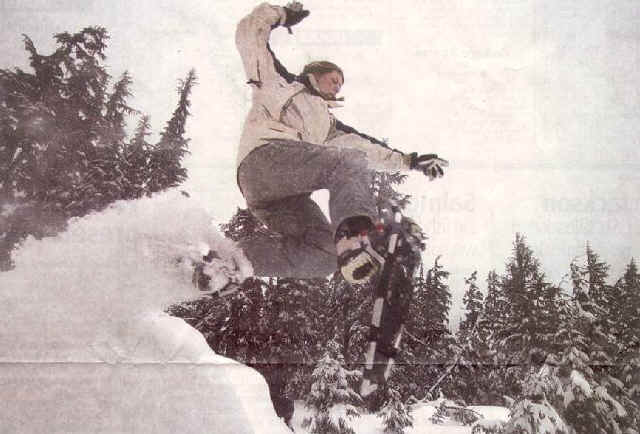 Stylin', Autumn Parker of Bend gets some air during a snowshoe trip with Wanderlust Tours at Mount Bachelor

Snowshoes keep up with times
Today's models offer snow lovers ability to strap up and go anywhere
The Bulletin
by Keith Ridler
March, 1999

These aren't your grandfather's snowshoes
Well, OK, maybe your grandfather never wore snowshoes, but that's his loss. The point is that the classic image of snowshoes as the cumbersome, oversized tennis rackets worn by grizzled mountain men plodding through the backcountry has definitely changed.

In fact, the creation of hightech, light-weight snowshoes in the last decade has pushed the fun factor of snowshoeing past mere transportation and into the realm of sport.

"It's kind of an ancient sport resurrected," said Aleta Nissen of Wanderlust Tours, which gives snowshoe tours through the winter. "Those big, old wooden ones people used to use were great for flatter areas. But when you're in the mountains, you need that maneuverability. People were looking for a new way to get out in the woods."

Modern snowshoes are as user-friendly as a piece of sports equipment can be.

"No learning curve," said Paco Echevarria of Pine Mountain Sports in Bend. "If you can walk, you can snowshoe. It will only make you stronger."

In recent years, snowshoe competitions have even evolved, including a national snowshoe race circuit that crowns a national champion. Locally, a number of races are held each winter.

"It's a great workout and it's fairly easy," said Kyle Will of The Athletic Club of Bend. "I think it's just another one of those new sports that people realize is a great workout. You get away from the crowd and it doesn't cost much once you get your snowshoes."

Will is planning two snowshoe races locally this winter. The first is set for Feb. 2 as part of Bend WinterFest. He has another - the Atlas Snowshoe Shuffle - scheduled for March 15.

Snowshoe competitions have even moved into the extreme end with an event called the Canadian Death Snowshoe Race, planned for January, which takes competitors over a 77-mile course with 17,000 feet of elevation gain in the province of Alberta.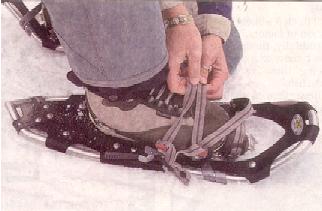 Pete Erickson /The Bulletin
Today's snowshoes look nothing like their predecessors.

Prices range from $100 for recreational to $270 for top-notch.

Modern-day snowshoes come in three basic styles with variations. Smaller versions are designed for running on packed snow. Recreational snowshoes are somewhat larger and are kind of a middle-of-the-road option.

And backcountry snowshoes are designed for maximum flotation in deep powder, and some are even designed to handle sidehills.

"I think people are amazed at how easy (snowshoes) are to walk on," Nissen said. "They're made a lot narrower, a lot more streamlined. You can walk fairly normally, with your knees fairly close together, so you don't have to walk like Nanook of the North.
"Backcountry snowshoes are used locally by winter mountaineers, skiers and snowboarders who are looking for a true backcountry experience.

"It's another great alternative," said Nissen. "People around here, especially locals, will strap a pair of skis or a snowboard on their pack, then snowshoe up to the top of a mountain somewhere."

Bob Speik, a local backcountry enthusiast, recommends technical snowshoes for the backcountry that are made to handle walking across side hills, a common necessity.

"The difference between a recreational snowshoe and technical snowshoe is the ability to sidehill," said Speik, noting a good binding to prevent the heel from sliding and rails that bite into the snow are essential.

Most modern-day snowshoes also come with metal teeth that act as crampons to provide some traction for climbing.

"The crampon gives you traction," said Echevarria. "Not only that, but even if the snow is loose, you can pack it down a little bit and get some grip."

Snowshoes come with different bindings as well, ranging from a nylon strap to others that wrap around the foot.

Some technical snowshoes are made to attach to a mountain climbing boot like hiking crampons.

Prices for snowshoes range from $100 to $170 for a recreational pair and up to $270 for a their a top-notch pair of backcountry snowshoes

Nissen attributes some of the growing popularity of recreational snowshoeing to an aging snow sports population.

"The biggest population group out there now is the baby boomer age" said Nissen.

"Their knees are kind of going. Snowshoeing is really easy on the body and it's really easy on the environment."

The fun thing about snowshoes is they can take you to places where nothing else can take you. You don't need a trail. You don't need any kind of commercial (ski) hill, you can just go into the forest.

While Wanderlust Tours offers guided trips, backcountry snowshoers heading out in small groups without a guide should take a few precautions, Speik said, in particular to make sure they can find their way back to their vehicle.

"Snow shoes enable people to get out there where there is more risk", said Speik. "All snowshoers should be mindful of carrying a small day pack with extra clothing, food and water and a topo map, baseplate compass and inexpensive GPS receiver."





WARNING - *DISCLAIMER!*
Mountain climbing has inherent dangers that can in part, be mitigated!
Read more . . .
American Alpine Club
Oregon Section of the AAC
Accidents in North American Mountaineering

ABOUT TRADITIONAL ALPINE MOUNTAINEERING:


The Sport of Alpine Mountaineering


Climbing Together


Following the Leader


The Mountaineers' Rope


Basic Responsibilities

Cuatro Responsabiliades Basicas de Quienes Salen al Campo


The Ten Essential Systems

Los Diez Sistemas Esenciales

RECENT NEWS POSTINGS
HB 2509 mandates electronic locator beacons on Mt. Hood - climbers' views


Oregon HB 2509 as approved on March 28, 2007
Three hikers and a dog rescued on Mt. Hood


Motorist stuck in snow on backcountry Road 18, phones 911 for rescue
Snow stranded Utah couple leave car and die from hypothermia
What happened to the three climbers on Mt. Hood?


Two climbers become lost descending Mt. Hood


Missing California family found, dad dies from exposure and hypothermia


Missing man survives two weeks trapped in snow-covered car
Missing snowmobile riders found, Roger Rouse dies from hypothermia


Longacre Expeditions teen group rescued from the snowdrifts above Todd Lake
Lost climber hikes 6.5 miles from South Sister Trail to Elk Lake
Young climber stuck on a steep snow slope rescued from Mt. Hood
American Alpine Club's Trad Award goes to Robert Speik in 2006


RECENT EXPERIENCES OF OTHERS
A climb of Three Fingered Jack in the Mount Jefferson Wilderness
Ten high altitude deaths on Everest confirmed for 2006 climbing season
On Being and Becoming a Mountaineer: an Essay
Climbing Mount Hood in April with Arlene Blum and friends
AAC Report - Accident on Mount Washington ends with helicopter rescue
AAC Report - Fatal fall from Three Finger Jack in the Mount Jefferson Wilderness
Three Finger Jack - OSU student falls on steep scree slope
Mount Huntington's West Face by Coley Gentzel ©2005 by AAI. All Rights Reserved
Solo climber falls from Cooper Spur on Mount Hood
Climber dies on the steep snow slopes of Mount McLaughlin
Warning!! **Climbers swept by avalanche while descending North Sister's Thayer Glacier Snowfield
Mt. Whitney's East Face Route is quicker!
Mt. Whitney's Mountaineer's Route requires skill and experience
Report: R.J. Secor seriously injured during a runaway glissade


Mount Rainer . . . eventually, with R.J. Secor by Tracy Sutkin
Warning!! ** Belayer drops climber off the end of the top rope
Runaway glissade fatal for Mazama climber on Mt. Whitney
Sierra Club climb on Middle Palisade fatal for Brian Reynolds
Smith Rock - Fall on rock, protection pulled out
Mount Washington - Report to the American Alpine Club on a second accident in 2004
Mount Hood - Solo hiker drowns while crossing Mt. Hood's Sandy River
Mount Hood - Solo climber slides into the Bergschrund and is found the following day
Notable mountain climbing accidents analyzed


Mount Washington - Report to the American Alpine Club on the recent fatal accident
Mount Washington - "Oregon tragedy claims two lives"
Mount Jefferson - two climbers rescued by military helicopter
North Sister - climbing with Allan Throop

TECHNICAL MOUNTAINEERING
What is the best traditional alpine mountaineering summit pack?
What is the best belay | rappel | autoblock device for traditional alpine mountaineering?
What gear do you normally rack on your traditional alpine mountaineering harness? Photos?


What is the best traditional alpine mountaineering seat harness? Photos?
Can I use a Sharpie Pen for Marking the Middle of the Climbing Rope?
What are the highest peaks in Oregon? Alphabetically?

CARBORATION AND HYDRATION
Is running the Western States 100 part of "traditional mountaineering"?
What's wrong with GORP? Answers to the quiz!
Why do I need to count carbohydrate calories?
What should I know about having a big freeze-dried dinner?
What about carbo-ration and fluid replacement during traditional alpine climbing? 4 pages in pdf


What should I eat before a day of alpine climbing?

ALPINE CLIMBING ON SNOW AND ICE
Man rescued from crevasse just off South Sister climber's trail
Winter mountaineering hazards - streams and lakes
Is long distance backpacking part of "traditional mountaineering"?
How long is the traditional alpine mountaineering ice axe?
What about climbing Mt. Hood?
What is a good personal description of the south side route on Mount Hood?
What should I know about travel over hard snow and ice?
Why do you like GAB crampons for traditional mountaineering?
Which crampons are the best?
What about Boots and Shoes?


AVALANCHE AVOIDANCE
The latest avalanche victim was only 13
Climbers swept by avalanche while descending North Sister's Thayer Glacier Snowfield


Snowshoer dies in backcountry avalanche in Washington State
Young Bend man dies in back county avalanche
What is an avalanche cord?
Avalanche training courses - understanding avalanche risk
How is avalanche risk described and rated by the professionals? pdf table
How can I avoid dying in an avalanche?
Known avalanche slopes near Bend, OR?
What is a PLB?
Can I avoid avalanche risk with good gear and seminars? pdf file

SNOWSHOES AND CRAMPONS
What are technical snowshoes?
What should I know about the new snowshoe trails
The snow shoe shuffle race
Snowcamping offers rewarding adventure
Snowshoes keeping up with the times
Snowshoe trail tips
Technical snowshoes
Snowshoe touring techniques for the backcountry
Snowshoer dies in backcountry avalanche in Washington State
Snowshoe tours with Forrest Service volunteers
What should I know about travel over hard snow and ice?
Why do you like GAB crampons for traditional mountaineering?
Which crampons are the best?
What about Boots and Shoes?


YOUR ESSENTIAL SUMMIT PACK
What are the new Ten Essential Systems?
What does experience tell us about Light and Fast climbing?
What is the best traditional alpine mountaineering summit pack?
What is Light and Fast alpine climbing?
What do you carry in your day pack? Photos?


What do you carry in your winter day pack? Photos?


What should I know about "space blankets"?
Where can I get a personal and a group first aid kit? Photos?

YOUR LITE AND FAST OVERNIGHT BACKPACK
Which light backpack do you use for winter and summer? Analysis pdf


What would you carry in your backpack to climb Shasta or Adams?


What is the best traditional alpine mountaineering summit pack?
Photos of lite gear packed for a multi day approach to spring and summer summits
Backpack lite gear list for spring and summer alpine mountaineering 4 pdf pages

ESSENTIAL PERSONAL GEAR
What does Steve House wear for light and fast climbing?
What clothing do you wear for Light and Fast winter mountaineering?
What do you carry in your winter day pack? Photos?


Which digital camera do you use in the mountains?
What about Boots and Shoes?


TRADITIONAL KNOWLEDGE
How did you become interested in traditional mountaineering techniques?
Who is Conrad Messner?
What is traditional slacklining or highlining?
What are some of the comments you have received?
Who was Peter Starr?
Who are the Mazamas?
What is an avalanche cord?
Who were the notorious Vulgarians?
How was top rope climbing practiced in the 1970s?
What is a Whillans sit harness?
What is a dulfersitz rappel?
How do I self-belay a rappel?

BACKCOUNTRY NAVIGATION
How accurate is the inexpensive hand-held GPS today?
Can you get me a $30 rebate on your favorite GPS: Garmin's Legend? pdf form
What are some good Central Oregon Geocaches?
What is the Public Land Survey Grid? pdf
What is the UTM Grid? six pdf pages
Which GPS do you like?


Which Compass do you like?


How do you use your map, compass and GPS together, in a nut shell?
How can I learn to use my map, compass and GPS?
Do you have map, compass and GPS seminar notes? six pdf pages

Search this site!
Copy and paste these search suggestions into your Google Tool Bar for more views of the Cascades.

North Sister
Middle Sister
South Sister
Broken Top