TRADITIONAL MOUNTAINEERING ™
www.TraditionalMountaineering.org ™ and also www.AlpineMountaineering.org ™

™
FREE BASIC TO ADVANCED ALPINE MOUNTAIN CLIMBING INSTRUCTION™
Home | Information | Photos | Calendar | News | Seminars | Experiences | Questions | Updates | Books | Conditions | Links | Search

Read more:
Lost climber wanders overnight 6.5 miles from South Sister Climber's Trail to Elk Lake
DESCHUTES COUNTY SHERIFF'S MEDIA RELEASE
MISSING HIKER NEAR SOUTH SISTER
BY: Sergeant Scott Shelton

Missing : Roxie Ann Hecker, Lake Oswego, Oregon
Age: 45

On June 23, 2006 at approximately 7:00 PM hours the Deschutes County Sheriff's Office Search and Rescue were notified of a missing hiker in the area of the Climbers trail on South Sister. Upon Search and Rescue's arrival we were told that Hecker was hiking with a party of 4 others when she separated from her party and did not complete the climb.

Search and Rescue dispatched 3 teams of searchers into the field and searched through the night and were unsuccessful in locating Hecker.

At 0600 hours this morning 3 U.S. Air Force Civil Air Patrol fixed wing air craft were dispatched to the area along with a communications team. At 0700 hours an additional Black Hawk Helicopter from the Oregon National Guard was dispatched to the location to assist in the search.

Hecker was located at about 0800 hours this morning near the Elk Lake trail head by a passing motorist. Heckler was transported by the passing motorist to her vehicle at Devils Lake trailhead parking lot where friends and Search and Rescue were waiting. Heckler was in good condition after spending the night under a tree.

Hecker was very thankful and appreciative to everyone who assisted in the search for her.

Search and Rescue would like to take this opportunity to remind citizens that are enjoying the back country of Deschutes County to carry emergency equipment in the event the unexpected should occur. (See below.)
Deschutes County Sheriff's Office
63333 Highway 20 West, Bend, Oregon 97701
And now, the rest of the story:
We called the Deschutes County Search and Rescue Team to find out more about this lost "hiker" in the area of the "Climber's Trail to South Sister". The County Sheriff's SAR Unit also provides a short bare bones public record synopsis of their Missions. We obtained the name of the Reporting Person and we gave him a phone call. Here is what we found out about this lost climber's adventure. (The Administration's recent national secrecy laws (HIPPA) are strictly enforced, making the clarification of events hard to determine beyond the official sparse and often misleading Media Reports and the SAR Missions Reports.)
The Reporting Person asked to have his name with-held and so we will call him the "RP".
There were actually fourteen climbers (not four others as reflected in the Media Report). The climbers were not with a club or a church group according to the RP, but were "simply hiking friends and co-workers" out for a climb on a Friday in June. (Climbing South Sister, a glaciated peak, not only qualifies individuals for membership is various outdoor club in Oregon, but makes a nice statement about ones conditioning and determination. This summit can be used to qualify individuals in affinity groups for popular "climbs to the summit" earning donations for certain charity efforts.)
The RP appeared to be the experienced person who acted as the leader. He had a map and showed the assembled climbers how to go north toward South Sister.
Four of the group planned to summit and five planned to summit if they could. The remaining five were just along for the hike and the adventure on the Climber's Trail to South Sister.
The RP was leading the summit group (of three plus the RP) who reached the rim. He returned down the slopes to meet the second group and lead them to the rim of the volcano.
We are not able to contact Ms Hecker due to an unlisted telephone number and a reluctance on the part of the RP to "upset" her further. Apparently, having surmounted the steep and snow chocked lower part of the Climbers Trail (1.5 miles but 1,222 feet of elevation gain) up to the level lateral moraine above Moraine Lake, Ms. Hecker decided not to continue on. She decided to wait for the return of the third group who were hiking according to the RP. For some reason, perhaps due to cold wet boots and damp clothing according to the RP, Ms. Hecker decided to return alone down the steep 1.5 mile trail to the Devil's Lake Trail Head where her car was parked.
She did not have a map or a compass or any extra insulation beyond what she was wearing at the 6:30 AM start of the Friday morning climb. She had left her cell Phone in her car. (See our Basic Responsibilities.) She lost the boot prints of the group in the harder snow under the trees at the top of the Devils Lake Trail according to the RP (who talked with her on Saturday with the SAR volunteers). She started down-hill on a less steep slope which lead her eventually on a 6.5 mile effort in softening snow which completely covered the ground. She spent a cold night doing calisthenics trying to stay warm under a tree. The slope she followed and the eventual cut trail she could follow down through the forest roughly paralleled the Cascades Lakes Highway all the way to a junction at Elk Lake. She was not far from the road during her long parallel slog through the snow.
My MapTech Terrain Navigator computer map of her approximate slog is shown below. Also shown in profile is the climber's trail that the group of fourteen had ascended to the South Sister plateau from Devils Lake Trail Head.
What can be learned from this event?
South Sister is a climb, not a hike. The Deschutes County Sherriff's Information Officer does a disservice to people by constantly referring to "climbers" as "hikers". This term gets picked up by local media announcers and writers and it perpetuates the idea that little knowledge, skill, equipment, conditioning or planning is necessary. Climbers who were severely injured in a spring snow avalanche on the sinister North Sister last year were called "hikers" in the official Sherriff's Media Release. The secrecy surrounding this particular avalanche event provoked a frenzy of investigative reporting which had the benefit of warning climbers on an upcoming holiday weekend that they should "avoid steep spring snow slopes with a south and east aspect for some time."
North Sister is a fourth class climb; South Sister in the spring is a third class snow climb that can quickly become icy fourth class with a drop in elevation of the jet stream or nightfall. Here is some information on climbing steep snow.
Here is what South Sister looked like a few days before this group of fourteen left the trail head climbing toward the 10,358' summit! Here is the USFS weekly Report on Trail Conditions. In part, the Report stated: "Estimated snow free access to Summit late July. On June 9, there was 7-8 ft. of snow in the Moraine Lake area and Lake ice covered. Trail to summit under 3-8 ft. of snow except for section of red ridge near summit." In spring snow conditions especially, South Sister is a climb, not a hike!
Every group traveling in the mountains has a leader who is responsible. It may be the person who got everyone together, or the best route finder or the person confident in their Wilderness First Aid and Extended Care training. The RP suggested that in this case, there should have been a sweep with responsibility for stragglers. We think there is more to leadership than that. Here is our Traditional Mountaineering Leadership Ethic.
The RP noted that it would have been good to have shared cell phone numbers among key members of the 14 person group and/or carried "handy-talkies". (Little un-licensed Cobra radios are about $30 for two, everywhere.)
Every group must stay together with each person responsible for the person behind them. If someone lags behind the group leader should be asked to stop or slow until the person can re-connect with the group. A person can be dropped at a marked spot to be picked up on the way back. The Group Leader is responsible to make sure the person will be warm or cool enough to stay put. The waiting person must understand they can not go back alone! Here is our Traditional Ethic of Following the Mountaineering Leader.
Each person must carry their own Essentials. The RP noted that Ms. Hecker had left her Cell Phone and her lighter in her car. Contrary to popular opinion, most areas of the Recreational Three Sisters Wilderness have cell coverage from Mt. Bachelor towers and other cell towers to the east and west of the crest. Other lists of "Ten Essentials" or now the Ten Essential Systems are every where. Here is a link to our Essentials. Ms. Hecker reportedly did not have any extra clothing insulation beyond what she was wearing at the 6:30 AM start of this Friday morning climb. She spent a cold night doing calisthenics to stay warm under a tree. My guess is that she carried no Essentials beyond a little food and water. (Of course, she did not intend to become benighted and lost on deep snow.)
Each person must have their own map and compass. Ms. Hecker did not have a map or a compass. The Organizer must supply a map for every participant. Today, computerized maps are easy to make or obtain on the internet or in sporting goods stores. Simple black and white copies are enough. The best compass today costs only $30.00. a good compass can cost $15.00. A map must be provided for every participant and it can cost five cents each! See a minimum map for a climb of South Sister. What is the Best Compass? A simple accurate $100 GPS is carried by more and more people today. What is the Best GPS? Yes, you can easily learn to place yourself within a few yards on the map using UTM coordinates. Read Using your map, compass and GPs together, in a nut shell.
Some of the climbers waited for Ms. Hecker at their cars at the trail head. No one should leave the trail head until everyone is accounted for. Here is our Club Sign-in Agreement which includes the car license number and the emergency contact phone number. Here is a link to our suggested Sign In Agreement. The RP noted that everyone returned home after Search and Rescue was called at 7PM. He returned in the morning after driving to the Portland area that night.
We are glad that this preventable mis-adventure had a happy outcome. Here is a link to a tragic preventable death near nearby Broken Top: Danny Curran
Hecker's approximate 6.5 mile route over the snow is shown in blue.
The steep 1.5 mile trail between DEVLTP and DEVIL can be seen on the map even in this small graphic.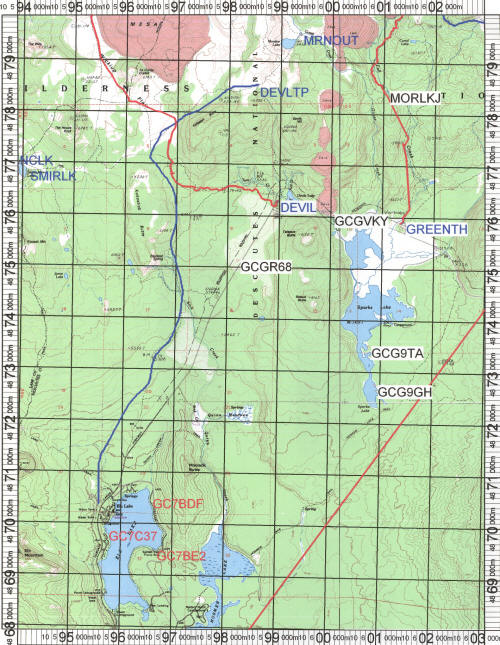 Map Tech Terrain Navigator 8.5 x 11 map. Ms Hacker's 6.5 mile track is in blue.
A copy of a 5 cent map like this (at 8.5 x 11 paper size) can be followed by a novice with a base plate compass.


Ms. Hacker's probable elevation profile over 6.5 miles
She probably went around the bump at 2.5 miles making the slog over the softening snow a little longer.


The profile for the Climber's Trail. This Trail, covered in deep snow
with dangerous differential melt rings around trees and boulders, tops out at the headwall of an ancient terminal moraine.
This headwall can be hard to spot in the summer and would have been a forbidding downclimb without companions in the shaded hard snow.
See photos of this climb on a Spring Overnight for Gear and Skills .
Finally, a suggestion to Les Stiles, our Deschutes County Sheriff:
"Search and Rescue would like to take this opportunity to remind citizens that are enjoying the back country of Deschutes County to carry emergency equipment in the event the unexpected should occur."
At the risk of not being nice, I suggest that this statement at the end of the Media Release is pretty weak, considering the opportunity for public education presented by this event.
How about the following standard Media Release statement:
We would like to take this opportunity to ask our visitors to the backcountry of Deschutes County to plan for the unexpected. Each person should dress for the forecast weather and take minimum extra clothing protection from a drop in temperature and possible rain or snow storm or an unexpected cold wet night out, insulation from the wet ground or snow, high carbohydrate snacks, two quarts of water or Gatorade, a map and compass and optional inexpensive GPS and the skills to fully use them together, and a charged cell phone and/or inexpensive walkie-talkie radios. Dress for the weather and carry the traditional personal "Ten Essentials" in a day-pack sized for the season and the forecast weather.

Visitors are reminded to tell a Responsible Person where they are going, where they plan to park, when they will be back and to make sure that person understands that they are relied upon to call 911 at a certain time if the backcountry traveler has not returned. If you become lost or stranded, mark your location, protect yourself from wind and cold and stay in place or move around your marked location to stay warm. Do not try to find your way until you are exhausted, or worse yet - wet. Wait for rescuers.
All our Media - television, print and radio - will help the Sheriff save taxpayers from huge costs similar to those involved in this search and rescue: "Search and Rescue dispatched 3 teams of searchers into the field and searched through the night and were unsuccessful in locating Hecker. At 0600 hours this morning 3 U.S. Air Force Civil Air Patrol fixed wing air craft were dispatched to the area along with a communications team. At 0700 hours an additional Black Hawk Helicopter from the Oregon National Guard was dispatched to the location to assist in the search."
It is events like this "missing hiker in the area of the Climbers trail on South Sister," that feed the periodic public outcry for charging fees for rescues where possible gross negligence was involved.
--Robert Speik, Webmeister
THE MISSION of TraditionalMountaineering.org:
"To provide information and instruction about world-wide basic to advanced alpine mountain climbing safety skills and gear, on and off trail hiking, scrambling and light and fast Leave No Trace backpacking techniques based on the foundation of an appreciation for the Stewardship of the Land, all illustrated through photographs and accounts of actual shared mountaineering adventures."
TraditionalMountaineering is founded on the premise that "He who knows naught, knows not that he knows naught", that exploring the hills and summitting peaks have dangers that are hidden to the un-informed and that these inherent risks can be in part, identified and mitigated by mentoring: information, training, wonderful gear, and knowledge gained through the experiences of others.

The value of TraditionalMountaineering to our Friends and Subscribers is the selectivity of the information we provide, and its relevance to introducing folks to informed hiking on the trail, exploring off the trail, mountain travel and Leave-no-Trace light-weight bivy and backpacking, technical travel over steep snow, rock and ice, technical glacier travel and a little technical rock climbing on the way to the summit. Whatever your capabilities and interests, there is a place for everyone in traditional alpine mountaineering.



WARNING - *DISCLAIMER!*
Mountain climbing has inherent dangers that can, only in part, be mitigated
Read more . . .
FREE Clinic on Real Survival Strategies and Staying Found with Map, Compass and GPS together
What do you carry in your winter day and summit pack?
Why are "snowcaves" dangerous?
Why are "Space Blankets" dangerous?
Why are "Emergency Kits" dangerous?
How can you avoid Hypothermia?
Missing climbers on Mount Hood, one dies of exposure, two belived killed in fall
Missing California family found, dad dies from exposure and hypothermia
Missing man survives two weeks trapped in snow-covered car
Missing snowmobile riders found, Roger Rouse dies from hypothermia
Olympic Champion Rulon Gardner lost on snowmobile!
Lost Olympic hockey player looses feet to cold injury
Expert skier lost five days near resort in North Cascades without map, compass, gps or cell phone
Mount Hood - The Episcopal School Tragedy
Mount Hood - experienced climbers rescued from snow cave
How can you learn the skills of snow camping? Prospectus

Lost and Found
Longacre Expeditions teen group rescued from the snowdrifts above Todd Lake
Lost climber hikes 6.5 miles from South Sister Trail to Elk Lake
Hiking couple lost three nights in San Jacinto Wilderness find abandoned gear
Expert skier lost five days in North Cascades without Essentials, map and compass
Climber disappears on the steep snow slopes of Mount McLaughlin
Hiker lost five days in freezing weather on Mount Hood
Professor and son elude search and rescue volunteers
Found person becomes lost and eludes rescuers for five days
Teens, lost on South Sister, use cell phone with Search and Rescue
Lost man walks 27 miles to the highway from Elk Lake Oregon
Snowboarder Found After Week in Wilderness
Searchers rescue hiker at Smith Rock, find lost climbers on North Sister
Girl Found In Lane County After Lost On Hiking Trip
Search and rescue finds young girls lost from family group
Portland athlete lost on Mt. Hood
Rescues after the recent snows
Novice couple lost in the woods
Broken Top remains confirmed as missing climber
Ollalie Trail - OSU Trip - Lost, No Map, Inadequate Clothing

About Alpine Mountaineering:


The Sport of Alpine Mountaineering


Climbing Together


Following the Leader


The Mountaineers' Rope


Basic Responsibilities

Cuatro Responsabiliades Basicas de Quienes Salen al Campo


The Ten Essentials

Los Diez Sistemas Esenciales

Our Leader's Guidelines:


Our Volunteer Leader Guidelines


Sign-in Agreements, Waivers and Prospectus This pdf form will need to be signed by you at the trail head


Sample Prospectus Make sure every leader tells you what the group is going to do; print a copy for your "responsible person"


Participant Information Form This pdf form can be printed and mailed or handed to the Leader if requested or required


Emergency and Incident Report Form Copy and print this form. Carry two copies with your Essentials


Participant and Group First Aid Kit Print this form. Make up your own first aid essentials (kits)


About our World Wide Website:


Information


Mission


Map, Compass and GPS
Map, compass and GPS navigation training Noodle in The Badlands
BLM guidelines for Geocaching on public lands
Geocaching on Federal Forest Lands
OpEd - Geocaching should not be banned in the Badlands
Winter hiking in The Badlands WSA just east of Bend
Searching for the perfect gift
Geocaching: What's the cache?
Geocaching into the Canyon of the Deschutes
Can you catch the geocache?
Z21 covers Geocaching
Tour The Badlands with ONDA
The art of not getting lost
Geocaching: the thrill of the hunt!
GPS in the news
A GPS and other outdoor gadgets make prized gifts
Wanna play? Maps show you the way
Cooking the "navigation noodle"