TRADITIONAL MOUNTAINEERING ™
www.TraditionalMountaineering.org ™ and also www.AlpineMountaineering.org ™

™
FREE BASIC TO ADVANCED ALPINE MOUNTAIN CLIMBING INSTRUCTION™
Home | Information | Photos | Calendar | News | Seminars | Experiences | Questions | Updates | Books | Conditions | Links | Search

Read more:
Gregory Makalu Pro packed for traditional alpine mountaineering
Click on an image you like to see the full version; broadband folks can click here to see the full sized page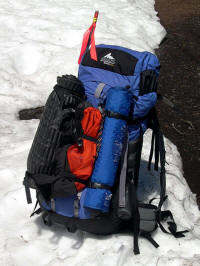 *Mouse over for photo captions! *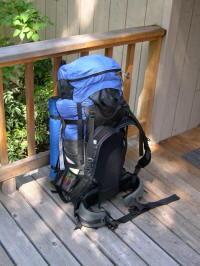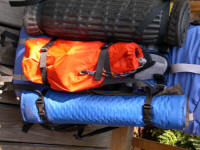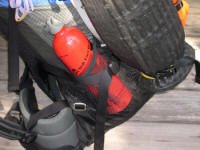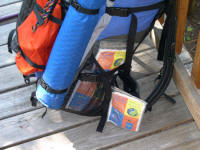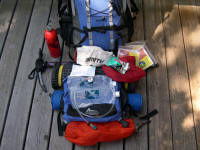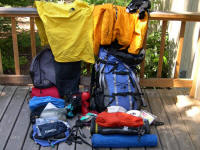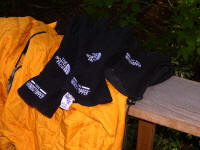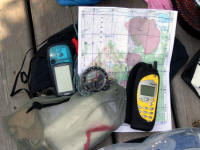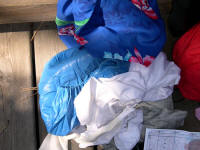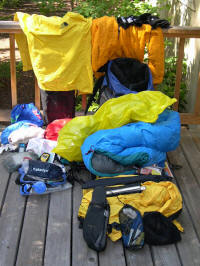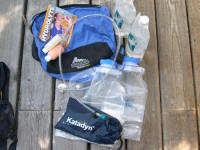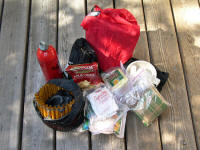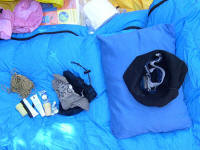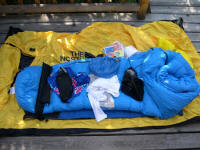 June, 2003, overnight camping on the consolidated snow above Moraine Lake
We practiced the technical skills for climbs of Mt. Shasta, Mt. Adams and Mt Jefferson on the flats and slopes above Moraine Lake in the Three Sisters Wilderness. We had great weather. The snow was perfect; no crampons were needed although we had them in case the weather cooled. The consolidated spring snow accepted a kicked edge going up in the morning and a plunge step going down in the afternoon. See the photos. The photos linked above show both light and heavy (luxury) gear. On a related page, I have done a list of "light and fast, fit and experienced", basic to advanced traditional alpine mountaineering gear for a two or three day peak bagging adventure. See the list.

As a bonus, I have copied below the FAQ answer I did on "What do you carry in your winter summit pack?" All you need for an overnight or two is some more light stuff, like a good light back-pack, down bag, a good weather proof bivy, some long underwear to keep the bag clean and food. See the FAQ.

What do you carry in your winter summit pack?
The inside scoop:
Total weight to find your way is 8 oz: map, M3D leader compass, (whistle) and Garmin eTrex GPS-
Total weight of the personal, always carried Backcountry First Aid items in a Ziploc is 3.5 oz. Carry it in your Essentials sack-
Total weight of the Essentials is 8.5 oz plus the essential cell phone at 6 oz-
Gorp bag with some carbos as shown is 6 oz. (Add a a couple of traditional Clif Bars and a bagel and string cheese for lunch)-
Essential year-round hats and gloves are 7 oz-
Additional winter hats, gloves and a scarf always carried in winter, total 8 oz. (The winter OR gaiters are worn, not carried)-
Summer, fall or winter down jacket insulation, one always carried, about 1 pound at the bottom of the pack-
Gore-Tex Pack-lite® pants and jacket, always carried in winter as my wind and rain protection, total 2 pounds-
Total of the above including the essential wind vest at 5.5 oz, is just 5 pounds 14.5 ounces!
Add two quarts of water in Platypus bags, 4 pounds-
Add a winter pad, say a Cascades Designs three-quarter RidgeRest, 9 ounces-
Add the weight of the TNF Exocet pack at 2 pounds, 6 ounces-
(Note, you can use a one pound packable summit pack if you climb while wearing, not packing the gear shown below).
Total of the basic winter day pack is 7 pounds, 13.5 ounces

More water?
Add an MSR Dragon Fly, 17 ounces plus bottle and fuel, and a quart pot with top to melt snow-
and/or a Katadyn Mini water filter at 8 ounces for spring snow melt-

Add snow travel gear outside the pack, partly worn or carried:
Lifelink snow shovel, 1 pound, 4.5 ounces-
GAB snap on 12 point crampons, 2 pounds, 8 ounces-
Black Diamond mountaineering ice axe 80cm, 2 pounds, 2 ounces-
Approach poles, three part, 1 pound, 6.5 ounces-
TSL technical snowshoes are 4 pounds, 2 ounces-

Add technical climbing gear:
8.5mm rope, alpine harness, biners, webbing, snow anchors, rescue pulleys, etc. for an interesting summit attempt!
Copyright© 2004 by Robert Speik. All Rights Reserved.

Read more . . .
LitePack'n Gear List to go with these photos of my Gregory Makalu Pro! 4 pdf pages
Photos of a South Sister spring snow overnight for gear and skills

ABOUT ALPINE MOUNTAINEERING


The Sport of Alpine Mountaineering


Climbing Together


Following the Leader


The Mountaineers' Rope


Basic Responsibilities


The Ten Essentials


Our Mission

YOUR ESSENTIAL SUMMIT PACK
What are the new Ten Essential Systems?
What does experience tell us about Light and Fast climbing?
What is the best traditional alpine mountaineering summit pack?
What is Light and Fast alpine climbing?
What do you carry in your day pack? Photos?


What do you carry in your winter day pack? Photos?


What should I know about "space blankets"?
Where can I get a personal and a group first aid kit? Photos?

YOUR LITE AND FAST BACKPACK
Which light backpack do you use for winter and summer? Analysis pdf


What would you carry in your backpack to climb Shasta or Adams?


What is the best traditional alpine mountaineering summit pack?
Photos of lite gear packed for a multi day approach to spring and summer summits
Backpack lite gear list for spring and summer alpine mountaineering 4 pdf pages

ESSENTIAL PERSONAL GEAR
What clothing do you wear for Light and Fast winter mountaineering?
What do you carry in your winter day pack? Photos?


Which digital camera do you use in the mountains?
What about Boots and Shoes?


Search this site!
Copy and paste these search suggestions:

"Light and fast alpine climbing with Midge Cross"
"Accidents in North American Mountaineering"