TRADITIONAL MOUNTAINEERING ™


www.TraditionalMountaineering.org ™ and also www.AlpineMountaineering.org ™

™
FREE BASIC TO ADVANCED ALPINE MOUNTAIN CLIMBING INSTRUCTION ™
Home | Information | Photos | Calendar | News | Seminars | Experiences | Questions | Updates | Books | Conditions | Links | Search

Ten high altitude deaths on Everest confirmed for 2006 climbing season

Greetings:
Ten years after the tragedies of the 1996 pre- monsoon season on Mt. Everest, it is happening again. Ten deaths are confirmed this spring.

Two cases, both on the north side of the mountain, stand out as the most unfortunate. Up to 40 individuals are said to have passed the British climber David Sharp as he lay dying below the summit. Days later, Australian Lincoln Hall was left, considered dead, only to be found alive and rescued on the following day.

These episodes, devoid as they seem of mountaineering's tradition of cooperation and concern for others, cast a nasty shadow on our sport. The media attention that these events attract exposes the worst for all to see. But these are isolated cases on a unique mountain. Both in the mountains and in my daily work here at the Club, the ethic of helping others in mountaineering remains strong.

Everest is our planet's highest peak, a highly coveted summit. An infrastructure of fixed ropes, bottled oxygen and Sherpas who set camps and carry loads makes it possible for less practiced climbers to attempt the peak. The resulting large numbers—as many as 500 may summit this year—includes many who are ill prepared.

The two most reasonable routes up the mountain are the South Col Route from Nepal and the North Ridge from Tibet. Very few expeditions go to either of these routes without plans to use oxygen, fixed lines and Sherpa support to aid their ascent. According to AAC member Eric Simonson, who has guided many successful expeditions to Everest, "In David Sharp's case, he basically got a couple bottles of O2 and a space in a tent at 27,000 feet—that is it. He was obviously not ready to handle the terrain
above by himself, or to get himself down when he ran out of oxygen."

We have yet to learn many of the details, so it is too early for a thorough analysis. I know how hard it would be to manage a rescue up high. Still, the concept of passing a dying man by, en route to a summit, is unfathomable to me.

While these events were unfolding in the Himalaya, a literal who's who of American mountaineering history gathered here in Denver to celebrate Dr. Charlie Houston and the founding of the Altitude Research Center at the University of Colorado. Dr. Houston's mountaineering achievements include attempts on K2 (28,254 feet) in 1938 and 1953. Like so many from his generation, he was also accomplished in other arenas; we all know of his pioneering research on the effects of altitude and hypoxia on the human body. His son Robin reports that he also built an artificial heart in his basement.

The list of people here to celebrate Dr. Houston's life and the establishment of the Center included Dr. Tom Hornbein, Nick Clinch, Jim Wickwire, Congressman Mark Udall and the four other living members of the 1953 K2 expedition: Bob Bates, Bob Craig, Dee Molenaar and Tony Streather all the way from England.

These men represent the tradition of mountaineering that still dominates our sport today. In 1953, the K2 team famously abandoned any concern for the summit to attempt the rescue of fellow climber Art Gilkey. Their teamwork and concern for one another during the struggle for survival that ensued is legendary.

Our David A. Sowles Award is conferred from time to time on "mountaineers who have distinguished themselves, with unselfish devotion at personal risk or sacrifice of a major objective, in going to the assistance of fellow climbers imperiled in the mountains." The members of the 1953 K2 expedition were among the first recipients. After the 1996 Everest tragedies, three individuals were singled out to receive the prestigious award.

In 2001 seven climbers gave up their summit on Lhotse to rescue two who were near death from a substantially more difficult location than David Sharp's. They received the award in 2002.
If you dig deeply enough, you'll find glimpses of the best in mountaineering even in this year's terrible chapter on Everest. The men that eventually came to Lincoln Hall's aid—Dan Mazur, Dawa Sherpa, Myles Osborn, Andrew Brash, Jangbu Sherpa and Phil Crampton—gave up their summit to save his life. Even in the midst of some of the most sickening stories of selfishness and ego, the spirit of mountaineering remains strong.

Respectfully yours,
Phil Powers
Executive Director
The American Alpine Club
http://www.americanalpineclub.org/
Joint effort never before seen on Everest's North side: Lincoln Hall in C1
Lincoln is now in the North Col C1 tent. "In our big dining tent at the North Col, the expedition's doctor Andrey Selivanov has prepared a field hospital. The tent has tables, chairs, and electric light," Abramov reported earlier. Image of the camp at North Col, courtesy of the expedition (click to enlarge).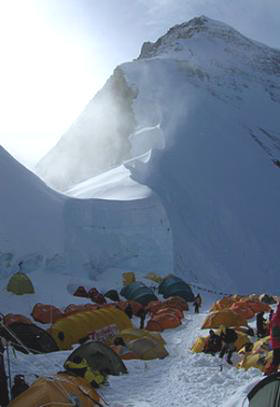 MountEverest.net
May 26, 2006
Early this morning, climbers on their way up the mountain found Australian Lincoln Hall still alive - after his spending one night in the open at 8700m. A rescue operation was immediately launched – resulting in an unprecedented joint effort from all teams still on Everest's north side.

Sherpas reached Lincoln who, after receiving O2 and drugs, regained consciousness but remained in extremely serious condition. He was transported down across the technical upper sections of Everest.

At 10.00 this evening local time Lincoln is in camp at North Col 7000m; he even made the snow slope from 7500 m without assistance, Abramov reports. With him now in the makeshift hospital tent is doctor Andrey Selivanov . Lincoln is confused, due to acute brain edema and hypoxia. The doctor examined his hands, frostbitten 2-3 degrees. Lincoln remains in critical condition, but on a question regarding the outlook, the doctor said, "We shall overcome!".

"Now Lincoln Hall is in a warm, spacious tent with electric light, looked after by ten people. Descent to ABC is planned for tomorrow morning," Abramov said.

Australian Lincoln Hall (50) is an Everest veteran and one of Australia's most renowned climbers. He was a member in the first Australian expedition to summit Mount Everest back in 1984, following a new route across the North face and Norton Couloir. The team climbed in light style, without supplementary O2. The resulting route was called White Limbo, also the title of a book written by Lincoln afterwards.

This year Lincoln was accompanying teenager Chris Harris, who hoped to become the youngest Everest summiteer ever at 15 years old. However, Chris called off his attempt due to health reasons. Lincoln felt strong and thus decided to give the summit a try. On May 24 he departed C3 with Harry Kikstra, visually challenged climber Thomas Weber and three Sherpas.

Thomas went completely blind on the way up. He turned back, but couldn't make it to C3 and perished on the mountain.

Meanwhile, Lincoln reached the summit, but became ill on descent. At 8700m he couldn't go on. Three Sherpas tried to help him for 9 hours, but eventually Lincoln lost consciousness and the Sherpas declared him dead at 7:20 pm (Nepal time) yesterday. Running out of O2, exhausted, and both of them snow blind, team leader Alex Abramov told the Sherpas to return to C3.

This morning, Dan Mazur reached Lincoln on his way to the summit with some clients, and found him still alive. He gave him oxygen, tea and lent him his radio, so Lincoln could speak to his team. Dan then proceeded to the summit* while Abramov and other teams on the mountain immediately dispatched all resources up the mountain to save Lincoln.

(Ed correction May 27: In a rescue debrief on May 27 it turned out that the two stayed with Lincoln until help arrived.)
http://www.mounteverest.net/news.php?id=3313

Read more . . .
Bend's Mountain Link team summits Everest!
Mountain Link website
The Balsiger Mount Everest Expedition
Bend team set to scale Mount Everest
Dispatches from Mountain Link's Everest summit
Photos from JJ's expedition to the top of Everest
Robert Link autographs a poster
Senior Guide Garrett Madison moves to Bend, Oregon
Ed Viesturs
Steve House
Conrad Messner
Tomaz Humar

About Alpine Mountaineering:


The Sport of Alpine Mountaineering


Climbing Together


Following the Leader


The Mountaineers' Rope


Basic Responsibilities

Cuatro Responsabiliades Basicas de Quienes Salen al Campo


The Ten Essentials

Los Diez Sistemas Esenciales

TECHNICAL MOUNTAINEERING
What is the best traditional alpine mountaineering summit pack?
What is the best belay | rappel | autoblock device for traditional alpine mountaineering?
What gear do you normally rack on your traditional alpine mountaineering harness? Photos?


What is the best traditional alpine mountaineering seat harness? Photos?
Can I use a Sharpie Pen for Marking the Middle of the Climbing Rope?
What are the highest peaks in Oregon? Alphabetically?

CARBORATION AND HYDRATION
Is running the Western States 100 part of "traditional mountaineering"?
What's wrong with GORP? Answers to the quiz!
Why do I need to count carbohydrate calories?
What should I know about having a big freeze-dried dinner?
What about carbo-ration and fluid replacement during traditional alpine climbing? 4 pages in pdf


What should I eat before a day of alpine climbing?

ALPINE CLIMBING ON SNOW AND ICE
Winter mountaineering hazards - streams and lakes
Is long distance backpacking part of "traditional mountaineering"?
How long is the traditional alpine mountaineering ice axe?
What about climbing Mt. Hood?
What is a good personal description of the south side route on Mount Hood?
What should I know about travel over hard snow and ice?
How can I learn to self belay and ice axe arrest? 6 pdf pages


What should I know about snow caves?
What should I know about climbing Aconcagua?

AVALANCHE AVOIDANCE
Young Bend man dies in back county avalanche
What is an avalanche cord?
Avalanche training courses - understanding avalanche risk
How is avalanche risk described and rated by the professionals? pdf table
How can I avoid dying in an avalanche?
Known avalanche slopes near Bend, OR?
What is a PLB?
Can I avoid avalanche risk with good gear and seminars? pdf file

SNOWSHOES AND CRAMPONS
Why do you like GAB crampons for traditional mountaineering?
What should I know about the new snowshoe trails
What are technical snowshoes?
Which crampons are the best?
What about Boots and Shoes?


YOUR ESSENTIAL SUMMIT PACK
What are the new Ten Essential Systems?
What does experience tell us about Light and Fast climbing?
What is the best traditional alpine mountaineering summit pack?
What is Light and Fast alpine climbing?
What do you carry in your day pack? Photos?


What do you carry in your winter day pack? Photos?


What should I know about "space blankets"?
Where can I get a personal and a group first aid kit? Photos?

YOUR LITE AND FAST BACKPACK
Which light backpack do you use for winter and summer? Analysis pdf


What would you carry in your backpack to climb Shasta or Adams?


What is the best traditional alpine mountaineering summit pack?
Photos of lite gear packed for a multi day approach to spring and summer summits
Backpack lite gear list for spring and summer alpine mountaineering 4 pdf pages

ESSENTIAL PERSONAL GEAR
What clothing do you wear for Light and Fast winter mountaineering?
What do you carry in your winter day pack? Photos?


Which digital camera do you use in the mountains?
What about Boots and Shoes?


TRADITIONAL KNOWLEDGE
How did you become interested in traditional mountaineering techniques?
Who is Conrad Messner?
What is traditional slacklining or highlining?
What are some of the comments you have received?
Who was Peter Starr?
Who are the Mazamas?
What is an avalanche cord?
Who were the notorious Vulgarians?
How was top rope climbing practiced in the 1970s?
What is a Whillans sit harness?
What is a dulfersitz rappel?
How do I self-belay a rappel?

BACKCOUNTRY NAVIGATION
How accurate is the inexpensive hand-held GPS today?
What are some good Central Oregon Geocaches?
What is the Public Land Survey Grid? pdf
What is the UTM Grid? six pdf pages
Which GPS do you like?


Which Compass do you like?


How do you use your map, compass and GPS together, in a nut shell?
How can I learn to use my map, compass and GPS?
Do you have map, compass and GPS seminar notes? six pdf pages

Search this site!
Copy and paste these search suggestions:

"Light and fast alpine climbing with Midge Cross"
"Accidents in North American Mountaineering"