TRADITIONAL MOUNTAINEERING ™
www.TraditionalMountaineering.org ™ and also www.AlpineMountaineering.org ™

™
FREE BASIC TO ADVANCED ALPINE MOUNTAIN CLIMBING INSTRUCTION™
Home | Information | Photos | Calendar | News | Seminars | Experiences | Questions | Updates | Books | Conditions | Links | Search


Search this site!
Read more:
Learning to climb steep hard snow slopes:
What should I know about travel over hard snow and ice
Hikers, backpackers and climbers that reach higher elevations will eventually find themselves on snow and ice fields. Often, travel and climbing are best done when hard snow covers difficult terrain: brush, loose scree and talus, cliffs and the like. Snow climbing is not just for the winter, but it may ease the way year-round for the trained climber. Travel on snow can help maintain a steady aerobic pace within the capabilities of everyone in the group. Glissading, or sliding down a moderate slope while under control, is a wonderful way to loose major elevation in minutes.
A BASIC PREMISE:
Snow is an ever-changing medium. Snow slopes, safe in the morning, may become extremely dangerous in the afternoon. Hard snow may turn soft resulting in foot steps giving way over brush or logs causing dangerous post-holing and broken legs. Warming conditions may make progress very arduous, requiring a change in plans. Unexpected snow storms or white-out conditions may occur making progress impossible. Warming conditions may trigger rock-fall or avalanches. Slick hard ice can form quickly making any progress dangerous and arrest all but impossible.
Travel across a steep hard snow slope with a thousand feet of slope exposure, is like walking along the very edge of a cliff, with a thousand feet straight down. A climber falling down a snow slope is slowed only by the nominal friction of clothing and equipment, little different from falling straight off a cliff of like elevation. Hit a bump or catch a crampon and the hapless climber is tumbling or cart wheeling toward rocks, trees or flat terrain below. Broken bones and dislocations and death are likely. The climber must respect the hidden danger of easily climbed snow slopes.
THE MOUNTAINEERING ICE AXE:
Snow travel on slopes requires practiced use of an appropriate ice axe. The mountaineering ice axe is used primarily for balance and to stop a fall before it happens; but also for self-belay if a slip occurs and self-arrest if a fall should occur. Sometimes the axe is used for step-cutting or as a snow-anchor; it should be strong and balanced but not too heavy. The mountaineering axe should be long enough to be used as a cane (piolet canne) in the uphill hand ascending or descending a slope, normally by traversing. A good way to chose the length of an axe: your fingers should just touch the head with the spike on level ground. The axe must be controlled; make a shoulder leash or use a hand leash purchased with your axe. Purchase a rubber head guard; learn to uncover the pick but keep the adze protected by the rubber guard from being blunted by your face or eyes. The adze must be thickly taped before any ice axe practice.
LINES OF DEFENSE IN CLIMBING SNOW:
Before you climb forgiving snow or harder snow, you must learn to self belay and also self arrest. The first line of defense in climbing snow is DON'T FALL. The second is SELF-BELAY. If these fail, you must SELF-ARREST, SELF-ARREST, SELF-ARREST and keep trying to arrest until you stop, one way or the other.
"APPROPRIATE SLOPES" FOR LEARNING SELF ARREST TECHNIQUES:
Choose "appropriate slopes" as required for instruction and practice: for snow travel, for snow anchors, for belay activities, for ice axe arrest practice and for safe rest, food and split breaks. The term "appropriate slopes" refers to slopes which in the judgment of the responsible instructor are suitable for the level of experience of the participants under the snow conditions of the moment. ALL SLOPES MUST HAVE TESTED SAFE RUN-OUTS.
Copyright© 1999-2007 by Robert Speik. All Rights Reserved.
The traditional alpine mountaineering ice axe
The length of the traditional mountaineering ice axe is about equal to the number of centimeters from the climbers fingertips to the floor when he or she is standing on a level surface. I am 6'2' tall with long legs and my axe is 80cm.

Some one will advise, "You should have a modern shorter axe!"
Here is what Lene Gammelgaard said on page 171 of her 1999 book "Climbing High". about her Into Thin Air - Everest experience: "Lousy axe for climbing. What was Scott thinking of when he recommended it - has he forgotten what it's like up here? I would have felt much better with a long handled classical axe. Well next time I have to trust my own experience more."

Often, the advisor is picturing a very steep snow or ice wall for "sport climbing" when showing a short handled tool. Some self-appointed advisors have never had Self Belay or Self Arrest training on the steep snow slopes. On steep water ice, technical ice climbers opt for two technical short expensive hand tools. These technical tools are nearly useless for mountaineering functions like balanced walking, probing, belaying, or self-arresting.

Snow travel, steep snow climbing and glacier travel all require use of the long traditional mountaineering ice axe as a point of connection to the snow.
Walking on easy snow, the axe is used in the cane position in the up hill hand, using the belay grip, palm over the adze, pick forward. Modern ice axes are usually stamped from steel and have sharp edges that can bruise hands and fingers even through thick gloves. The palm of the hand on the adze enables the climber to push the axe more easily into the snow. However, in order to arrest with the axe (its secondary safety function) the grip must be changed to the arrest hand position. This requires time and two hands to accomplish.

When the going gets more dicey in the perception of the individual climber, the axe is normally changed to the arrest grip, with the thumb under the adze and the palm over the center point of the axe head. A perceptive leader will note when this change-over occurs among his team members.

The first imperative is Don't Fall. The second is to Self Belay a slip. The third is to Self Arrest a slide or fall. All of these imperatives are assisted by a (long) traditional mountaineering ice axe.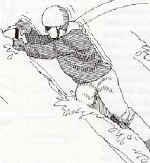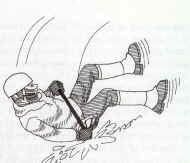 Traditional Ice Axe "Self Belay" and Ice Axe "Self Arrest"
illustration from Mountaineering, the Freedom of the Hills
Buy a traditional mountaineering ice axe made by a major manufacturer. Don't worry too much about the positive or negative angle of the point of the pick. A super light axe with a short pick is fine for spring and summer strolls in the high country. Buy a strong axe for steeper snow and glaciers. You will need the stronger shaft for snow anchors, boot axe and carabiner belays, etc. A slightly heavier axe will actually aid in balance on a slick slope with a thousand feet of exposure.

Make sure the shaft of the ice axe is smooth, without fancy rubber hand grips and so on. These non-traditional embellishments just impede your ability to thrust the smooth shaft deep into the snow. Use a rubber cover for the adze and pick, pulling it back from the pick only while climbing. Keep the adze covered to prevent a nasty cut on the cheek or eye while violently arresting. The spike cover should be left in the car as it will soon get lost in the snow.
Always wear strong gloves while using your ice axe. Practice arrests without gloves some time and you will quickly find out why.
Make a tether. Use a long piece of half inch wide accessory tape to tie an ample shoulder loop to go under one arm and to tie under the head of the axe to the "carabiner" hole. Make sure the tether is long enough to use the axe in the banister position but not so long as to catch on your knee as you climb a steep snow slope. This tether will enable you to drag the axe behind you a short distance while scrambling over rocky terrain or carry it tucked behind your pack shoulder strap and most of all, to change hands as you traverse up a slope.

Read our seminar notes about steep snow climbing, glacier travel, and the imperatives Don't Fall, Self Belay and Self Arrest elsewhere in www.TraditionalMountaineering.org!
Copyright© 1999-2007 by Robert Speik. All Rights Reserved.



WARNING - *DISCLAIMER!*
Mountain climbing has inherent dangers that can in part, be mitigated
Read more . . .
American Alpine Club
Oregon Section of the AAC
Accidents in North American Mountaineering

ALPINE CLIMBING ON SNOW AND ICE
Winter mountaineering hazards - streams and lakes
Is long distance backpacking part of "traditional mountaineering"?
How long is the traditional alpine mountaineering ice axe?
What about climbing Mt. Hood?
What is a good personal description of the south side route on Mount Hood?
What should I know about travel over hard snow and ice?
How can I learn to self belay and ice axe arrest? 6 pdf pages


What should I know about snow caves?
What should I know about climbing Aconcagua?

AVALANCHE AVOIDANCE
Young Bend man dies in back county avalanche
What is an avalanche cord?
Avalanche training courses - understanding avalanche risk
How is avalanche risk described and rated by the professionals? pdf table
How can I avoid dying in an avalanche?
Known avalanche slopes near Bend, OR?
What is a PLB?
Can I avoid avalanche risk with good gear and seminars? pdf file


About Alpine Mountaineering:


The Sport of Alpine Mountaineering


Climbing Together


Following the Leader


The Mountaineers' Rope


Basic Responsibilities

Cuatro Responsabiliades Basicas de Quienes Salen al Campo


The Ten Essentials

Los Diez Sistemas Esenciales

MOST RECENT
Fatal climbing accident at Meadow Crags near Bend Oregon
Veteran Mt. Hood climber injured during ice axe arrest on Mt Hood
Mt. Hood climber injured by falling ice, rescued by helicopter
AAC Report: Smith Rock leader fall turns climber upside down
Three climbers, their MLU and a dog rescued on Mt. Hood


Three North Face climbers lost on Mt. Hood


Two climbers become lost descending Mt. Hood
Family of five and exhausted Great Dane dog rescued from South Sister Climber's Trail
Climbing the Snow Creek Route on Mt. San Jacinto, California


Cheating death on the Snow Creek Route on Mt San Jacinto, California
A climb of Three Fingered Jack in the Mount Jefferson Wilderness
Ten high altitude deaths on Everest confirmed for 2006 climbing season
On Being and Becoming a Mountaineer: an Essay
Climbing Mount Hood in April with Arlene Blum and friends
AAC Report - Accident on Mount Washington ends with helicopter rescue
AAC Report - Fatal fall from Three Finger Jack in the Mount Jefferson Wilderness
Three Finger Jack - OSU student falls on steep scree slope
Mount Huntington's West Face by Coley Gentzel ©2005 by AAI. All Rights Reserved
Solo climber falls from Cooper Spur on Mount Hood
Climber dies on the steep snow slopes of Mount McLaughlin
Warning!! **Climbers swept by avalanche while descending North Sister's Thayer Glacier Snowfield
Mt. Whitney's East Face Route is quicker!
Mt. Whitney's Mountaineer's Route requires skill and experience
Report: R.J. Secor seriously injured during a runaway glissade


Mount Rainer . . . eventually, with R.J. Secor by Tracy Sutkin
Warning!! ** Belayer drops climber off the end of the top rope
Runaway glissade fatal for Mazama climber on Mt. Whitney
Sierra Club climb on Middle Palisade fatal for Brian Reynolds
Mt. Ritter 1971 tragedy provides experience for a generation of climbers
Smith Rock - Fall on rock, protection pulled out
Mount Washington - Report to the American Alpine Club on a second accident in 2004
Mount Hood - Solo hiker drowns while crossing Mt. Hood's Sandy River
Mount Hood - Solo climber slides into the Bergschrund and is found the following day
Notable mountain climbing accidents analyzed


Mount Washington - Report to the American Alpine Club on the recent fatal accident


Mount Washington - "Oregon tragedy claims two lives"
Mount Jefferson - two climbers rescued by military helicopter
North Sister - climbing with Allan Throop

MOUNT HOOD
Mount Hood - Veteran climber injured during ice axe arrest on Mt Hood
Mount Hood - Climber injured by falling ice, rescued by helicopter
Mount Hood - Three climbers, their MLU and a dog "rescued"
Mount Hood - Three North Face climbers lost
Mount Hood - What happened to the three climbers on the North Face?
Mount Hood - Two climbers become lost descending the South Side
Mount Hood - Solo climber falls from Cooper Spur
Mount Hood - climbing accident claims three lives -Final Report and our Analysis

Mount Hood - Notable mountain climbing accidents Analyzed

Mount Hood - Solo hiker drowns while crossing Mt. Hood's Sandy River
Mount Hood - Solo climber slides into the Bergschrund and is found the following day
Mount Hood - The Episcopal School Tragedy

Mount Hood - experienced climbers rescued from snow cave
Mount Hood - a personal description of the south side route
Mount Hood - fatal avalanche described by Climbing Ranger
Mount Hood - avalanche proves fatal for members of Mazamas climbing group
Mount Hood - snowboard rider dies on Cooper Spur
Mount Hood - fatal fall on snow, Cooper Spur Route
Mount Hood - fatal fall on snow from the summit
Mount Hood - climb shows the need for knowledge
Mount Hood - climb ends in tragedy
Mount Hood - rescue facilitated by use of a VHF radio