TRADITIONAL MOUNTAINEERING ™
www.TraditionalMountaineering.org

™ and also www.AlpineMountaineering.org ™

©
FREE BASIC TO ADVANCED ALPINE MOUNTAIN CLIMBING INSTRUCTION™
Home | Information | Photos | Calendar | News | Seminars | Experiences | Questions | Updates | Books | Conditions | Links | Search


Search this site!
Read more:
Please turn up your sound

Warning: Traditional Alpine Mountaineering is an inherently dangerous sport!
*DISCLAIMER*
TraditionalMountaineering is organized in Oregon, USA, to provide basic to advanced information and instruction about mountain climbing safety skills and gear, off trail hiking and light weight backpacking, illustrated through actual mountaineering adventures.

TraditionalMountaineering is founded on the premise that "He who knows naught, knows not that he knows naught", that exploring the hills and summitting peaks have dangers that are hidden to the un-informed and that these inherent risks can be in part identified and mitigated by information, training, interesting gear and knowledge gained through the experiences of others.

The value of TraditionalMountaineering to our Friends and Subscribers is the selectivity of the information we provide, and its relevance to introducing folks to hiking on the trail, exploring off the trail, mountain travel and Leave-no-Trace light-weight bivy and backpacking, technical travel over steep snow, rock and ice, technical glacier travel and a little technical rock climbing on the way to the summit. Whatever your capabilities and interests, there is a place for everyone in traditional mountaineering.
Mountaineering, the Freedom of the Hills, 8th edition 2010, published by The Mountaineers in Seattle, Washington contains a prominent Note About Safety on the second page. It states:

"Safety is an important concern in all outdoor activities. No book can alert you to every hazard or anticipate the limitations of every reader. The descriptions of techniques and procedures in this book are intended to provide general information. Nothing substitutes for formal instruction, routine practice, and plenty of experience. When you follow any of the procedures described here, you assume responsibility for your own safety. Use this book as a general guide to further information. Under normal conditions, excursions into the backcountry require attention to traffic, road and trail conditions, weather, terrain, the capabilities of your party, and other factors. Keeping informed on current conditions and exercising common sense are the keys to a safe, enjoyable outing."

Every book about mountain climbing contains a disclaimer. Equipment and clothing catalogs make similar statements. The Petzl website contains the following statement:

"We remind you that activities at height are dangerous and can lead to serious, or even fatal injuries. Suitable training is essential before using our products. Please attentively read the technical specification sheets which present the ways in which these products function. The learning of suitable techniques and safety measures are carried out under your sole responsibility. You personally assume all risks and responsibilities for any damage, injury or death taking place following the misuse of our products in whichever way. If you are not in the position to assume this responsibility or take this risk, do not use this equipment."

Some disclaimers specify that the only way to learn the risks of traditional mountaineering and how to use specific tools and techniques is to be taught by a professional guide. Some agree that one can learn under the supervision of an experienced climber:

Climbing is an inherently dangerous sport and should be performed only with the proper instruction and supervision of an experienced climber. The author and publisher of this web page assume no responsibility for any injuries incurred by the reader!"
TraditionalMountaineering.org is based on the premise that the inherent risks of outdoor activities and mountain climbing can be in part identified and mitigated by information, training, interesting gear and knowledge gained in part, through the experiences of others.
*
OUR DISCLAIMER*
THE INFORMATION PROVIDED ON THIS WEBSITE ABOUT ALPINE MOUNTAINEERING CAN NOT IDENTIFY EVERY POSSIBLE OUTDOOR ADVENTURE RISK IN EVERY POSSIBLE SITUATION. THE INFORMATION MAY BE ONLY OUR PERSONAL OPINION. THE TRAINING IN TECHNIQUES IN OUR BRIEF FREE SEMINARS IS PROVIDED IN GOOD FAITH BUT IT CAN NOT POSSIBLY BE COMPLETE. THE INTERESTING GEAR WE SUGGEST IS COVERED BY DETAILED TECHNICAL SPECIFICATIONS AND INSTRUCTIONS PROVIDED BY THE MANUFACTURER, AVAILABLE ON THE MANUFACTURERS WEBSITE AND IN THE ORIGINAL PACKAGE INSTRUCTIONS, NOT ON THIS WEBSITE. THE PROGRESS OF THE HUMAN RACE IS BASED ON KNOWLEDGE GAINED FROM THE EXPERIENCES OF OTHERS AS RECOUNTED IN INNUMERABLE BOOKS, OTHER MEDIA AND ON THIS WEBSITE. WE ARE SIMPLY MENTORING PARTICIPANTS IN A WONDERFUL COMPLEX SPORT FOR OUR OWN ENJOYMENT AND THE ENJOYMENT OF OUR READERS. YOU MAY LEARN FOR YOURSELF BUT SEEK THE PERSONAL INSTRUCTION OF EXPERIENCED PEOPLE AS YOU MAY NEED IT. CLIMB WITH OTHERS. YOU ARE HEREBY WARNED AGAIN, THAT EXPLORING THE HILLS AND SUMMITTING PEAKS HAVE DANGERS THAT ARE HIDDEN TO THE UN-INFORMED. WHEN YOU PARTICIPATE IN THESE ACTIVITIES YOU ASSUME RESPONSIBILITY FOR YOUR OWN SAFETY.

Copyright© 2000-2016 by Robert Speik. All rights reserved.



WARNING - *DISCLAIMER!*
Mountain climbing has inherent dangers that can in part, be mitigated
Read more . . .


About Alpine Mountaineering:


The Sport of Alpine Mountaineering


Climbing Together


Following the Leader


The Mountaineers' Rope


Basic Responsibilities

Cuatro Responsabiliades Basicas de Quienes Salen al Campo


The Ten Essential Systems

Los Diez Sistemas Esenciales

Our Leader's Guidelines:


Our Volunteer Leader Guidelines


Sign-in Agreements, Waivers and Prospectus This pdf form will need to be signed by you at the trail head


Sample Prospectus Make sure every leader tells you what the group is going to do; print a copy for your "Responsible Person"


Participant Information Form This pdf form can be printed and mailed or handed to the Leader if requested or required


Emergency and Incident Report Form Copy and print this form. Carry two copies with your Essentials


Participant and Group First Aid Kit Print this form. Make up your own first aid essentials (kits)


About our World Wide Website:


Information


Mission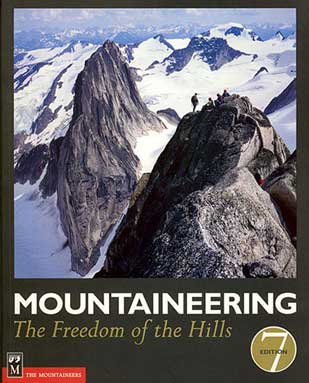 Learn about traditional alpine mountaineering!