TRADITIONAL MOUNTAINEERING ™
www.TraditionalMountaineering.org ™ and also www.AlpineMountaineering.org ™

™
FREE BASIC TO ADVANCED ALPINE MOUNTAIN CLIMBING INSTRUCTION ™
Home | Information | Photos | Calendar | News | Seminars | Experiences | Questions | Updates | Books | Conditions | Links | Search

Snow Creek route (10,000') on Mt. San Jacinto (10,804'), California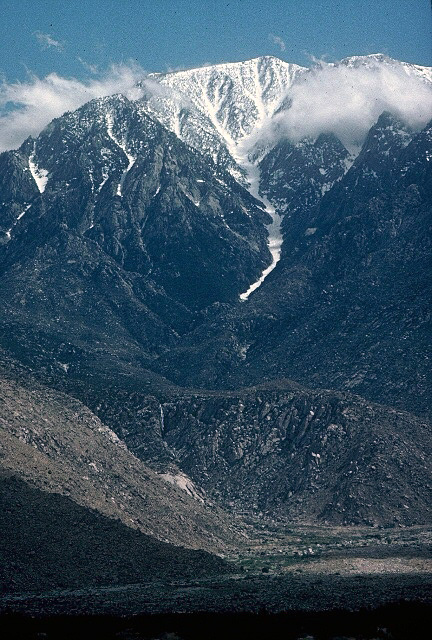 The California classic 10,000 foot climb of Snow Creek on Mt. San Jacinto.
Photo Copyright© 1973-2012 by Robert Speik. All Rights Reserved.

The Snow Creek Route on Mt. San Jacinto
Mt. San Jacinto is located in the San Bernardino National Forest, just west of Palm Springs. The Classic Snow Creek Route is one of the premier alpine climbs in Southern California. The Route is in condition only for a few weeks in the spring of each year. The following story appeared in the September-October 1993 edition of the Sierra Club's Hundred Peaks Lookout newsletter. Most climbers elect to bivy about 5,000 feet below the summit making it a two day climb. --Webmeister Speik





Three trip reports on climbing Snow Creek

Cheating Death on Snow Creek
A story by J. K. Vawter
In April 1993, my father-in-law, Bill Davenport, and I agreed to take a weekend to climb Snow Creek on the North Face of San Jacinto, a few miles west of Palm Springs. It's big, rising almost 10,000 feet from the desert floor to the rocky summit in five or six miles and is said to have the largest base to summit rise in lower 48 states. But it's not a "technical" climb where climbers use ropes to safeguard each other in the event of a fall. Even in a heavy snow year, which it was, it's a hike up to about 5500 feet, then a long slog up a snow gully to the summit at 10,800. Most climbers use only crampons and ice ax.

In fact, the snow gully is not that steep when compared to technical climbs. It starts at about 20 degrees, gradually steepening to about 35, a little steeper near the top. Most years, the snow is soft enough to kick steps in, and the climbing is quite secure. But it is steep enough that some climbers might want a rope, and where an un-arrested fall would likely result in serious injury, or death.

Bill and I planned to do it in two days--the easy way. One-day ascents have been done in as little as seven hours, but the average is more like 12. Throw in two more hours to hike down to the Palm Springs Aerial Tramway (the usual mode of descent), and drive time, and you've got one very long day.

We left San Diego at midnight and parked his truck near the little community of Snow Creek (elevation 1200 feet) about 2:30 A.M. Saturday. We made our way up the rocky, brush-covered alluvial fan in the dark, crossing the creek and picking up the use trail beyond the paved service road. We took our time knowing we'd reach the snow tongue (where we would camp) easily by lunchtime. Bill hadn't been up there in several years and let me lead the way.

Lest you think I was dragging some geezer up there, let me tell you, Bill is as sure-footed (and stubborn) as a mountain goat. Strong, steady, and as tough as they come, he's not fast but he can still run you into the ground because he never seems to need rest. In his prime he ran marathons, swam in the ocean year 'round without a wet suit, did century rides and brutal desert hikes like Rabbit Peak, climbed Mt. Rainier, twice, and three Mexican volcanoes, each close to 18,000 feet in elevation. He'd climbed Snow Creek so many times he'd lost count. Compared to him, I was a Snow Creek novice, having done it only three times before.

The use trail switchbacks up a steep, chaparral-covered slope, and puts you on a gently rising plateau above the creek. It had been a wet winter and the nolina were in spectacular yellow bloom, like gigantic candle flames. We stopped near a waterfall for breakfast and dozed for a while. Dawn light crept over snowcapped Mt. San Gorgonio to the northwest and the broad desert valley below us. Beyond the waterfall we threaded our way through the dense brush at the high end of the plateau, and then to a traverse over a steep, loose slope.

Bill and I became acquainted soon after I began to date his daughter in 1978. He invited me on "a little bike ride." I didn't ride regularly and had to borrow a bike, and told him so. But he took me on a 50-miler anyway, just to see what I was made of I guess. I finished, barely, with nothing left, and was sore for days. I married his daughter anyway, and Bill and I became good friends, spending many weekends exploring remote areas in the Sierra Nevada, the California desert and northern Baja.

Around noon we arrived at the creek and a nice campsite at about 5500 feet, a few hundred feet downstream from the snow tongue. We spent the afternoon lounging by the stream, eating, talking, napping and enjoying the solitude and wildness of the rugged canyon and the huge alpine face above us.

We left our camp at 3:00 the next morning, and reached the snow tongue twenty minutes later. We strapped on crampons, unleashed our ice axes, and started up the snow in our T-shirts. It was weirdly warm and still, and the snow was slushy. We weren't making great time, but it was dark. About 6:30 A.M., when it was just light enough to turn off our headlamps, we emerged from the long, walled-in corridor below the big fork in the couloir at about 7200 feet. Suddenly it was blowing like hell and so cold we clambered off the snow to a rocky shelf to put on every piece of clothing we had.

Snow surface conditions also changed abruptly. Now instead of sinking in with every step, all we left for tracks were crampon prints. It required much less energy to climb, but was more awkward and precarious since our ankles were cocked uncomfortably at the angle of the slope. The spike of the ax penetrated only an inch or two. This should have triggered my alarm, but it didn't.

I said to Bill, "This is fun. No wasted energy from postholing (breaking through to your knees, the usual problem on this climb). Don't remember anyone ever getting 'mountaineering' conditions like this."

"No. I've never seen it this firm," Bill said. The alarm didn't go off for him either.

Instead of taking the main chute on the right, we decided to go left. This would cut 400 feet off the top, and put us a half mile or so closer to the tram. I'd never been up the left fork, and it seemed steeper than the normal route.

As the chute steepened, the wind became a problem. Fortunately, it gave us plenty of warning. We could hear it gather above us, then roll down the chute like a wave, forcing us to crouch over our axes and hang on. We guessed it was gusting up to 40 knots. When it passed, we'd straighten up and resume climbing until we heard the next one coming.

I was using French technique (standing flat-footed so that the ten crampon points under the sole of the boot all penetrate the snow), just going to front points to reverse my switchbacks. A few hundred feet up the left chute, Bill went exclusively to front pointing (kicking into the snow with the toe of the boot, so that only the two front points of each crampon support the climber's weight) to be closer to his ax when the wind bore down. This was safer in the short run, but slower and more tiring. In hindsight, I should have perhaps paid more attention to his decision to climb this way.

At 8300 feet we found a level spot behind a large tree on the right side of the chute took a break to catch our breath, rest our legs, and have some water and a bite to eat. The wind continued to gust hard every few minutes and it was unusually cold. But the exertion of climbing, and our many layers of clothing, kept us warm. We'd been climbing almost five hours and were only 2100 feet from the top. Things were going well.

Below us, the chute swooped down steeply in a gentle arc for 1000 feet, where it met the main gully that dropped another 2000 feet to the end of the snow. The floor of the desert, where we had started the day before, was another 5000 feet below that. Above us, the chute rose for several hundred yards to a headwall that we would have to find a way around. On the far side rose rock walls, spires and turrets. On our side were trees and a few rocky outcroppings. Everything was white and immaculate, blanketed under several feet of snow.

A little before 8:00 A.M., we shouldered our packs and climbed back out onto the steep, firm snow of the couloir. I was really beginning to enjoy myself and the novel, perfect surface conditions when the wind roared down on us again like a freight train. I crouched over my ice ax to brace against the buffeting, and as the blast was dying, started to relax. Just as I began to straighten up, a sudden rogue gust nearly knocked me off my stance. Out of the corner of my eye I saw a flash of movement. When I was able to stand again, I turned downslope to see Bill flying down the chute clutching his ice ax in self-arrest position.

"No problem," I thought. "He's doing what he's supposed to do, and he will stop." But he wasn't stopping.

Watching him I thought, "C'mon Bill, get your weight over that ax. It's going to take you half an hour to get back up here." Then it dawned on me that the reason he wasn't stopping was because we weren't climbing on snow anymore: it was ice, neve' to be exact, and that he might not be able to stop.

My nonchalance turned to concern, and then to alarm as he continued to slide feet first down the chute. I was looking straight down on him so it was hard to judge his speed. But he was receding quickly in the distance. Suddenly Bill's body flew up and over in a sickening, rag doll motion and wind-milled, end over end, then spun like a table leg on a lathe. He must have hooked a crampon.

In that instant, time stood still and my world changed. I realized I was watching my friend--my wife's father--fall to his death. I thought of my wife, my sister-in-law, and my mother-in-law and wondered how I could find the strength to tell them what happened, and how I would be able to endure life as a constant reminder to them of his death. Grief enveloped me, and my stomach knotted. I'm not an atheist, but I'm not a religious man either. Still, a cry welled up from a place so deep inside me that I had never sensed it before (or since), and with one word I implored God, the Creator, or the intelligent universe, to intervene.

"N-O-O-O."

Bill somehow managed to get back into self-arrest position. That he was able to hang on to his ice ax through that violence is unbelievable. That he was able to slow himself down before he lost consciousness is miraculous. His Herculean effort surely saved his life.

I saw him coast gently into the only flat ledge within sight on that side of the couloir. Had he come down five feet further left, he would have slid into the lower chute, and kept going. On the ledge, he crumpled over like a sack of potatoes and pushed himself off the ice with his legs. He slowly rolled up into a hunched, seated position, with his pack supporting him.

It took me 15 minutes to descend the 800 feet he'd fallen. On the way down, I had to stop four or five times to brace against the wind. I kept calling his name and telling him to put some clothes on, but he didn't respond. It was still frigid in the shady couloir and I was afraid the cold would hasten him into shock.

About 75 or 100 feet above him I picked up his ice ax and, at 50 feet, a tube of Chapstick, clinging precariously to the icy slope. I followed the now continuous red streak on the ice to Bill. His head, a bloody pulp, hung limply from his shoulders and blood dripped into his lap. He hadn't moved from his hunched, seated position. There was a lot of blood on the ledge, and the front of his shirt and the top of his pant legs were soaked red, but he was alive. Now I had to figure out a way to keep him alive until I could get help.

I dropped my pack and knelt in front of Bill.

"BILL!"

"Yeah? Wha' happened?" His speech was slurred, but coherent.

"You fell Bill."

"I don't remember falling. Is my nose bleeding?"

"Uh, yeah." No sense in telling him that his head looked like a peeled tomato.

As I assessed him, he kept asking me the same questions, and I patiently repeated the same answers. With a strange sense of detachment, I wondered if this would be our last conversation. I was numb and oddly aware that Bill's survival might as easily depend on a seemingly inconsequential decision, as on one I thought important, and that I might not recognize the difference except in hindsight. Aware that my actions might be put under a microscope later, I tried just to focus on what needed to be done.

Most of the bleeding had come from his head wounds, which were congealing in the cold. His eyes were so swollen that I couldn't check his pupils. I covered his head with two bandannas and secured them in place with my balaclava as a bandage to stop the bleeding. Suspecting skull fractures and brain trauma, I did this very gently. I checked his extremities, trunk and abdomen for breaks, punctures and bleeding and found nothing. Whether he had internal injuries or not was moot: there was nothing I could do about it up there. But I had to treat him for shock.

I wrapped his ensolite pad around him as a windbreak, and fashioned a "cradle" in a low-growing mountain mahogany on the ledge by yanking a few branches out to create a depression for his butt. In the cradle, he could squirm without sliding off the ledge. I put his sleeping bag in my bright yellow bivy sack to protect him from the wind, and to make it easier to spot him from the air, then padded the cradle with both our ensolite pads.

I took his pack and boots off and got him in the sleeping bag. I put my mittens on his hands so he couldn't loosen the drawstring and get out, and repeatedly told him to stay in the bag until help arrived. I knew I had to leave him there and go for help, and what I feared most was that he would get up on his feet, wander off the ledge in his confusion, and fall to his death . . . again. If I could immobilize him, at least he'd have a chance.

I descended the couloir as quickly as prudence would allow, keenly aware that if I fell, we might both die. I stumbled a few times, recovering my balance with my heart in my throat, but never fell. As the angle of the snow decreased, I moved faster.

Stopping at the end of the snow tongue to remove my crampons, tears welled up in my eyes. I suppressed a cry of frustration and grief, and then let it out anyway. Who could hear me? Control returned as I started moving again. All the way down through the heavy brush and steep slopes, I debated whether to drop my pack so I could go faster. I kept it, rationalizing that if I fell, or twisted an ankle, or was bitten by a rattlesnake, that I might need what was in it to survive. Still I wondered if I was being selfish, and whether the time I lost would cost Bill his life.

It took only two hours (it had taken ten to go up) to reach the caretaker's house at the bottom of the hill. Barking dogs kept me from knocking on the front door, so I shouted until the caretaker came out. I quickly explained the situation. He called 911 and specifically asked for an airlift, then chewed me out for being up there without permission. (The land at the base of the mountain is owned by the Palm Springs Water District and is not open to the public.) Then he took pity on me and offered to let me call home, on him.

Standing on his patio looking up at the peak, I made the call and struggled for control. I spoke to my sister-in-law, told her what had happened, and that I feared the worst. She was very gentle with me, for which I will always be grateful. She told me that Bill loved climbing and that he loved doing things with his sons-in-law, that he'd had a full and good life, and that it wasn't a bad way to go. When I turned off the phone, I realized that it was out of my hands and there was nothing more I could do but wait. Then I lost it.

A fire department truck and paramedic unit were the first to arrive about 30 minutes later. The caretaker was annoyed that a helicopter had not yet been deployed, but the rescue team needed to set up a base of operations, assess the situation, and make that call themselves. A sheriff's helicopter was called in to spot the victim.

A local TV crew showed up and interviewed everyone. The reporter baited me with questions about the risks of climbing, and the age of my climbing partner. Of course, it was nothing I hadn't already asked myself a hundred times that morning. The caretaker's family made me a sack lunch and lemonade, and his young son brought it to me and sat down. What a comfort he was. No value judgments, just curiosity about mountains and helicopters, and what climbers do.

A CHP helicopter landed nearby to offer assistance. Neither helicopter was equipped to drop a litter and pick it up. Around noon, Angel 3, a rescue Huey from El Toro Marine Corps Air Station, was called in. Riverside Mountain Rescue showed up but it would have taken them all day to get to him on foot. They were ready to go, but never left base. Angel 3 arrived around 1:00, already briefed by radio en route. The winds were still howling up high and the chopper pilot had to make several passes to drop the corpsman and a litter on the ledge.

It took several more tries to snag the litter off the ledge with the corpsman astride his passenger. Bill was alive and I felt a momentary sense of relief. At 1:40 p.m., the chopper made a beeline for Palm Springs just as their fuel situation went critical, as we heard over the rescue truck squawk boxes that were tuned to the chopper's radio communications. The caretaker gave me his work number and told me to call him with any news about Bill's condition. A deputy sheriff gave me a ride down to the truck and asked if I was going to be OK driving alone. He offered to escort me and I followed him in the truck to the Desert Hospital in Palm Springs.

I talked to the Angel 3 crew at the hospital that afternoon after their debriefing. They told me it was the hairiest rescue they'd ever done. The wind was gusting hard and they weren't sure they could set the litter on the ledge. Once they dropped the corpsman there, they were concerned about getting him off. At one point they considered leaving him on the ledge while they went to refuel. Then they had trouble getting the hook to him. When he finally snagged it, they winched the litter up at full speed. The guy on the winch told me the corpsman's eyes were big as saucers.

They were laughing and shaking their heads as they recounted the deed, and were proud of their work. I thanked them over and over and apologized for putting them in that situation. Then the corpsman took me aside to tell me that he thought Bill had multiple skull fractures, possible spinal fractures, and possible brain and internal injuries, and might not make it. I took another walk around the parking lot and tried to keep myself together.

My brother-in-law flew the family from San Diego to Palm Springs soon after my phone call. They arrived at the hospital some time after I did. We spent a tense hour together waiting for the doctor's assessment. Finally, he came into the waiting room.

Bill had one broken bone, a blowout fracture of the right orbital, behind the eye. It was so minor that there was no need to fix it. His head, scalp and hands had multiple, severe abrasions, and he had severe contusions to his shoulders and collarbone. Brain CT scan showed no hemorrhages, only the fractured orbital bone, and there was no other evidence of internal injuries. They would have to keep him under close observation for awhile, but were optimistic about his chances for a full recovery.

"He is a very, very lucky, and very tough, man. He's giving us a hard time back there. He won't let us examine his eyes and he wants to go home," the doctor told us.

They kept him in the ICU overnight. Every time a nurse offered him some pain medication he shooed her away and groused that he didn't need to be in the hospital, much less the ICU. The nurses teased that his remarkable luck might have something to do with his birthday: March 17, St. Patrick's Day. It wasn't the first time he'd cheated death. While training pilots in World War II, a trainee in another plane collided with Bill's plane. Both parachuted to safety, but the planes were destroyed. The ICU nurses wistfully moved their favorite curmudgeon out to the floor the next day.

He was a sight. His head looked like a pumpkin on a plank. He told me he remembered standing up to stretch his legs and back as the wind was dissipating, and being blown off his feet backwards by a sudden gust of wind. He landed upside down on his pack and picked up speed quickly. By the time he rolled over and got into self-arrest, he estimated he'd already slid over 100 feet, maybe more.

Then it was a contest all the way down. Could he hold on to the ax, or would the ice pummel him into submission and pry it out of his bleeding and battered hands? His stubborn determination to hold on to that ax is the reason he is alive today. Fortunately, he didn't remember hooking the crampon and the violence that ensued. He did remember trying to get out of the sleeping bag on the ledge, and being unable to figure out why his hands didn't work. I was secretly pleased that my little trick had worked.

We stayed in Palm Springs that night. I slept fitfully and awoke once in tears, but my equilibrium returned in the morning. I called the caretaker with the good news about Bill, and expressed my deep gratitude for the support that he and his family gave me during the rescue.

The hospital discharged Bill three days later. Once home, he admitted that he had also sprained his right ankle (no doubt a result of hooking the crampon), but had not told the doctors about it fearing that it might delay his release from the hospital. It took a few weeks for his head to get back to normal size, and he had some trouble with dizziness for about a year afterward. But it didn't stop him from walking three miles to the fitness center every day, working out hard for an hour, and walking home, which he still does at age 77.

I still ask myself whether I should have recognized the danger sooner, and whether that would have made any difference. If I had said to Bill: "You know, if one of us falls, we're going to have a deuce of time stopping on this ice," would we have considered turning back? It would have been a very tough call being so much closer to the top than the bottom. Should I have seen a problem because Bill felt it necessary to front-point, when I did not? Should I have insisted we turn around? I'll never know the answer to these questions, but I will continue to ask them.

Bill quit climbing but is still an avid hiker, swimmer and skier. He spends several weeks skiing at Tahoe every winter. (He stopped skiing at Mammoth when they stopped letting seniors ski for free.) Watch out for him. He skis like a bat out of hell.
Copyright 1993 by J. K. Vawter. All Rights Reserved.

http://home.flash.net/~cfoster2/climbing/stories/snowCreek.html

A 10,000' one day climb via Snow Creek
By Dan Richter
Easter Sunday, April 11, 1993
Erik Siering, Bob Sumner and I slept Saturday night in the desert behind a well-lit up utility building halfway up the Snow Creek road. At 4:30 am we parked our trucks just before the private property sign on the left just before Snow Creek Village and quietly went up Falls Creek road to not wake the sleeping residents. Twenty minutes up the road we cut south across Snow Creek and climbed the ridge between Falls Creek and Snow Creek. We scrambled and bouldered up on the east side to not disturb the guard and his dogs. Once high on the ridge we continued along easy ground to "the isthmus" at 4,000 feet where Falls Creek and Snow Creek almost come together. We traversed through heavy brush keeping to the east side of Snow Creek and about a hundred feet above it aiming for a notch on a spur at 4,800 feet and then dropping into a canyon that joins Snow Creek from the southeast. At the point this side canyon turned left at 5,000 feet and we climbed southeast out of it onto the ridge 50 feet above Snow Creek proper. From here we could see the tongue of snow about a quarter of a mile up the creek. We traversed on the east side of the creek and joined it to boulder over the final waterfalls that brought us to the snow at 10:00 am.

We rested and snacked as we put on our crampons, got out our ice axes, and adjusted packs and clothes. Ahead lay 5,100 feet of 45° to 55° of snow that becomes almost vertical at the summit. The first500 to 700 feet was piled with run out of avalanches which looked like large fluffy moguls with an occasional broken pine bough sticking out at odd angles like the arm of a buried skier. The chute was narrow here with high rock walls. As we slowly switched back from side to side on deep firm snow the chute began to widen more and more. Between 7,000 and 8,000 feet the chute began to become immense and as we looked up the shear wall of white snow we could see the glistening summit 3,000 feet above us. Bob moving more quickly broke trail and reached the summit at 4:30 p.m. as the sun left the final steep pitch below it. Erik and I watched the surface glaze over with ice as we kicked and hacked up the freezing final 200 feet. We came out 30 feet to the right of the summit at 5:30 p.m. below a cornice glowing blue in the later afternoon sun.

After a break to put on warmer gear, to get our breath and to gaze at the glorious vistas, we strolled down to the tram as the sun set. The surface of the snow had re-frozen and we crunched along easily in our crampons. We were at the tram by 8:00 p.m. and caught the 8:30 car down. Once down we took a cab back to the trucks and were back in L.A. by midnight.
© 1993-2001 by Dan Richter. All Rights Reserved.

http://www.danrichter.com/trips/mt_san_jacinto.htm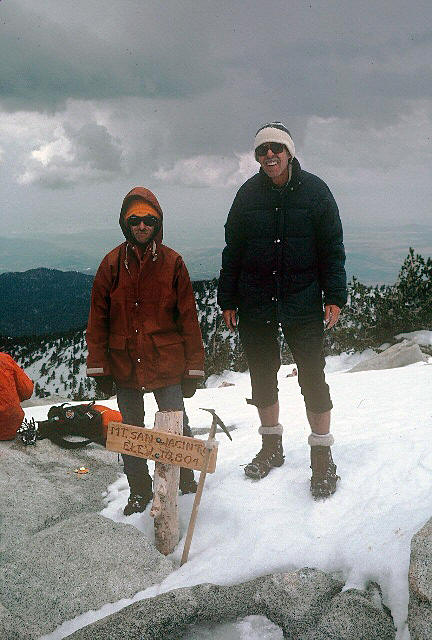 Steve Schuster and Bob Speik
Summit of Mt. San Jacinto 10,804', Southern California, May 1974
via the Snow Creek route, a 10,000 foot desert to summit classic snow climb.
Copyright© 1973-2012 by Robert Speik. All Rights Reserved.
Personal Comments
Genesis of a traditional mountaineer ca 1974
This was my first technical snow climb. We bivied about 5,500 feet below the summit.
A climber had fallen the week before our climb. He had slid for several hundred vertical feet of elevation down rough hard snow and ice. He had lost his ice axe and gloves and had worn all the skin off his hands during the slide. As I vividly recall, we thought we could see long blood stains on the snow, but we were not sure. This injured climber had been air lifted off the route. I do not have the ANAM for 1974. Was this mountaineering accident reported? Comments
When I arrived at the very steep final pitch below the 10,804 foot summit, I found that my ice axe and crampons only penetrated the surface of the hard snow slope about a an eighth of an inch. Someone noted that I was at the point where that climber had fallen the week before. I concentrated on my technique and balance and topped out after a few more minutes. Wheeew. Our Leader set up a fixed rope for the following slower climbers on that final pitch that morning. I was interested in how he did that.
--Webmeister Speik.
Note: In the mid 1980s, Robert Speik was Chair for three years of the Mountaineering Training Committee (MTC) of the Sierra Club's large Angeles Chapter in Southern California. The Committee was responsible for the training up to 1,000 people per year in Basic and Advanced Mountaineering Training with more than 250 volunteer Leaders in five geographical areas, qualified in several levels of technical competence and responsibility. Bob Speik edited a new MTC Staff Handbook in 1985, writing the chapter on technical Snow Climbing. Recently, he has conducted popular class room and field classes in several mountaineering subjects for Central Oregon Community College in Bend Oregon. --Margaret Thompson Speik



WARNING - *DISCLAIMER!*
Mountain climbing has inherent dangers that can, only in part, be mitigated
Read more . . .
Climbing the Snow Creek Route on Mt. San Jacinto, California
Cheating death on the Snow Creek Route on Mt San Jacinto, California
Palm Springs Life Magazine, story on Snow Creek with photos by Robert Speik
A climb of Mt. San Jacinto by Snow Creek, in the Summer
San Gorgonio 11 Peak Loop- 21 miles, 8600', not easy!

ABOUT ALPINE MOUNTAINEERING


The Sport of Alpine Mountaineering


Climbing Together


Following the Leader


The Mountaineers' Rope


Basic Responsibilities

ALPINE CLIMBING ON SNOW AND ICE
How long is the traditional alpine mountaineering ice axe?
What about climbing Mt. Hood?
What is a good personal description of the south side route on Mount Hood?
What should I know about travel over hard snow and ice?
How can I learn to self belay and ice axe arrest? 6 pdf pages


What should I know about snow caves?
What should I know about climbing Aconcagua?

TECHNICAL MOUNTAINEERING
What is the best traditional alpine mountaineering summit pack?
What is the best belay | rappel | autoblock device for traditional alpine mountaineering?
What gear do you normally rack on your traditional alpine mountaineering harness? Photos?


What is the best traditional alpine mountaineering seat harness? Photos?
Can I use a Sharpie Pen for Marking the Middle of the Climbing Rope?
What are the highest peaks in Oregon? Alphabetically?



CARBORATION AND HYDRATION
What's wrong with GORP? Answers to the quiz!
Why do I need to count carbohydrate calories?
What should I know about having a big freeze-dried dinner?
What about carbo-ration and fluid replacement during traditional alpine climbing? 4 pages in pdf


What should I eat before a long day of alpine climbing?