TRADITIONAL MOUNTAINEERING ™
www.TraditionalMountaineering.org ™ and also www.AlpineMountaineering.org ™

™
FREE BASIC TO ADVANCED ALPINE MOUNTAIN CLIMBING INSTRUCTION ™
Home | Information | Photos | Calendar | News | Seminars | Experiences | Questions | Updates | Books | Conditions | Links | Search

What is the best lightweight traditional alpine mountaineering summit pack?
What is a summit pack?
The summit pack is a very light packable daypack that can be carried in a backpack on the approach to a summer alpine peak and used for the summit dash (or day hiking adventures as well).
The summit pack must able to carry all of the Essential Systems, including extra clothing, two or three quarts of water and, if needed, technical climbing gear including ice axe and crampons. A near empty backpack should not be used for the summit dash. It is better to carry an extra pound on the approach in the form of a summit pack than to carry five or six pounds of bulky backpack to the summit and back to advanced base camp.
Most daypacks weigh 2 or 3 pounds and are bulky, having been designed based on the mistaken belief that buyers are looking for clever zippers, pockets, colors and great durability. The summit pack needs to be well made and durable enough so that a strap won't tear loose or gear won't tear through, but that is all. (Of course it has to carry well and look good in photos, too).
For spring and summer one day climbs, I use the Salomon Raid Race 300 "adventure racing" daypack. It holds about 1,892 cu in and weighs about 1lb 9oz. The "Thermo-Comfort" formed back panel, shoulder straps and waist band provide great suspension, including trad gear and/or two or three quarts of water and Gatorade. Two zipped pockets on the Salomon waistband provide easy access for my Garmin Geko GPS and Nikon digital camera. I carry water in one liter Platipus bags on each side of the pack and/or in a Platypus clear plastic bag and tube (bladder) on the inside next to my back.
In the winter, I use the Sphynx 35L daypack by Black Diamond to carry the necessary extra winter fleece and down, a shovel, pickets, crampons, and a mountaineering ice axe or hiking poles. The Black Diamond 35L Sphynx daypack can contain 2,140 cu in and weighs about 2 pounds 7 ounces).
But neither one of these daypacks can hitch a ride up 5,000' in my lite and fast summer backpack to ABC!
I use the Lowe Alpine Alpine Attack Summit™ summit pack, weighing about 15 oz in the spring and summer. My Lowe Alpine Attack Summit was modified for me by the Big Wall Department at the Metolius Climbing manufacturing facility (factory?) in Bend, Oregon. We added slightly more padding on the shoulder straps and straps to fasten my summer aluminum crampons safely on the back, not the top of the pack. (I have a concern about crampons fastened on the top of the pack, cutting me to the spinal cord on the back of my neck.)
In the winter, I carry a GoLite Gust pack which can hold up to 3,600 cu in of fleece and feathers. It is very packable and weighs only 1 pound, 4 ounces. It is un-constructed (very light material and no frame sheet) so I have to carry crampons inside unless I leave ABC with the crampon on my boots. I carry my ice axe or tread it through the pack straps.
What I carry in my summit pack depends on the length, elevation gain and technical class of the hike or climb, the time of year, the forecast weather, who my companions are and a lot of other things, I guess. It is packed at ABC just before the summit attempt, depending on conditions.
A butt pad is part of the design of the Lowe Alpine Attack Summit. It is in a pocket next to the inside back of the summit pack. It is a 12 x 12 inch (3 oz) piece of three-quarter inch thick ensolite and has a short tether for windy seats. It can be removed and used as a sit pad with the backpack, while the summit pack is turned inside out, rolled up and secured with a rubber band to go inside the backpack.
Here is what goes in my Alpine Attack Summit summit pack for a summer day hike or scramble-summit after packing in to a base camp. The second photo shows my summit pack in use on Mt. Adams, in Washington's North Cascades.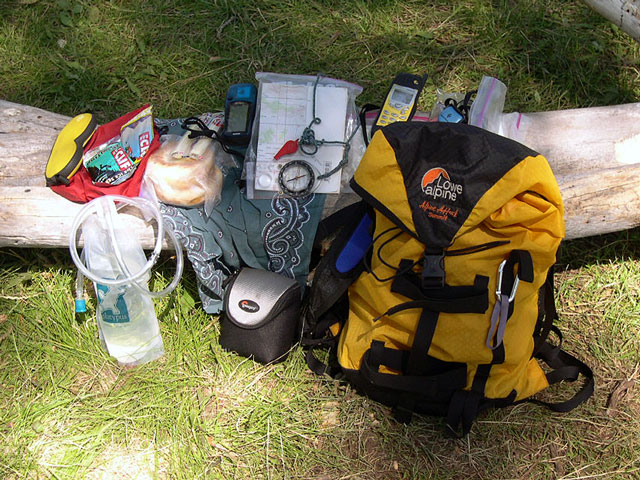 Day hiking from a sunny summer backpack camp in Big Indian Gorge in The Steens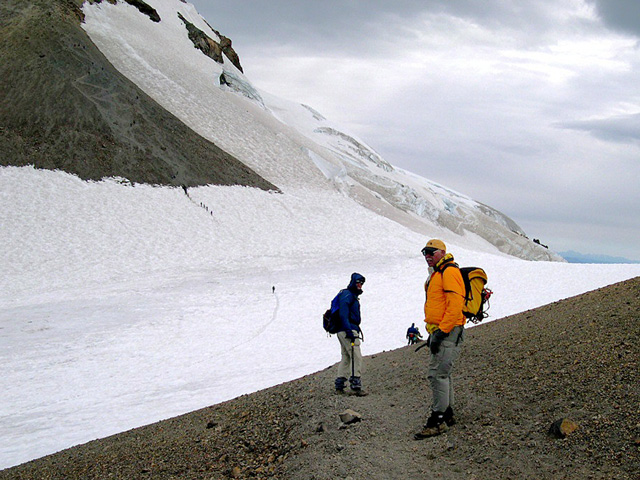 Summer climb of Mt. Adams. Note cold jet stream weather and crampons on the pack for the final 750 foot climb
As you can see from the photo above, the Lowe Alpine Summit rides nice and high on my shoulders. It does have a light waist strap for stability. I had put on the TNF Gortex pack-lite shell as the weather cooled and later the generic poly jacket shown here when I reached this point, the Mount Adams False Summit, up in the jet stream nearing 12,000 feet.
Here is what goes into my summit pack. I start with the generic hollow-fill belay jacket, (Patagonia's DAS Parka for winter) then my Patagonia Supercell (breathable waterproof hardshell) Jacket (13 ounces) and GoLite Shadow Gore-Tex hardshell pants (9 ounces). Then, in goes a poly-pro Patagonia ski cap, a TNF Gore-Tex soft bill cap, Patagonia poly liner gloves and OR Gore-Tex Lobster Mitts secured with a big rubber band (7oz). (In the winter, I add Gore windstopper gloves and hat, a poly scarf and light generic balaclava (8oz).
The small loose bag of Small Essentials (11oz) and a cell phone (6oz) go in next. (These remaining small essentials are composed of a mini Mag-lite and extra battery, a butane lighter, Suunto M3D base plate compass and whistle on a lanyard, Quad map with UTM coordinates, toilet paper, a Clif Shot, a few 2x2 Band-Aids and moleskin, a few over the counter meds, personal Rx for Vicodin, mini knife, one days supply of sun screen, my smallest cloth wallet, etc., all in a lite mesh bag.)
Lunch in the form of a bagel, non-fat string cheese and a V8 (or four Clif Bars), some hard candies and a couple of Clif Shots go in a lite nylon red A16 stuff sack. No Gorp, as I am wearing all the fat I will need.
And last but not least for this hot/cool simple Mt. Adams summit from ABC, I loaded two liters of water in Platypus bags. Four pounds of water! The two Platypus bags only weigh two ounces when empty!
Copyright© 2002-2006 by Robert Speik. All Rights Reserved.

Read more . . .
What is the best winter day pack?
What is the best day pack

MT. ADAMS
Mt. Adams, a fine traditional alpine mountaineering summit
Mt. Adams by the Mazama Glacier Route

ABOUT ALPINE MOUNTAINEERING:


The Sport of Alpine Mountaineering


Climbing Together


Following the Leader


The Mountaineers' Rope


Basic Responsibilities


The Ten Essentials


Our Mission


FAQ RELATED, WINTER
South sister spring overnight snow climb, gear and skills
An emergency snow cave in the fall 2003
NOAA Windchill Chart pdf
Photos of the melted snow pack near Mt Bachelor
Snowmachines used as a tool in traditional mountaineering
Contents of a winter summit pack
Crampons for traditional mountaineering
A map of some known avalanche slopes near Bend
Avalanche descriptors
Lute Jerstad conducting a traditional crevasse rescue class in 1973
ODFW clinic - Becoming an Outdoors Woman


ALPINE CLIMBING ON SNOW AND ICE
How long is the traditional alpine mountaineering ice axe?
What about climbing Mt. Hood?
What is a good personal description of the south side route on Mount Hood?
What should I know about travel over hard snow and ice?
How can I learn to self belay and ice axe arrest? 6 pdf pages


What should I know about snow caves?
What should I know about climbing Aconcagua?

TECHNICAL MOUNTAINEERING
What is the best traditional alpine mountaineering summit pack?
What is the best belay | rappel | autoblock device for traditional alpine mountaineering?
What gear do you normally rack on your traditional alpine mountaineering harness? Photos?


What is the best traditional alpine mountaineering seat harness? Photos?
Can I use a Sharpie Pen for Marking the Middle of the Climbing Rope?
What are the highest peaks in Oregon? Alphabetically?



CARBORATION AND HYDRATION
What's wrong with GORP? Answers to the quiz!
Why do I need to count carbohydrate calories?
What should I know about having a big freeze-dried dinner?
What about carbo-ration and fluid replacement during traditional alpine climbing? 4 pages in pdf


What should I eat before a long day of alpine climbing?