TRADITIONAL MOUNTAINEERING ™
www.TraditionalMountaineering.org ™ and also www.AlpineMountaineering.org ™

™
FREE BASIC TO ADVANCED ALPINE MOUNTAIN CLIMBING INSTRUCTION™
Home | Information | Photos | Calendar | News | Seminars | Experiences | Questions | Updates | Books | Conditions | Links | Search

Read more:
Climber disappears on the steep snow slopes of Mount McLaughlin

Search for lost hiker falls victim to elements
Mail Tribune
June 19, 2005
MOUNT MCLOUGHLIN — Officials have called off a search for a missing Beaverton man who apparently traveled last weekend to Southern Oregon for a hiking trip and has not been heard from since.
The hunt for John V. Zazzara, 54, was suspended late Friday, Klamath County Sheriff Tim Evinger said in a news release.

"It is very difficult to make the decision to scale back any search before a missing person has been found," Evinger said. "In this instance, little is known about (Zazzara's) intended whereabouts and how he was prepared for his outing. In this case, time and conditions were not in our favor."

Approximately 30 searchers from Klamath and Jackson counties scoured much of Mount McLoughlin on Thursday and Friday. The 9,495-foot summit remained shrouded in clouds and blowing snow throughout the two-day search, Evinger said.

Efforts to find Zazzara may continue when the weather improves, Evinger said.

Search teams traveled to the mountain on Thursday, after a friend reported Zazzara as missing.

His Toyota sport-utility vehicle was found later Thursday parked at a trailhead on the east side of the mountain in Klamath County. Police removed the vehicle from the area on Friday, officials said.

Note: Television news coverage of helicopter searches reported several substantial avalanches on the steep slopes near the summit of Mount McLaughlin. See below for the dangers of spring snow climbing. --Webmeister.
MOUNT MCLOUGHLIN (9,495')
Rogue River National Forest
MOUNT MCLOUGHLIN TRAIL, #3716
Season: Summer
Level of Use: Moderate to Heavy
Elevation: 5100 to 9,495 feet

Description:
The 5.5-mile long trail to the summit of Mt. McLoughlin winds through rocky terrain. In many places it is difficult to see and follow. After it leaves the Pacific Crest Trail behind (at a point about a mile from the parking lot), the trail ascends through a boulder-strewn forest; watch for blazed trees. Above timberline piled-up rock cairns mark the route to the ridge-top summit route...along the ridge, the trail is marked by the old Forest Service telephone poles which lead to the top.

Due to steep slopes, poor footing and coarse bare rock, horses are not recommended for the Mt. McLoughlin Trail above its junction with the Pacific Crest Trail.

Mt. McLoughlin is located within Sky Lakes Wilderness. Motorized vehicles and bicycles are prohibited within the Wilderness and groups sizes are limited to 12 people or less. Please observe the "pack it out" ethic (and perhaps you might even pick up other people's litter as you come down)...take only pictures, leave only footprints.

Caution! Each year a number of people become disoriented or lost on the way back down, usually due to coming down a different route than they used when climbing the mountain. Tempting as it may seem to descend the sandy, cinder slope on the south side of the mountain, the lower you go on this slope, the farther away you are from the trail...and once down to timberline it is a 2-mile, boulder-hopping hike northeast back to the trail. A better way is to return back down the ridge, keeping the poles in sight until the trail leaves the ridge.

The trail can be difficult to follow during the descent, particularly if it's getting late and the light is fading. Stay alert for trail blazes and familiar landmarks...look back up the trail occasionally; this may help you stay on it going down. If you lose the trail and cannot find it again, the best direction to travel would be to the east or southeast (which will take you either to the Pacific Crest Trail or to Highway 140).

Although summertime weather is usually mild at the mountain's base, the summit is subject to cold winds, driving rains, lightning and snowstorms. Be prepared for weather changes -- and know the symptoms and treatment of hypothermia. Bring along warm, rain-repellent clothing.

The hike from the trailhead to the top of the peak involves an elevation gain of about 4,000 feet. There is no water along the summit trail; carry enough liquid for your needs.

Other helpful items would be: sunglasses, sun-screen lotion, hat, compass, insect repellent, and a first-aid kit.

About Mt. McLoughlin:
Mt. McLoughlin rises 9,495 feet above sea level. Although its eastern base is in Klamath County and the Winema National Forest, most of it (including the summit) are in Jackson County and the Rogue River National Forest. Mt. McLoughlin covers an area of over 20 square miles and it comprises an estimated volume of about 4 cubic miles. It is the highest peak in southern Oregon, and the highest point in the Cascade Range between the Three Sisters and Mt. Shasta.

Geology: Mt. McLoughlin is a relatively young, composite volcano that first began to build up less than a million years ago. Composed of alternating layers of pyroclastic rocks (cinders, scoria and volcanic ash) and andesite/basalt flows, the mountain's summit was once higher than it is now. Later eruptions (some as recent as 12,000 years ago) added more rock, but the erosive work of Ice Age glaciers removed massive amounts of the mountain's northeast slope. (From the summit ridge, you can look down on the long, winding mounds, or "moraines", of loose rock left along the sides and lower end of these ancient glaciers.) Gravity continues the slow, steady process of "wearing away" the mountain, as loose boulders regularly roll and bounce their way down the steep northeast slope.

Ecology After leaving the parking lot, you pass through a forest composed largely of Shasta red fir and mountain hemlock, with scattered lodgepole pine and other trees; manzanita and other shrubs form the understory. As you climb above the forested slopes, you see only the hardy whitebark pine -- a stunted, subalpine species. Although deer, elk and bear occur on the mountain's lower slopes, most of the animals you're likely to see are smaller: Clark's nutcracker (a grey/black/white bird), golden-mantled ground squirrel (common at the summit), and if you're lucky, pine marten (a shy member of the weasel family).

History: Mt. McLoughlin was a major landmark to local Indians. To the Takelma people, the mountain was known as "Alwilamchaldis" (an important hero in their myths) and it was the home of Acorn Woman (who made the acorns grow each year). The Shasta Indians called it "Makayax", one of three mountains which poked above the surface of an ancient ocean. The Klamath called the mountain "Kesh yainatat", the abode of "dwarf old woman", who controlled the west wind. Arrowheads and other artifacts have been found on the mountain's lower slopes; Indians occasionally hunted deer and elk here while camped at lower elevations during the summer.

The place-name history of Mt. McLoughlin is complicated indeed. The first white man to see what we now know as Mt. McLoughlin was Hudson's Bay Company fur trapper Peter Skene Ogden in 1827; he named it "Mt. Sastise" for the Sastise (Shasta) Indians who had guided him north from the Klamath River into the Rogue Valley. Ogden's term, however, was soon changed in spelling and transferred to the huge, 14,000 foot volcano in northern California which now bears the name Mt. Shasta...and its former name (Pit Mountain, from its location near the Pit River) was applied to the Oregon peak. Still called "Mt. Pitt" by some local residents, Mt. McLoughlin was known to early settlers by a number of other names as well, among them: Mt. John Quincy Adams, Mt. Jackson, Mt. Clear View, and Snowy Butte. As if that weren't confusing enough, it had indeed also been named Mt. McLoughlin as early as the mid-1800s! Dr. John McLoughlin, known as the "Father of Oregon", was the head of the Hudson's Bay Co. in Oregon during the period of exploration and early settlement. Tall, and with a long mane of white hair, Dr. McLoughlin was a far-sighted Oregon pioneer. It is fitting that this mountain bears his name, a name that was officially confirmed by the state legislature in 1905.

It is unknown who made the first ascent of Mt. McLoughlin, but by the late 1800s the mountain was probably being climbed by residents and tourists on a fairly regular basis. The Forest Service erected a fire lookout on the summit in 1917. Strong winds threatened to blow the little building off the mountain each winter, so the Forest Service replaced it in 1929 with a new lookout built on a mortared-rock foundation. Often situated either above or in the clouds during fire season (making the job of spotting fires impossible), the Mt. McLoughlin Lookout was eventually abandoned and burned down.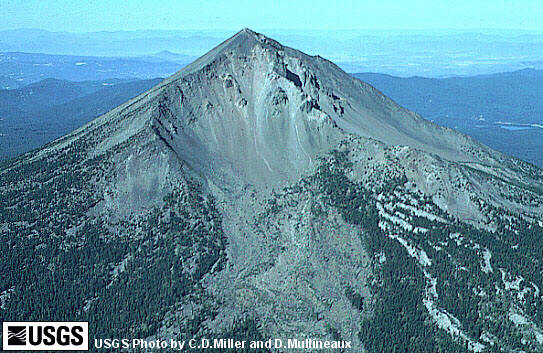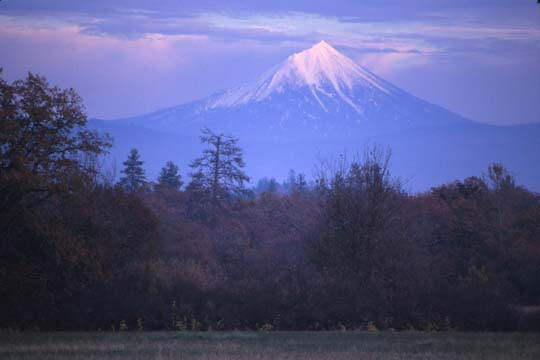 Rogue River National Forest
http://www.fs.fed.us/r6/rogue/trails_mcloughlin.html
OregonLive.com
Climber's body spotted on Mount McLoughlin
6/25/2005


KLAMATH FALLS, Ore. (AP) — The body of a Beaverton climber who has been missing for two weeks on Mount McLoughlin in Southern Oregon was spotted Friday by one of his friends, who was searching the mountain for him, authorities said.

On Saturday, search teams from the Klamath County Sheriff's office reached the body of John V, Zazzara, 54.

An Army National Guard Blackhawk helicopter was dispatched from Salem to help recover the body, which was found in dangerous terrain, according to the Army National Guard.

Klamath County authorities received a phone call from Bay Area resident Marek Damm at about 5 p.m., saying he had seen Zazzara's body near the mountain's summit.

Damm said it looked as though Zazzara fell on the south slope of the mountain and slid for some distance down a snow and ice field, Klamath County Sheriff Tim Evinger said.

Evinger said it appeared that Zazzara had been covered with snow during previous search efforts.

Note: John Zazzara may have been another victim of soft spring snow on steep volcanic slopes this spring. See above for a description of the tempting south slope off the summit of Mount McLaughlin. Possible causes, a slip in soft snow while downclimbing, an attempted glissade that could not be controlled or a slough avalanche that overwhelmed the climber. Climbing alone carries special risks that can be mitigated by companions. --Webmeister Speik

Read more . . .
Mazamas
Sierra club, Angeles Chapter
American Alpine Club
Oregon Section of the AAC
Accidents in North American Mountaineering

About Alpine Mountaineering: Interesting essays reviewed 06.01.05


The Sport of Alpine Mountaineering


Climbing Together


Following the Leader


The Mountaineers' Rope


Basic Responsibilities

Cuatro Responsabiliades Basicas de Quienes Salen al Campo


The Ten Essentials

Los Diez Sistemas Esenciales

Lost and Found
Climber on Mt. Rainier dies, others injured
Once again, hypothermia kills stranded Oregon driver
Lessons learned from the latest lost Mt. Hood climbers
Lessons learned from the latest lost Christmas tree hunters New rescue services for all American Alpine Club Members
OpEd: Oregon requires electronic communications in the backcountry
Rescue charges in traditional alpine mountaineering
Governor establishes a Search and Rescue Task Force
Oregon Search and Rescue Statutes
Lost hiker in Oregon backcountry found with heat-sensing device in airplane
HB2509 mandates electronic locator beacons on Mt. Hood - climbers' views
Oregon HB 2509 as approved on March 28, 2007
Three hikers and a dog rescued on Mt. Hood
Motorist stuck in snow on backcountry Road 18, phones 911 for rescue
Snow stranded Utah couple leave car and die from hypothermia
What really happened to the three climbers on Mt. Hood?
Two climbers become lost descending Mt. Hood
Missing California family found, dad dies from exposure and hypothermia
Missing man survives two weeks trapped in snow-covered car
Missing snowmobile riders found, Roger Rouse dies from hypothermia
Lost snowmobile riders found, one deceased from hypothermia
Longacre Expeditions teen group rescued from the snowdrifts above Todd Lake
Lost climber hikes 6.5 miles from South Sister Trail to Elk Lake
Hiking couple lost three nights in San Jacinto Wilderness find abandoned gear
Expert skier lost five days in North Cascades without Essentials, map and compass
Climber disappears on the steep snow slopes of Mount McLaughlin
Hiker lost five days in freezing weather on Mount Hood
Professor and son elude search and rescue volunteers
Found person becomes lost and eludes rescuers for five days
Teens, lost on South Sister, use cell phone with Search and Rescue
Lost man walks 27 miles to the highway from Elk Lake Oregon
Snowboarder Found After Week in Wilderness
Searchers rescue hiker at Smith Rock, find lost climbers on North Sister
Girl found in Lane County after becoming lost on hiking trip
Search and rescue finds young girls lost from family group
Portland athlete lost on Mt. Hood
Rescues after the recent snows
Novice couple lost in the woods
Search called off for missing climber Corwin Osborn
Broken Top remains confirmed as missing climber
Ollalie Trail - OSU Trip - Lost, No Map, Inadequate Clothing

Avalanche avoidance
How can I avoid dying in an avalanche?


Avalanche training courses - understanding avalanche risk


How is avalanche risk described and rated by the professionals? pdf table
Known avalanche slopes near Bend, OR?
What is a PLB?
Can I avoid avalanche risk with good gear and seminars? pdf file

Mountaineering Accidents in the recent News
Climbers swept by avalanche while descending North Sister's Thayer Glacier Snowfield
Wilderness Travel Course Newsletter this is a large PDF file
Runaway glissade fatal for Mazama climber on Mt. Whitney
Yosemite's El Capitan tests rescuers' skills
Climbers fall from Mount Hood's Sandy Glacier Headwall
Solo hiker drowns while crossing Mt. Hood's Sandy River
Injured climber rescued from Mount Washington
Mt. Washington tragedy claims two climbers
Another Mt. Rainier climber dies on Liberty Ridge
Mt. Rainier climber dies after rescue from Liberty Ridge
Young hiker suffers fatal fall and slide in the Three Sisters Wilderness
North Sister claims another climber
Solo climber Aron Ralston forced to amputate his own arm
Portland athlete lost on Mt. Hood
Broken Top remains confirmed as missing climber
Grisly find: hikers on Broken Top find apparent human remains
Once again, cell phone alerts rescuers of injured climber
Storm on Rainier proves fatal
Mountain calamity on Hood brings safety to the fore!
Fall into the Bergschrund on Mt. Hood, rescuers crash!
Paying the price for rescue
Accidents in North American Mountaineering
Goran Kropp killed while rock climbing in Washington

Avalanches
Climbers swept by avalanche while descending North Sister's Thayer Glacier Snowfield
Snowshoer dies in backcountry avalanche in Washington State
Young Bend man dies in remote backcountry avalanche
Recent deaths cause concern over avalanche beacons
Skilled member of The Mountaineers killed in avalanche
Basic Responsibilities of the cross country skier
Avalanche avoidance a practical approach to avalanche safety
Tumalo Mountain a wintertime treat

North Sister
Climbers swept by avalanche while descending North Sister's Thayer Glacier Snowfield
North Sister - climbing with Allan Throop
North Sister - accident report to the American Alpine Club
North Sister fatal accident news reports
North Sister and Middle Sister spring summits on telemark skis
North Sister, North Ridge by Sam Carpenter
North Sister, the Martina Testa Story, by Bob Speik
North Sister, SE Ridge solo by Sam Carpenter

North Sister Photos
Middle and North Sister exploratory adventure
North Sister and Middle Sister spring summits on telemark skis
Timberline Mountain Guides lead North Sister climbs
North Sister, the Terrible Traverse in September, 1999
North Sister, Scott's solo summer summit
North Sister exploratory
North Sister winter solo

North Sister: crux photos of the Three Sisters Marathon
North Sister images

Other Summits
Report: R.J. Secor seriously injured during a runaway glissade


Mount Rainer . . . eventually, with R.J. Secor by Tracy Sutkin
Mt. Whitney's East Face Route is quicker!
Mt. Whitney's Mountaineer's Route requires skill and experience
Sierra Club climb on Middle Palisade fatal for Brian Reynolds
Runaway glissade fatal for Mazama climber on Mt. Whitney
Slip on hard snow on Snow Creek route on San Jacinto
Notable mountain climbing accidents analyzed
California fourteener provides an experience
The Mountaineers Club effects a rescue in the North Cascades

Mount Hood
Mount Hood - climbing accident claims three lives -Final Report and our Analysis

Notable mountain climbing accidents Analyzed

Mount Hood - Solo hiker drowns while crossing Mt. Hood's Sandy River
Mount Hood - Solo climber slides into the Bergschrund and is found the following day
Mount Hood - The Episcopal School Tragedy
Mount Hood - experienced climbers rescued from snow cave
Mount Hood - a personal description of the south side route
Mount Hood - fatal avalanche described by Climbing Ranger
Mount Hood - avalanche proves fatal for members of Mazamas climbing group
Mount Hood - snowboard rider dies on Cooper Spur
Mount Hood - fatal fall on snow, Cooper Spur Route
Mount Hood - fatal fall on snow from the summit
Mount Hood - climb shows the need for knowledge
Mount Hood - climb ends in tragedy

Mount Hood - rescue facilitated by use of a VHF radio

Mount Washington
Mount Washington - Report to the American Alpine Club on a second accident in 2004
Mount Washington - Report to the American Alpine Club on the recent fatal accident
Mount Washington - Oregon tragedy claims two lives
Injured climber rescued from Mount Washington
Mount Washington - fall on rock, protection pulled out
Playing Icarus on Mount Washington, an epic by Eric Seyler