TRADITIONAL MOUNTAINEERING ™
www.TraditionalMountaineering.org ™ and also www.AlpineMountaineering.org ™

™
FREE BASIC TO ADVANCED ALPINE MOUNTAIN CLIMBING INSTRUCTION™
Home | Information | Photos | Calendar | News | Seminars | Experiences | Questions | Updates | Books | Conditions | Links | Search

Read more:
Mount Rainier National Park Climbing Ranger Dies During Rescue Attempt
Mount Rainier National Park Climbing Ranger Dies During Rescue Attempt
June 21, 2012
A climbing ranger at Mount Rainier National Park has died during a rescue attempt on the Emmons Glacier this afternoon. Ranger Nick Hall, 34, fell from the 13,700 foot level to about 10,000 feet on the mountain's northeast side as he was helping to prepare other climbers for extrication by helicopter.

At approximately 1:45 p.m. this afternoon, Thursday, June 21, 2012, a party of four climbers from Waco, Texas, fell at the 13,700 foot level of the Emmons Glacier as they were returning from a successful summit attempt on Mount Rainier. Two members of the party slid into a crevasse. A third member of the group was able to call for help using a cell phone. During the subsequent rescue, at 4:59 p.m., as the first of the climbers was being evacuated by helicopter, Mount Rainier climbing ranger Nick Hall fell, sliding more than 3,000 feet down the side of the mountain. He did not respond to attempts to contact him and was not moving. High winds and a rapidly lowering cloud ceiling made rescue efforts extremely difficult, but with the help of Chinook helicopters from Joint Base Lewis-McChord, three members of the original climbing party were lifted off the mountain by about 9:00 p.m. and taken to Madigan Hospital. The remaining member of the party is spending the night on the mountain with climbing rangers from Mount Rainier National Park, and rescue options will be reassessed in the morning. All four suffered non-life threatening injuries.

Climbers reached Ranger Hall several hours after the incident began and found him to be deceased. Information about Nick's fall was not initially released pending notification of his family and that of other climbing rangers who might be worried prior to the release of Nick's name. Nick Hall is a 4-year veteran of Mount Rainier National Park's climbing program and a native of Patten, Maine. He was unmarried and has no children. The names of the original four climbers will be released once all four families have been notified. Rescue and recovery efforts will resume in the morning. Sunrise, which had been scheduled to open for the season tomorrow morning, will remain closed while the incident is underway. We hope to reopen later in the day.-NPS-
http://www.nps.gov/mora/parknews/climbing-ranger-dies-during-rescue-attempt.htm
Last rescued climber leaves Mount Rainier
Last rescued climber leaves Mount Rainier
By Doug Esser, Shannon Dininny
June 23, 2012
The last of four Texas climbers rescued on Mount Rainier in an effort that cost a ranger his life walked down off the Washington peak Friday while blizzard conditions high on the mountain delayed efforts to retrieve the body.

The final climber, Stacy Wren, descended the mountain with Mount Rainier National Park rangers and was whisked away by car Friday evening. Three other climbers were plucked off the mountain by helicopter Thursday after the group fell and two of them ended up in a crevasse.

Eight other rangers trying to retrieve the body of climbing ranger Nick Hall, 33, from the 11,200-foot level of the 14,411-foot mountain were pinned down in a ground blizzard. They planned to spend the night at Camp Schurman at the 9,500-foot level and hope for a weather window on Saturday, park spokeswoman Fawn Bauer said.

Hall slid more than 2,600 feet to his death as he was helping evacuate the Texas climbers.

His family both grieved and celebrated his life Friday.

Hall, a four-year veteran of the park's climbing program, came from a family of EMTs who aided soldiers in Iraq and car crash victims in his small hometown of Patten, Maine. He was not married and had no children.

His father, Carter Hall, recalled his son as a loner when he was a child, but flourished in high school through a shared love of the wilderness.

"For good and bad, it was my influence of the outdoors," Hall told The Associated Press in a call from his Maine home, his voice breaking.

A Chinook helicopter from Joint Base Lewis-McChord removed three of the four climbers and rangers stayed on the mountain Thursday night with Wren.

The climbers from Waco, Texas, had reached the summit and were on their way down, roped together, when two women fell into a crevasse on Emmons Glacier. Two men were able to stop the group, and one called for help by cellphone.

Rangers and the helicopter responded to the site at the 13,700-foot level. A helicopter airlifted the three to Madigan Army Medical Center at the military base near Tacoma, where they were hospitalized in fair condition Friday, said spokesman Jay Ebbeson.

The climbers were bruised with possible broken bones, park spokesman Kevin Bacher said earlier.

Park spokeswoman Patti Wold identified the climbers as Stuart Smith, Noelle Smith, Ross Vandyke and Wren.

Hall had helped put three climbers into the helicopter when he fell. The park is investigating exactly how he fell, Bacher said.

"We don't want what happened to Nick to happen again," he said. "There's no urgency today; nobody's life is at risk today. Let's take it slow and make sure nobody else is hurt."

"We're a very small team and particularly the climbing team — basically 15 people under the climbing foreman," said Bacher, who also is a ranger. "And they work very close together and train close together and depend on each other for their lives and become very close."

The last time a climbing ranger was killed was 1995, when two rangers died after falling 1,200 feet during a glacier rescue.

Hall's family said they were proud of his involvement in mountain rescues, and hoped that his death will draw attention to the profession's dangers.

Hall's father is a volunteer firefighter and EMT in Patten, and his older brother, Aaron, served in the National Guard as an EMT in Iraq. Aaron Hall celebrated his birthday on the day his brother died on the mountain.

Nick Hall had worked as an avalanche forecaster at Yellowstone National Park and as an emergency medical responder for the ski patrol at Washington's Stevens Pass Ski Area, his father said.

When he spoke to him about risks, Carter Hall said, his son responded that dying by heart attack "was also a risk in life."

Hall was the second Mount Rainier National Park ranger to die this year. Margaret Anderson was fatally shot on New Year's Day as she tried to stop a suspect in a Seattle shooting who drove through a tire-chain checkpoint. Benjamin Colton Barnes, 24, was found dead the next day in the snow.

Rescuers are still looking for four other people — two climbers and two campers — who disappeared on the mountain in January. "We're keeping our eyes out for them as the snow melts out," Bacher said.

About 10,000 climbers attempt to reach the summit of the volcano about 85 miles southeast of Seattle each year and about half make it, he said.
http://www.msnbc.msn.com/id/47933269/ns/us_news-life/
Recovery Efforts for Climbing Ranger Continue in Mount Rainier National Park
Recovery Efforts for Climbing Ranger Continue in Mount Rainier National Park
Inclement Weather has Caused Difficulties to Park Efforts
Mount Rainier National Park News Release
June 24, 2012
For Immediate Release
Recovery efforts for Mount Rainier National Park Climbing Ranger Nick Hall continue today, Sunday, June 24, 2012. Hall, 33, fell approximately 2,500 feet down the Emmons Glacier on Mount Rainier on Thursday, June 21, during a rescue attempt in which four climbers fell into a crevasse on the glacier. Hall did not respond to attempts to contact him and was not moving after the fall. Climbing Rangers assisting in the rescue of the four climbers were able to reach Hall, several hours after he fell, and upon arrival found that he was deceased.

Rescue efforts for the four climbers continued throughout daylight hours and into the next day. All four climbers were successfully rescued and transported to a hospital. Injuries sustained by some members of the climbing party remain serious.

Mount Rainier National Park has experienced several days of inclement weather that has slowed efforts to recover Hall's remains. Heavy cloud cover, in conjunction with several feet of new snow, has made attempts to reach Hall's location extremely difficult. Additional amounts of snow are forecast today as well; however the park is expecting a small weather window that may be utilized to reach Hall's body. Access to the Sunrise Road continues to be restricted as it provides the safest access for an aerial recovery of Hall's remains.

Mount Rainier National Park Rangers, local search and rescue team members, a Chinook helicopter with crew from Joint Base Lewis McChord and an MD500 helicopter from Northwest Helicopters out of Olympia, Washington continue to assist in the attempted recovery of Hall's remains and to assure the safety of other climbers on Mt. Rainer.
--From a USFS email message.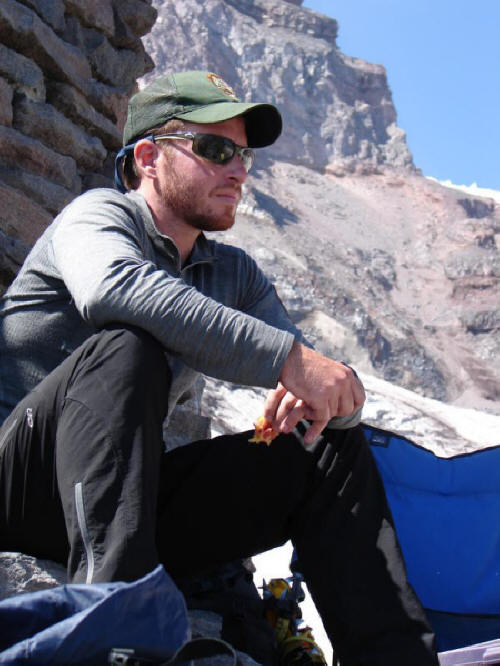 Nicholas Hall, Mount Rainier Climbing Ranger. Courtesy of the NPS
The family has asked that donations in honor of Nick Hall, in lieu of flowers, be made through the following accounts:
Nick Hall Memorial Fund
P.O. Box 431
Patten, ME 04765
Please make checks payable to Nick Hall Memorial Fund. Donations to this fund will support search and rescue in Maine and assist the Hall Family with travel expenses.

MORA Search and Rescue Fund
55210 238th Ave E
Ashford, WA 98328
Please make checks payable to DOI-NPS and note that the donation is in honor of Nick Hall.

Cards and condolences may also be sent to the above addresses.
Mount Rainier Ranger Nick Hall's Body Recovered After Deadly Fall
The Huffington Post
July 7, 2012
After two weeks of delays due to weather and avalanche danger, the body of a Mount Rainier National Park ranger who fell to his death during a rescue operation was recovered Thursday by helicopter.

The body of Nick Hall was flown to the Sunrise ranger station to be driven to the Pierce County medical examiner's office in Tacoma, park spokeswoman Patti Wold said.

The recovery went smoothly in clear weather, Wold said.

Snow, clouds and avalanche danger prevented the recovery in the days after the June 21 accident. Officials didn't want to unnecessarily risk the loss of another life in a recovery attempt in dangerous conditions.

A dog accompanied six rangers in an Army Chinook helicopter from Joint Base Lewis-McChord to help them find the body, which was covered with snow, Wold said.

Rangers who found Hall dead the day of his fall had already put the body on a litter. When it couldn't be removed, it was anchored while everyone waited for clear skies to return to the coordinates on the Winthrop glacier, on the 11,300-foot level of the mountain.

While the weather was good, rangers also planned to use the helicopter Thursday to recover gear left during the initial rescue.
http://www.huffingtonpost.com/2012/07/05/rangers-body-recovered-nick-hall_n_1652347.html
What can climbers learn from this tragic accident?
Possible existing technical mountaineering mitigations of the inherent risks of loading injured climbers into a hovering helicopter on a steep hard snow slope may be detailed in the expected Investigative Report from the National Park Service. We will try to bring the Report to you here, in due course.
--Robert Speik
THE MISSION of TraditionalMountaineering.org
"To provide information and instruction about world-wide basic to advanced alpine mountain climbing safety skills and gear, on and off trail hiking, scrambling and light and fast Leave No Trace backpacking techniques based on the foundation of an appreciation for the Stewardship of the Land, all illustrated through photographs and accounts of actual shared mountaineering adventures."
TraditionalMountaineering is founded on the premise that "He who knows naught, knows not that he knows naught", that exploring the hills and summitting peaks have dangers that are hidden to the un-informed and that these inherent risks can be in part, identified and mitigated by mentoring: information, training, wonderful gear, and knowledge gained through the experiences of others.
The value of TraditionalMountaineering to our Readers is the selectivity of the information we provide, and its relevance to introducing folks to informed hiking on the trail, exploring off the trail, mountain travel and Leave-no-Trace light-weight bivy and backpacking, technical travel over steep snow, rock and ice, technical glacier travel and a little technical rock climbing on the way to the summit. Whatever your capabilities and interests, there is a place for everyone in traditional alpine mountaineering.
A QUOTE FROM EDWARD WYMPER 1871
See yonder height! 'Tis far away -- unbidden comes the word "Impossible!"

"Not so," says the mountaineer. "The way is long, I know; its difficult -- it may be dangerous."

"It's possible, I'm sure; I'll seek the way, take counsel of my brother mountaineers,
and find out how they have reached similar heights and learned to avoid the dangers."

He starts (all slumbering down below); the path is slippery - and may be dangerous too.
Caution and perseverance gain the day
-- the height is reached! and those beneath cry, "Incredible! 'Tis superhuman!"

This is a passage we found on page 161 of "Scrambles Amongst the Alps" by Edward Wymper,
first published in 1871 and reprinted 1981 by Ten Speed Press, Berkley, CA.



WARNING - *DISCLAIMER!*
Mountain climbing has inherent dangers that can, only in part, be mitigated
Read more . . .
FCC requirements for providing mobile phone geographic locations
Ranger dies assisting rescue of climbers on Mount Rainier
Four lost in forecast storm on Mt. Rainier
Mt. Rainier snowshoe leader falls, rescued after two days in forecast storm
Climber dies in forecast storm on Mt. Rainier
The Episcopal School Tragedy
SPOT Satellite Messenger "PLB" reviewed and recommended
How do you use your map, compass and GPS together, in a nut shell?
Why is the digital cell phone best for backcountry travel and mountaineering?
How do mobile phones assist mountaineering and backcountry rescues?
FREE Clinic on Real Survival Strategies and Staying Found with Map, Compass and GPS together
Two climbers become lost descending Mt. Hood's standard South Side Route
What do you carry in your winter day and summit pack?
Why are "snowcaves" dangerous?
Why are "Space Blankets" dangerous?
Why are "Emergency Kits" dangerous?
How can you avoid Hypothermia?
Final Report to the American Alpine Club on the loss of three climbers on Mount Hood in December 2006
Missing climbers on Mount Hood, one dies of exposure, two believed killed in fall
Missing California family found, dad dies from exposure and hypothermia
Missing man survives two weeks trapped in snow-covered car
Missing snowmobile riders found, Roger Rouse dies from hypothermia
Olympic Champion Rulon Gardner lost on snowmobile
Lost Olympic hockey player looses feet to cold injury
Expert skier lost five days near resort in North Cascades without map, compass, gps or cell phone
Mount Hood - The Episcopal School Tragedy
Mount Hood - experienced climbers rescued from snow cave
How can you learn the skills of snow camping? Prospectus

Mountaineering Accidents
Smith Rock Climbers injured by Monkey Face swing stunt
Two rescued in Three Sisters Wilderness
Bend Teen Falls Into Crevasse on South Sister
Three Stranded Hikers Assisted from Atop South Sister by SAR
Mount Hood - Analysis of the December 2009 deaths of three climbers on Reid Glacier Headwall
Smith Rock climber survives 40-foot fall, rescued by SAR
Smith Rock climber rescued after 70-foot sliding fall
Two climbers die in fall from Horsethief Butte Crags
Mt. Hood climber badly injured by summer rockfall
Mount Hood - Fatal ice fall below the Pearly Gates during warming winter weather
Man rescued from crevasse just off South Sister climber's trail
Father and sons rescued descending South Sister in storm on Labor Day
Mount Hood climber falls descending Mazama Chute from the summit
Mt. Hood climber killed by summer rockfall
Climber on Mt. Rainier dies, others injured
Young climber stuck on a steep snow slope rescued from Mt. Hood
Climbers badly injured during 500-foot sliding fall on Mt. Hood
You Tube videos of recent incidents on Mount Hood
Final Report to the American Alpine Club on the loss of three climbers on Mount Hood in December 2006
Climber on Mt. Rainier dies of hypothermia in brief storm. What happened
Death on Mt. Hood - What happened to the three North Face climbers?


Three Fingered Jack - OSU student falls on steep scree slope
Climber injured by rockfall, rescued by helicopter from Mount Washington, Oregon
Three Mountaineers struck by rock-fall in North Cascades
Solo climber falls from Cooper Spur on Mount Hood
Climber dies on the steep snow slopes of Mount McLaughlin
Climbers swept by avalanche while descending North Sister's Thayer Glacier Snowfield
Wilderness Travel Course Newsletter this is a large PDF file
Runaway glissade fatal for Mazama climber on Mt. Whitney
Yosemite's El Capitan tests rescuers' skills
Climbers fall from Mount Hood's Sandy Glacier Headwall
Solo hiker drowns while crossing Mt. Hood's Sandy River
Injured climber rescued from Mount Washington
Mt. Washington tragedy claims two climbers
Another Mt. Rainier climber dies on Liberty Ridge
Mt. Rainier climber dies after rescue from Liberty Ridge
Young hiker suffers fatal fall and slide in the Three Sisters Wilderness
North Sister claims another climber
Solo climber Aron Ralston forced to amputate his own arm
Portland athlete lost on Mt. Hood
Broken Top remains confirmed as missing climber
Grisly find: hikers on Broken Top find apparent human remains
Once again, cell phone alerts rescuers of injured climber
Storm on Rainier proves fatal
Mountain calamity on Hood brings safety to the fore!
Fall into the Bergschrund on Mt. Hood, rescuers crash!
Paying the price for rescue
Accidents in North American Mountaineering
Goran Kropp killed while rock climbing in Washington

Your Essential Light Day Pack
What are the new Ten Essential Systems?
What does experience tell us about Light and Fast climbing?
What is the best traditional alpine mountaineering summit pack?
What is Light and Fast alpine climbing?
What do you carry in your day pack? Photos?


What do you carry in your winter day pack? Photos?


What should I know about "space blankets"?
Where can I get a personal and a group first aid kit? Photos?

Carboration and Hydration
Is running the Western States 100 part of "traditional mountaineering"?
What's wrong with GORP? Answers to the quiz!
Why do I need to count carbohydrate calories?
What should I know about having a big freeze-dried dinner?
What about carbo-ration and fluid replacement during traditional alpine climbing? 4 pages in pdf


What should I eat before a day of alpine climbing?

About Alpine Mountaineering:


The Sport of Alpine Mountaineering


Climbing Together


Following the Leader


The Mountaineers' Rope


Basic Responsibilities

Cuatro Responsabiliades Basicas de Quienes Salen al Campo


The Ten Essentials

Los Diez Sistemas Esenciales

Our Leader's Guidelines:


Our Volunteer Leader Guidelines


Sign-in Agreements, Waivers and Prospectus This pdf form will need to be signed by you at the trail head


Sample Prospectus Make sure every leader tells you what the group is going to do; print a copy for your "responsible person"


Participant Information Form This pdf form can be printed and mailed or handed to the Leader if requested or required


Emergency and Incident Report Form Copy and print this form. Carry two copies with your Essentials


Participant and Group First Aid Kit Print this form. Make up your own first aid essentials (kits)


About our World Wide Website:


Information


Mission


Map, Compass and GPS
Map, compass and GPS navigation training Noodle in The Badlands
BLM guidelines for Geocaching on public lands
Geocaching on Federal Forest Lands
OpEd - Geocaching should not be banned in the Badlands
Winter hiking in The Badlands WSA just east of Bend
Searching for the perfect gift
Geocaching: What's the cache?
Geocaching into the Canyon of the Deschutes
Can you catch the geocache?
Z21 covers Geocaching
Tour The Badlands with ONDA
The art of not getting lost
Geocaching: the thrill of the hunt!
GPS in the news
A GPS and other outdoor gadgets make prized gifts
Wanna play? Maps show you the way
Cooking the "navigation noodle"