TRADITIONAL MOUNTAINEERING ™


www.TraditionalMountaineering.org ™ and also www.AlpineMountaineering.org ™

™
FREE BASIC TO ADVANCED ALPINE MOUNTAIN CLIMBING INSTRUCTION ™
Home | Information | Photos | Calendar | News | Seminars | Experiences | Questions | Updates | Books | Conditions | Links | Search

North Sister accident claims another climber
Searchers trying to retrieve fallen climber
THE BULLETIN
Bulletin staff report
Monday, July 7, 2003

Searchers today will try to determine how to recover the body of a Portland climber they believe died after falling several hundred feet in a highly technical area of the North Sister on Saturday.

Bruce Shively, 55, went missing from his partner during an attempted climb of the North Sister, according to a release from the Lane County Sheriffs office. Shively was last seen about 2:15 p.m. Saturday while attempting to descend a dangerous area on the mountain, the release said.

A search was launched Saturday. On Sunday about 4:30 p.m., an Oregon National Guard crew piloting a blackhawk helicopter with search and rescue personnel from Lane and Deschutes counties on board, spotted Shively and observed him for at least 10 minutes, according to Al Hornish, a mission manger with Deschutes County Search and Rescue.

Hornish said rescuers had a good view of the body from the helicopter and through binoculars did not detect any movement. They were searching in the west face area of the mountain, according to the Lane County release.

"They got very close to him. They were directly over him," Hornish said.

From the helicopter, searchers could see slide marks leading to where Shively fell to a rocky area, he said. Though officials haven't declared the climber dead, they say it is unlikely he survived.

"It's a difficult, dangerous part of the mountain," Hornish said. "It would be very difficult to survive a fall of that many hundred feet."

According to Hornish, Shively was attempting to find the best route down through a treacherous area.

His climbing partner, whose name was not released, was above him but she did not see him fall, Hornish said.

The exact location of the accident is not being released, Hornish said, because officials say it is particularly dangerous and do not want others to attempt it.

Shively, reportedly an experienced climber, had taken rescue classes and had climbed Mount hood, Mount Adams and Mount St. Helens, Hornish said.

"Retrieval efforts will resume as soon as we figure out a way to do it," Hornish said. "It is incredibly technical. To go down to the person it would be risking a life and we are not prepared to do that without all safety precautions in place."

The North Sister straddles the Deschutes and Lane county line. The accident happened on the west, or Lane County side of the mountain. The Lane County Sheriff's Office with assistance from the Lane County Search and Rescue, Deschutes County Search and Rescue, an Oregon National Guard helicopter and the Deschutes County Posse.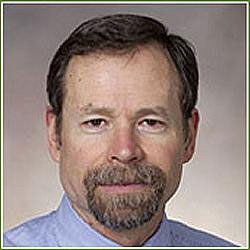 Dr. Bruce Shively, Portland cardiologist and professor, died in fall on North Sister Saturday
(Photo by: Oregon Health & Sciences University)

Authorities work to safely retrieve fallen climber's body on North Sister
Portland cardiologist apparently fell 600 feet on steep debris slope, complicating removal
By Barney Lerten, Bend.com
Originally Posted July 6, 2003 at 1:49 pm
Last Update July 8, 2003 at 2:39 pm

July 8 - Lane and Deschutes County authorities were working with Forest Service officials Tuesday to determine the safest way to retrieve the body of a Portland cardiologist and heart researcher, killed in a 600-foot fall after trying to climb the North Sister in the Three Sisters Wilderness Area over the Fourth of July weekend.

Dr. Bruce Shively, 55, an associate professor at Oregon Health & Science University, became separated from his climbing partner on Saturday afternoon while descending the 10,085-foot peak, said Lane County sheriff's Deputy John Miller, the county's search and rescue coordinator.

Deschutes and Lane County sheriff's deputies called in mountain rescue volunteers and launched a search of the rugged area by foot and horseback, while an Oregon Air National Guard Blackhawk helicopter was called in from Salem.

The missing climber was spotted from the air around 4:30 p.m. Sunday, apparently having fallen 600 feet down a steep debris slope on the mountain, Miller said.

Due to hazardous conditions caused by constant rockfall, search and rescue crews have been unable to reach Shively's body, Miller said Monday.

Recovery options are being explored, "with consideration being given to the personal safety of the recovery crew," Miller said, adding that it could take several days to
complete the effort. "Field activity will not commence until a recovery plan and appropriate resources are in place to conduct the operation."

"He took a very long fall. There's no sign of his moving," Deschutes County Search and Rescue volunteer Al Hornish said Sunday night.

A Deschutes Mountain Rescue volunteer aboard the National Guard chopper spotted him about 4:30 p.m.

"We assessed for an extensive length of time," Hornish said. "We would be very surprised if there was any possibility (he survived). It would be highly unlikely."

Shively, who received his medical degree in 1978 from Albany, N.Y., Medical College, conducted his residency at Strong Memorial Hospital in Rochester and a fellowship at San Francisco General Hospital. He specialized in heart valve disease and echocardiography, a procedure that uses sound waves to take pictures of the heart.

Shively last was seen around 2:15 p.m. Sunday while descending in a very hazardous area on the North Sister. He became separated from his female hiking partner, who later borrowed a cell phone from another climbing party to contact authorities.

The man was equipped with "clothing appropriate for the activity … (and) had fleece and shell gear with him, and down gear," Miller said earlier Sunday, before the body was found. "He's a fairly avid outdoorsman, familiar with a map and compass," which he also had with him, Miller said, but he had not climbed the North Sister before.

More than a dozen searchers with Eugene Mountain Rescue and Deschutes Mountain Rescue worked four areas at higher elevations, along with a Deschutes County
Sheriff's Posse team on horseback, working on the Pacific Crest Trail from the north, in the Lava Lake area.

Searchers focused their efforts on the west face of the North Sister and the Collier Glacier area. "It took a lot of eagle eyes" to spot the man, Hornish said.

Now, he said, "We have to assess the best way to do that (remove the body). We're not going to put our people at risk. It's very steep, very rugged, very dangerous."

Hornish acknowledged that, despite the tragic outcome, discovering the man's location a day after his disappearance would bring closure for family members and searchers -- something that has yet to occur in a more than 2-year-old unsolved mystery involving another missing climber in the wilderness area.

Corwin Charles Osborn of Bellevue, Wash., was 45 when he disappeared in June 2001 while hiking from the Devils Lake Trailhead, with plans to solo climb one or perhaps all of the Three Sisters.

The athletic, experienced climber was dropped off on the morning of June 17 by his father, and was planning to meet him at the Lava Camp Trailhead on state Highway 242 later that day. He never turned up, and a massive air and ground search turned up no sign of the missing man.

The rest of the story -
from John Miller, Lane County Sheriff's SAR Coordinator
Deschutes County took the original call from the cell phone 911 call. I received the call at 1801 hours. I was advised that a male subject was overdue or separated from his female climbing partner while descending from an unsuccessful climb of the North Sister. The complainant was on her way down to Pole Creek trailhead with members of another climbing party. They would not be to the trailhead until 2200-2300 hours on Saturday, July 5, 2003.

Deschutes had already requested a Black Hawk helicopter from the Salem National Guard. They also had Climbers available to go to the mountain if subject was located. I advised that Lane County would manage the mission and would be at Sisters Sheriff's sub-station at 0600 on July 6, Sunday to set up IC and manage the mission. Eugene Mountain Rescue personnel and myself arrived at the County Shops at 0200 hours, prepared gear and left at 0330 hours. We arrived at Sisters and met up with Deschutes County SAR personnel.

Teams were established and climbers were transported by ground to the Obsidian Trail-head so they could hike into the search area. One team to locate the camp, one team to view the west face from "The Fin" area, and one team to climb the mountain and check the gullies as well as they safely could. One Team was held in reserve at search base to ask as back up and await another Black Hawk helicopter that was due around 1200 hours. During the day the camp was located, and appeared to be undisturbed. No clues were located by any teams.

At 1500 hours the Black Hawk arrived. 3 mountain rescue climbers were transported by helicopter and during an air search they located a subject matching our missing subjects description. He was located in a narrow gully fed by rock fall from 3 upper slopes. He was about 600 feet below the climbing route with clothing and equipment that matched. The helicopter hovered over the subject approximately 70-100' above him for 15-20 minutes. He was observed through binoculars and showed no signs of life. His position was folded over at the waist. Pilot and crew would not lower a crewmember by winch as all felt the subject was deceased and the location was highly hazardous for anyone going into that location. When it was determined that the aircrew would not access the subject the mission was terminated and all personnel were returned to back for debrief.

The mission was resumed on July 11, 2003 after coordinating air support with ground personnel to formulate a recovery of the above subject. Teams met at the County Shops at 0230 hours and drove to the McKenzie Airstrip, location of the command center. Lane County helicopter, referred to as Air-1 was used to transport 6 climbers (2 teams) to the south end of Collier Glacier.

These climbers ascended the SW ridge route, located an access route to the deceased, investigated and photographed the scene, then packaged the subject for transport by air. A Black Hawk helicopter from Salem arrived at base around 1200 hours. They were briefed as to the mission expectations and were put in contact with the recovery team on the mountain. The subject was recovered by hoist and transported back to the airstrip were he was then transported to Sacred Heart Hospital by ME call car.

The teams then descended the SW ridge and were transported by to the Airstrip by Air-1. A short debrief was conducted at the airstrip. No injuries were reported and a small amount of personal / team equipment was expended during the recovery. All personnel then returned to Eugene and secured at 2100 hours.
--Source: John Miller, SAR Coordinator for the Lane County Sheriff's Office, for TraditionalMountaineering.org

Read more . . .
American Alpine Club
Oregon Section of the AAC
Accidents in North American Mountaineering

North Sister Experiences
North Sister claims another climber
North Sister and Middle Sister spring summits on telemark skis
North Sister, North Ridge by Sam Carpenter
North Sister, the Martina Testa Story, by Bob Speik
North Sister, SE Ridge solo by Sam Carpenter

North Sister Photos
Middle and North Sister exploratory adventure


North Sister and Middle Sister spring summits on telemark skis
North Sister, Scott's solo summer summit
North Sister exploratory
North Sister winter solo
North Sister: crux photos of the Three Sisters Marathon
North Sister images

Mountaineering Accidents in the News
Young hiker suffers fatal fall and slide in the Three Sisters Wilderness
North Sister claims another climber
Solo climber Aron Ralston forced to amputate his own arm
Portland athlete lost on Mt. Hood
Broken Top remains confirmed as missing climber
Grisly find: hikers on Broken Top find apparent human remains
Once again, cell phone alerts rescuers of injured climber
Storm on Rainier proves fatal
Mountain calamity on Hood brings safety to the fore!
Fall into the Bergschrund on Mt. Hood, rescuers crash!
Paying the price for rescue
Accidents in North American Mountaineering