TRADITIONAL MOUNTAINEERING ™
www.TraditionalMountaineering.org ™ and also www.AlpineMountaineering.org ™

™
FREE BASIC TO ADVANCED ALPINE MOUNTAIN CLIMBING INSTRUCTION™
Home | Information | Photos | Calendar | News | Seminars | Experiences | Questions | Updates | Books | Conditions | Links | Search

Three climbers die in storm on Mt. Rainier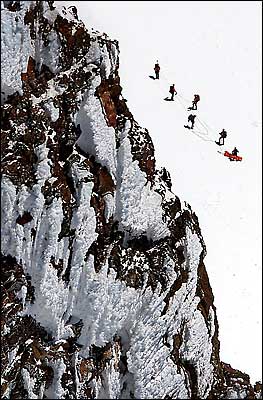 Photo by Drew Perine

Treacherous night on Rainier
Rescuers climb Liberty Cap on Mount Rainier, towing one of two bodies recovered yesterday. A third body was retrieved Wednesday after the lone survivor in the group made his way down to find help
Chris Solomon, Eric Sorensen and David Bowermaster
Seattle Times staff reporters
Friday, May 31, 2002
When 21-year-old Keeta Owens and three German friends set out to ascend Mount Rainier via the treacherous Liberty Ridge route Saturday, they were among 256 climbers on the mountain. The weather was serving up a Northwest mix of rain, snow and clear skies, but forecasts called for conditions to deteriorate.

The accuracy of those forecasts had dire consequences early Wednesday morning, when Owens and two of her fellow climbers perished in white-out conditions high on the 14,411-foot volcano.

"It was extraordinarily clear that this wasn't a time when you wanted to be on the mountain, and we need to find a way to communicate that information better," said Cliff Mass, a University of Washington meteorologist.

Owens and the two German men were students at Oregon State University. The fourth climber, a German woman, had been visiting. Names of the Germans have not been released, but the lone survivor was a 29-year-old man.

Owens had attended high school in Chugiak, Alaska, and was a senior in zoology, studying to be a veterinarian, said Donna Vanik, who rented Owens a room at her Lebanon, Ore., ranch in exchange for Owens' help caring for her horses.

"She was a wonderful young person," said Vanik. "A great athlete. A great kid."

She was licensed by the Oregon Racing Commission to exercise and groom horses and lead horses to the starting gate, said Carol Morgan, management assistant for the commission. She worked for a time at Portland Meadows racetrack.

The group had never climbed Rainier but reportedly had considerable ice- and rock-climbing experience.

Mike Gauthier, lead climbing ranger at Mount Rainier, spoke to the surviving climber only briefly and was loath to second-guess the group's decisions.

"I didn't detect any error, major bad decision or total screw-up," he said. "They did not strike me as novices."

The severity of the Liberty Ridge route, which cleaves the north side of Mount Rainier, demands climbing savvy, said Gauthier.

The climb traverses through crevasses that plunge into the darkness of the 900-foot-deep Carbon Glacier. The ridge itself is a 5,500-foot climb to Liberty Cap, the mountain's false summit.

Climbers' backs are to the Puget Sound lowlands. To the left, avalanches routinely sweep the enormous face of Willis Wall. "The backdrop's insane," Gauthier said.

Though details of the tragic climb remain sketchy, information from the survivor, relayed through Mount Rainier National Park officials, offers a glimpse of how things quickly went from bad to worse.

The first two days went smoothly and the group camped Sunday night at Thumb Rock, elevation 10,500 feet, on schedule to summit Monday.

But they made slow progress and were forced to camp in the lee of a snow-filled crevasse 1,000 feet below Liberty Cap, which is visible from Seattle as a bump just west of the main summit.

Tuesday began at 6:30 a.m. but was hard going because the steep slopes were sometimes icy, sometimes thigh deep with snow. It took nine hours to reach Liberty Cap.

The day's stormy weather grew worse, with ice lining goggles, jackets and zippers, the survivor told rangers. The group's global positioning system, or GPS — a handheld device that uses satellites to aid navigation — froze up.

Instead of trying to climb higher to the true summit, the group decided to start down via the Emmons Glacier, to the east.

They veered off course, however, and began descending a steep slope on the south side of Liberty Cap. With daylight waning, they realized their error and decided to dig platforms into the 35-degree slope to pitch tents.

One tent, then the other, broke apart in the high winds.

The group divided and dug snow caves for shelter, using the shredded tents as walls. The thick ice made digging difficult.

The survivor and one of the women crawled into one cave and slept, but were awakened by the second woman, telling them that the second man had somehow fallen and disappeared. She tried to enter the cave, but accidentally collapsed it on her companions.

During the next, confusing hours, the surviving man fell and came across the other man, dead. By then, the survivor was missing the outer shell of a plastic climbing boot, so he attached himself to the mountain with ice screws, wrapped himself in a sleeping bag he had found, and waited until morning to move.

Around daybreak he ascended past the Liberty Cap and dropped east onto the Winthrop Glacier. He hiked down until he met skiers and borrowed a cellphone to call for help. He told rangers he thought the women were still alive, but sometime during the night they, too, had fallen.

The bodies of the deceased climbers were found about 300 to 400 feet below the bivouac site. A small ice cliff was nearby, but it is unclear whether they went over it, said Nick Giguere, a climbing ranger who helped retrieve two of the bodies yesterday.

One body was recovered Wednesday. The two bodies retrieved yesterday lay a few hundred yards from each other.

There will be an investigation, but it may never be clear what exactly happened, said park spokeswoman Maria Gillett.

Climbers killed on Mount Rainier
By Gina Kim, Jake Batsell and Chris Solomon
Seattle Times staff reporters

Amid the dozens of glaciers that cling to Mount Rainier are dangers that claimed at least two lives yesterday.

The bodies of a man and a woman were discovered, and rescuers believed they had spotted the body of a second woman before calling off a search because of extreme weather conditions. One man, who had descended partly down the mountain to summon help for his climbing party, was rescued by helicopter.

Although he told dispatchers he had fallen along the way and was hiking down without the hardshell of one climbing boot, he didn't need medical care.

The identities and ages of the climbers were not immediately released while park authorities tried to notify their families.

The four people were on the northeast side of the mountain, known as the Liberty Ridge route. It is one of Rainier's most demanding routes, usually attempted only by experienced, independent climbers.

None of the four had previously climbed Mount Rainier, according to information they had filed with the National Park Service. The group was climbing without a guide.

Mike Gauthier, lead climbing ranger at Mount Rainier, said the group had successfully reached the summit from the north when they were "essentially pinned down" on a very steep slope by high winds, freezing rain and snow as they made their way back down the mountain. They had tents, but the winds broke the poles and made the shelters unusable, Gauthier said.

The party carved out snow caves Tuesday night below the summit, said Mount Rainier National Park spokeswoman Maria Gillett.

Gauthier said he was told that one member of the party accidentally walked on and collapsed the caves during the stormy night. At least one, and perhaps more, in the party, became disoriented in the whiteout and fell near Liberty Cap, at 13,900 feet one of the mountain's two lower summits.

Gauthier said those who fell slid about 400-600 feet off the south side.

"The weather was bad, considered to be terrible," said Gillett. "Mount Rainier makes its own weather. You can see sunny skies, and five minutes later see clouds come in, and the weather can change very, very quickly."

In 60-mph winds yesterday morning, the second man descended to St. Elmo Pass at 7,800 feet, where he encountered other climbers and was able to borrow a cellphone at 11:15 a.m. to call for help, Gauthier said.

The man was picked up by one of two helicopters that joined the rescue effort.

The two female climbers had told their companion, before he climbed down for help, that they planned to stay near the collapsed snow caves. He thought they were hypothermic, Gauthier said.

A dozen park rangers, searching for them and the man who fell, found the bodies of a man and a woman about 400 feet below Liberty Cap, just after 3:30 p.m., said Gillett. Rescuers were able to retrieve only the body of the woman yesterday.

Just before the search was called off at 5:45 p.m., rescuers in a helicopter believe they saw the body of the other woman 15 feet down a crevasse nearby, Gillett said. The search was to resume today.

The route the climbers were taking is perhaps the most captivating — but dangerous — way up the mountain.

Since 1979, more than a dozen climbers have died along the arduous Liberty Ridge course on the mountain's north face. Jim Wickwire, a Seattle attorney and climbing expert who wrote a 1998 book on his mountaineering feats, said Liberty Ridge is sharp, icy and especially precarious when the weather takes a sudden turn for the worse.

Climbers ascend the mountain on Liberty Ridge and then, on the way down, turn east and drop down the Emmons or Winthrop glaciers. Gauthier said many climbers who take the route think they can do it in three days, but that it usually takes four or five.

"It's a classic — a really elegant route," Wickwire said. "But it's one that people get into trouble on because it's a long way up and you're isolated from other climbers."

Last year, 11,678 climbers tried to summit Mount Rainier; fewer than half succeeded. While most climbers take the Ingraham Glacier and Disappointment Cleaver routes on the south face of the mountain, Wickwire said, Liberty Ridge is a more technical course attempted by about 5 percent.

"Those with more ambition, who want to do really the finest route on the mountain, will climb Liberty Ridge," Wickwire said. "There's no route that's more straight and elegant and beautiful."

Over the years, scores of people have run into trouble on Liberty Ridge during the Mount Rainier climbing season, which generally runs from May through September.

Last May, four climbers were stranded by an avalanche on the route, though a rescue crew later helped the climbers continue along the course to reach Rainier's 14,411-foot summit so they could meet a helicopter.

The most recent fatal accident on the route occurred May 24, 1999, when David Persson, a Swedish citizen and Vancouver, B.C. resident, fell 1,000 feet after attempting to ski down Liberty Ridge.

Just three weeks earlier, bad weather on Liberty Ridge forced two local climbers and two from Wyoming to burrow themselves in a snow cave for nine days as they waited for a storm to clear. That apparently is what the four climbers were trying to do Tuesday night, but their caves collapsed.

Wickwire himself spent several days stranded on the route in 1971, when he and a friend were caught in nasty weather. The climbers, waist-deep in snow, made their way to Liberty Cap, eventually building a snow cave. The cave collapsed, so they dug a second one.

"It was about as close as I came to not making it down the mountain," he said.

A momentary clearing allowed Wickwire and his companion to descend to a hut at the 9,800-foot level, where the pair spent a few more days before the storm passed.

Gauthier said climbing rangers originally had planned a training exercise today, working with a Chinook helicopter from Fort Lewis to land at Rainier's summit.

It was to have been practice in rescue and recovery, Gauthier said. Instead, it will be for real.

From a Later news report:

The bodies were recovered Wednesday and Thursday. Park officials said all the victims had fallen 400 to 600 feet. Beilharz and Kleinschmidt died of hypothermia, the Pierce County medical examiner's office said. Owens died of injuries from the fall.

Additional Notes by OMA
Mt Rainier, OSU Students - Inexperience, Poor Weather
May 29, 2002
This was a group from Oregon State University which attempted Liberty Ridge over Memorial Day weekend despite a poor weather forecast. This trip has become an OSU ritual in recent years, with a track record which made something like this almost inevitable. In 2001 a group set out on this route despite park service route notes stating that attempting the route was "to value climbing above your life". They did not get high enough to get into trouble. A couple years ago another party of four from OSU did this route and also got pinned down near the summit in bad weather. That group survived but 2 members of the team lost toes due to frostbite.
While it is hard to criticize the actions of any of these parties once on the mountain there is a consistent theme of climbing on their own terms and schedule and not on those of the mountain. The track record is one of poor planning and lack of foresight, often despite experience and technical ability which is adequate.

Liberty Ridge is notorious as a bad route to be caught on in poor weather. It needs to attempted when the forecast is good, not when vacation days from work or school happen to occur.

One can only hope that OSU will be willing to confront this ongoing problem in a constructive manner before any more student injuries or fatalities occur needlessly.
http://www.i-world.net/oma/news/accidents/2002-05-29-rainier.html



WARNING - *DISCLAIMER!*
Mountain climbing has inherent dangers that can, only in part, be mitigated
Read more . . .
SPOT Satellite Messenger "PLB" reviewed and recommended
How do you use your map, compass and GPS together, in a nut shell?
Why is the GSM digital cell phone best for backcountry travel and mountaineering?
How do GSM mobile phones assist mountaineering and backcountry rescues?
FREE Clinic on Real Survival Strategies and Staying Found with Map, Compass and GPS together
Two climbers become lost descending Mt. Hood's standard South Side Route
What do you carry in your winter day and summit pack?
Why are "snowcaves" dangerous?
Why are "Space Blankets" dangerous?
Why are "Emergency Kits" dangerous?
How can you avoid Hypothermia?
Final Report to the American Alpine Club on the loss of three climbers on Mount Hood in December 2006
Missing climbers on Mount Hood, one dies of exposure, two believed killed in fall
Missing California family found, dad dies from exposure and hypothermia
Missing man survives two weeks trapped in snow-covered car
Missing snowmobile riders found, Roger Rouse dies from hypothermia
Olympic Champion Rulon Gardner lost on snowmobile!
Lost Olympic hockey player looses feet to cold injury
Expert skier lost five days near resort in North Cascades without map, compass, gps or cell phone
Mount Hood - The Episcopal School Tragedy
Mount Hood - experienced climbers rescued from snow cave
How can you learn the skills of snow camping? Prospectus

Mount Rainier Experiences
Climber on Mt. Rainier dies, others injured
R.J. Secor critically injured during a runaway glissade


Mount Rainer, eventually, with R.J. Secor
Mount Rainier climber killed by falling rock
Another Mt. Rainier climber dies on Liberty Ridge

Lost and Found
Missing man survives two weeks trapped in snow-covered car
Missing snowmobile riders found, Roger Rouse dies from hypothermia
Longacre Expeditions teen group rescued from the snowdrifts above Todd Lake
Lost climber hikes 6.5 miles from South Sister Trail to Elk Lake
Hiking couple lost three nights in San Jacinto Wilderness find abandoned gear
Expert skier lost five days in North Cascades without Essentials, map and compass
Climber disappears on the steep snow slopes of Mount McLaughlin
Hiker lost five days in freezing weather on Mount Hood
Professor and son elude search and rescue volunteers
Found person becomes lost and eludes rescuers for five days
Teens, lost on South Sister, use cell phone with Search and Rescue
Lost man walks 27 miles to the highway from Elk Lake Oregon
Snowboarder Found After Week in Wilderness
Searchers rescue hiker at Smith Rock, find lost climbers on North Sister
Girl Found In Lane County After Lost On Hiking Trip
Search and rescue finds young girls lost from family group
Portland athlete lost on Mt. Hood
Rescues after the recent snows
Novice couple lost in the woods
Broken Top remains confirmed as missing climber
Ollalie Trail - OSU Trip - Lost, No Map, Inadequate Clothing

Your Essential Light Day Pack
What are the new Ten Essential Systems?
What does experience tell us about Light and Fast climbing?
What is the best traditional alpine mountaineering summit pack?
What is Light and Fast alpine climbing?
What do you carry in your day pack? Photos?


What do you carry in your winter day pack? Photos?


What should I know about "space blankets"?
Where can I get a personal and a group first aid kit? Photos?

Carboration and Hydration
Is running the Western States 100 part of "traditional mountaineering"?
What's wrong with GORP? Answers to the quiz!
Why do I need to count carbohydrate calories?
What should I know about having a big freeze-dried dinner?
What about carbo-ration and fluid replacement during traditional alpine climbing? 4 pages in pdf


What should I eat before a day of alpine climbing?

About Alpine Mountaineering:


The Sport of Alpine Mountaineering


Climbing Together


Following the Leader


The Mountaineers' Rope


Basic Responsibilities

Cuatro Responsabiliades Basicas de Quienes Salen al Campo


The Ten Essentials

Los Diez Sistemas Esenciales

Our Leader's Guidelines:


Our Volunteer Leader Guidelines


Sign-in Agreements, Waivers and Prospectus This pdf form will need to be signed by you at the trail head


Sample Prospectus Make sure every leader tells you what the group is going to do; print a copy for your "responsible person"


Participant Information Form This pdf form can be printed and mailed or handed to the Leader if requested or required


Emergency and Incident Report Form Copy and print this form. Carry two copies with your Essentials


Participant and Group First Aid Kit Print this form. Make up your own first aid essentials (kits)


About our World Wide Website:


Information


Mission


Map, Compass and GPS
Map, compass and GPS navigation training Noodle in The Badlands
BLM guidelines for Geocaching on public lands
Geocaching on Federal Forest Lands
OpEd - Geocaching should not be banned in the Badlands
Winter hiking in The Badlands WSA just east of Bend
Searching for the perfect gift
Geocaching: What's the cache?
Geocaching into the Canyon of the Deschutes
Can you catch the geocache?
Z21 covers Geocaching
Tour The Badlands with ONDA
The art of not getting lost
Geocaching: the thrill of the hunt!
GPS in the news
A GPS and other outdoor gadgets make prized gifts
Wanna play? Maps show you the way
Cooking the "navigation noodle"