TRADITIONAL MOUNTAINEERING ™
www.TraditionalMountaineering.org

™ and also www.AlpineMountaineering.org ™

©
FREE BASIC TO ADVANCED ALPINE MOUNTAIN CLIMBING INSTRUCTION™
Home | Information | Photos | Calendar | News | Seminars | Experiences | Questions | Updates | Books | Conditions | Links

Information for Prospective Subscribers and Guests
Background:
TraditionalMountaineering is organized in Oregon, USA, to provide basic to advanced information and instruction about alpine mountain climbing safety skills and gear, off trail hiking and light weight backpacking, illustrated through actual mountaineering adventures.

TraditionalMountaineering is founded on the premise that "He who knows naught, knows not that he knows naught", that exploring the hills and summitting peaks have dangers that are hidden to the un-informed and that these inherent risks can be in part identified and mitigated by information, training, interesting gear and knowledge gained through the experiences of others.

The value of TraditionalMountaineering to our Friends and Subscribers is the selectivity of the information we provide, and its relevance to introducing folks to hiking on the trail, exploring off the trail, mountain travel and Leave-no-Trace light-weight bivy and backpacking, technical travel over steep snow, rock and ice, technical glacier travel and a little technical rock climbing on the way to the summit. Whatever your capabilities and interests, there is a place for everyone in traditional mountaineering.

Purpose and Scope:
TraditionalMountaineering provides free basic to advanced information and instruction in alpine mountain climbing safety skills and gear, and outdoor leadership skills and concepts. TraditionalMountaineering is a virtual club with no formal structure, meetings, newsletters and so on.

TraditionalMountaineering serves as an information source for varied mountain adventures that may be organized and lead by individuals by providing space for their prospectus write-up on it's website. Approved free seminars designed for novices and experts together, are offered to from time to time.

Activities:
• Alpine Mountaineering: This is the central interest of TraditionalMountaineering. This tradition-based sport includes: on and off trail hiking, scrambling, light weight wilderness backpacking, Leave-No-Trace camping and bivouacking, as well as technical travel and mountaineering on snow, rock and ice, glacier travel, technical rock climbing and summitting peaks.
• Related Activities: Traditional Mountaineering is an aerobic sport. It includes jogging, running, hiking the hills, backpacking, climbing, mountain biking, back country skiing, snowshoeing, telemark skiing and similar sports all acting together to improve aerobic capacity, strength, balance and athleticism.
• Environmental Activities: Traditional Mountaineering supports practical environmentally sound activities and programs that benefit the sport of Alpine Mountaineering. TraditionalMountaineering also provides some financial support and assistance for the Bend Public Library's Traditional Mountaineering book section and Smith Rock State Park.

Subscriptions:
TraditionalMountaineering is open to anyone interested in learning more about alpine mountaineering and participating in it's activities, classes and seminars. There is a place for all interests and abilities within TraditionalMountaineering. The benefits of subscribing at the present time include the support of an informative web site, selected links, email Updates, access to subscribers only pages, free seminars, clinics and outings and some discounts at favorite local stores in Central Oregon. Subscriptions are Free. Subscriber lists will never be published or sold. When you subscribe you will receive a welcome email confirming your status as a Subscriber.
Note: The Subscriber's Section is proposed to distribute a printable PDF or CD version of a Traditional Alpine Mountaineering Handbook. We are still writing the Handbook and the Subscribers Section is not being seriously developed at this time. Email the Webmeister for details. Note: We have not activated this proposed function!
How to Subscribe:
Go to our Subscription Page and read the PDF subscription form on your computer. You can print a copy which you can sign, date and mail to TraditionalMountaineering, 61334 Wecoma Court, Bend, OR 97702 USA. Note: We have not activated this proposed function!

For More Information:
Read our website, phone Webmeister at 541-385-0445 in Bend Oregon or email info@traditionalmountaineering.org



WARNING - *DISCLAIMER!*
Mountain climbing has inherent dangers that can in part, be mitigated
Read more . . .


About Alpine Mountaineering:


The Sport of Alpine Mountaineering


Climbing Together


Following the Leader


The Mountaineers' Rope


Basic Responsibilities

Cuatro Responsabiliades Basicas de Quienes Salen al Campo


The Ten Essentials

Los Diez Sistemas Esenciales

Our Leader's Guidelines:


Our Volunteer Leader Guidelines


Sign-in Agreements, Waivers and Prospectus This pdf form will need to be signed by you at the trail head


Sample Prospectus Make sure every leader tells you what the group is going to do; print a copy for your "responsible person"


Participant Information Form This pdf form can be printed and mailed or handed to the Leader if requested or required


Emergency and Incident Report Form Copy and print this form. Carry two copies with your Essentials


Participant and Group First Aid Kit Print this form. Make up your own first aid essentials (kits)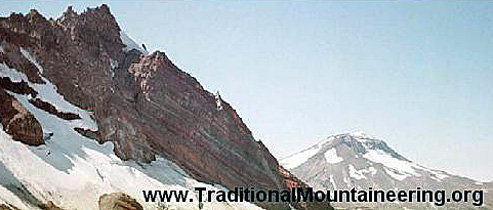 Copyright© 2003-2014 by Robert Speik. All Rights Reserved.