TRADITIONAL MOUNTAINEERING ™


www.TraditionalMountaineering.org ™ and also www.AlpineMountaineering.org ™

™
FREE BASIC TO ADVANCED ALPINE MOUNTAIN CLIMBING INSTRUCTION ™
Home | Information | Photos | Calendar | News | Seminars | Experiences | Questions | Updates | Books | Conditions | Links | Search

Mountain Link's J.J. Justman team summits Mount Everest from Bend Oregon!
Exclusive photo essay below . . .

Click on an image to see the full version; broadband folks can click here to see the full sized page.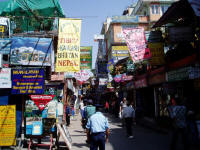 Katmandu street scene when we arrived.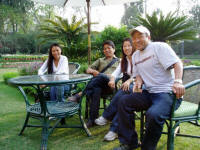 Lhawang and friends.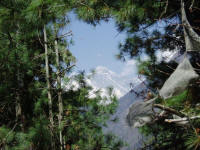 A glimpse of Everest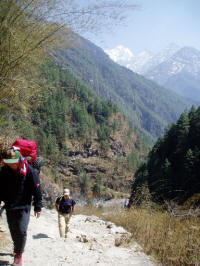 On the trail to Namche Bazaar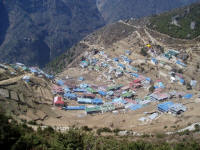 Namche Bazaar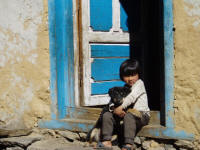 Little ones in Namche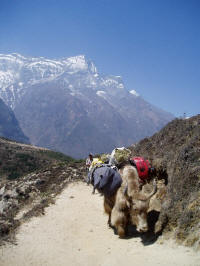 Yak train on the trail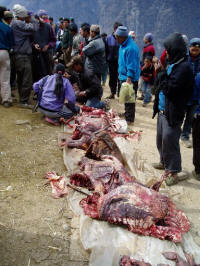 Its the beef!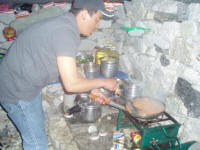 Chef Dawa in action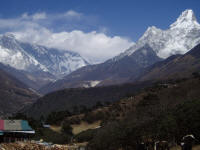 Everest far left and Ama Dablam far right

Yak, chillin'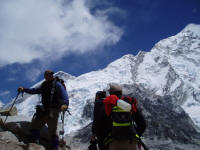 JJ in front!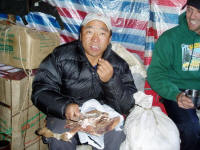 Goat meat snack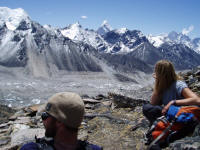 Matt, Laura and Ama Dablam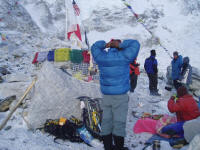 Blessing the tools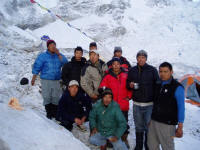 The Mountain Link Sherpa crew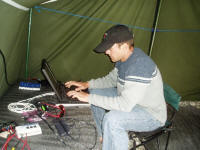 Ritchie the General Manager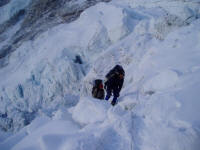 Climbin' through the Kumbu Ice Fall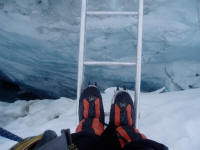 Don't look down JJ!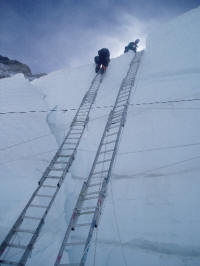 JJ: "Ma, ya got me?"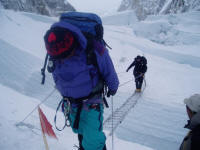 Tendee Sherpa and Helping Hand JJ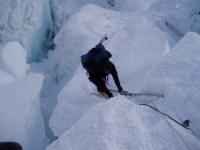 Joe on the ladder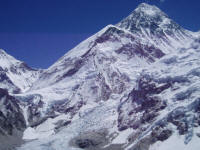 Mount Everest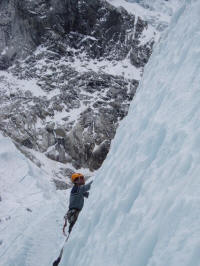 Climbing near Base Camp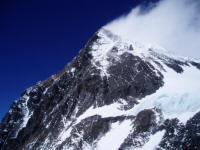 Another 3,000 feet to go!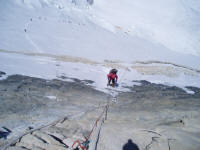 JJ climbing thru yellow band above camp 3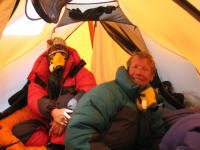 JJ and Craig re-hydrate at South Col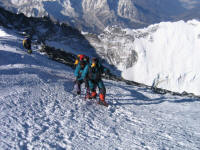 Craig and Dawa climbing towards the summit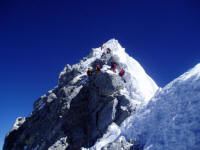 The Hillary Step then onto the summit of Everest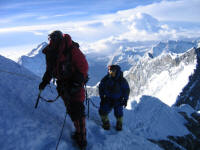 JJ and Lhawang above Hillary step climbing to the summit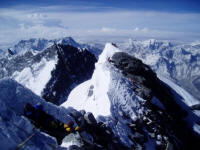 Looking back to the south summit of Everest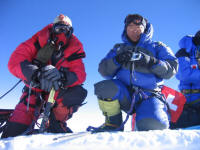 JJ and Lhawang on the Summit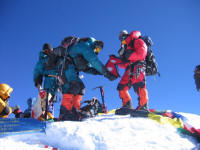 Craig and Tendee on the Summit
Copyright© 2004 by Mountain Link, LLC. All Rights Reserved.
The Dispatches from the Mountain Link team are reproduced here:


Read more . . .
Mountain Link website
Bend team set to scale Mount Everest
Dispatches from Mountain Link's Everest summit
JJ Justman autographs a summit photo for TraditionalMountaineering

About Alpine Mountaineering: Interesting essays reviewed 05.01.04


The Sport of Alpine Mountaineering


Climbing Together


Following the Leader


The Mountaineers' Rope


Basic Responsibilities


The Ten Essentials


Our Mission

Alpine climbing on snow and ice:
FAQs reviewed 05.01.04
How long is the traditional alpine mountaineering ice axe?
What about climbing Mt. Hood?
Is alpine mountaineering the root of the many sports of climbing?
What should I know about travel over hard snow and ice?
How can I learn to self belay and ice axe arrest?
6 pdf pages

What should I know about climbing Aconcagua?

Search this site!
Copy and paste these search suggestions:

"Light and fast alpine climbing with Midge Cross"
"Accidents in North American Mountaineering"