TRADITIONAL MOUNTAINEERING ™
www.TraditionalMountaineering.org ™ and also www.AlpineMountaineering.org ™

™
FREE BASIC TO ADVANCED ALPINE MOUNTAIN CLIMBING INSTRUCTION™
Home | Information | Photos | Calendar | News | Seminars | Experiences | Questions | Updates | Books | Conditions | Links | Search

Read more:
Mountaineering blue bag, WAG bag and Restop bag waste solutions in 1985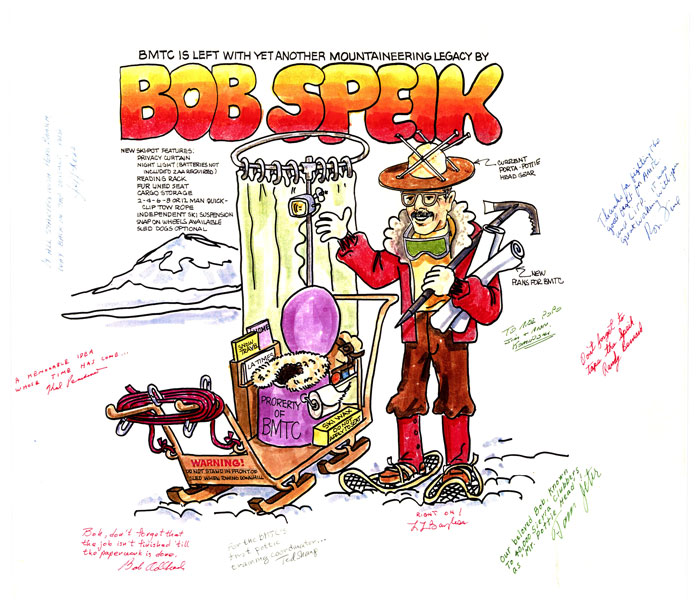 An original cartoon from The Southern Sierran in 1985
An old climbing buddy of mine sent me the original of this cartoon that appeared in the Angeles Chapter Sierra Club magazine The Southern Sierran in late 1985. I was the Chairman of the Sierra Club's Mountaineering Committee, in charge of about 350 volunteer leaders and about 1,000 Sierra Club Members who took the popular Basic Mountaineering Training Course (BMTC) each year.
The BMTC graduation trip included bus trips for 270 folks each from five Los Angeles areas to the lower Eastern Sierra for three day Snow Travel and Snow Camping experiences. Picture 1,350 folks pooping (and peeing) in the snow over three days above the popular summer forest trailheads. The USFS land managers were rightfully concerned.
My buddies and I, representing the Mountaineering Training Committee and the Sierra Club, traveled to Bishop CA to negotiate their proposed complete ban of our traditional training in their back yard. BMTC had been conducting snow trips there for several years, but 1,350 healthy Southern California climbers eating freeze dried foods and drinking lots of water over three days were becoming a problem.
We suggested we bring along one five gallon bucket for each group of 25 or so students and leaders. The buckets would be fitted with a nice new toilet seat and cover. (Hey, the early trips led by John Muir had hundreds of participants!) When we left the snow camping area, the newer Assistant Leaders would carry the full buckets to the trail head where they would be stashed with original metal covers until spring pick-up by the USFS land managers. This worked for the USFS and we continued our three day winter climbing training trips. (I recall hearing that all the participants were always pooped out at the end of these trips.)
I was honored at the Angeles Chapter Annual Banquet in 1985 with a light and fast hat stool as shown in the cartoon, in recognition of my progressive solution to handling an estimated 1,350 pounds of poop per year.
The next solution to the poop problem was the Blue Bag.
The following description is copied from an older page on the Mt. Rainer website:
"If you must defecate while climbing, move off the route and away from rest areas. Human waste outside toilet locations must be packed out using the special "Blue Bags."

"Blue Bags" are available at Ranger Stations and at Camp Muir and Camp Schurman. A Blue Bag contain two plastic bags; one clear bag and one blue bag, and twist ties. Use the bags to remove human waste from the upper mountain and deposit them in collection barrels at Camp Muir and Camp Schurman, or the "Glacier Toilets" at Emmons and Ingraham Flats.

To use the "Blue Bag," defecate on the snow away from the climbing route and rest areas. Collect the waste using the light blue bag like a glove. Turn the blue bag inside-out and secure with the twist ties. Place the blue bag in the clear bag and secure with twist ties. Deposit the bags in the barrels at Camp Muir or Camp Schurman or in the "Glacier Toilets."
The Blue Bag system was improved by Rangers on Mt Shasta in the 1990's with the addition of kitty litter to the pack, all enclosed in a discrete brown paper bag. The Shasta blue bags, as I recall, were put together by volunteers and made available to climbers for a small donation."
Soon the ubiquitous WAG Bag became state of the art:
"The WAG BAG Toilet in a Bag waste kit is a biodegradable double bag system made from puncture resistant materials. Each waste kit includes a zip close disposal/transport bag, a waste collection bag preloaded with Pooh Powder waste treatment, toilet paper and a hand sanitizer.

The non-toxic Pooh Powder waste treatment treats up to 32 ounces of liquid and solid waste allowing for multiple use. It turns liquid waste to a solid for hygienic and spill proof transport. The Pooh Powder waste treatment controls odors and contains a decay catalyst that breaks down solid waste.

The WAG BAG Toilet in a Bag waste kits are biodegradable and approved for landfill disposal." (This was a quote from an older LNT webpage.)
Now, the Restop bag system is endorsed by Leave No Trace and many Backcountry and Wilderness destinations.
The Restop system uses more sophisticated chemicals and a more developed bag system. See our page on the recommended Restop system.
However, the 1985 five gallon bucket with its comfortable standard toilet seat had benefits. Not the least was avoiding the embarrassing problem of getting a friend to accurately hold the blue bag as you did your business. ;-))
--Webmeister Robert Speik
American Alpine Club
AAC ADDRESSES INDIAN CREEK WASTE
December 28, 2005
The BLM has approved a management plan for Indian Creek, Utah, one of the best crack climbing areas in the world, that allows climbing and camping to continue mostly in its current unregulated form. In order to preserve the primitive camping experience in Indian Creek, the BLM is requiring climbers to carry out all of their waste, including feces. Later this winter, the Friends of Indian Creek, with funding from the AAC, will install three kiosks dispensing WAG Bags, and climbers must deposit their waste in these bags and carry it back to town for proper disposal.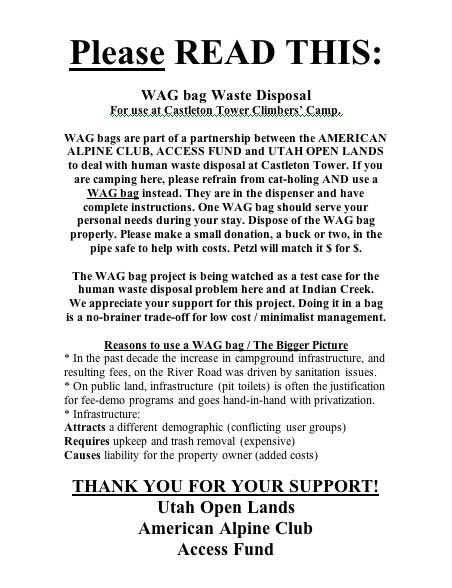 "Simply stated, the time for control of human waste has come," said Jim Donini, a member of Friends of Indian Creek and an AAC board member. "Such controls have been in place and effective for river trips for years. If we want to keep from sliding down the slippery path of additional unwanted infrastructure, we must do the same."

The AAC and Access Fund backed a similar carry-it-out program at the base of popular Castleton Tower outside Moab, Utah. This fall, climbers used nearly 200 Wag Bags at the Castleton campground, and on-site donations covered most of the cost of the bags.
For more on the Indian Creek plans for 2006, visit the Friends of Indian Creek site here:
http://moabdesertadventures.com/foic.htm

Read more . . .



TraditionalMountaineering in Central Oregon
Mountain Link's Robert Link throws a party in Bend Oregon
Dennis Hanson's slide show of his trip to Cordillera Blanca in Peru
News Channel 21 interviews TraditionalMountaineering.org
Winter hiking in The Badlands WSA just east of Bend
Robert Speik interviewed for television program
Gearheads are prepared for every adventure
Mountaineering Blue Bag alternatives
Access Fund Sharp End Award goes to Robert Speik in 2000
Oregon State Parks thanks Robert Speik for his past service
Robert Speik instructs mountaineering classes at COCC
Outdoor classes offered by COCC
Retired banker introduces TraditionalMountaineering at COCC
Robert Speik's founding principles for a mountaineering club


Bob Speik founds an alpine mountaineering club
Glacier travel and crevasse rescue seminar training
Forest Service award goes to Robert Speik in 1996
Sierra Club Awards go to Robert Speik in 1985

YOUR ESSENTIAL SUMMIT PACK
What are the new Ten Essential Systems?
What does experience tell us about Light and Fast climbing?
What is the best traditional alpine mountaineering summit pack?
What is Light and Fast alpine climbing?
What do you carry in your day pack? Photos?


What do you carry in your winter day pack? Photos?


What should I know about "space blankets"?
Where can I get a personal and a group first aid kit? Photos?

YOUR LITE AND FAST BACKPACK
Which light backpack do you use for winter and summer? Analysis pdf


What would you carry in your backpack to climb Shasta or Adams?


What is the best traditional alpine mountaineering summit pack?
Photos of lite gear packed for a multi day approach to spring and summer summits
Backpack lite gear list for spring and summer alpine mountaineering 4 pdf pages

ESSENTIAL PERSONAL GEAR
What clothing do you wear for Light and Fast winter mountaineering?
What do you carry in your winter day pack? Photos?


Which digital camera do you use in the mountains?
What about Boots and Shoes?




WARNING - *DISCLAIMER!*
Mountain climbing has inherent dangers that can in part, be mitigated