TRADITIONAL MOUNTAINEERING™
www.TraditionalMountaineering.org™

™
FREE BASIC TO ADVANCED MOUNTAIN CLIMBING INSTRUCTION™
Home | Information | Photos | Calendar | News | Seminars | Experiences | Questions | Updates | Books | Conditions | Links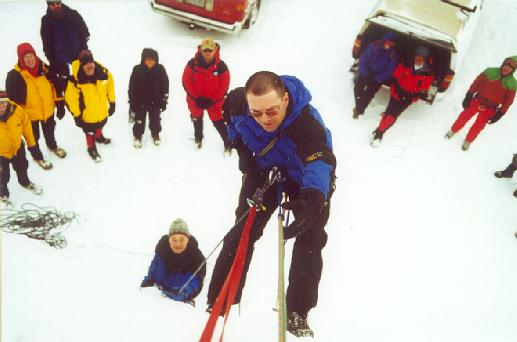 Jeff Schuler of Bend practices a self-rescue technique Sunday during an outing with the Cascades Mountaineers club in the Mt. Bachelor parking lot. The free clinic focused on snow anchors, glacier travel and crevasse rescue.

Mountaineers hone safety, rescue skills
Clinic teaches vital skills to club of avid winter recreationists
By Amy Tatko
The Bulletin, Monday, March 5, 2001

Less than a year ago, Robert Schaudel was a southerner, enjoying the warm climate of Atlanta.

Now, he 's learning to climb walls of ice and scale snow packed mountains. He hopes to reach the summit of Mount Rainier sometime soon.

"I'm learning about some of the winter activities here," said Schaudel, 32, who moved to Bend in April.

He is not wasting any time. During this first winter of Schaudel's life, he is taking a class in wilderness mountaineering and has joined the Cascades Mountaineers club.

The three hundred member alpine club offered a free clinic Sunday in the parking lot of Mount Bachelor. The tall wall of packed snow and ice along the edge of the parking lot offered the perfect practice area for about 20 climbers wishing to hone their skills and learn about safety and rescue.

The club's president and co-founder, Robert Speik, led the clinic that focused on snow anchors, glacier travel and crevasse rescue.

"You can only read about it so much in a book before you need to go out and do it" said club member Paul Chance.

The climbers benefited from a bonus factor Sunday morning. A blizzard swept through the Cascades and hit them with weather they could very likely find themselves in during a mountaineering expedition.

Joe Cepeda, 39, of Bend participated in the clinic mainly to gain knowledge of fixed ropes, he said.

But the stormy weather taught him more than he'd counted on. An avid backpacker, Cepeda joined the club to acquire more mountaineering skills and meet people interested in the same outdoor activities that he enjoys.

"I come up here to breathe the air the angels breathe," Cepeda said.

His love of the mountains has not blinded him to their potential dangers. He knows how important it is to have good safety and rescue skills.

"Doing it properly is most important, because that's how you can get hurt," he said.