TRADITIONAL MOUNTAINEERING ™
www.TraditionalMountaineering.org ™ and also www.AlpineMountaineering.org ™

™
FREE BASIC TO ADVANCED ALPINE MOUNTAIN CLIMBING INSTRUCTION™
Home | Information | Photos | Calendar | News | Seminars | Experiences | Questions | Updates | Books | Conditions | Links | Search

Read more:
Local alpine mountaineering club founded by retired climber!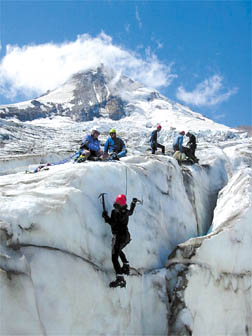 Cate Hass climbs ice on Eliot Glacier on Mt. Hood.
Mountaineers club always looking up
By Keith Ridler, The Bulletin
August 9, 2001
Bob Speik was in his early 40s when he climbed Bear Creek Spire, his first mountain peak.

"It was a great view, but I wondered how in the heck I was ever going to get down," he recalls.

That's when he was offered a rope for the descent, which he gladly accepted.

The coiled mountaineer's rope, he later found out, has historically been considered the symbol of alpine mountaineering. Speik has been offering that rope to other climbers since, the last six years as president of the fast-growing Cascades Mountaineers club.

"We're answering a need for companionship and shared adventures in the Cascades wilderness," says the 73-year-old Speik, who co-founded the club in 1995. "What the club offers is a way to meet new friends and share adventures, whether they be wildflower hikes or summitting peaks by dangerous routes."

That pretty much describes the club's membership — 300 strong. One has climbed Mount Jefferson 14 times, and another is closing in on the ''Seven Summits'' feat.

Others, meanwhile, are just picking up their first ice ax with dreams of far-off adventures. What they all have in common is that they have roped up as members of the Cascades Mountaineers.

"There's room for all levels of interests and abilities," says Speik. "The accumulated knowledge of the members is great. But I would say many of the members are very much novices. A third are intermediate, and a third are on a high level."

In mountaineering, getting to a high level is the goal. But for the Cascades Mountaineers, getting to the top is only a fraction of what the club is about.

"It's so important to understand that we're not just about summitting peaks," says Speik, noting that hiking the Pacific Crest Trail, mountain biking, sport climbing, back country skiing, snowshoeing, backpacking and ice climbing are all part of club members' many interests.

"Alpine mountaineering is basically an aerobic sport," Speik says. "Anything you do to improve your strength and agility and balance is a crossover sport with alpine mountaineering."

The club is also community minded, keeping litter free a section of the Cascades Lakes Highway near Mount Bachelor, doing restoration work along the Crooked River in Smith Rock State Park, and working on expanding the Deschutes County Public Library's collection of mountaineering books.

When Kristi Jett joined the club four years ago, she described herself as an active outdoors person who did a lot of hiking and trekking.

"But no actual climbing, so I was a novice," says Jett, chief of surgery at St. Charles Medical Center in Bend.

Now, she has climbed Mount Hood, Mount Thielsen, South Sister, Middle Sister, Mount Shasta, Mount Rainier, and has ascended to 19,000 feet on treks in the Himalayas.
"It's been wonderful," says Jett. "I've met some wonderful people and made some friendships. I think we're all kind of gaining experience together.

"It's a funny sport in that I think it takes a very special person who is willing to take a beginner out and share a rope with them and put themselves in dicey circumstances to teach others."

Members like Tom Johnson, who recently climbed Mount Vinson in Antarctica to check off No. 5 on the list of the Seven Summits quest (climbing the highest peak on all seven continents), also find that the club has plenty to offer.

"It's really a good club," says Johnson, 60, who plans on tackling Kosciusko in Australia this winter, leaving Mount Everest as his final Seven Summits peak. "Just meeting other people with the same kinds of interests. Bob Speik has done a terrific job of keeping everything, all the disparate pieces, together."

Annual dues in the club are $15 per family household, which buys a list of phone numbers and e-mail addresses of all the other members, a monthly newsletter, and the opportunity to join other members on various club outings. There is also a Web site (www.cascadesmountaineers.org).

Monthly meetings, held on the second Wednesday of every month at the Central Oregon Environmental Center (16 NW Kansas Ave., Bend) have featured a wide range of speakers. Sometimes, club members give presentations about their climbing or trekking trips around the world.

Outings are not formally organized by the club, which instead merely facilitates outdoor experiences by providing an opportunity for members to meet.

"We're not about guiding," says Speik, a retired banker. "(Participants should) find out everything about the leader and the route, and then decide whether they have the ability to do it."

Outings are rated A (such as hiking Horse Ridge east of Bend) or the more challenging B (such as a winter ski tour around Broken Top).

Upcoming outings are posted, and individual members must decide if they have the technical skills and physical ability to participate. Typically, there is a leader on the outing, and members who decide to take part must sign an informed consent, liability release.

"It's a great club," says John Krog, who last weekend led an ice climbing adventure on Mount Hood's Eliot Glacier with 26 other club members. "There are those who want to hike, those who want to climb a few mountains on the easy ways, and there are those who want to get involved in the technical areas."

The gender mix of the club is about 50-50, Speik notes, and members range in age from the early 20s to the 70s. Most are in their 30s and 40s.

Besides being president of the Cascades Mountaineers, Speik has since 1995 has taught a wilderness mountaineer training course at Central Oregon Community College each winter quarter.

So that rope a fellow climber offered to him three decades ago, he's still offering to other climbers — and he's still getting takers.

One look out the window will explain why.

"This is a wonderful place for alpine mountaineering," Speik says. "You have all of your hiking and backpacking trails, and your snow-clad and glacier-clad peaks."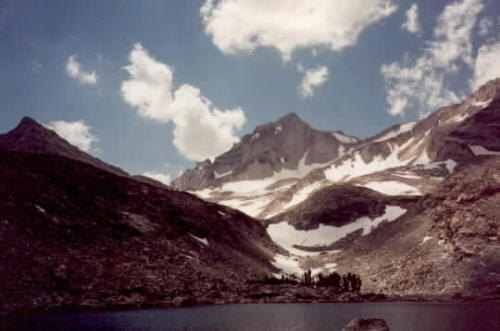 Bear Creak Spire in the Sierras was Speik's first alpine summit



WARNING - *DISCLAIMER!*
Mountain climbing has inherent dangers that can in part, be mitigated


South Sister, Middle Sister, North Sister (the sinister sister) and Broken Top in the Three Sisters Wilderness near Bend, Oregon USA
Copyright© 2004-2010 by Robert Speik. All Rights Reserved.
Read more . . .
Popular Wilderness Mountaineering classes offered by Robert Speik
Access Fund Sharp End Award goes to Robert Speik in 2000
Basic responsibilities of the wilderness traveler
The Ten Essential Systems
Leave No Trace

TECHNICAL MOUNTAINEERING
What is the best traditional alpine mountaineering summit pack?
What is the best belay | rappel | autoblock device for traditional alpine mountaineering?
What gear do you normally rack on your traditional alpine mountaineering harness? Photos?


What is the best traditional alpine mountaineering seat harness? Photos?
Can I use a Sharpie Pen for Marking the Middle of the Climbing Rope?
What are the highest peaks in Oregon? Alphabetically?

CARBORATION AND HYDRATION
Is running the Western States 100 part of "traditional mountaineering"?
What's wrong with GORP? Answers to the quiz!
Why do I need to count carbohydrate calories?
What should I know about having a big freeze-dried dinner?
What about carbo-ration and fluid replacement during traditional alpine climbing? 4 pages in pdf


What should I eat before a day of alpine climbing?

ALPINE CLIMBING ON SNOW AND ICE
Winter mountaineering hazards - streams and lakes
Is long distance backpacking part of "traditional mountaineering"?
How long is the traditional alpine mountaineering ice axe?
What about climbing Mt. Hood?
What is a good personal description of the south side route on Mount Hood?
What should I know about travel over hard snow and ice?
How can I learn to self belay and ice axe arrest? 6 pdf pages


What should I know about snow caves?
What should I know about climbing Aconcagua?

AVALANCHE AVOIDANCE
Young Bend man dies in back county avalanche
What is an avalanche cord?
Avalanche training courses - understanding avalanche risk
How is avalanche risk described and rated by the professionals? pdf table
How can I avoid dying in an avalanche?
Known avalanche slopes near Bend, OR?
What is a PLB?
Can I avoid avalanche risk with good gear and seminars? pdf file

SNOWSHOES AND CRAMPONS
Why do you like GAB crampons for traditional mountaineering?
What should I know about the new snowshoe trails
What are technical snowshoes?
Which crampons are the best?
What about Boots and Shoes?


YOUR ESSENTIAL SUMMIT PACK
What are the new Ten Essential Systems?
What does experience tell us about Light and Fast climbing?
What is the best traditional alpine mountaineering summit pack?
What is Light and Fast alpine climbing?
What do you carry in your day pack? Photos?


What do you carry in your winter day pack? Photos?


What should I know about "space blankets"?
Where can I get a personal and a group first aid kit? Photos?

YOUR LITE AND FAST BACKPACK
Which light backpack do you use for winter and summer? Analysis pdf


What would you carry in your backpack to climb Shasta or Adams?


What is the best traditional alpine mountaineering summit pack?
Photos of lite gear packed for a multi day approach to spring and summer summits
Backpack lite gear list for spring and summer alpine mountaineering 4 pdf pages

ESSENTIAL PERSONAL GEAR
What clothing do you wear for Light and Fast winter mountaineering?
What do you carry in your winter day pack? Photos?


Which digital camera do you use in the mountains?
What about Boots and Shoes?


TRADITIONAL KNOWLEDGE
How did you become interested in traditional mountaineering techniques?
Who is Conrad Messner?
What is traditional slacklining or highlining?
What are some of the comments you have received?
Who was Peter Starr?
Who are the Mazamas?
What is an avalanche cord?
Who were the notorious Vulgarians?
How was top rope climbing practiced in the 1970s?
What is a Whillans sit harness?
What is a dulfersitz rappel?
How do I self-belay a rappel?

BACKCOUNTRY NAVIGATION
How accurate is the inexpensive hand-held GPS today?
Can you get me a $30 rebate on your favorite GPS: Garmin's Legend? pdf form
What are some good Central Oregon Geocaches?
What is the Public Land Survey Grid? pdf
What is the UTM Grid? six pdf pages
Which GPS do you like?


Which Compass do you like?


How do you use your map, compass and GPS together, in a nut shell?
How can I learn to use my map, compass and GPS?
Do you have map, compass and GPS seminar notes? six pdf pages