TRADITIONAL MOUNTAINEERING ™
www.TraditionalMountaineering.org ™ and also www.AlpineMountaineering.org ™

™
FREE BASIC TO ADVANCED ALPINE MOUNTAIN CLIMBING INSTRUCTION™
Home | Information | Photos | Calendar | News | Seminars | Experiences | Questions | Updates | Books | Conditions | Links | Search

Read more:
Robert Speik teaches popular wilderness mountaineering classes at COCC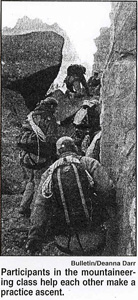 COURSE TAKES CLASSROOM OUTDOORS
Wilderness Mountaineering is one class that COCC students don't want to cut

The Bulletin
By Deanna Darr
March 11, 1999

Going to school has never been quite so adventurous.

Of course, class rarely involves strapping on a harness and climbing a mountain, traversing a glacier or rappelling down a cliff.

It's all part of the course of study, though, when wilderness mountaineering is the topic. In an outdoor-oriented area like Central Oregon it's understandable that this is one Central Oregon Community College class that's always full.

In its fourth year at COCC, the Wilderness Mountaineering class has enjoyed extreme popularity. The class's basic goal is to educate students about the basics of mountaineering, including how to work with ropes, knots, ice axes and assorted techniques for dealing with various situations and equipment.

"Bend is a wonderful outdoor community," said course instructor Robert Speik. An experienced mountaineer who co-founded the Cascades Mountaineers, Speik has also been a volunteer ranger in the Three Sisters Wilderness Area.

Speik said that when he first came to Bend he began looking for an outlet to 'meet potential climbing partners. When he realized there was no training course offered in the area, he approached COCC with the idea of starting one.

Modeled after the Mazamas Climbing Club training classes, Speik said the class is designed for anyone who wants to be able to lead groups on outings.

While the majority of students have some experience in the back country, the class is set up so participants of every level can take something from it.

Due to popularity, classes have been limited to 15 students, but two sections are offered. Students meet for three hours on Monday or Tuesday evenings for 10 weeks.

During this class instruction time, students learn about basic rules of conduct, lightweight clothing and gear, physical conditioning, nutrition and navigation.

One third of the class time is devoted to practicing elements learned in lectures.

This means some unusual sights for anyone walking through the building, as mountaineering students practice setting anchors, rappelling, belaying and controlled sliding in the hallways and stairwells of COCC.

Speik said the class also focuses on how to minimize the risks associated with the activity. "No peak in Oregon is worth giving up your life to summit," he said.

Another emphasis of the class is the idea of an outing as a shared adventure. "It's not the peak, not the route - it's the shared companionship" that makes a trip special, Speik said.

To solidify knowledge, an additional field exercise portion of the class is offered.

For three consecutive Saturdays, class is held at various locations throughout Central Oregon. Rope work, rappelling and belaying are practiced at Smith Rock, ice ax arrest and traversing snow and ice are taught at Mount Bachelor, and wilderness navigation is practiced in the desert.

Not all students who take the class participate in the field exercises, and it is possible to take only the field portion of the class. Either way, students say they are able to take away some valuable knowledge.

Dagmar Eriksson, an avid hiker from Bend, said she took the class to learn the basics of mountaineering. While the trip-planning aspects of the class have been the most informative, she said the hands-on experience of the field exercises was invaluable.

"This is the only way to do it, "she said, waiting to belay down a draw in Smith Rock during the first Saturday expedition.

Keith Richards, of Sunriver, said he took the class so he could get some experience and "go out and try some of this mountaineering stuff."

Matt Nielsen of Bend attended the class so he could learn how to lead a group himself. He said the class is a great way to expose people to the thrill and adventure of mountaineering, as well as educate them about the safety precautions necessary - something he has learned a bit about himself.

"It kind of makes me wonder how I lived through some of the climbs I've done," he said.

For Speik, the field exercises are the best way to see the true payback for his work. "It's just so much fun and so rewarding to see people reflect back what you've thrown at them," he said.

While the Wilderness Mountaineering class is offered only during the winter quarter, Speik will teach several other classes during the spring session.

Alpine Rambling, a class much like the mountaineering class but for those who don't want to lead a group, Wilderness Navigation and Lite Pack'n, a class based on lightweight backpacking, will all be taught in the spring session.

Speik will teach several one-day classes in the fall, including a global positioning system and map class, alpine anchors and alpine belaying.
####



Read more . . .


TraditionalMountaineering in Central Oregon

Robert Speik interviewed for national television
Gearheads are prepared for every adventure
Mountaineering Blue Bag alternatives

Access Fund Sharp End Award goes to Robert Speik in 2000

Robert Speik instructs mountaineering classes at COCC

Outdoor classes offered by COCC

Retired banker introduces TraditionalMountaineering at COCC

Robert Speik's founding principles for a mountaineering club

Bob Speik founds an alpine mountaineering club

Glacier travel and crevasse rescue seminar training

Sierra Club Awards go to Robert Speik in 1985

Road 18 Caves are now off limits to climbers!

go to a list of several documents on this web about this Access Fund issue!

L
atest Questions

Who is Conrad Messner?
How did you become interested in traditional mountaineering techniques?
What are some of the comments you have received?
What is traditional slacklining or highlining?
Notable mountain climbing accidents revisited

Latest news postings
John Kerry defines his solid position on Iraq
Lost man walks 27 miles to the highway from Elk Lake Oregon
Solo climber Aron Ralston forced to amputate his own arm updated
Teens, lost on South Sister, use cell phone with Search and Rescue
Solo hiker drowns while crossing Mt. Hood's Sandy River
Injured climber rescued from Mount Washington
Mt. Washington tragedy claims two climbers
Reserve your next backcountry adventure!
Nation's forests might be on the road to ruin, by President Bill Clinton

La
test Photos

Pilot Butte - hike and run to the summit
AAI Senior Guide Michael Powers guides the classic peaks of Switzerland
A cross country circumnavigation of South Sister in September
A circumnavigation of Broken Top in late summer with friends
A hike to Maiden Lake with Bend Parks and Recreation
A hike to Suttle Lake with Bend Parks and Recreation
Adopt-a-Highway with TraditionalMountaineering over Santiam Pass
Traditional slacklining in Bend
Pacific Crest sports festival in Sunriver: Triathlon and Duathlon
News of this event!
X-Adventure Raid Adventure Race North America Qualifier in Bend!

Seven pages!
News of this event!
X-Adventure Raid North American qualifier in Bend - racers' route map

Broadband only!
Adventure race team Bend Research checks out Petzl Shunts before the weekend race
Pole Pedal Paddle race course transition photos for 2004

Results by age group 2004

CMC High Angle Rope Rescue class in Bend
The Bend Bicycle Festival 2004