TRADITIONAL MOUNTAINEERING ™
www.TraditionalMountaineering.org ™ and also www.AlpineMountaineering.org ™

™
FREE BASIC TO ADVANCED ALPINE MOUNTAIN CLIMBING INSTRUCTION™
Home | Information | Photos | Calendar | News | Seminars | Experiences | Questions | Updates | Books | Conditions | Links | Search

Read more:
Access Fund Sharp End Award goes to Robert Speik in 2000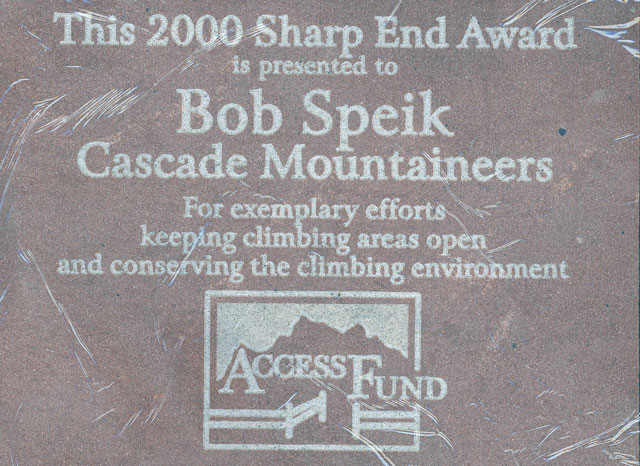 ACCESS FUND SHARP END AWARD GOES TO ROBERT SPEIK IN 2000
October 1999, Boulder, CO – At the October Access Fund board meeting, awards were given to volunteers who have devoted countless hours to preserving climbing access in America. Whether digging trails, attending meetings or rallying support, they were helping to keep climbing areas open and conserve the climbing environment during the past year. The Access Fund extends its highest praise to the following recipients:

Sharp End Award: — For leadership and activism in preserving climbing access and the climbing environment.

Individual: — Robert Speik (Oregon) for his support of stewardship and his service with Cascades Mountaineers Alpine Climbing Club

Read more . . .
The Access Fund
Road 18 Caves closed to sport climbers by USFS

SMITH ROCK
American Alpine Club and Traditional Mountaineering build another rescue cache at Smith Rock
Smith Rock Spring Thing Improvements
Smith Rock Spring Thing 2004 Party!


Smith Rock hiking in the spring
Smith Rock's sport climbing scene soon
Smith Rock from above the Burma Road
Smith Rock rescue cache by AAC/ORS and TraditionalMountaineering
Smith Rock weekend
Smith Rock Monkey Face practice
Popular Wilderness Mountaineering classes offered by Robert Speik
Retired Banker founds an Alpine Mountaineering Club

Basic responsibilities of the wilderness traveler
The Ten Essential Systems
Leave No Trace
Mission