TRADITIONAL MOUNTAINEERING ™
www.TraditionalMountaineering.org ™ and also www.AlpineMountaineering.org ™

™
FREE BASIC TO ADVANCED ALPINE MOUNTAIN CLIMBING INSTRUCTION™
Home | Information | Photos | Calendar | News | Seminars | Experiences | Questions | Updates | Books | Conditions | Links | Search

Read more:
GEARHEADS ARE PREPARED FOR EVERY ADVENTURE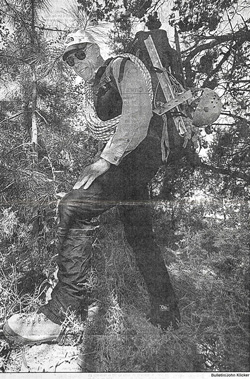 PREPARED FOR EVERY ADVENTURE
Gearheads keep up with the latest in equipment
The Bulletin
By Deanna Darr
ca 2000

You might be a gearhead if ... If you have a different backpack for each day of the week ... If you have more personal sleeping bags than a family of five ... If more than 25 percent of your yearly income goes toward buying new gear.

The list of qualifications sounds like a Jeff Foxworthy joke, but it's a serious pastime for the numerous gearheads who call Central Oregon home. Some gearheads have admitted it, while there are those still in denial.

While there is no technical definition of a gearhead, here's a working one: any person who has so much gear (outdoor equipment for sports including backpacking, biking, hiking, boating, climbing, etc...) that not only is the storage closet full, but the spare bedroom and garage as well, forcing the car into the street for fear of being squashed by a wall of equipment if the garage door should ever be opened.

So when does having "just the basics" for a weekend camping trip turn into having enough stuff to outfit the next group that wants to search the entire North American continent for evidence of Bigfoot?

"It's an addiction," said Chris Kratsch, of Tri-Mountain Sports.

Grinning sheepishly, Kratsch added that he chose the last three places he's lived because of storage space for his gear.

Kratsch, a self-proclaimed gearhead, said a big' factor in his need for gear is the simple fact that there are so many more sports to gear up for. Backpacking, rafting, climbing and mountain biking fill his schedule, as well as his garage.

Co-worker, Jane. Thomas shared Kratsch's sheepish smirk when she admitted her gear collection includes 15 pairs of skis, five backpacks, five water filters, two tents, two backpacking stoves and three sleeping bags.

By selling older equipment (which Thomas said never is really that old) she is able to stay up-to-date with the latest equipment advances. Of course the fact that she gets an employee discount doesn't dissuade her habit any.

So, when did Thomas realize she just might have an excessive amount of gear? "When I have packs at home that I don't use," she answered.

Robert Speik, a long-time Bend resident who teaches mountaineering classes at Central Oregon Community College, said he has to stay one jump ahead of all of his students.

"Every year new things come out," he said.

Keeping ahead of more than 100 people a year means spending thousands of dollars, buying extras for those students without, filling an entire storage unit and staking himself out daily at the North Face Outlet.

"The amount of quality gear seems to get doubly better each year," he said.

Roger Wolcott, of Bend, admitted to having an "extensive collection."

Of course it's almost a necessity when his activities planner includes hiking, backpacking, mountaineering, fly fishing, cycling and canoeing.

For this former marathon cyclist, just because it's new, doesn't mean he has to have it. While he likes to learn about the most recent advancement, there must be "a functional need to replace it," before he makes a purchase. Of course, there's always the need to specialize.

What some would call duplication, Wolcott calls specialization. Having numerous packs, bikes, boots and coats allows him to have the perfect gear for each situation.

While he insists it's a matter of function, he admits there may be other factors motivating his status as a gearhead.

"There could be a subconscious competitive drive to either outgun one of your friends or just to keep up."