TRADITIONAL MOUNTAINEERING ™


www.TraditionalMountaineering.org ™ and also www.AlpineMountaineering.org ™

™
FREE BASIC TO ADVANCED ALPINE MOUNTAIN CLIMBING INSTRUCTION ™
Home | Information | Photos | Calendar | News | Seminars | Experiences | Questions | Updates | Books | Conditions | Links | Search

Photos of the 2004 Race!

Pacific Crest Race Weekend on Sunriver, Oregon
Bend's Larsen, Waskom win Pacific Crest events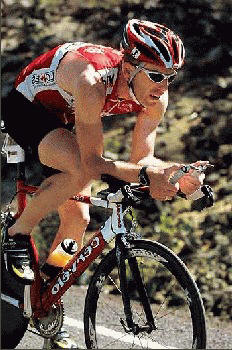 Steve Larsen of Bend pedals to victory in the Half-Ironman triathlon on Saturday.
Pete Erickson / The Bulletin

The Bulletin
By Inge Scheve
June 27, 2004

Bend triathlete Steve Larsen so dominated the first day of the Pacific Crest Sports Festival on Saturday that he nearly beat the top duathlete.

Larsen, 34, won the Half-Ironman triathlon, finishing just 52 seconds behind the duathlon winner, who started at the same time as Larsen but did not have to complete a swim.

Larsen also set a course record, finishing the 1.2-mile swim, 56.3-mile bike segment and 13.1-mile run in 4 hours, 15 minutes and 32 seconds.

Douglas Obletz of Portland, winner of the duathlon, finished the same course, minus the swim, in 4:14:40.

Larsen, a former professional cyclist, recently "retired," but he obviously has not lost his competitive edge.

"Honestly, I didn't know what to expect," said Larsen after the race. "It's been since last October since I trained full-time for anything. It's always fun to win, but I really didn't know who was going to be out there. It was a hard race, and pretty hot.

"The scenery is spectacular and crystal clear. The Pacific Crest is one of the most beautiful courses anywhere and a great way to showcase Central Oregon," said Larsen, who has competed throughout the world during the past two decades.

Larsen, who also won the 2002 Pacific Crest Triathlon, said he doesn't consider his background in cycling to be a competitive advantage, but he believes his experience in competing at a world-class level gives him a mental edge.

"I know what it takes to win at a certain level," Larsen said with a grin. "I have suffered through the biggest, toughest races in the world. I know I can push it through. I didn't really train for this event, but I have trained for 20 years so I have a big reserve tank.

"I still love to compete, but it takes a lot more out of me than it did two years ago."

Tracy Orcutt, 37, of Seattle, was the top female in the triathlon, finishing in 4:57.41.

"This was my first time here, so it's beginner's luck. My strategy was to have low expectations," said Orcutt, who has raced triathlons for nine years.

"I loved the bike ride, although going down was scary. I am quite a chicken when it comes to that. I felt the altitude slightly, but I tried to forget about it."

Orcutt, who said the bike leg is her favorite part of a triathlon, said the run is always a challenge, and that the swim also poses some problems for her.

"I am never quite there on the swim, but today I think I had a good swim for a change," she said.

The Half-Ironman triathlon, which is USAT-sanctioned and also serves as the 2004 TRI Northwest Long-Course Championship, treats participants to a 1.2-mile swim in Wickiup Reservoir, a 56.3-mile bike ride from Gull Point at Wickiup Reservoir around the Cascades Lakes Highway and Mount Bachelor, and finally a 13.1-mile run to the finish line in the Sunriver Country Mall.

The duathlon covered the same bike and run course as the triathlon. Jill Waskom of Bend was the top female finisher in the duathlon with a time of 4:37:38.

The first day of the 2004 Pacific Crest Sports Festival proved to be a feast for first-timers of all sorts.

Soto Marcial, 51, of Mexico City won the half-marathon, finishing in 1:16:11, just in front of Bend's John Stolz (1:16.24) and Jeff Cook of Canby (1:16:46).

"This is one of the most beautiful courses I have raced," said Marcial, who currently lives in Eugene and was visiting Central Oregon for the first time. "It was a mix of flat and rolling. I started in the back because I really felt tight. But by mile seven I started pushing, and I was in the lead before mile eight."

But winning or losing doesn't matter much to Marcial.

"I am really happy to be here, not because I was first," he said. "I am happy to be here in this kind of environment.

"I don't run marathons anymore, so I need a push," Marcial explained, noting that he is trying to increase his race distances and enter a marathon in the fall.

Kristin Duyn, 24, of Beaverton, was the top female in the half-marathon, finishing the 13.1-mile course through Sunriver in 1:24:30, followed by Jennifer Overlock of Corvallis (1:24.47) and Bend's Cheryl Tronson (1:25.05).

"I loved it! It was a great, beautiful course ... flat, very flat," said Duyn, who thanked her husband and two friends who joined her in Central Oregon for their support and cheering. "Support is the key. I didn't really have a strategy."

In the Pacific Crest Marathon, which serves as a BAA Boston qualifier, Murray Thorson, 49, of Richland, Wash, finished first in 3:01.00, more than seven minutes ahead of second-place racer Chad Pilgeram of Grandview, Wash. Nathan Dufault of Corvallis was third in 3:09.44.

Thorson, running in his first-ever marathon, was surprised to win, having trained for only two months.

"I run about 50 to 60 miles per week," Thorson said. "I ran one 17-mile training run. All my friends told me I had to run at least one run over 20 miles, so I guess I didn't follow advice."

Among the women, 34-year-old Eva Lust of Yakima, Wash, was first in the marathon.

"I've never won anything before, so this is really cool," Lust said. It was her first marathon since giving birth to a daughter last summer. "I used to do quite a few before I had my daughter. Now, I try to stay constant with my training and get in long runs on the weekend."

Established in 1997, the Pacific Crest Sports Festival has become one of the largest sporting events of its kind, attracting about 4,000 athletes from all over the United States and several foreign countries to Central Oregon every June, along with scores of support staff, friends and family members.

Today's schedule features an Olympic-distance triathlon (500-meter swim, 28-mile bike and 10-kilometer run) and a duathlon (28-mile bike and 10-kilometer run), as well as 5-kilometer and 10-kilometer run/walk events.

The Olympic-distance triathlon and duathlon will start at 9 a.m. at Gull Point on Wickiup Reservoir.

The 5K event will start at 9 a.m. near the Sunriver Country Mall and the 10K starts at 9:15 a.m. at the same location.

Complete results of Saturday's events were not available by deadline Saturday night. They will be posted at www.racecenter.com/pacificcrest.

######
Former COCC student wins local triathlon

The Bulletin
By Mark Morical
June 28, 2004

Melanie Holloway completed a perfect homecoming for herself at Sunriver's Pacific Crest Sports Festival, which concluded Sunday with an Olympic-distance triathlon and duathlon and a 5-kilometer and 10-kilometer run/walk.

Holloway, a former Oregon resident who now lives in Atlanta, was the women's winner of the Olympic-distance triathlon, finishing in 2 hours, 21 minutes, 40 seconds.

Holloway attended Central Oregon Community College for two years before going on to run distance events for Auburn University's track and field team. She became a professional triathlete earlier this year at age 34.

"I just did a Half-Ironman (triathlon) two weeks ago and I wanted to have a little time for visiting friends and family," said Holloway, whose parents live in Albany.

"The Olympic distance is perfect for that. I thought I could visit family, see friends and throw a race in there."

The Olympic-distance triathlon included a 1,500-meter swim in Wickiup reservoir, a 28-mile bike from the reservoir to Sunriver and a 13.1-mile run that looped around the resort community.

"The bike course was a little windy," Holloway said. "It was tough."

Bend's Carrie Morales finished second to Holloway in 2:30:55.

Kevin Everett of Boise, Idaho, was the men's winner of the Olympic-distance triathlon, finishing in 2:05:48.

It was the first triathlon win outside of Boise for Everett, who said that during the run, he usually hits a wall. Not so on Sunday.

"This was my first triathlon of the year where walking didn't come into my mind too much," Everett said. "Usually by mile 3 of the run I wonder what I'm doing there (in a triathlon). It's torture for me sometimes. Today was tough but not like in the past."

Everett said he was hoping for a top-five finish, and did not expect to win. It was his second consecutive year of competing in the Pacific Crest Olympic-distance triathlon, and he said he will likely return.

"There was a lot of good competition here," Everett said. "It's a beautiful course and it was a really nice day. Last year it was a little smoky. I was appreciating the blue skies this time."

The Olympic-distance duathlon took competitors on the same bike and run course as the triathlon, but did not include the swim.

Gianna Gilmer of Bend was the women's winner in Sunday's duathlon, crossing the finish line in 2:03:31.

Gilmer was simply filling in for a friend from Colorado who could not make the race.

"I took a friend's spot, paid the transfer fee and here I am," said Gilmer, shortly after crossing the finish line at the Sunriver Country Mall. "It's a great day to be in Central Oregon enjoying the sun."

Gilmer, 22, was competing in her first duathlon of the season, and although she won, she said she has room for improvement.

"It was nice to get back into race season," said Gilmer, who hopes to start a women's cycling club in Bend. "The bike decent was very fast and very scenic. Overall, I always feel like I can go faster."

Eli Lane of Portland was the top men's finisher in the Olympic-distance duathlon, winning with a time of 1:55:00.

In the women's 5-kilometer race, 39-year-old Sylvia Clark of McCall, Idaho, pulled into first place, polishing off the course in 21:35.

"It was better than yesterday," said Clark, who also raced the Pacific Crest half-marathon on Saturday. "It was faster. They say it's flat, but the hills are tough. If you don't watch out for them, they'll get you."

Nicholas Dols, 19, of Portland won the men's 5-kilometer race in 18:02. But competition was close — only 10 seconds separated Dols from second-place Ryan Withall (18:12), and third-place finisher Robert Schmidt was only a second behind (18:13).

Joe Dudman won the men's 10-kilometers, maneuvering the twisty course through Sunriver in 35:50, just in front of Dean Vergillo, 36, of Duvall, Wash. (40:23). Steve Phillips was third (40:41).

"It was hot, but it was a fun course and not monotonous at all," said Vergillo.

In the women's 10-kilometer event, Hallie Janssen, 29, of Portland claimed the gold in 39:12, and beat teammate and friend Robyn Herskowitz, 29, of Portland (40:43). Both Janssen and Herskowitz run for the Bowerman Athletic Club, a Nike-sponsored club of elite runners based in Beaverton. Shellie Lewis was third (47:10).

"It was fun — everyone is out there cheering along the course, just people who are on vacation and out for a walk," said Janssen.

The eighth annual Pacific Crest Sports Festival included more than 4,000 athletes in 11 different events.

For complete results, log onto www.racecenter.com.

Inge Scheve contributed to this story.


#######

Read more . . .
Race Center
Photos of the Pacific Crest race and ambiance

Race events in Bend, OR
Photos of the X-Adventure Raid World qualifier in Bend, Oregon USA seven pages!
Map of the Raid adventure race course for 2004 Broadband Only

Photos of the 2004 Pole Pedal Paddle race transitions six pages
Pole Pedal Paddle 2004 results by age group
Pole Pedal Paddle race changes in 2004
Pole Pedal Paddle 2003 race results
Pole Pedal Paddle 2002

Snowshoe Shuffle comes to Bend, Oregon
Atta Boy 300 dog sled race start and finish from Mt. Bachelor
Bend Adventure Racing Klub - The Wild Juniper Berry Race
Annual race to the top of Pilot Butte
Pilot Butte - hike and run to the summit
Cascade Cycling Classic 2002
Bouldering gets a handhold at Smith Rock
ABS Contest night at InClimb Gym
CORK, Central Oregon Running Klub plays in The Badlands

Traditional Mountaineering R & R in Central Oregon
Winterfest in Bend, Oregon


Bend's Tower Theater restored to 1940s elegance
A snowshoe adventure with Bend Parks and Recreation
Bend's Wednesday market near the Deschutes River in Drake Park
Central Oregon's High Desert Museum in Bend


Bend Log Jam celebrates the opening of the Deschutes southern crossing bridge


Bend's southern crossing bridge
The Beach Boys concert in Bend Oregon, Summer 2003


Pilot Butte - hike and run to the summit
Cascade Music Festival in Drake Park, Bend Oregon


Misty River Band plays a free concert next to the Deschutes River


Riverfest boat-demo in Bend Oregon
Earth Day in Bend, Oregon


Customer appreciation night at a local store
ABS Contest night at InClimb Gym
Nordic Club's fall ski swap
Sustainable living expo in Bend
Fall festival in Bend


Joan Baez concert at the Athletic Club of Bend
Sunriver Resort exotic car rally
Munch-n-Music R & R in Bend

• Alpine Mountaineering: This is the central interest of TraditionalMountaineering. This tradition-based sport includes: on and off trail hiking, scrambling, light weight wilderness backpacking, Leave-No-Trace camping and bivouacking, as well as technical travel and mountaineering on snow, rock and ice, glacier travel, technical rock climbing and summitting peaks.
• Related Activities: Alpine Mountaineering is an aerobic sport. It includes jogging, running, hiking the hills, backpacking, climbing, mountain biking, back country skiing, snowshoeing, telemark skiing and similar sports all acting together to improve aerobic capacity, strength, balance and athleticism.