TRADITIONAL MOUNTAINEERING ™
www.TraditionalMountaineering.org ™ and also www.AlpineMountaineering.org ™

™
FREE BASIC TO ADVANCED ALPINE MOUNTAIN CLIMBING INSTRUCTION™
Home | Information | Photos | Calendar | News | Seminars | Experiences | Questions | Updates | Books | Conditions | Links | Search

Read more:
A hike to Suttle Lake with Bend Parks and Recreation
Click on an image to see the full version; broadband folks can click here to see the full sized page.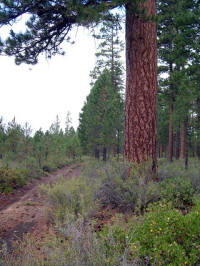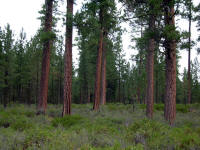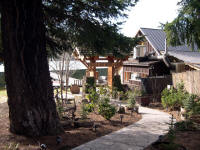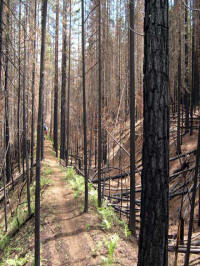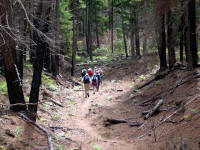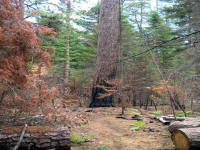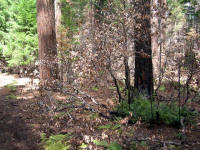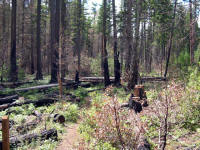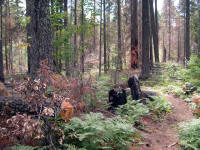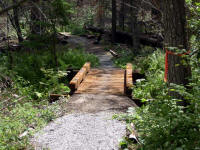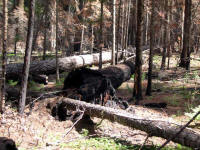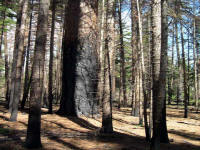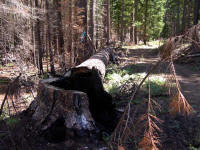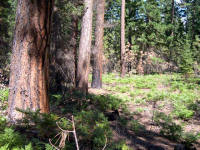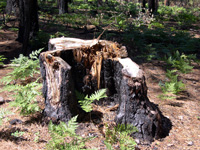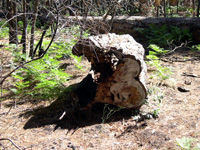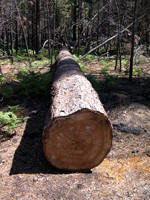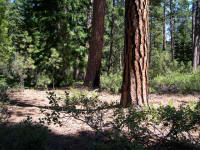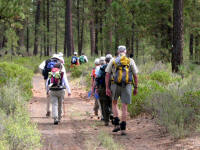 Copyright© 2004 by Robert Speik. All Rights Reserved.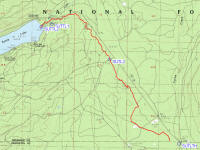 We started this hike at the Trail Head just off Highway 97 at the Camp Sherman Junction. We had planned to hike the Three Pyramids (4.2 miles round trip but 1,800 feet of gain and loss) but it was raining pretty hard on the Santiam Pass. We dodged the rain by going lower and through an interesting forest for about ten miles round trip with about 410 feet of elevation gain and loss. We hiked at 2.8 mph moving average. We were moving for 3:18 and stopped for 1:05 including lunch on the deck at the Suttle Lake Resort. See BOW at Suttle Lake.
This nice trail is a mountain bike shared use single track trail through the forest north of Sisters. It is called the Suttle Lake Tie Trail. I am not sure why. This forest has been very well managed by the Sisters Ranger District through many years. The last couple of miles of the trail wind through a burn area that has been left in a mosaic of burned and spared old growth and young growth Ponderosa pines. Note how trees just a few feet from fallen giants were completely spared. Another interesting feature is the very old canal that was dug by local folks after the turn of the century. It never carried water, I understand. I will try to find out more and revisit this page in the near future.
--Webmeister

Read more . . .
A snowshoe adventure with Bend Parks and Recreation
A hike to Maiden Lake with Bend Parks and Recreation



LATEST PHOTOS
A circumnavigation of Broken Top in late summer with friends
Adopt-a-Road with TraditionalMountaineering
Traditional slacklining in Bend
Pacific Crest sports festival in Sunriver: Triathlon and Duathlon News of this event!
X-Adventure Raid Adventure Race North America Qualifier in Bend!

Seven pages! News of this event!
X-Adventure Raid North American qualifier in Bend - racers' route map

Broadband only!

BROKEN TOP
Broken Top north side, with Z21 TV

CASCADES SUMMITS
Bruce Jackson Photography
Mt. Bachelor, the Three Sisters and Broken Top
Photos of the Three Sisters Wilderness Summits form Sparks Lake
Geocaching the Top of Black Crater
Overlooking the Three Sisters from Mt. Bachelor


Three Sisters summits


Aerial photos of the Cascades summits by Mark and Linda Tuttle
Scott shares his summits of Middle Sister and Mt. Thielsen

SOUTH SISTER
South sister spring overnight snow climb, gear and skills
South Sister Summer Summit
South Sister climbers trail relocated
South Sister Spring South Ridge Summit
South Sister summer cross country circumnavigation

MT BACHELOR
Mt. Bachelor ski and summer resort during the Atta Boy 300
Atta Boy 300 dog sled race start and finish from Mt. Bachelor
Overlooking the Three Sisters from Mt. Bachelor


Mt. Bachelor from Tumalo Ridge

FAQ RELATED, SUMMER
What is the best summit pack?
South sister spring overnight snow climb, gear and skills
How do you put together a first aid kit?
How do you rack gear on your alpine harness?
What do you carry in your day pack?
Belaying the leader and follower in 1981
Top rope climbing in the 1970's

FREE SEMINARS
Ice axe self belay and self arrest seminar
Traditional snow climbing training: snow anchors and rappels
Glacier travel and crevasse rescue seminar
Bend High invites an old traditional mountain climber
A Navigation Noodle in the Badlands with ONDA