TRADITIONAL MOUNTAINEERING ™
www.TraditionalMountaineering.org ™ and also www.AlpineMountaineering.org ™

™
FREE BASIC TO ADVANCED ALPINE MOUNTAIN CLIMBING INSTRUCTION ™
Home | Information | Photos | Calendar | News | Seminars | Experiences | Questions | Updates | Books | Conditions | Links | Search

CMC conducts a high angle rescue class for SAR
Click on an image to see the full version; broadband folks can click here to see the full sized page.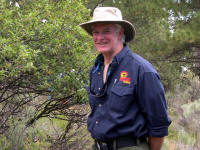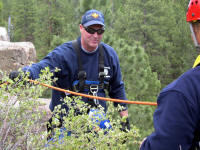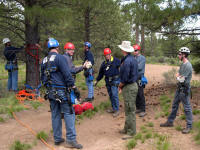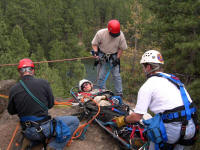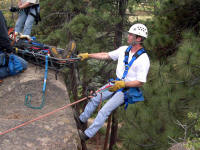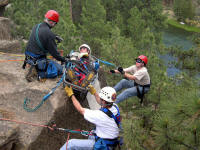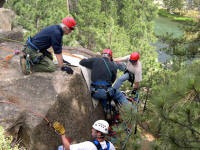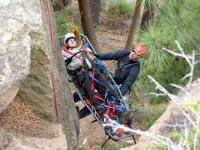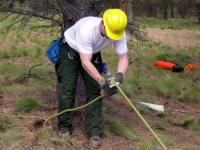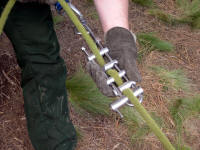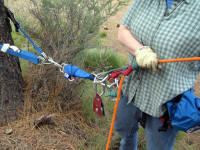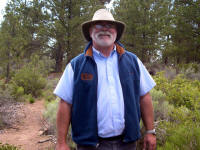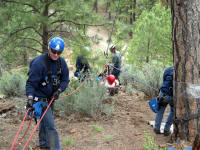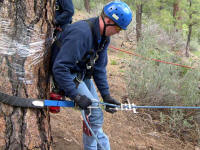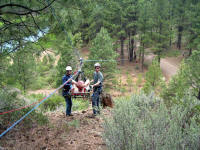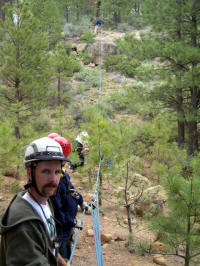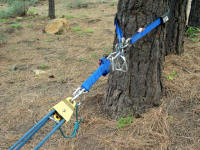 Copyright© 2004 by Robert Speik.
All Rights Reserved.
"25 years ago... I was told that a carabiner with a brake bar was no longer considered safe for rope rescue and that I should get a Russ Anderson Figure 8 Descender. Such a rescue specific item was not available at climbing shops and I learned that several had to be ordered at a time. This looked like a business opportunity, so I bought six with the intention of selling the other five." Russ' oversized Figure 8's were machined out of plate aluminum and worked for lowering systems. The rope we used was a nylon 7/16-inch, three-strand laid rope called Goldline. Most of our gear was recreational climbing or caving equipment. Carabiners were only aluminum and rock climbing harnesses were considered state of the art. There have been many changes in the last 25 years. Rescue specific products were introduced, and NFPA Standard 1983 was developed to provide consistency in testing and labeling. Today we've started to see descenders that automatically stop and lock themselves, harnesses made from high tech materials for comfort and strength, carabiners with a variety of safety locking systems, and specialized communication equipment to meet the changing needs of our rescuers."
--James A. Frank, President, CMC Rescue, Inc.

Read more . . .
Traditional mountaineering rappel practice in June 2008
Fatal climbing accident at Meadow Crags near Bend Oregon
Adopt a Crag Rebolting Project at Meadow Crags
The Access Fund Adopt a Crag event at Meadow Crags
Traditional Mountaineering Rappelling Seminar at Meadow Crags
CMC high angle rescue seminar at Meadow Crags

CMC Rescue, Inc. in Santa Barbara, CA

EXPERIENCE REPORTS - SMITH ROCK
Smith Rock - WARNING - top rope belay error
Smith Rock - inadequate top rope belay
Smith Rock - climber injured on the approach
Smith Rock - WARNING - belayer drops climber off the end of the top rope
Smith Rock - novice sport climber injured
Smith Rock - fall on rock, protection pulled out
Smith Rock - fall on rock - poor position, inadequate protection
Smith Rock - pulled rock off - fall on rock, failure to test holds, exceeding abilities
Smith Rock - belay failure, fatal fall on rock

PHOTOS - SMITH ROCK
Smith Rock Spring Thing volunteer appreciation party
Smith Rock Spring Thing volunteer's improvements
Smith Rock Spring Thing in the news
Smith Rock from above the Burma Road
Smith Rock rescue cache by AAC/ORS and TraditionalMountaineering
Smith Rock weekend
Smith Rock Monkey Face practice

TRADITIONAL KNOWLEDGE
Who were the notorious Vulgarians?
How was top rope climbing practiced in the 1970s?
What is a Willans sit harness?
What is a dulfersitz rappel?
How do I self-belay a rappel?