TRADITIONAL MOUNTAINEERING ™


www.TraditionalMountaineering.org ™ and also www.AlpineMountaineering.org ™

™
FREE BASIC TO ADVANCED ALPINE MOUNTAIN CLIMBING INSTRUCTION ™
Home | Information | Photos | Calendar | News | Seminars | Experiences | Questions | Updates | Books | Conditions | Links | Search

-The start of the race-
click to enlarge
or go to broadband pages above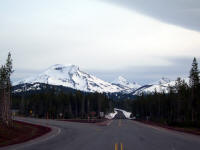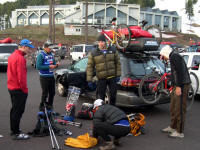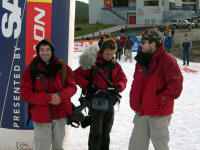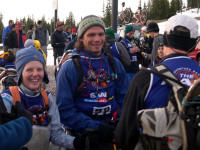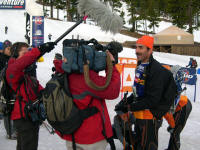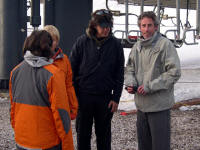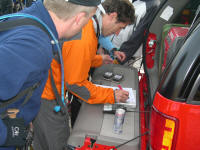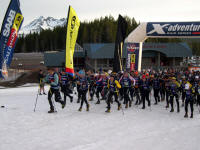 Copyright© 2004 by Robert Speik. All Rights Reserved.
This is a Raid!

The Bulletin
By Mark Morical
Published: June 11, 2004

Home-field advantage is home-field advantage, even if that "field" is 150 miles long.

Adventure racers from Bend will find out how much of an edge they really have when the second stage of the international X-adventure Raid series takes place in their back yards on Saturday and Sunday.

Teams are made up of four racers, usually three males and one female. (Rules dictate that each team include at least one female.)

Two athletes from Bend are on teams with legitimate chances of winning the 24- to 36-hour race, which starts Saturday at 6 a.m. at Mount Bachelor and ends at about 3:30 p.m. Sunday in Bend at the Les Schwab Amphitheater.

Bend's Chuck Thomas, 40, of Team TIMEX, and Justin Wadsworth, 34, of Team Montrail-Revo, will introduce their teams to the Deschutes National Forest during the Raid
event, which includes mountain biking, climbing, running, roller blading, paddling, rappelling and orienteering.

Both Thomas and Wadsworth believe their teams will have a navigational advantage, although this is the first adventure race in which they have competed in which global positioning system (GPS) units are allowed.

"I've been all over the woods," Thomas said. "I know where the trails go. I should have a good sense of direction even in the middle of the woods. A team from out of town won't have that."

Wadsworth hopes to lead Montrail-Revo back to the Raid World Championship, which it won last year in Kyrgyzstan, though it did so without Wadsworth.

This year the championship is in the Patagonia region of Argentina in late November and early December, and the Central Oregon race is one of four events in which teams earn points to qualify for the championship race.

"Having lived here for 16 years and spent almost every waking moment out here training, I'll have a pretty good idea," Wadsworth said. "I'll know where parts of the race go. I know what'll be the shortest route."

Race details and course routes will be released at 7 o'clock tonight at the pre-race meeting at Mount Bachelor Village. Teams already know that three racers will race at a time, with one competitor sitting out during each leg. By rule for this race, the female racer can sit out a maximum of two sections.

"It's kind of a chess game," Thomas explained. "If you have a strong biker, or a strong runner, you want to put people in where they're strong."

Teams will also be allowed to stop during "time windows" at checkpoints, in which their race clock will be stopped so they can rest. This also keeps the teams together to make for an exciting finish, but because of the time stoppage, a team could cross the finish line first and not necessarily win. If a team is behind and comes to a checkpoint where the time window is closed, its race clock will not stop.

"A team can come in with a two-hour window and sleep," Thomas said. "The top teams will get at least five hours of rest."

Thomas said he has heard rumors that the race will start with a climb to the summit of Mount Bachelor.

"It's all speculation," Thomas said.

Because GPS units are allowed, some of the navigational advantage that local teams have could be diminished. Few teams will get lost, which usually is not the case in other adventure races in which GPS units are outlawed.

"This race will come down to speed," Thomas said. "Transitioning from one point to the next is going to be key. Everyone will find the checkpoints."

Said Wadsworth: "If we're using a GPS unit, it means we're going pretty slow and we're not really sure where we are."

The event is bringing considerable media attention to Central Oregon, further establishing the area as a mecca for adventure sports. The race is scheduled to be televised by NBC in a 90-minute program to air on Aug. 7.

"It's neat to have the adventure racing family from around the world at your home," Wadsworth said.

Wadsworth and Thomas agree that the most challenging aspect of adventure racing is maintaining mental focus. The grueling sport wears the athletes down physically, making it difficult for them to maintain their composure.

"Sleep deprivation for 40 hours straight is a challenge," said Thomas, who's been an adventure racer for seven years. "You get tired, and you don't want to go on."

Said Wadsworth: "It pushes physical and mental limits. You wouldn't think that a race could do that. Things can get pretty ugly, pretty quick."

Both Team TIMEX and Team Montrail-Revo are hoping they will keep their wits about them and end up with a high placing. The two teams certainly have a solid history. Team TIMEX was ranked fifth nationally after the 2003 Balance Bar ARS Point Series. The team finished second at the Wild Onion 24-hour Urban Adventure Race in Chicago last year.

In addition to winning the Raid Gauloises last year, Team Montrail-Revo was named by Sports Illustrated as the adventure racing team of the year for 2003.

Wadsworth said that Team Nike ACG/Balance Bar is probably the favorite to win this weekend, but he likes his team's chances.

"We have a very experienced team," said Wadsworth, who joined the team before the 2003 season. "I'm the green one on the team. Our goal is to win. That's a realistic goal, it being on my home turf. We're definitely going for the win."
#######


We should all subscribe!
TraditionalMountaineering folks thank the X-Adventure Raid folks for the opportunity to assist this fine weekend of world class aerobic sport. --Webmeister.


Read more . . .
News of the X-Adventure Raid World qualifier in Bend, Oregon USA
Map of the Raid adventure race course for 2004

Race events in Bend, OR
Photos of the 2004 Pole Pedal Paddle race transitions
Pole Pedal Paddle 2004 results by age group
Pole Pedal Paddle race changes in 2004
Pole Pedal Paddle 2003 race results
Pole Pedal Paddle 2002

Snowshoe Shuffle comes to Bend, Oregon
Atta Boy 300 dog sled race start and finish from Mt. Bachelor
Bend Adventure Racing Klub - The Wild Juniper Berry Race
Annual race to the top of Pilot Butte
Pilot Butte - hike and run to the summit
Cascade Cycling Classic 2002
Bouldering gets a handhold at Smith Rock
ABS Contest night at InClimb Gym
Five Sisters Marathon
CORK, Central Oregon Running Klub plays in The Badlands


Traditional Mountaineering R & R in Central Oregon
Rafting class 3 on the Deschutes River
Winterfest in Bend, Oregon


Bend's Tower Theater restored to 1940s elegance
A snowshoe adventure with Bend Parks and Recreation
Bend's Wednesday market near the Deschutes River in Drake Park
Central Oregon's High Desert Museum in Bend

Wolves seen at the Museum!
Bend Log Jam celebrates the opening of the Deschutes southern crossing bridge


Bend's southern crossing bridge
The Beach Boys concert in Bend Oregon, Summer 2003


Cascade Music Festival in Drake Park, Bend Oregon


Misty River Band plays a free concert next to the Deschutes River


Riverfest boat-demo in Bend Oregon
Earth Day in Bend, Oregon


Customer appreciation night at a local store
Nordic Club's fall ski swap
Sustainable living expo in Bend
Fall festival in Bend


Joan Baez concert at the Athletic Club of Bend
Sunriver Resort exotic car rally
Munch-n-Music R & R in Bend

• Alpine Mountaineering: This is the central interest of TraditionalMountaineering. This tradition-based sport includes: on and off trail hiking, scrambling, light weight wilderness backpacking, Leave-No-Trace camping and bivouacking, as well as technical travel and mountaineering on snow, rock and ice, glacier travel, technical rock climbing and summitting peaks.
• Related Activities: Alpine Mountaineering is an aerobic sport. It includes jogging, running, hiking the hills, backpacking, climbing, mountain biking, back country skiing, snowshoeing, telemark skiing and similar sports all acting together to improve aerobic capacity, strength, balance and athleticism.