TRADITIONAL MOUNTAINEERING ™


www.TraditionalMountaineering.org ™ and also www.AlpineMountaineering.org ™

™
FREE BASIC TO ADVANCED ALPINE MOUNTAIN CLIMBING INSTRUCTION ™
Home | Information | Photos | Calendar | News | Seminars | Experiences | Questions | Updates | Books | Conditions | Links | Search

X-Adventure Raid Adventure Race qualifier in Bend, Oregon USA
-Finish line celebration-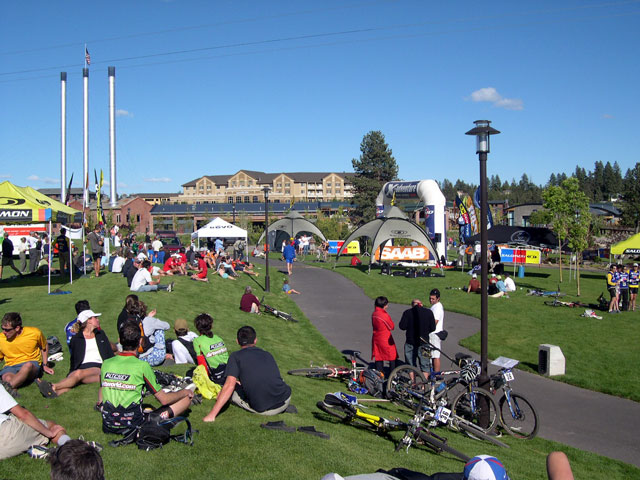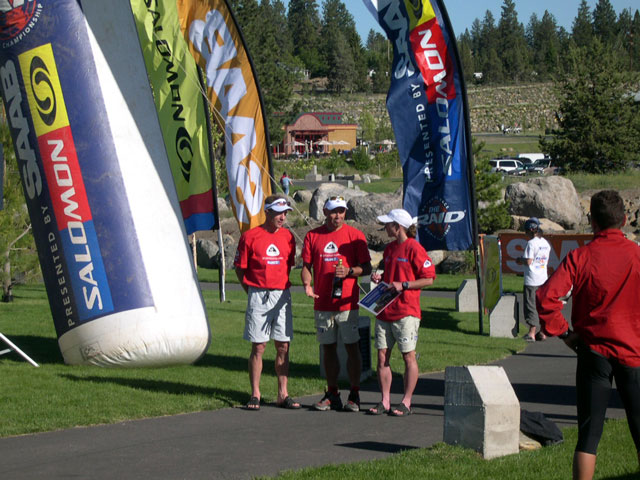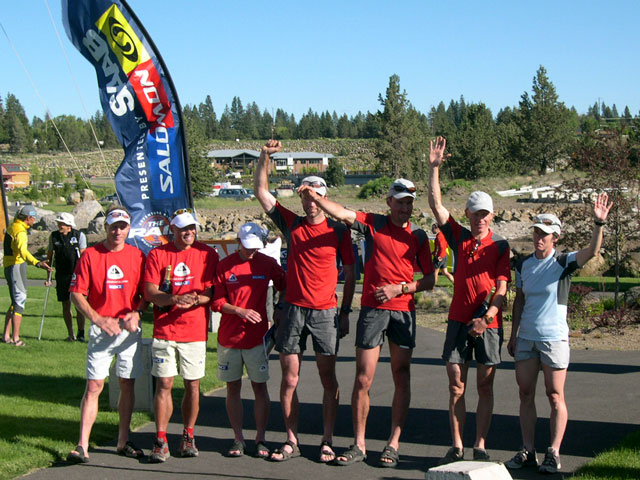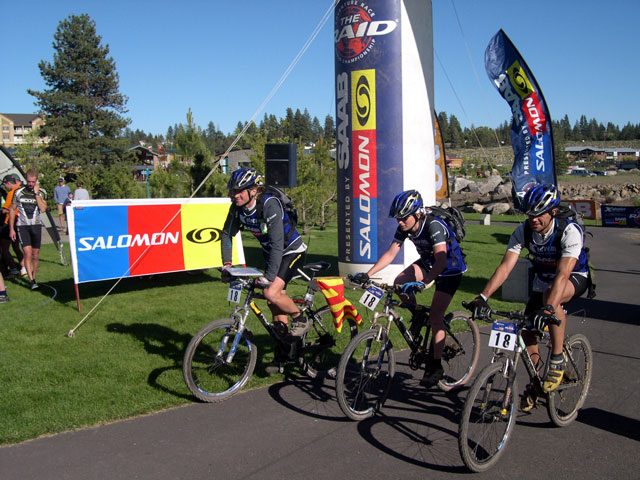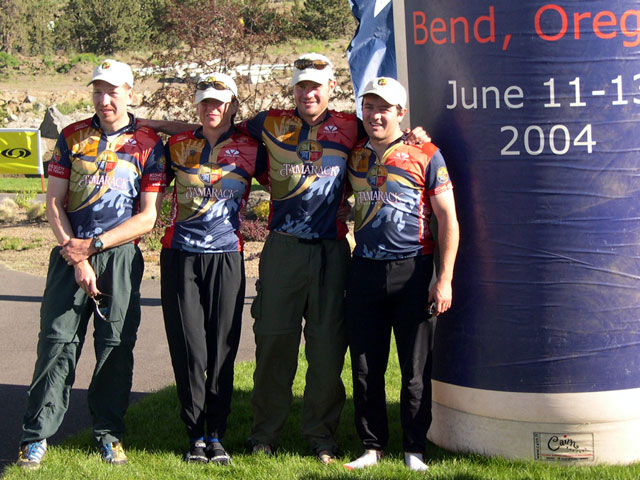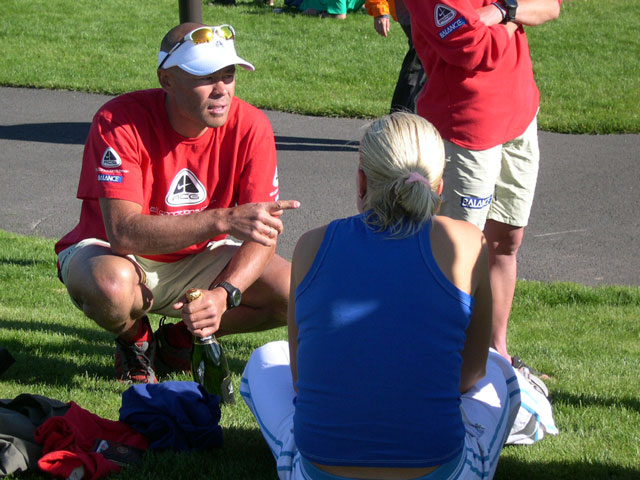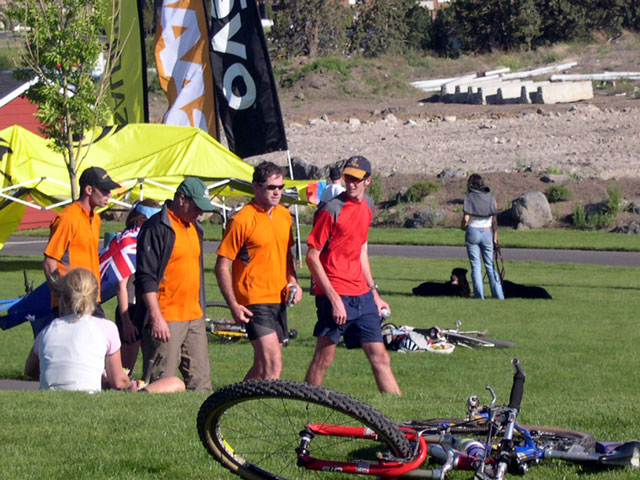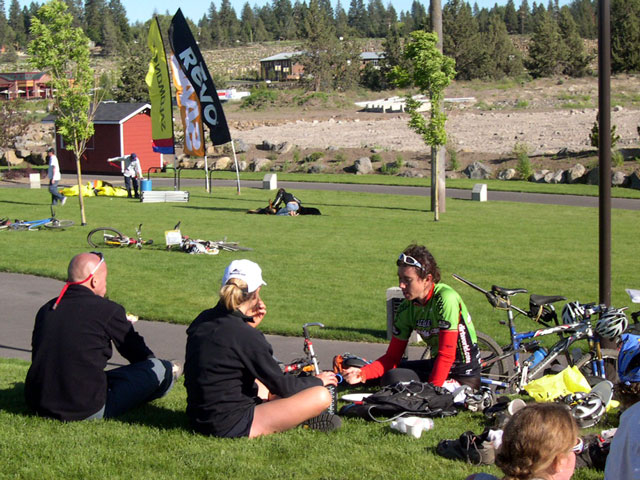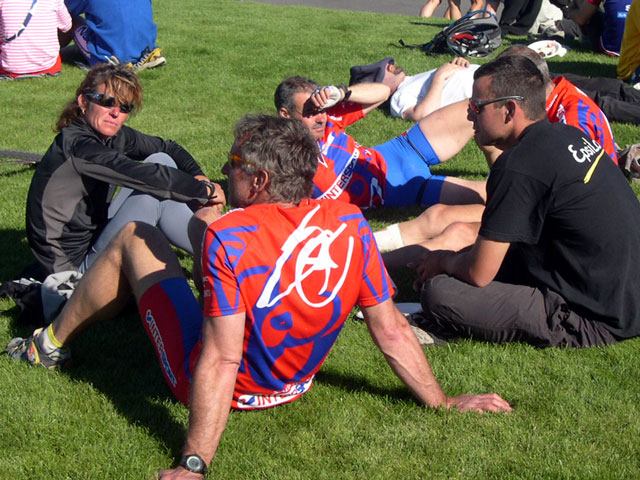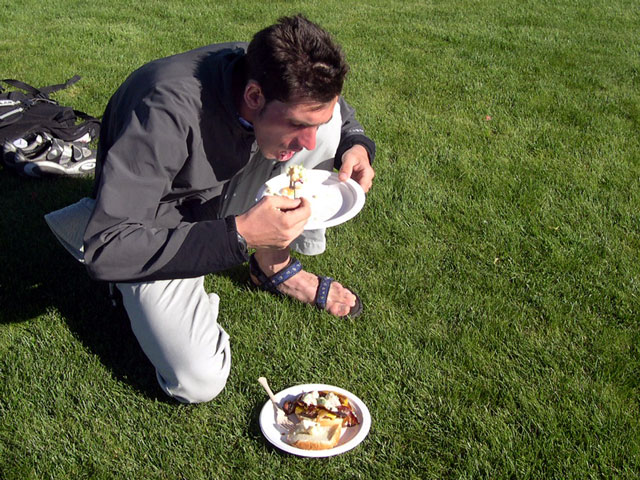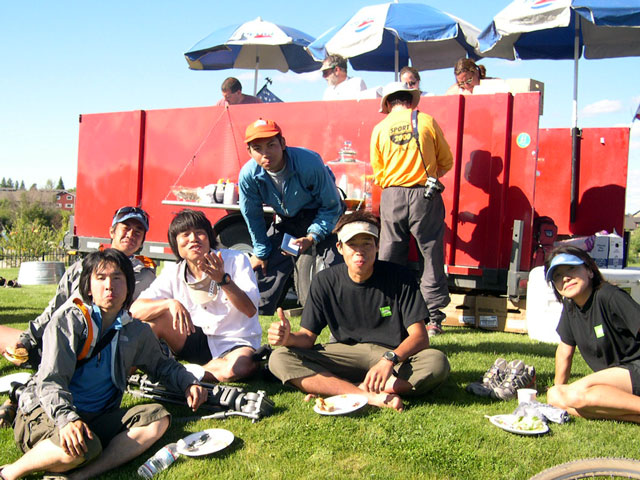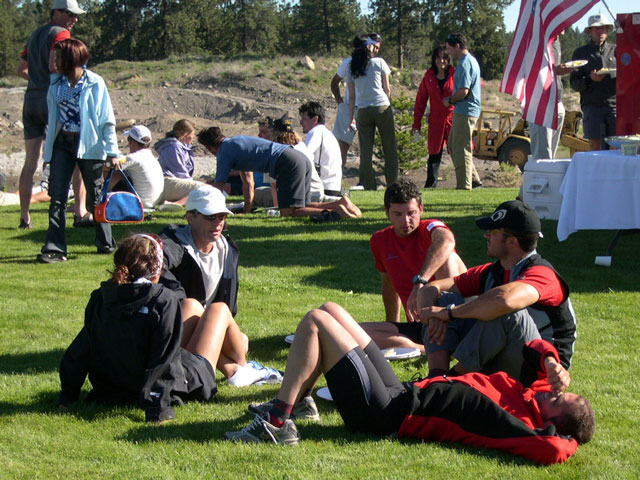 Copyright© 2004 by Robert Speik. All Rights Reserved.
X-adventure Raid Series recaps Bend Oregon USA event

From Bend.com news sources
Tuesday, June 15, 2004

Bend, Oregon – They came they saw and they conquered… as regular as clockwork, the team that won the first stage in Morocco last month put on a repeat performance of their dramatic win in 2002, when they also took the honors ahead of NIKE ACG/BALANCE BAR (USA). After two days of playing cat and mouse with the continent's finest adventure racing teams, the indomitable athletes of SALOMON SUISSE (CHE) sealed their second consecutive victory on the X-adventure Raid Series with a combination of speed and intelligence.

It all began at 06h00 on Saturday morning when 45 of the world's top multisports teams, clad in warm weather gear and toting snowshoes and crampons, streaked into the early morning light and a 15km trek up the steep, snow bound slopes of Mount Bachelor. At the head of the charge, Josh SMULIN, a local athlete incorporated at the last minute into LES ARCS-QUECHUA (FRA), was about to get his first taste of the X-adventure Raid Series with one of the world's top teams. SALOMON SUISSE (CHE) immediately showed their class by finishing almost 10 minutes ahead of the nearest rival SPIE THE NORTH FACE (FRA). But the fast and slippery downhill portion was treacherous to John JACOBY of MONTRAIL-REVO (USA), who wiped out completely on the hard packed snow. Unable to brake, he picked up speed and suffered extensive ice burns to his hands and legs but was still able to continue racing. On the next 36 km MTB section, some very smart racing and route choices enabled front runners, SALOMON SUISSE (CHE) and NIKE ACG/BALANCE BAR (USA), to put in the two fastest times and extend their tenuous lead over a tightly packed group of teams in hot pursuit. French team ERTIPS (FRA) also rushed through the field from 15th to 3rd overall, while a handful of teams, MONTRAIL-REVO (USA) and SAAB SALOMON (UK) among others, achieved relatively mediocre times. Local hero, Josh SMULIN, dug deep as LES ARCS-QUECHUA (FRA) continued its inexorable ascension through the standings with an exemplary effort on the first canoeing section of the day. Race leaders, SALOMON SUISSE (CHE), invincible on Terra Firma, lost time to strong paddlers NIKE ACG/BALANCE BAR (USA), North America's flagship adventure racing team.

The ranking barely moved as all the leading teams put in silky smooth performances covering the first 17km inline skating section without mishap. Each of the two race leaders took turns in acting as pace setter to the other. That man again, Josh SMULIN, came through with flying colors towing team captain Helen ROCHAS to the section end. The first team to finish the final 19.5km canoeing section of the weekend was NIKE ACG/BALANCE BAR (USA), who caught race leaders SALOMON SUISSE (CHE) during the portage and reduced the overall lead to less than three minutes. Then, after a spin around the shoreline of Wickiup Reservoir, NIKE ACG/BALANCE BAR (USA) finally managed to accomplish what they had been threatening since the start and overhauled leaders SALOMON SUISSE (CHE) by the narrowest of margins to take pole position for the first time in the race. ERTIPS (FRA), having thus far run a near flawless race, consolidated their 3rd place overall by taking the fastest scratch time on the section. As the evening sky filled with cloud and darkness enveloped the Cascade Mountains, the audacious SALOMON SUISSE (CHE) proved once again that a GPS and compass can only take you so far as they wrenched back the lead on the final section of the day. "We relied very much on our intuition to find a good route through the thick and prickly undergrowth," confided Alain BERGER. The gamble paid off and they gained over 15 minutes on the Americans on the final stretch of the section.

As daylight broke, attenuated by a fine rain, the teams mounted their bikes to cover the 23kms on the opening MTB section. NIKE ACG/BALANCE BAR (USA) made an early error that cost them some time whereas race leaders SALOMON SUISSE (CHE) started well only to succumb to a sudden onset of fatigue towards the end of the section, although the lead was unaffected. On a stiff uphill inline skating section covering almost 13km of road and climbing steadily the teams bristling with cross-country skiers came out on top. MONTRAIL-REVO (USA) had a good run as they sustained their challenge for 3rd place behind LES ARCS-QUECHUA (FRA), though the overall positions at the front remained unchanged. SALOMON SUISSE (CHE) began the final 20.5km trek and rope works with NIKE ACG/BALANCE BAR snapping at their heels but after about 2kms, the two rival teams chose different routes. A number of difficult route choices were presented once the snows were behind them but the Swiss, with arch-orienteer Alain BERGER, just seemed to get it right more often than the others. Turning on the speed as they came down a gully and crossing the river when things got rough, they managed to increase their overall advantage to 33 minutes, giving them a relatively comfortable cushion going into the final MTB section. SPIE THE NORTH FACE (FRA) also put in a very fast time on this section but the only viable challenger for 3rd place, held by ERTIPS (FRA), would be LES ARCS-QUECHUA (FRA), no mean feat for a team forced to race with an unknown quantity drafted at the last minute from local athletes.

On the final fast downhill 25km MTB section to the finishing line in Bend, SALOMON SUISSE (CHE) combined caution with temerity, staving off any last minute challenge from NIKE ACG/BALANCE BAR (USA). Even while ensuring a safe and secure ride, they managed to finish with the fastest scratch time and win the race with a relatively comfortable 36-minute lead. ERTIPS (FRA) hung on to take 3rd place as hopefuls LES ARCS-QUECHUA (FRA) finally realized they would have to settle for 4th. As for Josh: "The shortest path to greatness is along with others…"

REVO - Official supplier at the US stage of the X-adventure Raid Series. www.theraid.org

This stage is organized under special permit use with the Deschutes National Forest
#######

TraditionalMountaineering folks thank the X-Adventure Raid folks for the opportunity to assist this fine weekend of world class aerobic sport. --Webmeister.


Read more . . .
News of the X-Adventure Raid World qualifier in Bend, Oregon USA
Map of the Raid adventure race course for 2004 Broadband only

Race events in Bend, OR
Photos of the 2004 Pole Pedal Paddle race transitions
Pole Pedal Paddle 2004 results by age group
Pole Pedal Paddle race changes in 2004
Pole Pedal Paddle 2003 race results
Pole Pedal Paddle 2002

Snowshoe Shuffle comes to Bend, Oregon
Atta Boy 300 dog sled race start and finish from Mt. Bachelor
Bend Adventure Racing Klub - The Wild Juniper Berry Race
Annual race to the top of Pilot Butte
Pilot Butte - hike and run to the summit
Cascade Cycling Classic 2002
Bouldering gets a handhold at Smith Rock
ABS Contest night at InClimb Gym
Five Sisters Marathon
CORK, Central Oregon Running Klub plays in The Badlands


Traditional Mountaineering R & R in Central Oregon
Rafting class 3 on the Deschutes River
Winterfest in Bend, Oregon


Bend's Tower Theater restored to 1940s elegance
A snowshoe adventure with Bend Parks and Recreation
Bend's Wednesday market near the Deschutes River in Drake Park
Central Oregon's High Desert Museum in Bend

Wolves seen at the Museum!
Bend Log Jam celebrates the opening of the Deschutes southern crossing bridge


Bend's southern crossing bridge
The Beach Boys concert in Bend Oregon, Summer 2003


Cascade Music Festival in Drake Park, Bend Oregon


Misty River Band plays a free concert next to the Deschutes River


Riverfest boat-demo in Bend Oregon
Earth Day in Bend, Oregon


Customer appreciation night at a local store
Nordic Club's fall ski swap
Sustainable living expo in Bend
Fall festival in Bend


Joan Baez concert at the Athletic Club of Bend
Sunriver Resort exotic car rally
Munch-n-Music R & R in Bend

• Alpine Mountaineering: This is the central interest of TraditionalMountaineering. This tradition-based sport includes: on and off trail hiking, scrambling, light weight wilderness backpacking, Leave-No-Trace camping and bivouacking, as well as technical travel and mountaineering on snow, rock and ice, glacier travel, technical rock climbing and summitting peaks.
• Related Activities: Alpine Mountaineering is an aerobic sport. It includes jogging, running, hiking the hills, backpacking, climbing, mountain biking, back country skiing, snowshoeing, telemark skiing and similar sports all acting together to improve aerobic capacity, strength, balance and athleticism.