TRADITIONAL MOUNTAINEERING ™
www.TraditionalMountaineering.org ™ and also www.AlpineMountaineering.org ™

™
FREE BASIC TO ADVANCED ALPINE MOUNTAIN CLIMBING INSTRUCTION™
Home | Information | Photos | Calendar | News | Seminars | Experiences | Questions | Updates | Books | Conditions | Links | Search

Read more:
Central Oregon Running Klub plays in The Badlands
Click on an image you like to see the full version; broadband folks can click here to see the full sized page.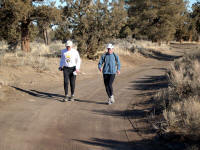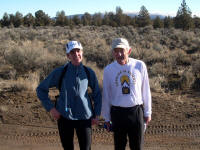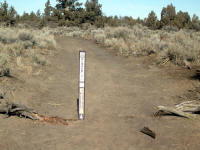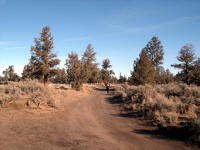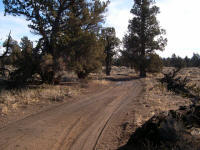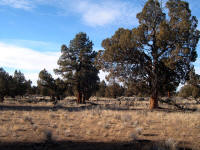 Copyright© 2004 by Robert Speik.
All Rights Reserved.
RUNNING CLUB SETS PACE
The Bulletin
By Keith Ridler
March 18, 2003

Running is an individual pursuit, but it's still nice to have company.

In Central Oregon, runners can find that company in the Central Oregon Running Klub (CORK).

"For long runs it's nice to run with someone, to run with a group," said Harry Kittleman, treasurer of the club. "From very slow to fast, it's all ages and abilities."

The club has existed for more than 30 years, and has about 135 members. About 25 percent of them compete in major races around the United States, said club president Joe Levesque, and about 75 percent of club members compete in local and regional events.

"We have some world-class people who belong to the club in the younger divisions, and in the older divisions," Levesque said.

The club isn't obsessed with competitive racing, Levesque noted — but for runners with a competitive bent, it's a good place to go to get some pointers.

"They have the opportunity to participate with some people who normally you wouldn't have the chance to be around," said Levesque. "And they can learn different training regimes and eating habits to enhance performance."

The club schedules a number of informal runs during a typical week.

On Wednesdays at noon, club members can meet at the Foot Zone in downtown Bend for runs of 4 to 5 miles at varying speeds.

Of course, those aren't the only miles club members put in. Many who enjoy the group aspect also like solo outings.

"At times it is more fun to run with a group," said Dave Thomason of Foot Zone, who is also a CORK member. "But I can see the other side, too. Sometimes you don't feel like keeping up with anybody."

Saturday mornings offer two options. Club members can meet at 10 a.m. at the track at Bend's Pilot Butte Middle School for workouts. Or they can meet at 8 a.m. at the Drake Park footbridge for runs of 6 to 18 miles.

"We all start out together but kind of break into groups based on how far we're going to go and speed," noted Kittleman. "In the winter we'll quite often go east of town into the Badlands area, though we haven't had to this year."

On the Saturday morning runs, CORK members mostly go on trails for two reasons: because softer surfaces are easier on joints, and because it gets them away from roads and traffic.

"In the summer, half to two-thirds of us will go into the mountains and run on trails up there," Kittleman said.

And there is a payoff to the Saturday morning runs.

"No matter where we go, when we get through we normally go to the Westside Cafe for breakfast," he said.

Besides running, the club is active in promoting and staging a number of local running events.

In Saturday's Grin and Bear It fun run, CORK helped set up the course and assisted with logistics. The race was organized by Healthy Beginnings, which provides free health and development screenings for children from birth to age five in Deschutes County.

The Grin and Bear It run, put on in conjunction with Brain Awareness Week, was the first event they had ever coordinated.

"It was our first time out of the box," said Holly Remer of Healthy Beginnings. "They (CORK) made it happen. We would not have had that race were it not for them. They're just a great organization."

The club is also involved with the Dirty Half — a 13.1-mile trial run — and the Heaven Can Wait event. A number of social functions are also held each year.

Cost to join the club is $20 for an annual membership. Besides the opportunity to run with a group, CORK members enjoy discounts at a number of local shops.

"It pays for itself if you wear out a few pairs of shoes every year," said Kittleman.


Subscribe to this daily paper!

Read more . . .
Central Oregon Running Klub (CORK)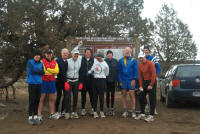 Photo from the CORK web
"The Badlands...It's peaceful, quite and a rare treat to be out in such an environment. We started at the Badlands Trailhead off of Route 20, approximately 20 miles east of Bend. Our run followed Route 8 north then Route 5 west to Route 4 south past the famous Badlands Rock and then back to the trailhead. It was great to see so many
CORKers run this 2 hour loop. NOTE: The routes in the Badlands are not very well marked. Study the maps at the trailhead first." --CORK web
########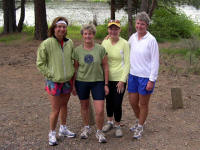 These great looking CORK gals beat us hikers
to the Deschutes River Trail for their morning run.

About Alpine Mountaineering:


The Sport of Alpine Mountaineering


Climbing Together


Following the Leader


The Mountaineers' Rope


Basic Responsibilities

Cuatro Responsabiliades Basicas de Quienes Salen al Campo


The Ten Essentials

Los Diez Sistemas Esenciales

Our Leader's Guidelines:


Our Volunteer Leader Guidelines


Sign-in Agreements, Waivers and Prospectus This pdf form will need to be signed by you at the trail head


Sample Prospectus Make sure every leader tells you what the group is going to do; print a copy for your "responsible person"


Participant Information Form This pdf form can be printed and mailed or handed to the Leader if requested or required


Emergency and Incident Report Form Copy and print this form. Carry two copies with your Essentials


Participant and Group First Aid Kit Print this form. Make up your own first aid essentials (kits)


About our World Wide Website:


Information


Mission


Subscription Form I am still pondering this. Hmmm.


Our Gear Discounts Don't miss this!


Please Read Me Awards, pdf, affiliations, donations and how best to enjoy this website



Customer Service Please hold -



South Sister, Middle Sister, North Sister (the sinister sister) and Broken Top in the Three Sisters Wilderness near Bend, Oregon USA
Photo Copyright© 2004 - 2005 by Robert Speik. All rights reserved.