TRADITIONAL MOUNTAINEERING ™
www.TraditionalMountaineering.org ™ and also www.AlpineMountaineering.org ™

™
FREE BASIC TO ADVANCED ALPINE MOUNTAIN CLIMBING INSTRUCTION™
Home | Information | Photos | Calendar | News | Seminars | Experiences | Questions | Updates | Books | Conditions | Links | Search

Read more:
Ben Husaby claims PPP No. 5; '94 victor Muffy Roy tops women
Thousands take part, assist in and watch Bend's premier multi-sport event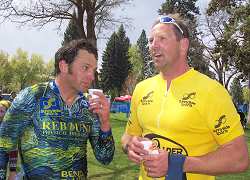 Photo by: Barney Lerten
Ben Husaby (R), winner of fifth straight Pole Pedal Paddle race,
accepted congratulations from No. 2 finisher Andy Fecteau, who also
apologized for snapping Husaby's ski pole as event began.
By Barney Lerten
Bend.com
Posted: Saturday, May 17, 2003 3:33 PM

May 17 - A "five-peat" – that sounds just about as ho-hum as can be, right? Bunk. Ben Husaby indeed captured his fifth straight Pole Pedal Paddle race Saturday, but Bend's premier sporting event proved to be anything but a walk (or run, ski or bike) in the park for the winner, who called it his hardest – and closest – race yet.

A clue to that could be found in the 37-year-old's winning time of 1 hour, 46 minutes and 47 seconds – more than three minutes slower than last year, and just 25 seconds ahead of Andy Fecteau. The fellow Bend resident led heading down the Deschutes in the next-to-last, canoe/kayak leg of the race, but saw Husaby surge ahead after they rounded the buoy and headed back upstream for the 200-yard sprint to the Drake Park finish line.

There was a surprise repeat winner, meanwhile, on the women's side. Muffy Roy, who last competed as an individual nine years ago – and won that race – really took off on the 5-mile run and won the race in 1:57:39, almost three minutes ahead of 2001 PPP champ Suzanne King, who finished in 2:00:32. At age 42, Roy just may be the oldest individual winner in the 27-year history of the event.

"This was the hardest one," said Husaby, who pretty much walked across the finish line, to cheers and applause, with Fecteau in sight behind him. But Fecteau fell to his knees at the same spot, seconds later, obviously very drained. Moments later, Fecteau was apologizing to Husaby for a costly tangle at the start of the first, alpine ski leg on Mount Bachelor.

On just his third stride, Fecteau's kick accidentally snapped one of Husaby's ski poles in half.

"Sorry about the pole – I think you can add 30 seconds to your time for that," Fecteau said as he congratulated Husaby and shook his hand near the finish line.

"It's not his fault," Husaby said a few moments later. "It just happens."

Husaby, a kids' ski coach who helps coordinate the race, was greeted at the finish by wife Lisa and 20-month-old daughter Anneliese.

Competition is just one part of the PPP party

Close to 3,000 competitors took part in the six-stage event (http://ppp.bendnet.com), either individually or as part of pairs or teams in a variety of combinations. The race, sponsored by U.S.

Sorry about the pole – I think you can add 30 seconds to your time for that.
Andy Fecteau
No. 2 PPP finisher, apologizing for snapping winner Ben Husaby's ski pole

Bank, serves as the big fund-raiser of the year for the Mt. Bachelor Ski Education Foundation.

It includes an 8-kilometer cross-country ski leg, a 22-mile bike ride down Century Drive and a 5-mile run, with the course altered this year due to Southern River Crossing construction. The canoe-kayak leg includes a 1-mile paddle downstream and a half-mile back to the sprint exchange.

Thousands more take part either as volunteer support crews or simply as spectators, joining in the fun down at Drake Park, where the post-race festivities were staged in decidedly chilly weather this year.

One big change this year was that the top competitors set off first, at 9:15 a.m., in the elite category, rather than in their respective age groups – competing against each other, not just the clock. That also made it easier for spectators, as Husaby indeed was the first person to cross the finish line.

Fecteau had other problems this year, having passed Husaby on the bike leg when his chain came off – not once, but twice. "I had him by 18 seconds at one point and 28 another," he said, but before long, "I felt like I was going to puke. … My arms were gone, completely gone" when he got in the kayak. "At the turnaround buoy, he cut the inside line, I cut the outside line." When they left the water, Fecteau found himself almost a half-minute behind Husaby, and as he put it later, "You can't make up 28 seconds in a 200-yard dash."

Husaby said despite the weather – a half-inch of snow fell at Bachelor overnight – things went smoothly, for the most part, though losing his ski pole threw off his early rhythm.

"I thought it was great," he said. "Everybody was dressed warm at the start," but neither the slopes nor the road turned out to be icy, as some had feared. "The weather was nice – it was great." Course changes were made up until the eve of the race, with the steps by Robby J's Bistro down to the

I passed (Fecteau) on the buoy. That's about as close as this race has ever been. ... This was the hardest one.
Ben Husaby
Winner of fifth straight Pole Pedal Paddle

River Trail taken out only on Friday, he said.

"You know, I think everybody does a great job in organizing – (Deschutes) County, the city, ODOT, the parks (district)," Husaby said.

In the water, he said, "I passed (Fecteau) on the buoy. That's about as close as this race has ever been."

As elite cross the line, thousands more follow

Roy, the women's winner, said the outcome going in was a total unknown. While she hadn't raced alone since her '94 PPP win, Roy – best known in Bend for promoting "Bike to School Tuesdays" each spring – has competed in pairs and team entries.

"It feels good, because it was good competition," said Roy, whose son and daughter, ages 12 and 15, were still on the course, competing in pairs and team events, when their mom crossed the finish line in the staggered-start event.

Husaby said that Roy indeed might have been the oldest PPP individual winner in the event's history. But she said that to her, "Age is not a big deal." So you're only as old as you feel? "Exactly," she said.

After shaking hands with Roy, Husaby told her, "I don't think I could do it at 42." She replied, "The last time I did it (alone) was '94 – just take a break." Indeed, Husaby wasn't about to say if he'd try to top Justin Wadsworth's record of eight straight PPP victories. But he said he could compete in future years with his wife, a former PPP champ in 1990, or as part of a team: "Do I take part because I need to win it? No."

Two other Bend residents, Colin Mahood and Kevin Grove, finished third and fourth in the men's elite, while Molly Grove and Kathy Fecteau came in No. 3 and 4 among the top women.

While the top finishers predictably grab a big share of attention, the PPP is really all about the families, old college pals, friends, coworkers, schoolmates and the like who compete for the joy of it – the camaraderie, the feeling of accomplishment or

Age is not a big deal.
Muffy Roy
Winner of second PPP, at age 42; first was in '94

just the plain fun of it.

Take Patrick Griffiths, who started doing the Pole Pedal Paddle in 1994. He and wife Aimee Serrurier have two main rules of their pairs team: "Kiss at every transition, and say a nicety." Griffiths said they finished in 2:30 – "not bad, for a guy who doesn't train any more, and has two little boys."

Though the weather was being typically fickle – a mix of light hail and sunshine greeted the first folks gathering at Drake Park Saturday morning – the PPP also serves as the unofficial kickoff of Bend's outdoor event season, which has some special concert, fair or happening just about every weekend until Labor Day, not to mention weeknight events such as Munch and Music or the Cascade Festival of Music.

As usual, there were food booths of every stripe, promotional water bottle giveaways, a beer garden with live rock music, and lots of folks braving the nippy weather to partake in it all.

Even long-time Bend residents sometimes find it takes a while to make it to the PPP party. Liz Guidero has lived in town for 13 years, but this was her first event – and there was a reason, as she planned to pass out fliers for The Open Door, a new non-profit community outreach center, next to Ernesto's Restaurant on Third Street.

New Bend residents Matt and Delia Paine bundled up their two kids – Maisie, 10 months old, and 28-month-old Riley – only having to walk a couple of blocks from their Westside home to watch the canoe/kayak competitors glide by on the Deschutes.

"We moved here without a job," Matt Paine said. "It has worked out. We needed a change. We wanted to be closer to family members, who live here." Matt also doesn't miss one bit his hour-long commutes to work or just about anywhere or anything, when they were living in Seattle.

"Here, we walk to go shopping. We walk to the dry cleaners," he said. "A tank of gas lasts six weeks. Now, how can you beat that?"



click to visit bend.com

Read more . . .


Events in Bend, OR
Pole Pedal Paddle 2004 results by age group
Pole Pedal Paddle 2003 race results
Pole Pedal Paddle 2002

Snowshoe Shuffle comes to Bend, Oregon
Annual race to the top of Pilot Butte
Bend Adventure Racing Klub - The Wild Juniper Berry Race
Cascade Cycling Classic 2002
Bouldering gets a handhold at Smith Rock
CORK, Central Oregon Running Klub plays in The Badlands
Atta Boy 300 dog sled race start and finish from Mt. Bachelor

Traditional Mountaineering R & R in Central Oregon
Winterfest in Bend, Oregon


Bend's Tower Theater restored to 1940s elegance
A snowshoe adventure with Bend Parks and Recreation
Bend's Wednesday market near the Deschutes River in Drake Park
Central Oregon's High Desert Museum in Bend


Bend Log Jam celebrates the opening of the Deschutes southern crossing bridge


Bend's southern crossing bridge
The Beach Boys concert in Bend Oregon, Summer 2003


Pilot Butte - hike and run to the summit
Cascade Music Festival in Drake Park, Bend Oregon


Misty River Band plays a free concert next to the Deschutes River


Riverfest boat-demo in Bend Oregon
Earth Day in Bend, Oregon


Customer appreciation night at a local store
ABS Contest night at InClimb Gym
Nordic Club's fall ski swap
Sustainable living expo in Bend
Fall festival in Bend


Joan Baez concert at the Athletic Club of Bend
Sunriver Resort exotic car rally
Munch-n-Music R & R in Bend

• Alpine Mountaineering: This is the central interest of TraditionalMountaineering. This tradition-based sport includes: on and off trail hiking, scrambling, light weight wilderness backpacking, Leave-No-Trace camping and bivouacking, as well as technical travel and mountaineering on snow, rock and ice, glacier travel, technical rock climbing and summitting peaks.
• Related Activities: Alpine Mountaineering is an aerobic sport. It includes jogging, running, hiking the hills, backpacking, climbing, mountain biking, back country skiing, snowshoeing, telemark skiing and similar sports all acting together to improve aerobic capacity, strength, balance and athleticism.