TRADITIONAL MOUNTAINEERING ™
www.TraditionalMountaineering.org ™ and also www.AlpineMountaineering.org ™

™
FREE BASIC TO ADVANCED ALPINE MOUNTAIN CLIMBING INSTRUCTION™
Home | Information | Photos | Calendar | News | Seminars | Experiences | Questions | Updates | Books | Conditions | Links | Search

Read more:
Pilot Butte in Bend, Oregon: Race to the summit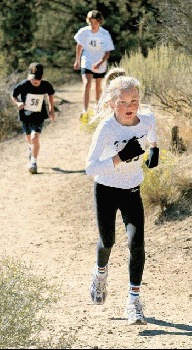 Ali Brauer charges up Pilot Butte
photo by Andy Tullis / The Bulletin

Pilot Butte runners rewrite record book

Ali Brauer, 9, of Bend, charges up Pilot Butte on Saturday in a 10 minutes, 5 seconds — a record for the girls 12-and-under age division and the second-fastest time of the day by any female runner. Andy Tullis / The Bulletin

The Bulletin
September 14, 2003
By Keith Ridler

Even though Saturday's Pilot Butte Challenge went strictly uphill, a massive avalanche occurred.

In the record books, that is.

Runners in this year's event swept aside previous bests with such consistency — more than a dozen in all — that the information kiosk at the base of the butte that lists the event's record holders now needs a considerable rewrite.

"I like hills," said Katie Caba, 32, of Bend, after posting the fastest ever time for a woman competitor in any age category. "Not knowing where it was going to end, I just kept pushing. It was fun. Fun, tough and beautiful."

Caba completed the 1-mile climb from the base to summit of Pilot Butte in 9 minutes, 10 seconds to easily win the women's 30-34 age division. That time also eclipsed one of the race's longest-standing records — the 9:30 posted by Rebecca Diehl that stood as the best-ever time by a woman.

The Pilot Butte Challenge began in 1998 and has been run every year except 2002, when construction put the race on hold. This year, nearly 60 competitors ranging in age from 5 to past 90 charged up the butte.

Perhaps as impressive as Caba's effort on Saturday was that of Ali Brauer, 9, of Bend. Competing in the girls 12-and-under category, she got to the top in 10:05 to chop
nearly three minutes off the previous record.

Her time was also the second fastest of any female competitor Saturday, trailing only Caba.

"I've never done a race uphill before, and it was really fun," said Brauer. "I'd say it's a great race that anyone can do."

Ryan Shaffer of Bend turned in the fastest time of the day, completing the run in 8:07 to win the men's 35-39 age group and snip three seconds off the previous record in that category. Shaffer also competed in the Sunrise to Summit event two weeks ago, placing third overall in the race to the top of Mount Bachelor.

"Sunrise to Summit, that's a long grind," said Shaffer. "This is nice because you know it's over quick."

One record that didn't fall Saturday was Brett Holts' effort of 7:20, clocked in 2000 when he competed in the 15-18 category. It remains the fastest ever time officially clocked up the butte.

A youngster who might challenge that one day is Tyler Dunn, 12, of Bend, who had a learning experience Saturday but still took two minutes off the record time in the boys 12-and-under category. He finished in 10:04.

"Don't eat a lot before you run the butte, like I did — because it hurt's a whole lot," he advised.

In the men's 40-44 age group, Patrick Widmer, 42, of Bend, sliced about half a minute off the old record to finish in 8:44. In fact, the two other runners in that age group,
John Brauer (8:46) and Rusty Clemons (9:03), also broke the old record. But Widmer won the sprint finish.

"Probably in the last 400 yards I heard the footsteps from another guy behind me so I picked it up a little bit," said Widmer, who overtook Brauer on the way to the finish.

Jeff Caba didn't let his wife, Katie, take all the family glory on Saturday. Jeff won the men's 30-34 category in 8:18 and lowered the age-group record by more than a minute in the process.

"Glad it's done," he said. "Wouldn't want to do it again."

Before Saturday's race, only two records had stood since 1998. Katie Caba erased one and Suzi Macleod took care of the other. Macleod clocked a record time of 13:39 to win the women's 65-69 race. The old record that had stood for six years belonged to Patsy Sullivan, who in 1998 went up the butte in 18:11.

Another record fell in the men's 70-75 age group when Lew Hollander — an Ironman triathlete — climbed the butte in 12:12 to take nearly 50 seconds off the old record.

Mary Welz clipped 17 seconds off the women's 70-75 record by finishing in 17:01.

Dick Elliott, 80, of Bend, clocked a time of 44:36 to put up a record in the previously vacant 80-84 category. He's made more than 200 hikes up Pilot Butte since he started in 2000.

"The mountain has gotten higher since then," he said.

In the over-90 men's division, Joe Harryman clocked the best time of 53:21 on Saturday. But the record for that division still belongs to Cash Bruington, who clocked a time of 43:30 in 2000.

For most Bend residents — who make some 200,000 hikes or runs a year to the top of the butte — Saturday's event seemed hardly unusual.

But for new Bend resident Kim McAlear — who recently moved here from southern Utah — the novelty of having something like Pilot Butte right in town is striking.

"That's what is so amazing to me," said McAlear, winner of the women's 40-44 category in a time of 11:39. "I see people of all abilities coming up here all the time."




We should all subscribe!

Read more . . .


The Badlands Wilderness
Bend Oregon Badlands WSA hiking map available from BLM
Hunters who use ATVs are hurting Oregon's elk population
BLM's final UDRMP opens Bend's Badlands to Geocaching
BLM's final UDRMP closes Bend's Badlands WSA to motorized vehicle use
Wilderness workshop for USDA Forest Service held by University of Idaho
BLM's UDRMP plans for Badlands deal with exploding public use
Map, compass and GPS navigation training Noodle in The Badlands
Deschutes County Commissioners fail to support Badlands Wilderness!
Deschutes County takes no position on Badlands Wilderness
Deschutes County Commissioner DeWolf supports Badlands Wilderness
OpEd - Dirt road through The Badlands must close
Photos of Road 8 damage sent to Commissioners
Badlands Wilderness with a road?
The Badlands have unique interest for the hiker
BLM guidelines for Geocaching on public lands
Geocaching on Federal Forest Lands
OpEd - Geocaching should not be banned in the Badlands
Fee Demo groundwork may save Geocaching on our public lands
Protest of exclusion of Geocaching in Badlands WSA in BLM's UDRMP
BLM's UDRMP puts Bend's Badlands off limits to Geocaching
Deschutes County Commissioners hearing on Badlands Wilderness support
OHV use restricted in Upper Deschutes Resource Management Plan
Winter hiking in The Badlands WSA just east of Bend
Tread Lightly OHV USFS tip of the month
OHVs to be held to designated trails by USDA Forest Service!
New pole shows Badlands Wilderness favored by voters
BLM posts Reward for information on Juniper rustlers
BLM weighing public input on management plan
Oregon's Badlands hit by old growth Juniper rustlers Photos
Congressman Greg Walden to visit The Badlands
Badlands Wilderness endorsed by COTA
OpEd - Unregulated OHV use is being reviewed across the western states
OHV use curtailed by new USFS policy decisions
Sierra Club's Juniper Group supports Badlands Wilderness
OHV regulation discussed at BLM meeting in Bend, Oregon
OpEd - Badlands part of BLM's recreation management area
OpEd - We need the Badlands Wilderness
OpEd - Off-roaders have no reason to fear Badlands Wilderness designation
Speak for the Badlands at Town Hall Meeting
Hiking poles are becoming essential gear
Vandals destroy ancient pictographs in the Badlands
Senator Wyden tests support of Badlands Wilderness
Badlands Wilderness endorsed by Bend City Commissioners
The Badlands: proposed for Wilderness status
The Badlands unique geologic forms explained by Chitwood pdf
The Badlands, a brief history
The Badlands pictographs reported 75 year ago



WARNING - *DISCLAIMER!*
Mountain climbing has inherent dangers that can in part, be mitigated