TRADITIONAL MOUNTAINEERING ™
www.TraditionalMountaineering.org ™ and also www.AlpineMountaineering.org ™

™
FREE BASIC TO ADVANCED ALPINE MOUNTAIN CLIMBING INSTRUCTION™
Home | Information | Photos | Calendar | News | Seminars | Experiences | Questions | Updates | Books | Conditions | Links | Search

Read more:
Cascade Cycling Classic Twilight Criterium on July 12, 2002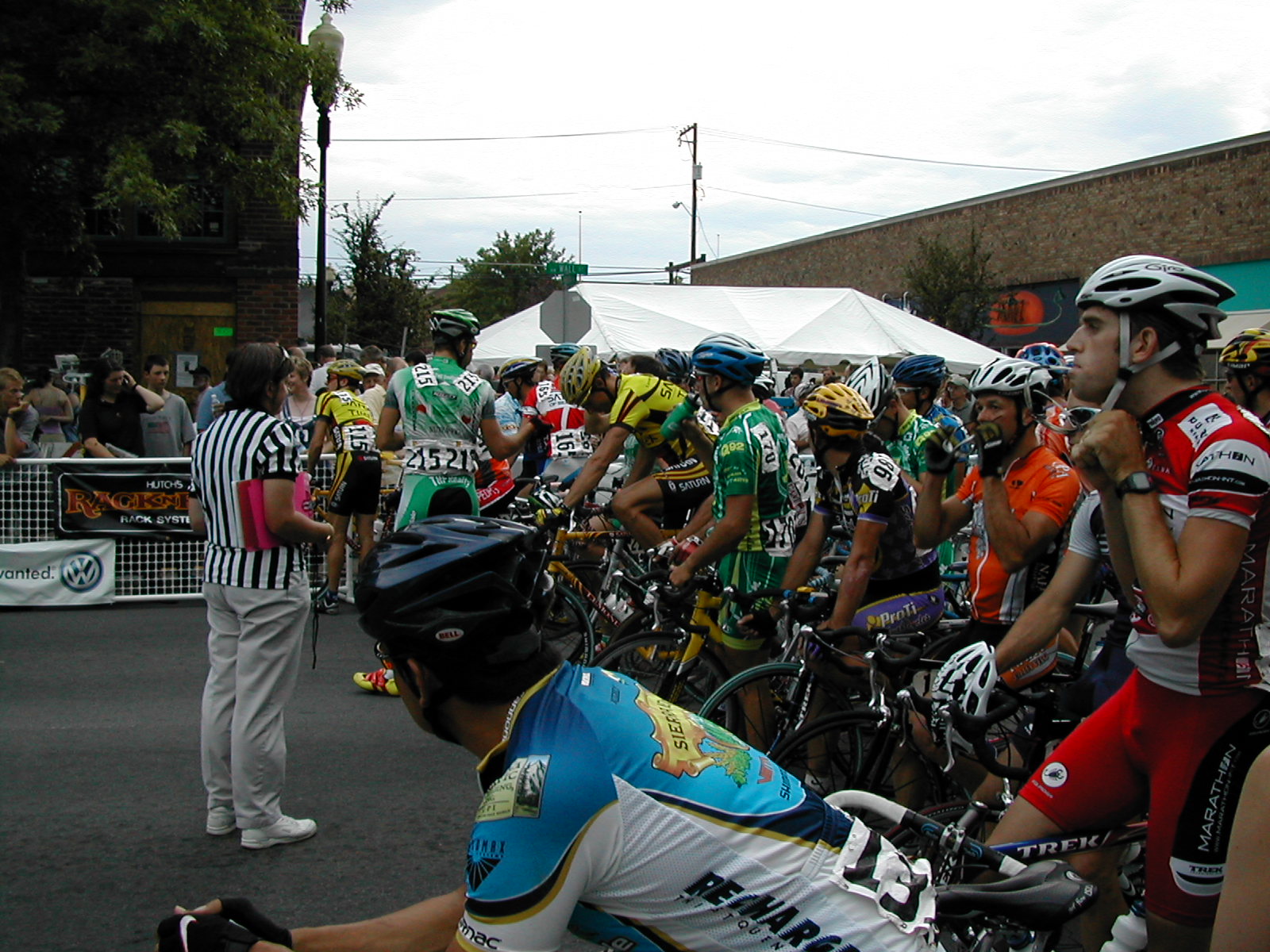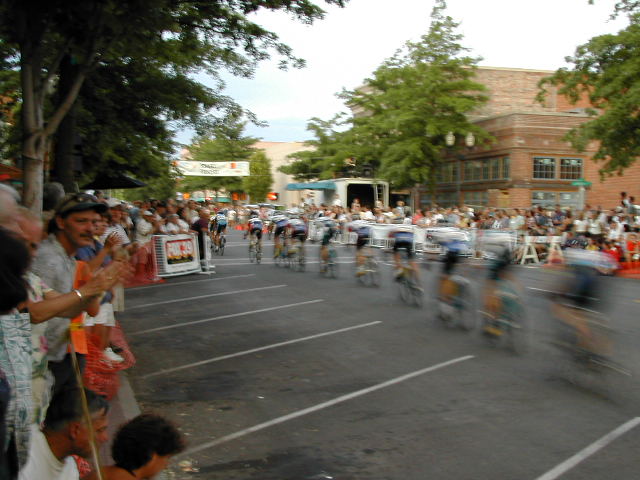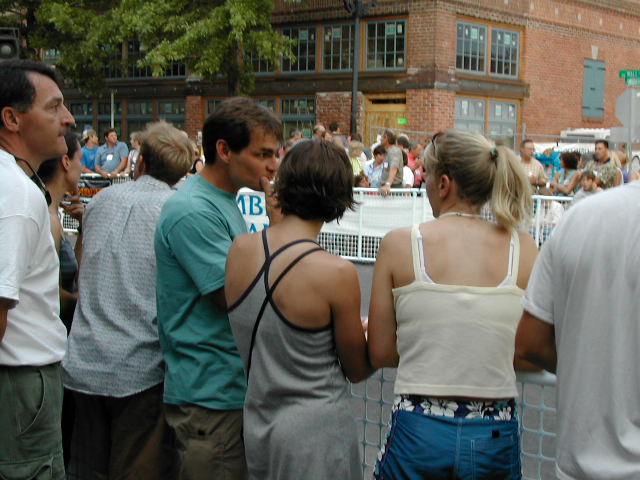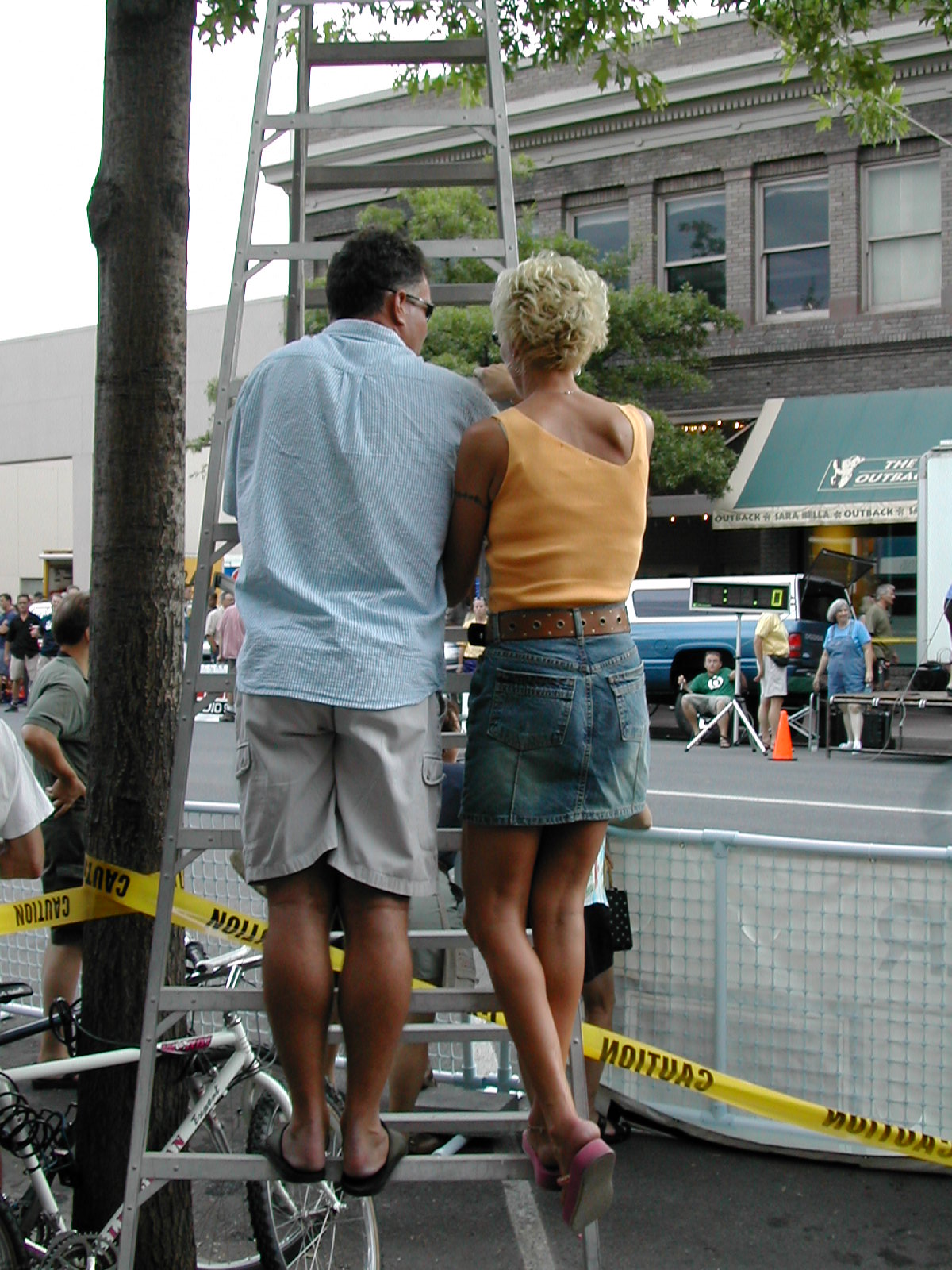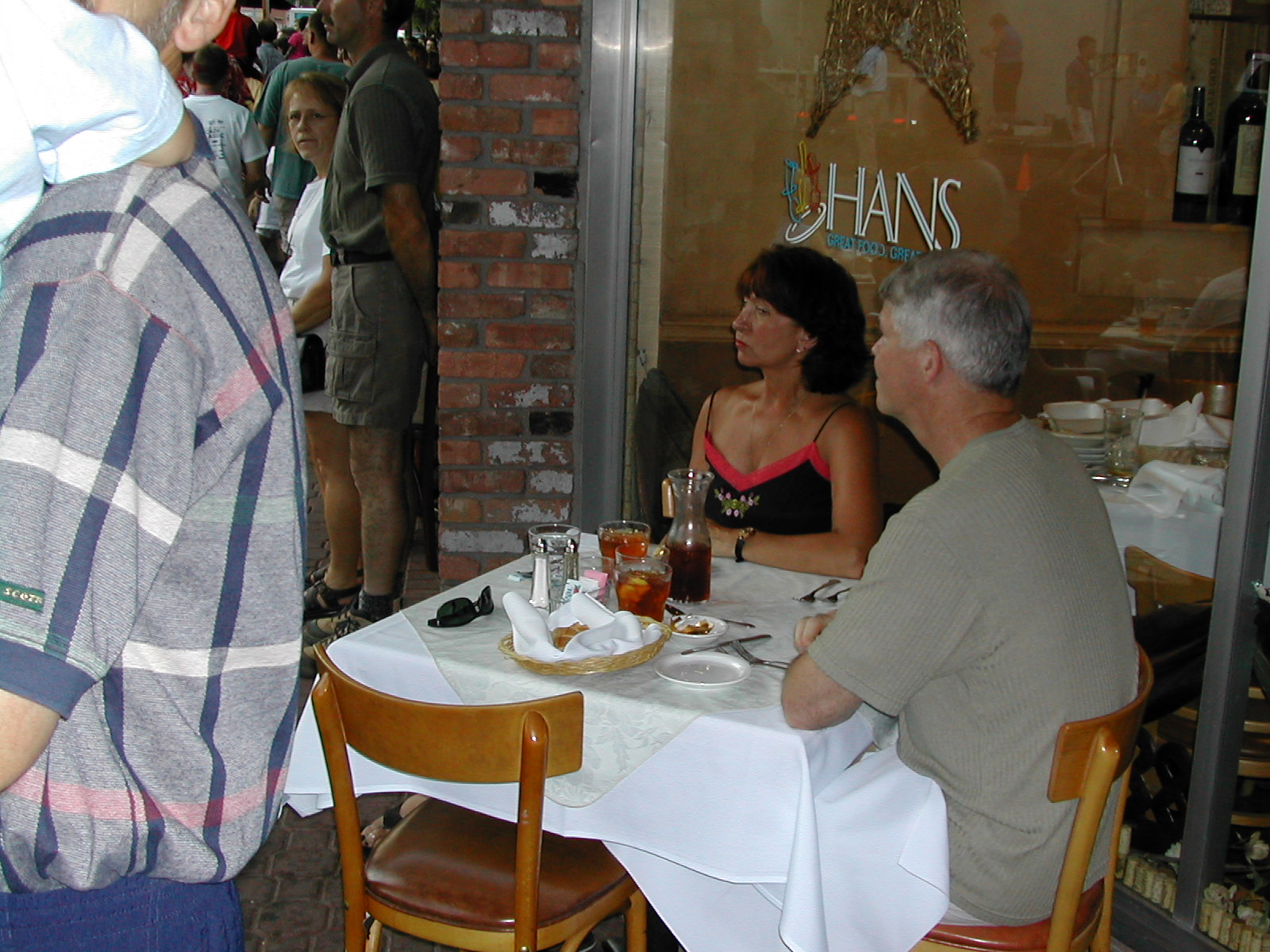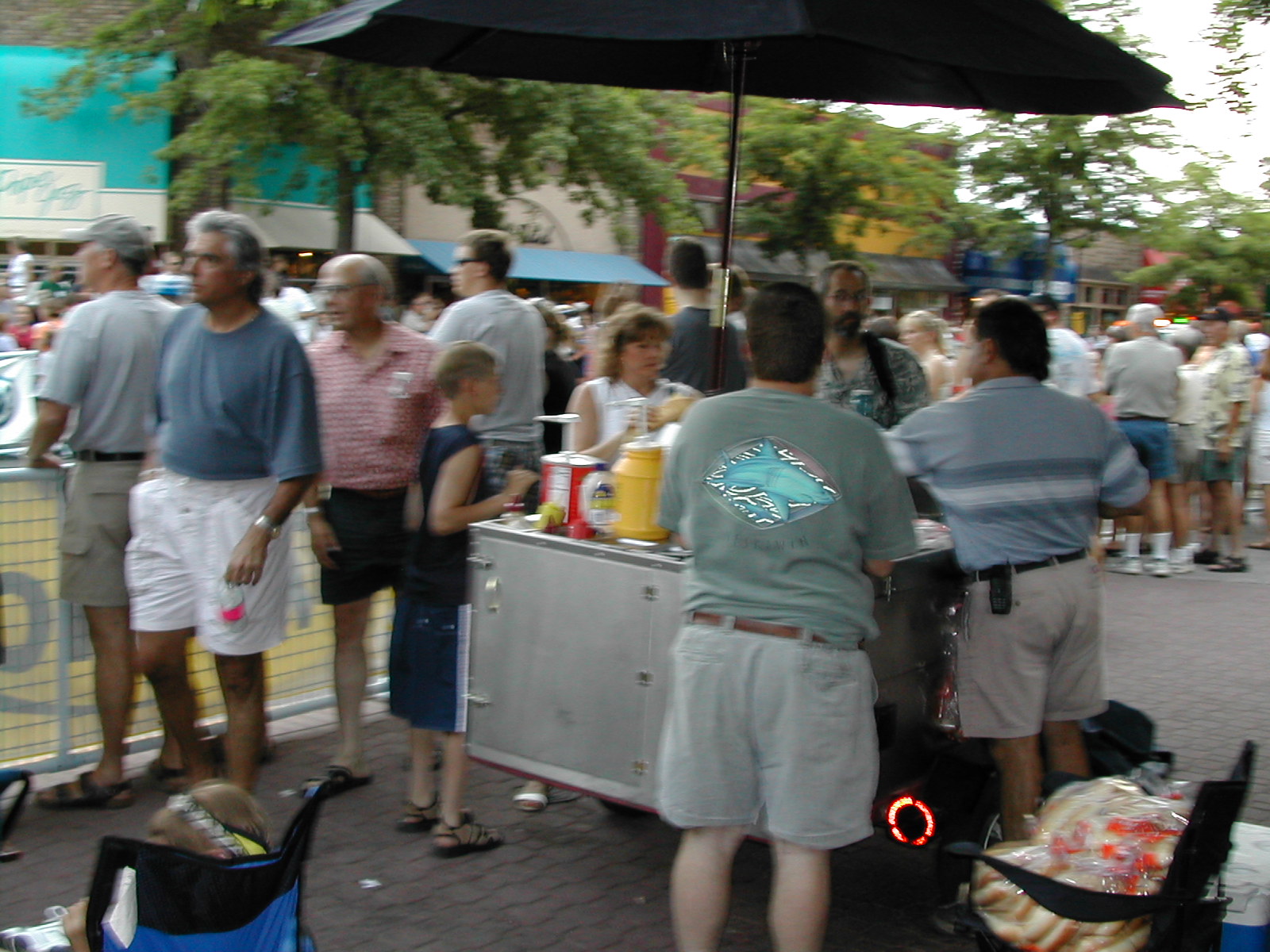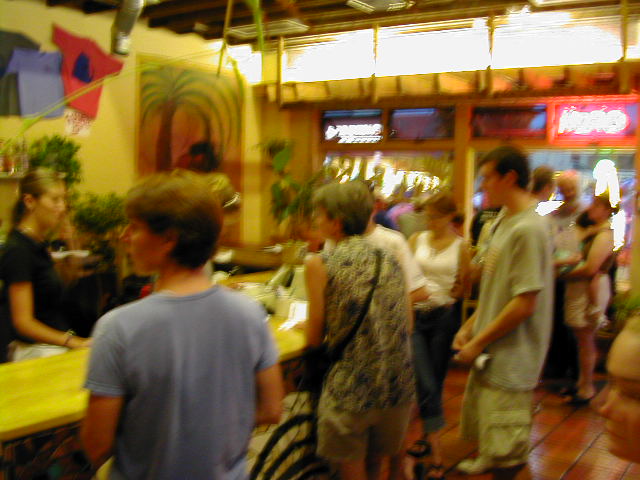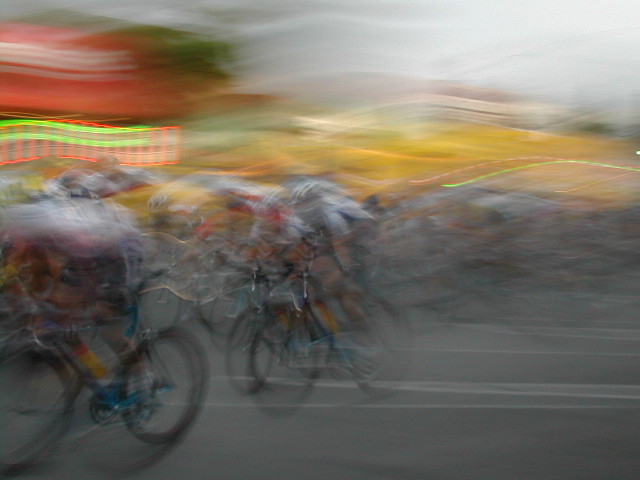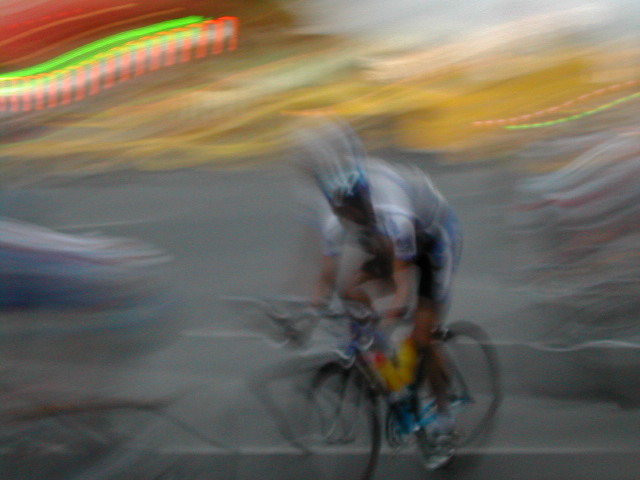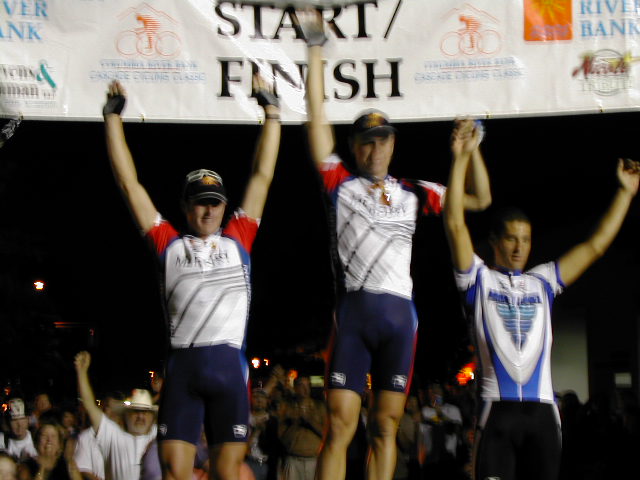 Photos Copyright© 2002 - 2005 by Robert Speik. All Rights Reserved.
Bend riders aid teammate's victory in 2004

The Bulletin
By Mark Morical
July 10, 2004

On one of Bend's biggest party nights of the summer, it was fitting that the winner of the women's Twilight Criterium in the Cascade Cycling Classic was brought to the finish by two Bend riders.

Nicole Freedman of Team Basis crossed the finish line first Friday night, thanks in part to her teammates Chrissy Ruiter and Kate Maher of Bend.

"Chrissy and Kate did great," said Freedman. "Our goal was to win. We really didn't care who it was. Kate and Chrissy's whole family were here watching us. We have almost 50 people here just for us."

Ruiter and Maher got out front early, winning several laps of the criterium in the middle part of the race, which looped around Bend's downtown streets, with several thousand spectators in attendance.

Ruiter broke away with 22 minutes remaining in the 45-minute criterium, and held a big lead on the pack for several laps. Toward the end, she guided Freedman to the sprint finish.

"There were two laps to go and I knew I had to get to the front," Ruiter said. "We were all close to each other, so I yelled for Nicole."

Freedman heard her and finished the job, holding off Lynn Gaggioli of T-Mobile, who finished second.

"Our sprinter (Freedman) is amazing," Maher said. "She's the best sprinter in the United States. At the end, I just sat up to watch Nicole sprint. I couldn't even pedal anymore."

Ruiter said she enjoyed being out in the lead in the early going, but she was a bit wary when the crowd began cheering loudly for the hometown rider.

"It was real exciting," Ruiter said. "Everyone was cheering at first, and I was like, 'Calm down, we have a long way to go.' We were just trying to get to the front and cover things."

The criterium had little effect on the overall standings, though Gaggioli did move into second place ahead of Lyne Bessette of Quark after earning a 10-second time bonus for her second-place finish in the criterium.

Christine Thorburn of Webcor maintained the overall lead after winning the Tumalo Time Trial on Friday morning. Her overall time is 3:38.21. Gaggioli is 19 seconds behind her, and Bessette, third in the time trial, is third overall, 28 seconds behind Thorburn.

Earlier Friday in the time trial, Thorburn and Kristin Armstrong of T-Mobile had more than just the Cascade Cycling Classic on their minds. The two are battling for a spot on the United States' time trial Olympic team in Athens later in August.

Thorburn flew around the 6.6-mile loop, winning the stage in 15:27.78. Armstrong was second in 15:29.39, just two seconds behind Thorburn. Bessette's time was 15:36.12

There are two spots on the time trial team, and Armstrong said that Dede Berry, also of T-Mobile, has pretty much secured one of the spots. The other will go to Thorburn or Armstrong. So the two seconds that separated them in Friday's time trial could loom large.

"You'd almost rather finish second by more than two seconds, but somebody has to win," Armstrong said. "I felt good about it, though. They (the Olympic selection committee) will look at that result, but two seconds in a time trial they'll look at as pretty even."

Armstrong said she will compete in a few races in Germany before the Olympics.

"Hopefully it'll be a clear-cut decision after the races in Germany. I'd hate for them to make a decision with two seconds."

The women's Olympic time trial team will be selected on Aug. 1.

Today's stage of the women's Cascade Cycling Classic, sponsored by Columbia River Bank, is the Awbrey Butte Circuit Race, a 58-mile race that starts at 8:40 a.m. at the Central Oregon Community College parking lot off of Regency Street.

The course is a challenging, 13.6-mile loop on Mount Washington Drive, Shevlin Park Road, Johnson Road, O. B. Riley Road and Archie Briggs Road in and around Awbrey Butte. The finish is on Archie Briggs road about 200 meters before the intersection with Mount Washington Drive.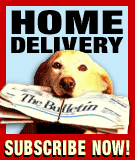 We should all subscribe!

Read more . . .
Cascade Twilight Criterium 2002 photos
Final results of Bend's Cascade Cycling Classic 2005
Cascade Cycling Classic 2004 final results
Cycling Classic 2002 wheels through Central Oregon
Cascade Cycling Classic's Twilight Criterium 2006 around downtown Bend


ATHLETIC EVENTS IN BEND
Cascade Cycling Classic's Twilight Criterium around downtown Bend
North American Pond Skimming Contest at Mt. Bachelor
Pole, Pedal, Paddle candid finish photos 2006
Fresh Air Sports Sprint Triathlon and the COBRA Children's' Fair
Bend's Cascade Cycling Classic 2005
X-Adventure Raid Adventure Race photos of the 2005 qualifier in Bend, Oregon USA
Just Around the Bend Marathon
Pacific Crest sports festival in Sunriver: Triathlon and Duathlon News of this event!


X-Adventure Raid Adventure Race North America Qualifier in Bend!

Six pages! News of this event!


X-Adventure Raid North American qualifier in Bend - racers' route map

Broadband only!>


Pole Pedal Paddle course transition photos for 2004

Results by age group 2004


Snowshoe Shuffle comes to Bend, Oregon
Atta Boy 300 dog sled race start and finish from Mt. Bachelor
Pilot Butte - hike and run to the summit
Bend Adventure Racing Klub - The Wild Juniper Berry Race


CORK, Central Oregon Running Klub plays in The Badlands
ABS Contest night at InClimb Gym
Pole, Pedal, Paddle 2002
Cascade Cycling Classic 2002

TRADITIONAL MOUNTAINEERING R&R
Hot air balloons over Bend, Oregon
McMenamins opens new pub, theater and hotel in downtown Bend
Bite of Bend at the Shops at the Old Mill in 2004


XC Oregon Active Winter Expo and gear swap at COCC
Traditional slacklining in Bend
Para-gliding off the summit of Mt. Bachelor near Bend in Central Oregon
Winterfest in Bend, Oregon
Bend's Tower Theater restored to 1940s elegance
Bend's Wednesday market near the Deschutes River in Drake Park
Central Oregon's High Desert Museum in Bend


Bend Log Jam celebrates the opening of the Deschutes southern crossing bridge


Bend's southern crossing bridge
The Beach Boys concert in Bend Oregon, Summer 2003


Cascade Music Festival in Drake Park, Bend Oregon


A sea kayak adventure on Puget Sound
Outdoor Retailer's 2002 Summer Market in Salt Lake City
Andrew Mallory offers scenic flights from the Sunriver Resort airport
Sunriver adventures with Andrew Mallory
Misty River Band plays a free concert next to the Deschutes River


Riverfest boat-demo in Bend Oregon
Earth Day in Bend, Oregon


Customer appreciation night at a local store
Nordic Club's fall ski swap
Sustainable living expo in Bend
Fall festival in Bend


Joan Baez concert at the Athletic Club of Bend
Sunriver Resort exotic car rally
Munch-n-Music R & R in Bend


Flashback rally in downtown Bend
• Alpine Mountaineering: This is the central interest of TraditionalMountaineering. This tradition-based sport includes: on and off trail hiking, scrambling, light weight wilderness backpacking, Leave-No-Trace camping and bivouacking, as well as technical travel and mountaineering on snow, rock and ice, glacier travel, technical rock climbing and summitting peaks.
• Related Activities: Alpine Mountaineering is an aerobic sport. It includes jogging, running, hiking the hills, backpacking, climbing, mountain biking, back country skiing, snowshoeing, telemark skiing and similar sports all acting together to improve aerobic capacity, strength, balance and athleticism.