TRADITIONAL MOUNTAINEERING ™


www.TraditionalMountaineering.org ™ and also www.AlpineMountaineering.org ™

™
FREE BASIC TO ADVANCED ALPINE MOUNTAIN CLIMBING INSTRUCTION ™
Home | Information | Photos | Calendar | News | Seminars | Experiences | Questions | Updates | Books | Conditions | Links | Search

Final results for Bend's Cascade Cycling Classic 2004
OVERALL VICTORY A SWEET TREAT
The Bulletin
By Mark Morical
July 12, 2004

Mike Creed was happily devouring an ice-cream cone in Bend's Old Mill District on Sunday after claiming the overall win in the Cascade Cycling Classic.

As he finished the treat, he seemed completely relaxed and satisfied, having won his first general classification (overall win) on the National Racing Calendar. But before Sunday's criterium, he was anything but relaxed.

"My legs felt good, but I was kind of worried," said Creed, who rides for U.S. Postal Service. "I woke up this morning and I was really tired. The crit was really hard and really technical, and you really had to be on your toes. I think today was actually harder for me than (Saturday's) road race. I couldn't ever really relax. My legs were good, but I was constantly fighting."

But Creed's 30-second lead was never seriously challenged during the one-hour race that took riders on a 1.2-kilometer loop. He finished 12th in the first pack, which crossed the finish line in 55 minutes, 45 seconds, and he won the overall in 11:56:23, 30 seconds ahead of Jeff Louder of Navigators and 35 seconds ahead of Michael Sayers of Health Net.

"There was one move that Sayers jumped across to that had about 10 guys in it," said Creed, who lives in Colorado Springs, Colo.

"It was only on for, like, a lap. Was I worried? No. But I was definitely on top of it."

While Creed easily held on for the overall win, the battle for the final stage win was anything but easy. Alex Candeloria of Jelly Belly/Aramark narrowly defeated Antonio Cruz of USPS as the two sprinted frantically to the finish. Candeloria raised his arms after crossing the line, but a photo was needed to determine the winner. Charles Dionne of Webcor was third.

"It was a little dicey on the last turn," Candeloria said. "Tony tried to come inside me. We were bumping shoulders going all the way through the corner. Once I got about a foot away (from the finish line) I was sure I won. I was a little nervous coming down the stretch. The turn bends so the inside is short, and I was on the outside of those two guys so I was little worried."

Candeloria, who lives in San Diego, has been looking for a stage win ever since the Redlands Classic in March.

"I got really sick after Redlands and it took me a really long time to regain my form," Candeloria said. "All week we've been banging on the door. We've only got four guys."

Cruz, meanwhile, decided that because Creed was set for the overall win, he would push for the stage victory. He was just a few inches short.

"The first objective was obviously to take care of Mike and make sure he didn't get into trouble," Cruz said. "We took care of that so I told him that on the last five laps, if he's in good shape, I'm going to go for it. And it really wasn't until the last two laps that I could see he had it."

Cruz had some work to do before the race as well. He needed to calm Creed down and get his teammate to focus.

"He was nervous," Cruz said. "I told him: 'Don't change anything. That's why we're here. I feel great. I can help you with anything.' "

During the race, Cruz had to help assure that neither Louder nor Sayers would gain a big lead on the pack before he could concentrate on getting himself the stage win.

"I wasn't going to let that happen," Cruz said. "I said, 'Don't worry, I'll take care of these guys.' "

The USPS team was able to pull out an overall individual win, despite having just four team members racing at the Cascade Cycling Classic.

Many teams believed that USPS had too few riders to help Creed earn a general classification win after he won Thursday's road race to claim a nine-second lead on Sayers.

"I'm sure all the other teams thought that we would crack or we wouldn't be able to hold it," Cruz said. "I know how strong these guys are and I knew I was feeling good, so we were ready to go for it."

The Cascade Cycling Classic is sponsored by Columbia River Bank.

#######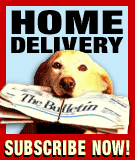 We should all subscribe!

Read more . . .
Cascade Twilight Criterium 2003 photos
Cascade Cycling Classic final results
Cascade Cycling Classic's 2006 Twilight Criterium around downtown Bend

ATHLETIC EVENTS IN BEND
Cascades Cycling Classic in 2005
X-Adventure Raid Adventure Race photos of the 2005 qualifier in Bend, Oregon USA
Just Around the Bend Marathon
Pacific Crest sports festival in Sunriver: Triathlon and Duathlon News of this event!


X-Adventure Raid Adventure Race North America Qualifier in Bend!

Six pages! News of this event!


X-Adventure Raid North American qualifier in Bend - racers' route map

Broadband only!>


Pole Pedal Paddle course transition photos for 2004

Results by age group 2004


Snowshoe Shuffle comes to Bend, Oregon
Atta Boy 300 dog sled race start and finish from Mt. Bachelor
Pilot Butte - hike and run to the summit
Bend Adventure Racing Klub - The Wild Juniper Berry Race


CORK, Central Oregon Running Klub plays in The Badlands
ABS Contest night at InClimb Gym
Pole, Pedal, Paddle 2002
Cascade Cycling Classic 2002

TRADITIONAL MOUNTAINEERING R&R
Hot air balloons over Bend, Oregon
McMenamins opens new pub, theater and hotel in downtown Bend
Bite of Bend at the Shops at the Old Mill in 2004


XC Oregon Active Winter Expo and gear swap at COCC
Traditional slacklining in Bend
Para-gliding off the summit of Mt. Bachelor near Bend in Central Oregon
Winterfest in Bend, Oregon
Bend's Tower Theater restored to 1940s elegance
Bend's Wednesday market near the Deschutes River in Drake Park
Central Oregon's High Desert Museum in Bend


Bend Log Jam celebrates the opening of the Deschutes southern crossing bridge


Bend's southern crossing bridge
The Beach Boys concert in Bend Oregon, Summer 2003


Cascade Music Festival in Drake Park, Bend Oregon


A sea kayak adventure on Puget Sound
Outdoor Retailer's 2002 Summer Market in Salt Lake City
Andrew Mallory offers scenic flights from the Sunriver Resort airport
Sunriver adventures with Andrew Mallory
Misty River Band plays a free concert next to the Deschutes River


Riverfest boat-demo in Bend Oregon
Earth Day in Bend, Oregon


Customer appreciation night at a local store
Nordic Club's fall ski swap
Sustainable living expo in Bend
Fall festival in Bend


Joan Baez concert at the Athletic Club of Bend
Sunriver Resort exotic car rally
Munch-n-Music R & R in Bend


Flashback rally in downtown Bend
• Alpine Mountaineering: This is the central interest of TraditionalMountaineering. This tradition-based sport includes: on and off trail hiking, scrambling, light weight wilderness backpacking, Leave-No-Trace camping and bivouacking, as well as technical travel and mountaineering on snow, rock and ice, glacier travel, technical rock climbing and summitting peaks.
• Related Activities: Alpine Mountaineering is an aerobic sport. It includes jogging, running, hiking the hills, backpacking, climbing, mountain biking, back country skiing, snowshoeing, telemark skiing and similar sports all acting together to improve aerobic capacity, strength, balance and athleticism.