TRADITIONAL MOUNTAINEERING ™
www.TraditionalMountaineering.org ™ and also www.AlpineMountaineering.org ™

™
FREE BASIC TO ADVANCED ALPINE MOUNTAIN CLIMBING INSTRUCTION ™
Home | Information | Photos | Calendar | News | Seminars | Experiences | Questions | Updates | Books | Conditions | Links | Search

Para-gliding off the summit of Mt. Bachelor near Bend in Central Oregon
Click on an image you like to see the full version; broadband folks can click here to see the full sized page.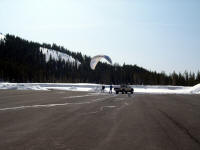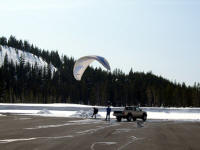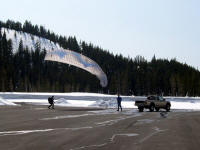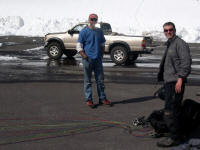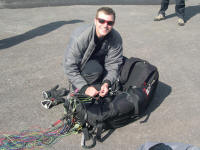 All images on this page Copyright© 2004 by Robert Speik. All Rights Reserved.
Note: We were having a beer (one beer) at the Mt. Bachelor parking lot when the parachute appeared circling above. By the time I got the digital out of my pack, the pilot was landing. We walked over to see about this spectacular new sport. The pilot who landed had been sailing about for about two hours, his partner had landed sooner. I will try to provide more pictures of flyers from Pine Mountain east of Bend soon. --Webmeister.
#####

Read more . . .

Events in Bend, OR
Pacific Crest sports festival in Sunriver: Triathlon and Duathlon Check back for news coverage!
X-Adventure Raid Adventure Race North America Qualifier in Bend!

Seven pages! News of this event!
X-Adventure Raid North American qualifier in Bend - racers' route map

Broadband only!

Pole Pedal Paddle course changes for 2004
Pole Pedal Paddle 2003 race results
Pole, Pedal, Paddle watercraft put-in on the Deschutes River

Snowshoe Shuffle comes to Bend, Oregon
Annual race to the top of Pilot Butte
BARK - Bend Adventure Racing Klub
BARK news in pdf: | February | March | April | May | June | | August | September | | November | | January04 | February04 | March04 | April04 |

Cascade Cycling Classic 2002
Bouldering gets a handhold at Smith Rock
CORK, Central Oregon Running Klub plays in The Badlands
Atta Boy 300 dog sled race start and finish from Mt. Bachelor

Traditional Mountaineering R & R in Central Oregon
Winterfest in Bend, Oregon
Bend's Tower Theater restored to 1940s elegance
A snowshoe adventure with Bend Parks and Recreation
Bend's Wednesday market near the Deschutes River in Drake Park
Central Oregon's High Desert Museum in Bend


Bend Log Jam celebrates the opening of the Deschutes southern crossing bridge


Bend's southern crossing bridge
The Beach Boys concert in Bend Oregon, Summer 2003


Pilot Butte - hike and run to the summit
Cascade Music Festival in Drake Park, Bend Oregon


A sea kayak adventure on Puget Sound
Bend Adventure Racing Klub - The Wild Juniper Berry Race
Misty River Band plays a free concert next to the Deschutes River


Riverfest boat-demo in Bend Oregon
Earth Day in Bend, Oregon


Customer appreciation night at a local store
ABS Contest night at InClimb Gym
Nordic Club's fall ski swap
Sustainable living expo in Bend
Fall festival in Bend


Joan Baez concert at the Athletic Club of Bend
Sunriver Resort exotic car rally
Munch-n-Music R & R in Bend
Flashback rally in downtown Bend


Traditional Mountaineering Activities

• Alpine Mountaineering: This is the central interest of TraditionalMountaineering. This tradition-based sport includes: on and off trail hiking, scrambling, light weight wilderness backpacking, Leave-No-Trace camping and bivouacking, as well as technical travel and mountaineering on snow, rock and ice, glacier travel, technical rock climbing and summitting peaks.
• Related Activities: Alpine Mountaineering is an aerobic sport. It includes jogging, running, hiking the hills, backpacking, climbing, mountain biking, back country skiing, snowshoeing, telemark skiing and similar sports all acting together to improve aerobic capacity, strength, balance and athleticism.