TRADITIONAL MOUNTAINEERING ™


www.TraditionalMountaineering.org ™ and also www.AlpineMountaineering.org ™

™
FREE BASIC TO ADVANCED ALPINE MOUNTAIN CLIMBING INSTRUCTION ™
Home | Information | Photos | Calendar | News | Seminars | Experiences | Questions | Updates | Books | Conditions | Links | Search

Final results for Bend's Cascade Cycling Classic 2005
Racing through rain
The Bulletin
By Mark Morical
Published: July 9, 2005

Kirk O'Bee and his Navigators teammates sat back and waited for the finish. They weren't going to work hard if they didn't have to.

O'Bee and Navigators let the Health Net-Maxxis team do most of the work throughout Friday night's Twilight Criterium in downtown Bend. Then O'Bee broke from the pack with one lap to go and stayed ahead to win the criterium, the fourth stage of the Cascade Cycling Classic, by 10 meters over second-place Remi McManus of Subway and third-place Gord Fraser of Health Net-Maxxis.

Rain poured down throughout the race, as O'Bee patiently waited for his chance behind the Health Net-Maxxis riders, who won most of the laps before the final few.

"Once they (Health Net-Maxxis) set the tempo, I just had to sit behind them," O'Bee said. "That's the best place to be. Let them do all the work. It just worked out. We didn't have to expend too much energy and we stayed safe."

That was not a simple task, as riders took it easy on the corners of the slick, rain-soaked course that, despite the weather, was lined by thousands of cycling enthusiasts and curious spectators.

"The only freaky thing is you go through a turn 20, 30, 40 times, and all of a sudden, you take a bad turn and you can go down," O'Bee said. "There's always chances you're taking. That's racing — racing in the rain."

For most of the criterium, Chris Wherry, Doug Ollerenshaw and Tyler Farrar were in front winning laps for Health Net-Maxxis, trying to set up Fraser for the victory. Fraser, who won the CCC's first stage Wednesday, was the defending Twilight Criterium champion.

But this time it was not meant to be. O'Bee took the lead with one lap to go and never looked back.

The criterium had no effect on the overall men's standings, as race leader Scott Moninger of Health Net-Maxxis played it safe to maintain the overall lead.

Moninger finished fourth in the Tumalo Time Trial earlier on Friday to overtake Navigators' Cesar Grajales for the yellow leader's jersey. Nathan O'Neill of Navigators won the time trial in 13 minutes, 26 seconds.

Moninger finished the time trial — a 6.6-mile loop that started and finished at Tumalo State Park north of Bend — with a time of 14:10. He came into Friday third overall, 35 seconds behind Grajales, who finished the time trial in 14:56.

Moninger now has an 11-second lead on Grajales and a 13-second lead on Grajales' teammate Jeff Louder. Chris Baldwin, also of Navigators, is 19 seconds back. Baldwin was second in the time trial (13:49) and Louder was third (14:06).

Moninger won the Cascade Lakes Road Race on Thursday and has won the overall title at the Cascade Classic three times (1999-2001).

"Against other GC (general classification) and climber types like Grajales, I certainly hold my own (in time trials)," Moninger said. "I had a little more in the gas tank this morning than some guys.

"I was certainly aiming for the overall lead. I had a really nice warm-up and really was focusing. It would have been nice to get on the podium, but the top two guys are world-class time trialists (O'Neill and Baldwin)."

Health Net Maxxis has been nearly unstoppable as a team this year, and Moninger expressed confidence that he and his team would hold onto the lead.

"We're all veterans of this race and we've certainly spent a lot of time racing together," Moninger said. "We have that on our side. We've been in this position many, many times, trying to hold onto a lead."

O'Neill, the Australian national time-trial champion, said he felt some pressure from his Navigators teammates to win the time trial on Friday. As his country's champion, he wore the green and yellow national champion's jersey during the stage.

"There was an expectation for me to win the stage, especially from my team," O'Neill said. "It's always good to deliver. I'm usually pretty handy against the clock. This kind of course suits me.

"Wearing the (national time-trial champion) jersey in a race motivates you as well. It puts some responsibility on your shoulders."

David Robinson of Bend, who rides for TIAA-CREF, finished 23rd in the time trial (14:56) and is now 20th overall, 4:49 behind Moninger.

Today's stage of the men's Cascade Cycling Classic, sponsored by Columbia River Bank, is the Awbrey Butte Circuit Race, an 82-mile stage that starts at 12:30 p.m. at the Central Oregon Community College parking lot off of Regency Street in west Bend.

The course is a challenging 13.6-mile loop on Mount Washington Drive, Shevlin Park Road, Johnson Road, O.B. Riley Road and Archie Briggs Road on and around Awbrey Butte. The men will do six laps. The finish is on Archie Briggs Road about 200 meters before the intersection with Mount Washington Drive.
##########

Moninger claims 4th CCC

The Bulletin
By Mark Morical
July 11, 2005

A train of light-green jerseys swept through Bend's Old Mill District on Sunday, as Scott Moninger of Health Net-Maxxis cruised behind his teammates to secure his fourth overall victory in the Cascade Cycling Classic.

Moninger, who had an 11-second lead on Navigators' Cesar Grajales coming into Sunday's Old Mill District Criterium, stayed with his team in the front of the main pack on the tight, 1.2-kilometer loop.

"That's two days in a row they've just absolutely ridden amazing," Moninger said of his five teammates. "They were going so fast the last four or five laps, I don't think anybody could step off the wheel."

Moninger's winning time in the six-stage race that started Wednesday was 13 hours, 26 minutes, 45 seconds. Grajales finished second overall, 11 seconds back, and Jeff Louder of Navigators was third, 25 seconds back.

Kirk O'Bee of Navigators won Sunday's stage, getting into a breakaway of five riders with about 35 minutes left in the hour-long race. Health Net-Maxxis never gave chase, because none of the five riders presented a threat to Moninger's overall position.

With one lap to go, Tim Johnson of Jittery Joe's broke away from the group of five, but O'Bee caught him during the final lap and cruised ahead of the Joe's rider before the finish line for the stage win. Johnson finished second, and Taylor Tolleson, who won Saturday's Awbrey Butte Circuit race in Bend, was third.

"I happened to be there at the right time," said O'Bee, who also won Friday's Twilight Criterium in downtown Bend. "Aaron (Olson) was out front and I followed him. We had some good horsepower and kept things going.

"I didn't really expect (to win both criteriums). I came here to help the guys out, and I ended up being in a position to win."

Moninger, Grajales, Louder and Chris Baldwin — the top four riders — all finished with the same time in the final stage, so the top overall standings were not affected.

Baldwin, Louder and Grajales tried to attack and gain some time on Moninger, but the Health Net-Maxxis train stood firm.

"They made us work for it down to the bitter end, which is what we would have done to them," said Moninger of Navigators. "Having three Navigators lined up behind me (in general classification, or GC), this was a real team win."

Gord Fraser of Health Net-Maxxis finished sixth overall, 46 seconds behind Moninger. Fraser won Wednesday's Prineville Road Race, but since then he worked hard to secure an overall win for Moninger, who won $1,500 for the victory. Prize earnings are commonly split evenly among team members.

"They (Navigators) took some good shots, but we were able to rally," Fraser said. "I had no problem responding to attacks for Scott. It was a textbook type of race for us. We've worked very, very hard this week, and nothing short of the overall win would have been comfortable for us with all the work invested."

O'Bee said that given the nature of Sunday's course, it was nearly impossible for his teammates to gain time on Moninger. The tight course and windy weather allowed few
spots for any of the Navigators in contention for the GC to bridge the gap to the lead five riders.

"I know the guys were trying to disrupt the Health Net train, but I knew once we got above 30 seconds that we'd stay away," O'Bee said. "That was a next-to-impossible job today. You've got to give it a go, but on a tight course like this with the wind, it's next to impossible. Today was kind of a formality."

At the start of Sunday's criterium, Olson, of Colavita-Sutter Home, made the first break, and was soon joined by Johnson, O'Bee, Tolleson and Ben Jacques-Maynes of Kodak Gallery. They built a lead of nearly 40 seconds on the main pack with about 15 minutes remaining. In front of the main pack, Health Net-Maxxis was six deep with
Navigators' seven other riders right behind them.

"There was only a couple times when I was a little nervous, when we were getting the 1-2-3 attack from Navigators," Moninger said. "Once we got that break out there, that was not a danger to us, and we kind of settled into a good rhythm. There was only a number of spots where people could get away from us. Thirty minutes into it I felt pretty confident. We had things under control and everyone was riding really, really well."

The 38-year-old Moninger, who lives in Boulder, Colo., is the first elite men's cyclist to win the Cascade Cycling Classic four times. He also won the race from 1999 to 2001.

"I've been coming to this race since the early 90s, and it's always suited my abilities," Moninger said. "The fact that it's at altitude, and has a couple mountain tops and a good, challenging time trial — all those things really suit me. It's always been a race that's treated me well. It's a race I've always enjoyed."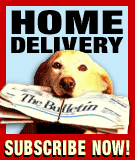 We should all subscribe!

Read more . . .
Cascade Twilight Criterium 2002 photos
Final results of Bend's Cascade Cycling Classic 2005
Cascade Cycling Classic 2004 final results
Cycling Classic 2002 wheels through Central Oregon
Cascade Cycling Classic's Twilight Criterium 2006 around downtown Bend


ATHLETIC EVENTS IN BEND
Cascade Cycling Classic's Twilight Criterium around downtown Bend
North American Pond Skimming Contest at Mt. Bachelor
Pole, Pedal, Paddle candid finish photos 2006
Fresh Air Sports Sprint Triathlon and the COBRA Children's' Fair
Bend's Cascade Cycling Classic 2005
X-Adventure Raid Adventure Race photos of the 2005 qualifier in Bend, Oregon USA
Just Around the Bend Marathon
Pacific Crest sports festival in Sunriver: Triathlon and Duathlon News of this event!


X-Adventure Raid Adventure Race North America Qualifier in Bend!

Six pages! News of this event!


X-Adventure Raid North American qualifier in Bend - racers' route map

Broadband only!>


Pole Pedal Paddle course transition photos for 2004

Results by age group 2004


Snowshoe Shuffle comes to Bend, Oregon
Atta Boy 300 dog sled race start and finish from Mt. Bachelor
Pilot Butte - hike and run to the summit
Bend Adventure Racing Klub - The Wild Juniper Berry Race


CORK, Central Oregon Running Klub plays in The Badlands
ABS Contest night at InClimb Gym
Pole, Pedal, Paddle 2002
Cascade Cycling Classic 2002

TRADITIONAL MOUNTAINEERING R&R
Soaring with Scott Weber from the Bend, Oregon airport
Hot air balloons over Bend, Oregon
McMenamins opens new pub, theater and hotel in downtown Bend
Bite of Bend at the Shops at the Old Mill in 2004


XC Oregon Active Winter Expo and gear swap at COCC
Traditional slacklining in Bend
Para-gliding off the summit of Mt. Bachelor near Bend in Central Oregon
Winterfest in Bend, Oregon
Bend's Tower Theater restored to 1940s elegance
Bend's Wednesday market near the Deschutes River in Drake Park
Central Oregon's High Desert Museum in Bend


Bend Log Jam celebrates the opening of the Deschutes southern crossing bridge


Bend's southern crossing bridge
The Beach Boys concert in Bend Oregon, Summer 2003


Cascade Music Festival in Drake Park, Bend Oregon


A sea kayak adventure on Puget Sound
Outdoor Retailer's 2002 Summer Market in Salt Lake City
Andrew Mallory offers scenic flights from the Sunriver Resort airport
Sunriver adventures with Andrew Mallory
Misty River Band plays a free concert next to the Deschutes River


Riverfest boat-demo in Bend Oregon
Earth Day in Bend, Oregon


Customer appreciation night at a local store
Nordic Club's fall ski swap
Sustainable living expo in Bend
Fall festival in Bend


Joan Baez concert at the Athletic Club of Bend
Sunriver Resort exotic car rally
Munch-n-Music R & R in Bend


Flashback rally in downtown Bend
• Alpine Mountaineering: This is the central interest of TraditionalMountaineering. This tradition-based sport includes: on and off trail hiking, scrambling, light weight wilderness backpacking, Leave-No-Trace camping and bivouacking, as well as technical travel and mountaineering on snow, rock and ice, glacier travel, technical rock climbing and summitting peaks.
• Related Activities: Alpine Mountaineering is an aerobic sport. It includes jogging, running, hiking the hills, backpacking, climbing, mountain biking, back country skiing, snowshoeing, telemark skiing and similar sports all acting together to improve aerobic capacity, strength, balance and athleticism.