TRADITIONAL MOUNTAINEERING ™
www.TraditionalMountaineering.org ™ and also www.AlpineMountaineering.org ™

™
FREE BASIC TO ADVANCED ALPINE MOUNTAIN CLIMBING INSTRUCTION™
Home | Information | Photos | Calendar | News | Seminars | Experiences | Questions | Updates | Books | Conditions | Links | Search

Wilderness trail closures trammeled by BLM's Friends of the Badlands
Click on a thumbnail image to make it larger; Broadband folks click here for the full sized page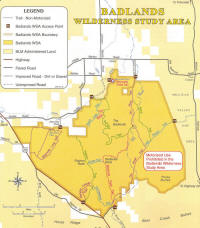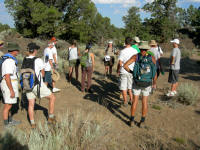 We volunteers gathered at about 8 AM last Saturday at the Mile Post 16 Trail Head to the Badlands Wilderness Study Area (WSA)
to help the BLM Land Managers close off some established user trails nearby.
Our Leader was a BLM employee who is charged with the task of guiding visitors on the newly designated trail system in the WSA.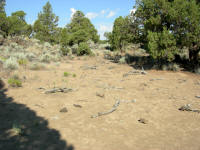 We broke up into groups of four or five volunteers and walked a few meters to the two designated main trails which branched from the parking area.
Flagging had been hung from trees at several locations for the volunteer work scheduled until about noon, due to the three-digit heat that day.

Four of us chose the section pictured above. We studied the area which appeared to be unused but which offered what could be a
trail leading to the parking lot (where the sky line meets the horizon in the picture). We used three or four pieces of larger woody debris
to disguise the subtle invitation of the trail-opening and to visually direct folks along the main trail.
We spent quite a bit of time and thought trying to accomplish the goal with the minimum disturbance to the WSA.

Proud of our accomplishment, we showed our Leader who then instructed us to scavenge the area and put down about "four times as much material".
We were dismayed but complied with instructions as minimally as possible using very small natural stuff.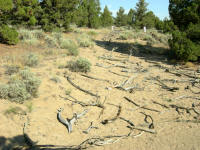 Shortly later we were shocked and dismayed to see what the BLM had in mind for the WSA!

This is the work of our other volunteers who followed directions and scavenged a large area to place all this material in a well defined user trail
to the west side of the Trail Head parking lot. Experience tells us that there are better ways to shape the experience of visitors to the wilderness.
Three of us volunteers "resigned" after taking the photos shown here.
Years ago, new Managers at Smith Rock State Park placed chain link fence to corral visiting climbers to a specific trail down from the parking lot.
Leaders of the Smith Rock Group who had raised the money for Park improvements, promptly resigned. The "cattle chute fence" soon disappeared
to be replaced by a better trail, carefully placed obstacles and small signs ("Trail Closed").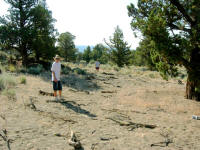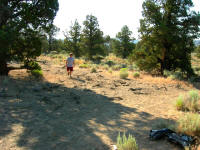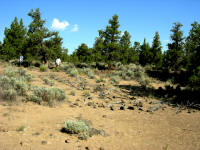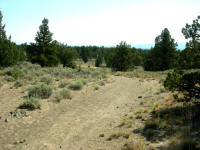 This is how the main trail has evolved nearby over the past several years since vehicle use was stopped in this location.

Wilderness management of this trail should consist of subtle guidance along the edges to gradually encourage a narrower foot path.
(Mountain bikers do not favor riding this area due to the deep volcanic ash in un-compacted areas.)
"Hand rails" of wood paralleling the sides, sometimes used by un-informed land managers, violate wilderness ethics
and modern practice as defined by the USFS and the Student Conservation Association (see below).
See also photos of a fine IMBA-COTA trail project linked below.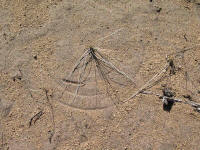 The high desert is a very fragile place. Seeds of native grass, sage and flowers can sometimes find a bit of shade from a half-buried piece of sage brush.
If this bit of sage brush or fragment of Juniper is moved, the micro climate is changed and the plant may die.
The gathering of woody to scatter about on user trails significantly alters the landscape for years! It is a very bad practice in dry climates.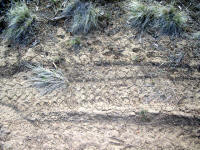 This tire track was made by a truck used to steal 1,500 year old Juniper trees from ancient rock outcroppings in the Badlands WSA.
The track (made on a winter day) will blow away in a year or two, but the compacted ground will be bare for many years.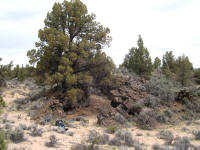 Wandering off the trail is part of the wilderness experience. The Badlands is not a "Park"
where people expect to be admonished to stay on the trail and look, but don't touch.
Leave No Trace ethics will protect the delicate desert.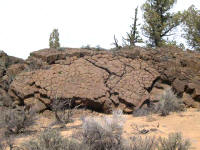 Unspoiled Wilderness.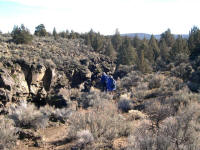 A fine "single track" user trail near an amazing place in The Badlands WSA.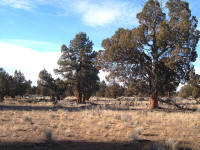 A natural meadow on the high desert in The Badlands.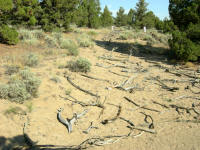 Read more about the right way to close un-needed trails in Chapter 16, of "Lightly on the Land", by
the Student Conservation Association's "Trail Building and Maintenance Manual", published in 1996 by The Mountaineers Press.
MORE ABOUT INAPPROPRIATE TRAIL CLOSURE METHODS IN THE BADLANDS!
We visited The Badlands a few days ago. We were dismayed to see that Badlands volunteers had been hard at work pulling ancient downed and snag wood from surrounding natural deserts
where it had been lying undisturbed for perhaps 100 years and piling this debris on areas perceived to be bare and worn old user trails.
A BLM Manager's suggestion that the wood used was "woodcutter slash" is simply not true.
THE BLM SEEMS TO BE SHOUTING AT FOLKS WHO WOULD LIKE TO ENJOY A BADLANDS NATURAL WILDERNESS WALK!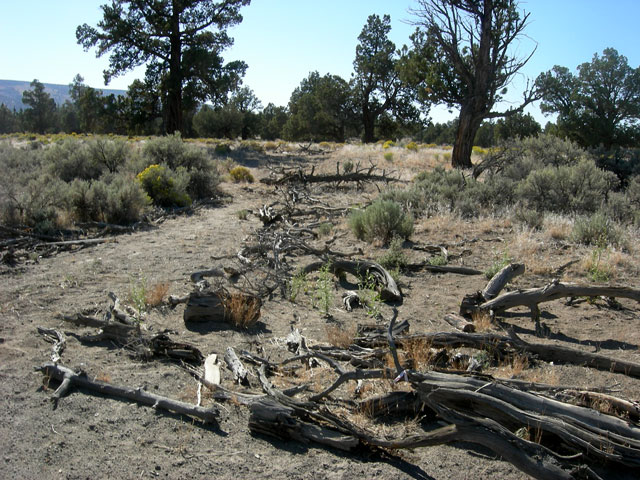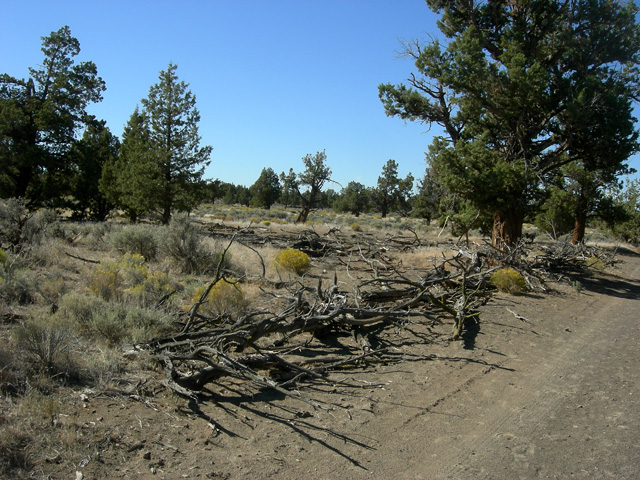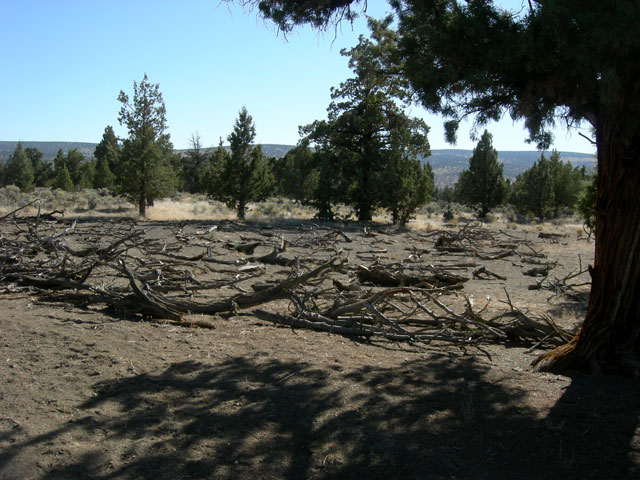 Photos Copyright© 2006-2009 by Robert Speik. All Rights Reserved.
HERE ARE SOME QUOTES FROM A NATIONALLY RECOGNIZED TEXT BOOK:
Read more about the right way to close un-needed trails in Chapter 16, of "Lightly on the Land", by
the Student Conservation Association's "Trail Building and Maintenance Manual", published in 1996 by The Mountaineers Press.
"The intent of restoration -- repairing damage to the landscape caused by humans -- is most admirable. Rather than leaving evidence of ourselves, restoration is a removal of human effects. . . . It is a gentle art, an act of compassion toward the environment."
"Borrowing Lightly from the Land:
Never unduly disturb one area in order to improve another.. . . do not remove more than a small amount (10% or less) of a given material from any one location. Taking more may compromise or destroy ecological niches."
EXPERIENCE TELLS US . . .
Note: The Deschutes National Forest team of Marv Lang, Chris Sabo, Kent Kohler and John Schubert instructed my COCC students for several years during my annual weekend hands-on FREE wilderness trail maintenance extension Classes. John and Marv have re-routed several sections of outmoded old trails in the Three Sisters Wilderness during week-long camp-outs with volunteers including Bob Speik, a Team Leader for week long American Hiking Society Volunteer Trail Trips.
John and Marv note that The Badlands requires "special trail work sensitivity" due to the very dry, powdery volcanic ash soil and fragile plants and animals.
--Webmeister.

Read more . . .
Bend businesses sponsor a Badlands "Wilderness Restoration" Day


Badlands wilderness trail closure methods "trammel" required values


BLM partners with "Friends of the Badlands" Meetup Group to provide Stewardship for Badlands WSA


Wilderness Restoration: The Paradox of Public Participation
The Wilderness Act of 1964, Including the legal definition of Wilderness
ONDA thanks Robert and Margaret Speik for their service
Oregon Natural Desert Association - ONDA
THE BADLANDS WILDERNESS
Fobbits-BLM volunteers "restore" Oregon Badlands Wilderness values
Badlands "wilderness restoration" trail closures


BLM partners with "Fobbits" to provide Stewardship for Badlands WSA


Oregon Natural Desert Association Badlands Tour
The Oregon Badlands Wilderness Bill is signed into law
Oregonian criticizes Congress for pushing back OR Wilderness bills
Oregon Senator Wyden to introduce Badlands Wilderness Bill
Badlands a step closer to Wilderness designation
OpEd: Why Congress should classify Badlands as Wilderness
Governor Kulongoski endorses Oregon Badlands Wilderness
Oregon Natural Desert Association Badlands Tour


Oregon Natural Desert Association introduces Oregon Badlands Interns
Badlands wilderness trail closures


BLM partners with "Friends of the Badlands" to provide Stewardship for Badlands WSA


Bend Oregon Badlands WSA hiking map available from BLM
BLM's final UDRMP opens Bend's Badlands to Geocaching
OpEd: Speik - Geocaching should not be banned in the Badlands


Protest of exclusion of Geocaching in Badlands WSA in BLM's UDRMP
BLM's UDRMP puts Bend's Badlands off limits to Geocaching
BLM's final UDRMP closes Bend's Badlands WSA to motorized vehicle use


Wilderness workshop for USDA Forest Service held by University of Idaho
Hunters who use ATVs are hurting Oregon's elk population
BLM's UDRMP plans for Badlands deal with exploding public use
Map, compass and GPS free navigation training Noodle in The Badlands
Deschutes County Commissioners fail to support Badlands Wilderness!
Deschutes County takes no position on Badlands Wilderness
Deschutes County Commissioner DeWolf supports Badlands Wilderness
OpEd - Dirt road through The Badlands must close
Photos of Road 8 damage sent to Commissioners


Badlands Wilderness with a road?
The Badlands have unique interest for the hiker
BLM guidelines for Geocaching on public lands
Geocaching on Federal Forest Lands
Fee Demo groundwork may save Geocaching on our public lands
Deschutes County Commissioners hearing on Badlands Wilderness support
OHV use restricted in Upper Deschutes Resource Management Plan
Winter hiking in The Badlands WSA just east of Bend
Tread Lightly OHV USFS tip of the month


OHVs to be held to designated trails by USDA Forest Service!
New pole shows Badlands Wilderness favored by voters
BLM posts Reward for information on Juniper rustlers
BLM weighing public input on management plan
Oregon's Badlands hit by old growth Juniper rustlers Photos


Congressman Greg Walden to visit The Badlands
Badlands Wilderness endorsed by COTA
OpEd - Unregulated OHV use is being reviewed across the western states
OHV use curtailed by new USFS policy decisions
Sierra Club's Juniper Group supports Badlands Wilderness
OHV regulation discussed at BLM meeting in Bend, Oregon
OpEd - Badlands part of BLM's recreation management area
OpEd - We need the Badlands Wilderness
OpEd - Off-roaders have no reason to fear Badlands Wilderness designation


Speak for the Badlands at Town Hall Meeting
Hiking poles are becoming essential gear
Vandals destroy ancient pictographs in the Badlands
Senator Wyden tests support of Badlands Wilderness
Badlands Wilderness endorsed by Bend City Commissioners
The Badlands: proposed for Wilderness status
The Badlands unique geologic forms explained by Chitwood pdf
The Badlands, a brief history
The Badlands pictographs reported 75 year ago



WARNING - *DISCLAIMER!*
Mountain climbing has inherent dangers that can in part, be mitigated