TRADITIONAL MOUNTAINEERING ™
www.TraditionalMountaineering.org ™ and also www.AlpineMountaineering.org ™

™
FREE BASIC TO ADVANCED ALPINE MOUNTAIN CLIMBING INSTRUCTION™
Home | Information | Photos | Calendar | News | Seminars | Experiences | Questions | Updates | Books | Conditions | Links | Search

Read more:
OHV "Tread Lightly" tip of the month, July 2004
Quoted from USDA Forest Service, Official Website Recreation Report for July 2004:
"Tread Lightly Tip of the Month:
The logo for Tread Lightly is a thumb print which stands for leaving a good impression. Unfortunately, too many riders have not been practicing this, and now one of our most popular trails at East Fort Rock, TR 55 to East Butte Lookout, has been closed until September 30 to protect the lookout and lookouts from the vandalism, belligerent behavior, vulgar language, irresponsible riding, drinking, and littering caused by riders who don't think or don't care. We are all ambassadors for our sport and the future of our sport depends on all of us. If riders want to party and be irresponsible, they are not welcome here.
With everyone's help, maybe we can turn this attitude around and keep Central Oregon what it is, or was, a place to ride."

http://www.fs.fed.us/r6/centraloregon/conditions/recreport-ohv.shtml
For a depiction of the "shared use" attribute of our dedicated National Forest OHV Trail system go to the
CENTRAL OREGON COMBINED OFF-HIGHWAY VEHICLE OPERATIONS COHVOPS section of the USDA Forest Service website: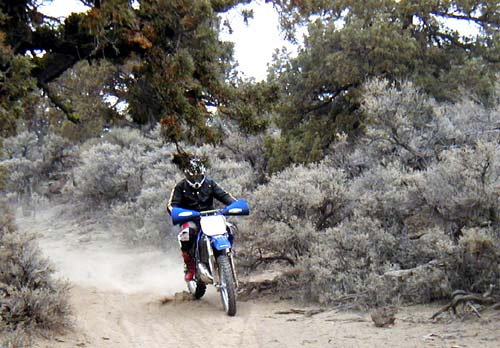 http://www.fs.fed.us/r6/centraloregon/recreation/cohvops/index.shtml

Read more . . .



The Badlands Wilderness
OHV use restricted in Upper Deschutes Resource Management Plan
OHVs to be held to designated trails by USDA Forest Service!
BLM posts Reward for information on Juniper rustlers
BLM weighing public input on management plan
Oregon's Badlands hit by old growth Juniper rustlers Photos
Congressman Greg Walden to visit The Badlands
Badlands Wilderness endorsed by COTA
OpEd - Unregulated OHV use is being reviewed across the western states
OHV use curtailed by new USFS policy decisions
Sierra Club's Juniper Group supports Badlands Wilderness
OHV regulation discussed at BLM meeting in Bend, Oregon
OpEd - Badlands part of BLM's recreation management area
OpEd - We need the Badlands Wilderness
OpEd - Off-roaders have no reason to fear Badlands Wilderness designation
Speak for the Badlands at Town Hall Meeting
Hiking poles are becoming essential gear
Vandals destroy ancient pictographs in the Badlands
Senator Wyden tests support of Badlands Wilderness
Badlands Wilderness endorsed by Bend City Commissioners
The Badlands: proposed for Wilderness status
The Badlands, a brief history
The Badlands pictographs reported 75 year ago
Map of huge exclusive OHV areas adjoining the Badlands