TRADITIONAL MOUNTAINEERING ™
www.TraditionalMountaineering.org ™ and also www.AlpineMountaineering.org ™

™
FREE BASIC TO ADVANCED ALPINE MOUNTAIN CLIMBING INSTRUCTION™
Home | Information | Photos | Calendar | News | Seminars | Experiences | Questions | Updates | Books | Conditions | Links | Search

Angeles Forest solo hiker dies in June 2012 - what can be learned?

To: Angeles Chapter, Sierra Club, Hundred Peaks Section (HPS)
From: Jane Fontana
June 29, 2012
On Sunday, June 17, 2012, 33 year old Ertug Ergun, a Turkish environmental engineer residing in Bakersfield, CA, drove to the Angeles Forest for a day hike.
My husband, a friend and I found his body about two weeks later in a steep canyon.

Ergun had attempted a loop hike up Mt. Lukens via the Stone Canyon Trail, across Lukens ridge on a dirt truck trail and down the Grizzly Flat Trail back to his car in the Stonyvale Picnic Ground. This not a common route to be done at one go, but the three trails pasted together make a logical loop for a solo trip without a car shuttle. It is a 13 mile hike with 3200 foot elevation loss/gain.

In the 90 degree heat of June, I'd say a challenge.

The Station Fire of 2009 and the subsequent debris flows and brush growth had destroyed the trails in this section of the wilderness. The Forest Service had reopened the area just two weeks before Ergun's hike. Stone Canyon Trail had recently been restored to reasonable by volunteers, with some brushy sections and washouts at the top remaining. The truck trail was in great condition. The Grizzly Flat Trail had been obliterated and not restored.

Websites and books describing the Grizzly Flat portion of the trail call it easy, lush, and shaded (for Ergun, it was also downhill). At the time of Ergun's hike, there was no information that the trail was in such poor condition.

Ergun's backpack contained a cell phone, his wallet, an empty liter bottle of vitamin water, and an empty case for his glasses.

Missing were most of the ten essentials -- most importantly, enough water. Three liters or more are required for a trip like this.

The hike up to Mt. Lukens is waterless after the first few hundred feet. The hike is shade-less until the Grizzly Flat Trail. With only a liter of water, Ergun may have become dehydrated or was at the least very uncomfortable by the time he reached the surprise of dozens of downed trees, severe washouts and seven-foot-tall omnipresent brush.

The trail at that point was difficult even for us to penetrate, though we had been there many times before the fire and had a GPS device. It may not have been possible for Ergun to find his way.

We believe he descended into Vasquez Creek either because there is a very faint remnant of a dozer line that leads there (but goes the wrong direction), or he went down for water. In the canyon of Vasquez Creek it is shady, cool, and full of green ferns and sparkling water. Very tempting.

Even though I often read advice about following streams when one is lost, it is not advisable when there is a large drop in elevation. The descent into this creek is steep and deep and requires technical equipment. As the creek flows down to meet the Big Tujunga River, it has about ten more technical drops, including a spectacular vertical 80 foot one at the bottom.

In fact, we found the body after rappelling 8 times.

We think Ergun was dehydrated perhaps to a point of delirium. He was missing a shoe and his glasses. Ironically, his body was found face up with his head and shoulders underwater. He had a fractured skull, a broken jaw, and many other injuries from falling.



What can be learned from this tragic death?
Email from Jane Fontana on October 15, 2012
Dear Mr. Speik,
"I have finally been able to collect enough information to write something for you about the death of Ertug Ergun, who went missing in the Angeles Forest this June."

"What I think can be learned from this experience:
1) Bring more than enough water for the terrain and weather.
2) Do not depend on your cell phone as a rescue or GPS device (there is often no cell service in the wilderness, as is the case here).
3) Have an escape route in mind throughout your adventure (a well-traveled highway is about 3 miles on a dirt road trail from near to where Ergun fell, albeit in the opposite direction of his vehicle).
4) Do not follow a watercourse when there is a large elevation loss. It is better to follow from a ridge paralleling the water, which also affords a better view of the terrain and more options
(this would have been a very difficult route in this situation, but not a fatal one).
5) When in dire circumstance, drink the water you find! Ergun may have believed the water to be contaminated and did not drink it (his water bottle was empty). Giardia is seldom fatal.
6) If you must descend a very steep cliff to get to water, make sure you have identified a way back out before you go down (it would have been virtually impossible for Ergun to to climb out of the canyon without ropes, no matter his condition at the time)."
"Please let me know if you need more information, or revisions."
"Thank you for your web site and its service to the public."
("My husband has since posted the current condition of the Grizzly Flat Trail on many websites which describe this area. We are planning to restore the trail this season when the weather cools.")
--Jane Fontana
Follow-up questions answered by Jane Fontana
1. Did you find Mr. Ergun's USGS Quad topo map or any topo map of the area?
After the tragic event, his co-workers emailed us a map they found on his work computer, which contained the accurate information for the hike. We assume he had this information on his iphone, but we did not turn it on to make sure. (See below.)

2. Did he carry a base plate compass?
No.

3. Could he have known that the well traveled road was only 'about three miles away' when the situation began to become very serious?
He knew there was a road. It is visible from the descent into where he ended up. One of the three hikes he cobbled together to do the loop starts from that road, so if he indeed looked at that hike description, and not just Google Earth (from which he derived his map) he would have known that it was a highway. It has a 500 foot gain that way, and from Grizzly Flat, looks harder and farther than it is.
4. Was he an avid hiker in this area? Would he have benefitted by owning a $100.00 SPOT-2 Satellite Messenger? Was a SPOT-2 unit available to him from his work place or a local Club?
He was from out-of-town, so I assume he was unfamiliar with the area. I don't know if his work place offered the Spot-2. I think the Spot may have helped, if he had had one and had been in a mind to use it. I always exhaust all options before asking for help, which may be another piece of knowledge to learn from this experience: ask for help before conditions become so dire that it is too late!

5. Was he dressed to avoid overheating (a light base T shirt, poly-pro not cotton), poly shirt and pants (not cotton jeans) and a big light hat and dark glasses.
Yes and maybe. His clothing was poly-pro. We found a light-colored hat earlier in our search, which may have been his. His glasses were missing, so we're unsure if they contained sun protection (he normally wore corrective lenses).

6. Was there any reason why he could not have turned around and re-traced his way back (such as substantial elevation to re-gain) when the trail became overgrown?
It was a substantial re-gain, and about ten waterless miles back to his car that way.

7. Was the "vitamin water" a caffeine based energy drink? It was not an electrolyte replacement drink, I assume. Heavy sweating quickly washes critical electrolytes out of the body. See http://traditionalmountaineering.org/Seminar_Fluid_Energy.pdf
'Vitamin Water' has no caffeine. It is an electrolyte replacement drink.

Thank you Jane, I will update my page with your information.
--Robert Speik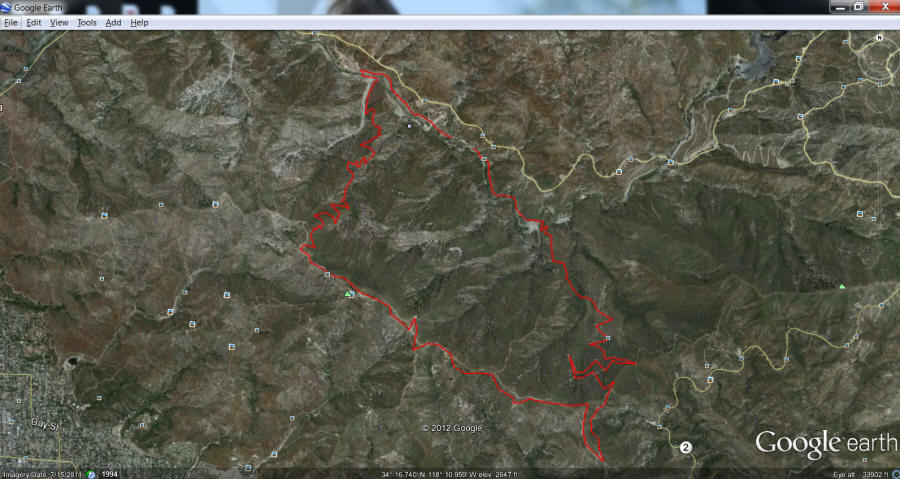 Ertug Ergun is understood to have used an i-phone representation of this map. (I believe that it's display on a cell phone is tower-reception dependant.)
Note that there is no reference grid on this "map" such as the USGS UTM NAD27 1000 meter geographic coordinate grid.
The UTM grid can be referenced by a simple UTM NAD27 setting on any common hand-held GPS receiver such as any of the $100.00 to $150.00 Garmin eTrex models.
With an $8.00 folded paper 1:24,000 USGS Quad topo map, any hand held GPS receiver can assist the hiker's pinpointing of his/her location on the map, within a few yards.
Note that the size of this map represented on a cell phone screen (or a GPS screen) is too small for any informed use.
Note that all of the web-based descriptions of these difficult hikes, that I could find, are sketchy at best and "happy faced" if not downright misleading.
Another important note:
I think when you hike a lot in different conditions, you sometimes forget what less experienced people don't know or recognize. We went back for a look at where we found Ergun, and it reminded me how slotty
that canyon is. A slot canyon is a pretty good sign that the water at some time has been violent there, and that violence is caused by gravity. A slot canyon is a place where there are likely dangerous drops. I don't even have to think about that anymore, I just don't go without knowledge/equipment/etc. Perhaps some words on your site about what a slot canyon is would be helpful to some. (See above - Bob Speik)

Yes, Bob. That's me on Google:
--Jane Fontana
The rest of the story
Deschutes County Sheriffs Search and Rescue Volunteer Coordinator Al Hornish, a 12 year veteran of DCSAR, stated the following in an interview published on January 26, 2012 in the Bend Oregon Source Weekly: "We have grown a lot over the past decade. The nature of missions has changed as well." "There are more Rescues and less Searches, mostly because of the better technology available." Read More. --Robert Speik, January 26, 2012.
FIFTEEN WEEKS
"Wednesday, July 7, 2010, or nearly four months since my fall off Mount Temple. After so much time, there is much to dwell on. The negatives: the pain of so many fractures, the sleeplessness, the drugs and the messed up things they do to you. It's easy to get stuck in the negative; yet some part of me is drawn there by some morbid fascination.

How big am I then? Not very. I made a mistake, a pretty small mistake. Or more honestly, I made a series of pretty small mistakes. I almost died for these transgressions. I would have died if it had not been for a cell phone and the chain of events it was able to put into motion. (I've owned a cell phone for barely six years.) I might not have died that very day, March 25, 2010, but from where we were, we were a long, long way from the medical care my injuries demanded: a trained trauma surgeon in an Emergency Room. Perhaps I would have lasted one night. Maybe not. It changes my perspective about what a day means. Carpe diem no longer seems some frat-boy cry to party. Today, means everything." --Steve House
http://www.stevehouse.net/Site/Training_Blog/Entries/2010/7/7_Fifteen_Weeks.html
A suggested minimum standard news advisory for all backcountry travelers!
"We would like to take this opportunity to ask our visitors to the Backcountry to Plan for the unexpected. Each person should dress for the forecast weather and take minimum extra clothing to provide seasonal protection from a drop in temperature and possible rain or snow storm or an unexpected cold wet night out. Each person should carry high carbohydrate snacks, two quarts of water or Gatorade, (certainly more in summer), a topo map and declination adjusted base plate compass and an optional inexpensive GPS (and the skills to use them together). Each person who has a cell phone should carry their ordinary charged cell phone (from a service provider that has the best local backcountry tower coverage). Never use a cell phone "GPS" to try to find your way with it's basic automobile road map and electronic compass. These functions are too simplistic on a cell phone and will not work if the cell phone can not connect with cell towers). An inexpensive SPOT-2 GPS Satellite Communicator is a good additional option for some. Each person should carry their selected items from the new 'Ten Essentials Systems' in a day pack sized for the individual, the trip, the season and the forecast weather."

"Visitors are reminded to tell a Responsible Person where they are going, where they plan to park, when they will be back and to make sure that person understands that they are relied upon to call 911 at a certain time if the backcountry traveler has not returned. Call 911 as soon as you become lost or stranded. You will not be charged. Do not try to find your way until you are benighted, exhausted, or worse yet - wet. Your ordinary cell phone call to 911 can take the 'Search' out of Search and Rescue." Basic Responsibilities.
THE MISSION of TraditionalMountaineering.org
"To provide information and instruction about world-wide basic to advanced alpine mountain climbing safety skills and gear, on and off trail hiking, scrambling and light and fast Leave No Trace backpacking techniques based on the foundation of an appreciation for the Stewardship of the Land, all illustrated through photographs and accounts of actual shared mountaineering adventures."
TraditionalMountaineering is founded on the premise that "He who knows naught, knows not that he knows naught", that exploring the hills and summitting peaks have dangers that are hidden to the un-informed and that these inherent risks can be in part, identified and mitigated by mentoring: information, training, wonderful gear, and knowledge gained through the experiences of others.
The value of TraditionalMountaineering to our Friends and Subscribers is the selectivity of the information we provide, and its relevance to introducing folks to informed hiking on the trail, exploring off the trail, mountain travel and Leave-no-Trace light-weight bivy and backpacking, technical travel over steep snow, rock and ice, technical glacier travel and a little technical rock climbing on the way to the summit. Whatever your capabilities and interests, there is a place for everyone in traditional alpine mountaineering.



WARNING - *DISCLAIMER!*
Mountain climbing has inherent dangers that can, only in part, be mitigated
Read more . . .
Angeles Forest solo hiker dies in June 2012 - what can be learned?
South Sister climber injured, rescued with helicopter
Lost hiker rescued near Horse Lake by SAR
Lost Mt. Bachelor skier rescued at Nordic shelter
FCC requirements for providing mobile phone geographic locations
Four lost in forecast storm on Mt. Rainier
Mt. Rainier snowshoe leader falls, rescued after two days
Climber dies in forecast storm on Mt. Rainier
The Episcopal School Tragedy
SPOT Satellite Messenger "PLB" reviewed and recommended
How do you use your map, compass and GPS together, in a nut shell?
Why is the GSM digital cell phone best for backcountry travel and mountaineering?
How do GSM mobile phones assist mountaineering and backcountry rescues?
FREE Clinic on Real Survival Strategies and Staying Found with Map, Compass and GPS together
Two climbers become lost descending Mt. Hood's standard South Side Route
What do you carry in your winter day and summit pack?
Why are "snowcaves" dangerous?
Why are "Space Blankets" dangerous?
Why are "Emergency Kits" dangerous?
How can you avoid Hypothermia?
Final Report to the American Alpine Club on the loss of three climbers on Mount Hood in December 2006
Missing climbers on Mount Hood, one dies of exposure, two believed killed in fall
Missing California family found, dad dies from exposure and hypothermia
Missing man survives two weeks trapped in snow-covered car
Missing snowmobile riders found, Roger Rouse dies from hypothermia
Olympic Champion Rulon Gardner lost on snowmobile
Lost Olympic hockey player looses feet to cold injury
Expert skier lost five days near resort in North Cascades without map, compass, gps or cell phone
Mount Hood - The Episcopal School Tragedy
Mount Hood - experienced climbers rescued from snow cave
How can you learn the skills of snow camping? Prospectus

Lost and Found
Angeles Forest solo hiker dies in June 2012 - what can be learned?
Lost hiker rescued near Horse Lake by SAR
How can I prevent, recognize and treat Hypothermia?
Op-Ed: Prepare for the worst before setting out in the winter
Prineville hunter lost 4 winter days and 3 nights in the Ochoco National Forest
Several hikers lost near Sisters, rescued by SAR
Snowshoer, "lost" near Wanoga snowpark, rescued by SAR
"Be Prepared" to be stranded on winter forest roads in Oregon
Several drivers become stranded on Oregon winter forest roads, led their new GPS' "fastest way" setting
Gear grist, an article written for The Mountaineer, the monthly newsletter of The Mountaineers
Robert Speik writes: "Use your digital cell in the backcountry" for The Mountaineer
Teen girls become lost overnight returning from hike to Moraine Lake
Snowboarder lost overnight near Mount Bachelor, rescued by SAR


Woman leaves car stuck in snow near Klamath Falls, dies from exposure
Man rescued from crevasse just off South Sister climber's trail
Climbing South Sister: A Prospectus and a Labor Day near disaster
Trail runner survives fall on ice with cell phone call
Once again, hypothermia kills stranded Oregon driver
Lessons learned from the latest lost Mt. Hood climbers
Lessons learned from the latest lost Christmas tree hunters New rescue services for all American Alpine Club Members
OpEd: Oregon requires electronic communications in the backcountry
Rescue charges in traditional alpine mountaineering
Governor establishes a Search and Rescue Task Force
Oregon Search and Rescue Statutes
Lost hiker in Oregon backcountry found with heat-sensing device in airplane
HB2509 mandates electronic locator beacons on Mt. Hood - climbers' views
Oregon HB 2509
Three hikers and a dog rescued on Mt. Hood
Motorist stuck in snow on backcountry Road 18, phones 911 for rescue
Snow stranded Utah couple leave car and die from hypothermia
Death on Mt. Hood - What happened to the three North Face climbers?


Two climbers become lost descending Mt. Hood
Missing California family found, dad dies from exposure and hypothermia
Missing man survives two weeks trapped in snow-covered car
Missing snowmobile riders found, Roger Rouse dies from hypothermia
Lost snowmobile riders found, one deceased from hypothermia
Lost climber hikes 6.5 miles from South Sister Trail to Elk Lake
Hiking couple lost three nights in San Jacinto Wilderness find abandoned gear
Expert skier lost five days in North Cascades without Essentials, map and compass
Climber disappears on the steep snow slopes of Mount McLaughlin
Hiker lost five days in freezing weather on Mount Hood
Professor and son elude search and rescue volunteers
Found person becomes lost and eludes rescuers for five days
Teens, lost on South Sister, use cell phone with Search and Rescue
Lost man walks 27 miles to the highway from Elk Lake Oregon
Snowboarder Found After Week in Wilderness
Searchers rescue hiker at Smith Rock, find lost climbers on North Sister
Girl found in Lane County after becoming lost on hiking trip
Search and rescue finds young girls lost from family group
Portland athlete lost on Mt. Hood
Rescues after the recent snows
Novice couple lost in the woods
Search called off for missing climber Corwin Osborn
Broken Top remains confirmed as missing climber
Ollalie Trail - OSU Trip - Lost, No Map, Inadequate Clothing

Your Essential Light Day Pack
What are the new Ten Essential Systems?
What does experience tell us about Light and Fast climbing?
What is the best traditional alpine mountaineering summit pack?
What is Light and Fast alpine climbing?
What do you carry in your day pack? Photos?


What do you carry in your winter day pack? Photos?


What should I know about "space blankets"?
Where can I get a personal and a group first aid kit? Photos?

Carboration and Hydration
Is running the Western States 100 part of "traditional mountaineering"?
What's wrong with GORP? Answers to the quiz!
Why do I need to count carbohydrate calories?
What should I know about having a big freeze-dried dinner?
What about carbo-ration and fluid replacement during traditional alpine climbing? 4 pages in pdf


What should I eat before a day of alpine climbing?

About Alpine Mountaineering:


The Sport of Alpine Mountaineering


Climbing Together


Following the Leader


The Mountaineers' Rope


Basic Responsibilities

Cuatro Responsabiliades Basicas de Quienes Salen al Campo


The Ten Essentials

Los Diez Sistemas Esenciales

Our Leader's Guidelines:


Our Volunteer Leader Guidelines


Sign-in Agreements, Waivers and Prospectus This pdf form will need to be signed by you at the trail head


Sample Prospectus Make sure every leader tells you what the group is going to do; print a copy for your "responsible person"


Participant Information Form This pdf form can be printed and mailed or handed to the Leader if requested or required


Emergency and Incident Report Form Copy and print this form. Carry two copies with your Essentials


Participant and Group First Aid Kit Print this form. Make up your own first aid essentials (kits)


About our World Wide Website:


Information


Mission


Map, Compass and GPS
Map, compass and GPS navigation training Noodle in The Badlands
BLM guidelines for Geocaching on public lands
Geocaching on Federal Forest Lands
OpEd - Geocaching should not be banned in the Badlands
Winter hiking in The Badlands WSA just east of Bend
Searching for the perfect gift
Geocaching: What's the cache?
Geocaching into the Canyon of the Deschutes
Can you catch the geocache?
Z21 covers Geocaching
Tour The Badlands with ONDA
The art of not getting lost
Geocaching: the thrill of the hunt!
GPS in the news
A GPS and other outdoor gadgets make prized gifts
Wanna play? Maps show you the way
Cooking the "navigation noodle"