TRADITIONAL MOUNTAINEERING ™
www.TraditionalMountaineering.org ™ and also www.AlpineMountaineering.org ™

™
FREE BASIC TO ADVANCED ALPINE MOUNTAIN CLIMBING INSTRUCTION™
Home | Information | Photos | Calendar | News | Seminars | Experiences | Questions | Updates | Books | Conditions | Links | Search

Read more:
McMenamins opens new pub, theater and hotel in downtown Bend, OR!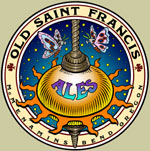 See our photos of this new pub, theater and hotel in downtown Bend

Old St. Francis School's rebirth cause to party
McMenamin brothers marry art, history and whimsy in unique setting

Bend.com
By Barney Lerten
Tuesday, November 16, 2004

November 16 - The packed crowd was only warming up to party hearty at the sneak preview of McMenamins Old St. Francis School when Dorothy McCool – one of the first-year students, way back in 1936 – headed home, quite impressed with what she'd seen.

"Well, I can't recognize it!" she said of her old school, quickly adding: "It's beautiful! I think it's wonderful. It'll get a lot of business downtown."

After several years of planning, history-gathering, art creation and general preparation, the brotherly Portland-based brewpub-hotel kings, Mike and Brian McMenamin, on Tuesday opened their first gathering spot east of the Cascades.

But first, on the eve of that opening, they invited not only reporters, but the Downtowners and, most importantly, the many students, teachers and staff from the original St. Francis School site to come down, take a look around, see old friends, check out the photos lining the guest room (formerly classroom) walls, have some food and a brew or three – and pronounce judgment, or at least just have a good ol' party.

Old-timers and newcomers alike mingled as they ogled at the paintings, peered at the photos and ducked their heads into the colorfully done guest rooms, each named for long-time area residents (like McCool). They gazed at the intricate tile work in the soaking, open-ceiling "Turkish bath," located where the school's stage once sat, and listened to the Freak Mountain Ramblers play in the comfy-chair theater, on the site of the school's old gym.

It was only four years ago that St. Francis of Assisi Catholic Church moved its school to a new site on Northeast 27th Street. But the McMenamins have done to the old place what they've accomplished in numerous sites, large and small, around the Northwest – honor and respect history, but bring it alive with whimsical touches and comfortable settings. The brothers' empire now extends to more than 50 pubs, theaters, hotels and the like, across western Oregon and Washington – and now, to the east, as well.

In Bend, there's a bunk-bed hostel (for men and women) for those seeking economical $30-a-night lodging, 17 guest rooms that go for $94 to $125 a night, and four cottage-style rental houses —the Parish House, the Nunnery, the Art House and the Friary – that can sleep up to 10 people and cost $150 to $300 a night (including soaking pool and movie theater admission). And of course, there's a pub and brewery (as well as a bakery), small bars tucked here and there, a garden square for weddings – a lot to explore and entertain.

Line cook Derrick Nuesmeyer was wandering among the crowd on the lodging wing, noting how each bed's headboard has been uniquely painted. Asked his recommendation on the food side, he recommended the Assagio chicken sandwich.

Asked his one-word review of the place, historian (and St. Francis student) Jim Crowell said: "Lovely."

Some historic-preservation purists have pooh-poohed what the McMenamins do, since it doesn't exactly hew to the idea of keeping things looking as they did back in the old days. But don't count among them Derek Stevens, a Bend builder and vice chairman of the Deschutes County Historical Landmarks Commission. (It should be noted that the old school is not on the city's list of historic sites.)

"It's not static," Stevens, beer in hand, said of the place. "Adapt and reuse. This is a prime example." Besides, he said, "We don't do interiors," but instead focus on faithful (or in keeping with the era) exterior renovations. The historic "context still exists," Stevens said, and in fact is celebrated.

And there were smiles on the faces of employees like Cynthia Gonzalez, working at the front desk and explaining how they will serve as a concierge, to meet the varied needs of guests.

Mike McMenamin – whose full white beard has been likened to Santa's many a time – stood at the back of the theater, chatting with all who came by with compliments or just to meet the man. Standing at his side was Donna Lutzky, who became the school's first art teacher in 1991, and who has a room named for her in the Art House (of course).

Obviously, McMenamin doesn't believe history, by and large, is something to put behind a big glass window and stare at reverently – the "look but don't touch" school of preservation-as-time warp.

"It has to be living, or it's north worth anything – it's static," McMenamin said, unknowingly echoing Stevens' comment.

Someone else pointed out that, unlike many of their other lodging spots, like the Grand Lodge in Forest Grove, these guest rooms have phones – and even TVs. "The McMenamin brothers have been dragged, kicking and screaming, into the '70s," is how somebody put it – and McMenamin laughed a bit to hear the remark. "I'm not that wild about it," he said of the modern-day intrusions.

So overall how did the place turn out, in McMenamin's view? He's pleased, of course, but added, "It's always different than you think it's going to be." And he also said it cost "quite a bit more" than they had expected, "but once you're into it," there's no backing out.

Already, several McMenamin family members have stayed at the place, checking out the 100-degree soaking bath water and giving it their own seal of approval.

"A fabulous job," smiling city Councilor Bruce Abernethy told McMenamin, shaking his hand and adding that he's already made Thanksgiving reservations for his own folks to stay there.

Asked if parking might become an issue, McMenamin said, "There's not a parking problem in Bend – not like northwest Portland." (Abernethy, no doubt, was thinking of the spendy new downtown parking garage as he heard that remark, from the creator of one of downtown's newest draws.)

Among those getting and giving hugs and checking out each photo for familiar faces was Fr. Brian McKenna, the Irish-born priest who came to Bend 38 years ago and is still active at St. Francis. He marveled at how the McMenamins historians and artisans had incorporated the history of the Franciscan priests in, for example, the Turkish bath's artworks.

In fact, it's not just about old photos and cool paintings; there's a five-page walking-tour guide to the old school, a list of the guest room names and backgrounds, and more detailed information sheets about the honorees of each room, adding welcome insight into the people they are named for.

"The old and the new," McKenna said. "Art and tradition, bringing history into modern (times). To show how things can change and still be the same."

That's music to the ears of folks like Tim Hills, the chief historian for McMenamins, who has been with the firm for a decade now.

"I didn't know much at all about Bend" when the project began, Hills said. Soon, he was immersed in the colorful history and personalities of the little downtown school, and how it reached into every corner of the timber town that only turns 100 in January but already has a rich history to celebrate.

To be fair and accurate, "you want to represent all the different eras" in a project like this, Hills said, but he couldn't help noticing how colorful the classes and staff of the late '50s and '60s were. "Maybe it's because they are still around to share the stories, tell the tales," he said.

Catholic schools have been lampooned for decades for their stern nuns and knuckle-rapping rulers. But apparently, the reality of corporal punishment at St. Francis was pretty rare. "One kid a year got spanked by the 'Board of Education' in the principal's office," Hills said. "But all the kids heard that classmate's screams – and that's it, no more problems for another year."

And while some in the crowd might privately claim the brothers' burgers and brew are only so-so, even the inevitable contrary critics can't help but say they'll be back, like slipping on a favorite, comfy old pair of shoes.

Near the theater, colorful posters note a slate of upcoming events – a "Breakfast with Santa" on Dec. 18, a "Winter Scotch Tasting" on Jan. 27 – and you know the down times will be few and far between at the McMenamin brothers' first cross-Cascades incursion.

These brothers indeed know how to party.


Read more . . .
McMenamins
The Blacksmith Restaurant

TRADITIONAL MOUNTAINEERING R&R
Photos of The Blacksmith Restaurant
XC Oregon Active Winter Expo and gear swap at COCC
Traditional slacklining in Bend
Rafting the Deschutes with Sun Country Tours


Hiking the Deschutes River trail to Big Eddy rapids
Para-gliding off the summit of Mt. Bachelor near Bend in Central Oregon
Winterfest in Bend, Oregon
Bend's Tower Theater restored to 1940s elegance
A snowshoe adventure with Bend Parks and Recreation
Bend's Wednesday market near the Deschutes River in Drake Park
Central Oregon's High Desert Museum in Bend


Bend Log Jam celebrates the opening of the Deschutes southern crossing bridge


Bend's southern crossing bridge
The Beach Boys concert in Bend Oregon, Summer 2003


Cascade Music Festival in Drake Park, Bend Oregon


A sea kayak adventure on Puget Sound
Outdoor Retailer's 2002 Summer Market in Salt Lake City
Andrew Mallory offers scenic flights from the Sunriver Resort airport
Sunriver adventures with Andrew Mallory
Misty River Band plays a free concert next to the Deschutes River


Riverfest boat-demo in Bend Oregon
Earth Day in Bend, Oregon


Customer appreciation night at a local store
Nordic Club's fall ski swap
Sustainable living expo in Bend
Fall festival in Bend


Joan Baez concert at the Athletic Club of Bend
Sunriver Resort exotic car rally
Munch-n-Music R & R in Bend
Flashback rally in downtown Bend

ATHLETIC EVENTS IN BEND
Just Around the Bend Marathon
Pacific Crest sports festival in Sunriver: Triathlon and Duathlon News of this event!
X-Adventure Raid Adventure Race North America Qualifier in Bend!

Six pages! News of this event!
X-Adventure Raid North American qualifier in Bend - racers' route map

Broadband only!
Pole Pedal Paddle course transition photos for 2004

Results by age group 2004


Snowshoe Shuffle comes to Bend, Oregon
Atta Boy 300 dog sled race start and finish from Mt. Bachelor
Pilot Butte - hike and run to the summit
Bend Adventure Racing Klub - The Wild Juniper Berry Race


CORK, Central Oregon Running Klub plays in The Badlands
ABS Contest night at InClimb Gym
Pole, Pedal, Paddle 2002
Cascade Cycling Classic 2002