TRADITIONAL MOUNTAINEERING ™
www.TraditionalMountaineering.org ™ and also www.AlpineMountaineering.org ™

™
FREE BASIC TO ADVANCED ALPINE MOUNTAIN CLIMBING INSTRUCTION™
Home | Information | Photos | Calendar | News | Seminars | Experiences | Questions | Updates | Books | Conditions | Links | Search

Read more:
Bend's Blacksmith Restaurant named best in Northwest by Conde Nast!
One of only in sixteen in the United States!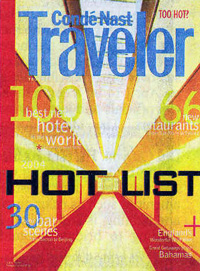 Blacksmith Restaurant makes Conde Nast List

The Bulletin
By Cathy Carroll and Kevin Max
Published April 30, 2004
The Blacksmith Restaurant on Greenwood Avenue earned worldwide acclaim this month when it was named to Conde Nast Traveler's annual Hot List of the best new restaurants.

The tiny restaurant in a former blacksmith shop built in 1923 was rated as one of the world's 66 top new restaurants, of which 18, are in the U.S. The year-old restaurant, co-owned by executive chef Gavin McMichael, joins the ranks of Cafe Boulud by the renowned chef Daniel Boulud and Per Se in New York City, whose chef is known for one of the country's top restaurants, French Laundry.

"This definitely puts us on the map and puts a spotlight on Bend," McMichael, said. "It also put us in some very good company.

Conde Nast Traveler has a circulation of more than 750,000. The Blacksmith is the only restaurant from the Pacific Northwest to make the list, according to Tabatha Simmonds, president of Bend - Based Define Public Relations which represents The Blacksmth.

McMichael has trained under some of the worlds top gourmet chefs in the south of France and America's Southwest. He was the executive sous chef for Stephan Pyles, who specializes in Southwestern cuisine, and Mark Kiffen, the corporate executive chef of Star Canyon in Dallas.

McMichael said his years as a chef on yachts for "the rich and shameless" pushed his culinary creativity.

Buying exotic food and spices in different island ports forced him to learn on the fly. "Being the chef on a yacht makes a guy somewhat creative in a way you wouldn't be if you were working in a regular kitchen," he said.

The Blacksmith menu offers comfort food dressed in spices and the haute couture of creative presentations. "Its signature dishes include "Not Your Mother's Meatloaf" with house-made ketchup, and a cider-brined pork rib chop with two-year-old smoked cheddar macaroni and cheese, slow braised greens and apple chutney.

McMichael said he was completely surprised by Conde Nast Traveler's attention. He didn't learn of the honor a magazine fact-checker called from Conde Nast Traveler to verify a few details.

'Like many publications of its kind, the food critic operates in anonymity and restaurateurs seldom know when they are being rated.

Conde Nast Traveler's designation has caused local and national ripples, McMichael said. Saturday night was already booked solid; by Thursday and national food publications Zagat and StarChefs.com will be visiting in the future, he said.

McMichael moved here on the advice of his brother and after doing his own research. "When I came out here, it validated the research I had done," he said. "Bend will eventually be on par with Aspen and Vail with the amount of money that's coming in here."

He added that Blacksmith is hoping to expand its existing restaurant on Greenwood soon.
--Cathy Carroll and Kevin Max


You really should subscribe to this local newspaper!
Four of us had dinner at The Blacksmith Restaurant on a recent Friday in May.
We had a great dinner and a fine evening. While we "dressed up" for the occasion, folks came in regular spiffy Bend attire. We were seated by our host; the servers were very skilled as befits a world class restaurant. Here are some photos of our group only. (We shared the desert!) --Bob Speik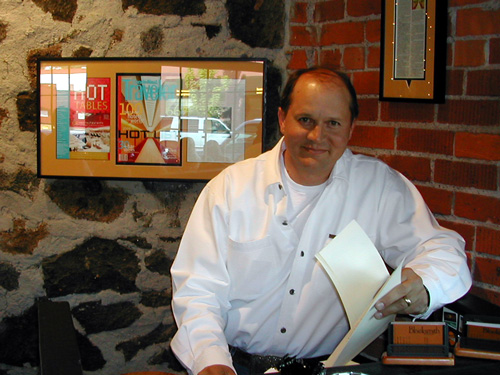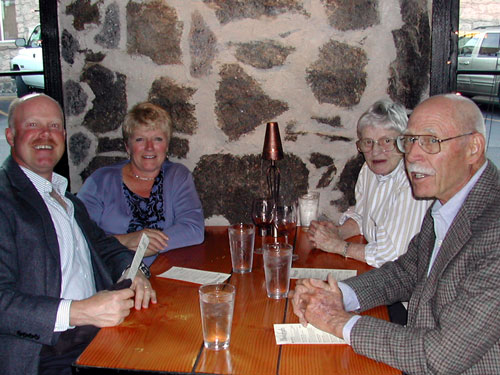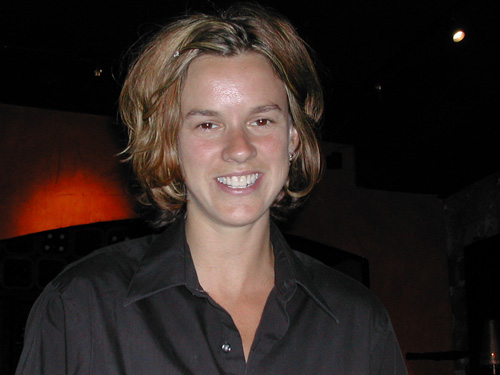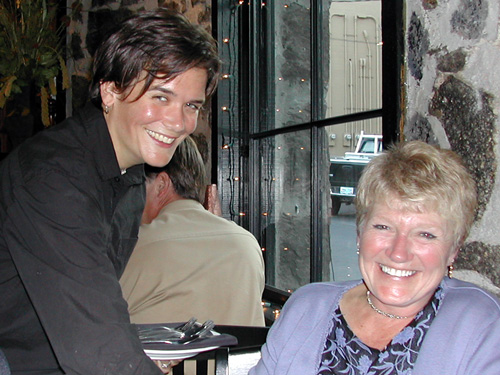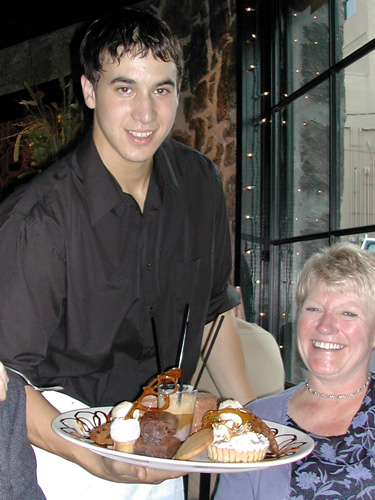 Copyright© 2004 by Robert Speik. All Rights Reserved.

Read more . . .
McMenamins
The Blacksmith Restaurant

TRADITIONAL MOUNTAINEERING R&R
Photos of McMenamins pub, theater and hotel in downtown Bend
XC Oregon Active Winter Expo and gear swap at COCC
Traditional slacklining in Bend
Rafting the Deschutes with Sun Country Tours


Hiking the Deschutes River trail to Big Eddy rapids
Para-gliding off the summit of Mt. Bachelor near Bend in Central Oregon
Winterfest in Bend, Oregon
Bend's Tower Theater restored to 1940s elegance
A snowshoe adventure with Bend Parks and Recreation
Bend's Wednesday market near the Deschutes River in Drake Park
Central Oregon's High Desert Museum in Bend


Bend Log Jam celebrates the opening of the Deschutes southern crossing bridge


Bend's southern crossing bridge
The Beach Boys concert in Bend Oregon, Summer 2003


Cascade Music Festival in Drake Park, Bend Oregon


A sea kayak adventure on Puget Sound
Outdoor Retailer's 2002 Summer Market in Salt Lake City
Andrew Mallory offers scenic flights from the Sunriver Resort airport
Sunriver adventures with Andrew Mallory
Misty River Band plays a free concert next to the Deschutes River


Riverfest boat-demo in Bend Oregon
Earth Day in Bend, Oregon


Customer appreciation night at a local store
Nordic Club's fall ski swap
Sustainable living expo in Bend
Fall festival in Bend


Joan Baez concert at the Athletic Club of Bend
Sunriver Resort exotic car rally
Munch-n-Music R & R in Bend
Flashback rally in downtown Bend

ATHLETIC EVENTS IN BEND
Just Around the Bend Marathon
Pacific Crest sports festival in Sunriver: Triathlon and Duathlon News of this event!
X-Adventure Raid Adventure Race North America Qualifier in Bend!

Six pages! News of this event!
X-Adventure Raid North American qualifier in Bend - racers' route map

Broadband only!
Pole Pedal Paddle course transition photos for 2004

Results by age group 2004


Snowshoe Shuffle comes to Bend, Oregon
Atta Boy 300 dog sled race start and finish from Mt. Bachelor
Pilot Butte - hike and run to the summit
Bend Adventure Racing Klub - The Wild Juniper Berry Race


CORK, Central Oregon Running Klub plays in The Badlands
ABS Contest night at InClimb Gym
Pole, Pedal, Paddle 2002
Cascade Cycling Classic 2002