TRADITIONAL MOUNTAINEERING ™
www.TraditionalMountaineering.org ™ and also www.AlpineMountaineering.org ™

™
FREE BASIC TO ADVANCED ALPINE MOUNTAIN CLIMBING INSTRUCTION™
Home | Information | Photos | Calendar | News | Seminars | Experiences | Questions | Updates | Books | Conditions | Links | Search

Read more:
A Handy GPS Unit Can Help You Find Geocaches and Your Way Home
A Handy GPS Unit Can Help You Find Geocaches and Your Way Home
By Jim Witty
The Bulletin
February 13, 2008

A couple things about Map Guy.
His innate sense of direction is slightly bent. Over the years, we've been turned around, misplaced, bewildered, unaccounted for, disoriented, baffled and adrift (but never lost) in a forest of coniferous sameness more times than I care to remember. I know, I know, I was there too. But my name doesn't imply any built-in expertise.

Good thing Map Guy knows how to use his GPS unit, which makes him a whole lot smarter than he looks.

For those of you who have resisted the gradual creep of technology, GPS is an acronym for Global Positioning System, which consists of a hand-held receiver that tracks a constellation of satellites. The major benefit for people who spend time in the outdoors is that they can find their way back to where they need to be. The car and the trailhead at the end of the day comes instantly to mind. God willing and if the batteries don't die.

It's a big deal for those of us who lose our bearings in the Costco parking lot.

As long as you have a clear shot at the heavens, the GPS is about as reliable as the operator. Again, there's the fresh battery thing, and it is an electronic device, so it's not 100 percent. More like 99.9. And it's accurate within a few yards.

I've been using my GPS a lot lately. It's a simple Garmin e-Trex model (about $100), with a minimum of bells and whistles. I can enter map coordinates and find my way to a pre designated site, and, more importantly, if I mark the car in the parking lot, I can navigate my way back. My GPS tells me my altitude at any given time and the distance I have yet to go to a particular point. I can't order a pizza or use it to calculate my taxes, but I'm OK with that.

A GPS can be a nice item to have in your pack if you ever find yourself traipsing cross-country.

A case in point: My son and I went bombing around the Badlands Wilderness Study Area the other day and after an hour or so, I asked him which direction he thought the car might be. He pointed, then I pointed and I pulled out the GPS. Wrong on both counts.

We resisted our initial reaction to follow our gut "feeling," putting our trust in modern technology. I'm glad we did, because we would have ended up walking the wrong way for many miles.

Of course, a map of the area teamed with a compass are essential tools. It's valuable to know both methods. Suunto compasses come with a well wrought brochure. There are books on the subject, and my friend Bob Speik also teaches compass and map skills locally. Contact: www.traditionalmountaineering.org.

If you have a new GPS and want to get some practice, there's no better way than to go geocaching.

I joined Mr. and Mrs. Map Guy on Friday for a geocaching jaunt to the High Desert east of Bend.

Geocaching is a game that involves obtaining the GPS coordinates of a cache (usually an ammo can) from the official geocaching Web site (www.geocaching.com) and then setting out to find it. The can inevitably contains an assortment of inexpensive baubles; geocachers typically sign the accompanying register and' take something while leaving something else behind.

I got some paper money from who knows where Friday and left a sack of split shot fishing weights. We had post holed our way about a half-mile through 5 or 6 inches of snow from a gravel road to the Map Guy Cache. It had been a couple of years since we'd been out to this remote outcrop, but the cache was still in great shape. Map Guy and I planted the cache in March 2003 inside a Bulletin newspaper box. Apparently, my cartographically gifted sidekick felt some responsibility for the hidden trove, so he replaced the open-ended box with a can after that first messy winter.

I must admit, we chose a fine place for the cache all those springs ago. The jumble of rocks affords visitors a lofty view of the countryside thereabouts, which is the kind of thing that makes this game fun. For many, it's a good excuse to get out and enjoy the desert (or mountains or urban jungle) and brush up on their GPS skills.

Map Guy and I just like to know we're not lost anymore.

IF YOU GO
Getting there: The MapGuy cache is at N 43 50.144 W 121 02.335. Other caches in the region, and there are many, can be found at www.geocaching.com


Subscribe to The Bulletin
and read more stories like this!

COMPARISON OF GPS 1:100,000 TO THE STANDARD 1:24,000 USGS QUAD TOPO MAP DETAIL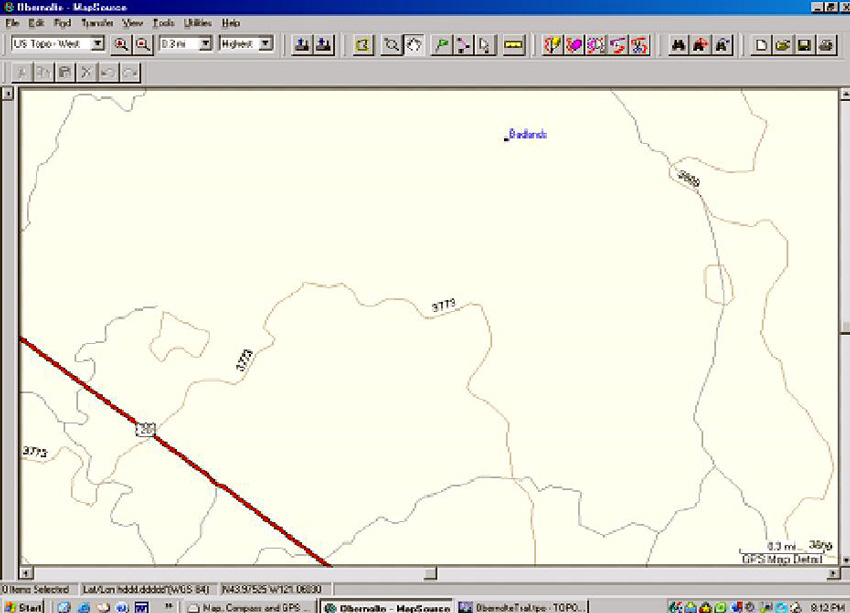 Shown above is a screen print of Garmin's MapSource computer program. These maps are the only maps that can be uploaded to the Garmin GPS models.
The map scale (detail) is "comparable" to the USGS standard for 1:100,000 map scale. The ten western states are contained on one CD.
Note that the program is set to the highest scale (detail).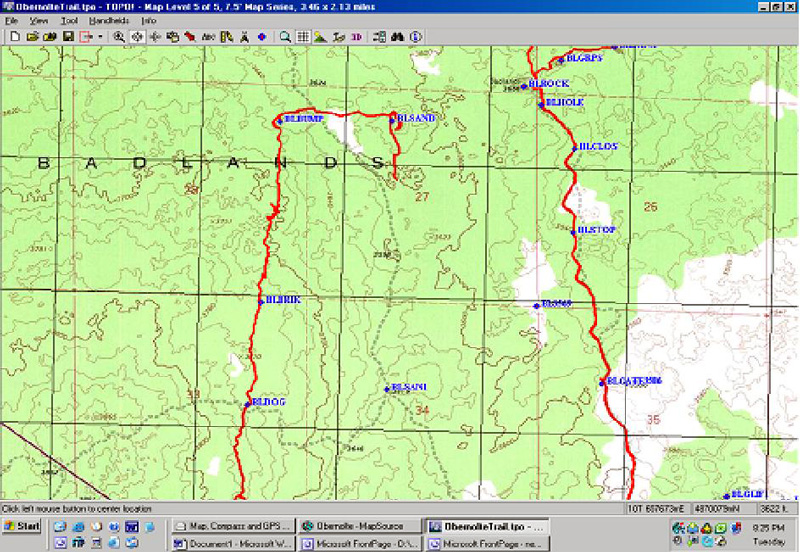 Shown above is a screen print from the $99.00 Maptech Terrain Navigator computer program for the State of Oregon.
This program offers exact copies of the base maps of the United States made by the USGS. These maps are 1:24,000 map scale (detail).
(Eight CDs are needed to contain just the detail of the 1,900 Quad topo maps for the state of Oregon only!) We suggest you purchase the $99.00 Map Tech Terrain Navigator program (shown here) or the $99.00 National Geographic TOPO program for your State and a simple $99.00 Garmin eTrex H and a $25.00 cable, or a $175.00 Garmin Venture HC, if you need a USB cable connection for your computer. The Venture HC has a base road map of the entire United States, however you need to spend another $99.00 for the Garmin Map Source program which offers up-loadable maps to your GPS two inch screen at less than 1:100,000 detail.
That is why you need to carry a paper map of the area you are exploring! USGS Quad topo maps cost about $7.00 at Bend Map and Blueprint in downtown (near Patagonia ;-))
Don't forget the declination adjustable base plate $30.00 Suunto M3 compass and the skills to use these together!




WARNING - *DISCLAIMER!*
Mountain climbing has inherent dangers that can, only in part, be mitigated
Read more . . .
Free Navigation Noodle in The Badlands
Lessons learned from the latest lost Mt. Hood climbers
SPOT Satellite Messenger "PLB" reviewed and recommended
How do GSM mobile phones assist mountaineering and backcountry rescues?
Clinic on Real Survival Strategies and Staying Found with Map, Compass and GPS together
What do you carry in your winter day and summit pack?
Why is the GSM digital cell phone best for backcountry and mountaineering?
What is a PLB or Personal Locator Beacon?
Why are "Snow Caves" dangerous?
Why are "Space Blankets" dangerous?
Why are "Emergency Kits" dangerous?
How can you avoid Hypothermia?
Missing climbers on Mount Hood, one dies of exposure, two believed killed in fall
Missing California family found, dad dies from exposure and hypothermia
Missing man survives two weeks trapped in snow-covered car
Missing snowmobile riders found, Roger Rouse dies from hypothermia
Olympic Champion Rulon Gardner lost on snowmobile!
Lost Olympic hockey player looses feet to cold injury
Expert skier lost five days near resort in North Cascades without map, compass, gps or cell phone
Mount Hood - The Episcopal School Tragedy
Mount Hood - experienced climbers rescued from snow cave
How can you learn the skills of snow camping? Prospectus

Lost and Found
Three climbers missing on Mt. Hood, all perish
Missing California family found, dad dies from exposure and hypothermia
Missing man survives two weeks trapped in snow-covered car
Missing snowmobile riders found, Roger Rouse dies from hypothermia
Longacre Expeditions teen group rescued from the snowdrifts above Todd Lake
Lost climber hikes 6.5 miles from South Sister Trail to Elk Lake
Hiking couple lost three nights in San Jacinto Wilderness find abandoned gear
Expert skier lost five days in North Cascades without Essentials, map and compass
Climber disappears on the steep snow slopes of Mount McLaughlin
Hiker lost five days in freezing weather on Mount Hood
Professor and son elude search and rescue volunteers
Found person becomes lost and eludes rescuers for five days
Teens, lost on South Sister, use cell phone with Search and Rescue
Lost man walks 27 miles to the highway from Elk Lake Oregon
Snowboarder Found After Week in Wilderness
Searchers rescue hiker at Smith Rock, find lost climbers on North Sister
Girl Found In Lane County After Lost On Hiking Trip
Search and rescue finds young girls lost from family group
Portland athlete lost on Mt. Hood
Rescues after the recent snows
Novice couple lost in the woods
Broken Top remains confirmed as missing climber
Ollalie Trail - OSU Trip - Lost, No Map, Inadequate Clothing

Your Essential Light Day Pack
What are the new Ten Essential Systems?
What does experience tell us about Light and Fast climbing?
What is the best traditional alpine mountaineering summit pack?
What is Light and Fast alpine climbing?
What do you carry in your day pack? Photos?


What do you carry in your winter day pack? Photos?


What should I know about "space blankets"?
Where can I get a personal and a group first aid kit? Photos?

Carboration and Hydration
Is running the Western States 100 part of "traditional mountaineering"?
What's wrong with GORP? Answers to the quiz!
Why do I need to count carbohydrate calories?
What should I know about having a big freeze-dried dinner?
What about carbo-ration and fluid replacement during traditional alpine climbing? 4 pages in pdf


What should I eat before a day of alpine climbing?

About Alpine Mountaineering:


The Sport of Alpine Mountaineering


Climbing Together


Following the Leader


The Mountaineers' Rope


Basic Responsibilities

Cuatro Responsabiliades Basicas de Quienes Salen al Campo


The Ten Essentials

Los Diez Sistemas Esenciales

Our Leader's Guidelines:


Our Volunteer Leader Guidelines


Sign-in Agreements, Waivers and Prospectus This pdf form will need to be signed by you at the trail head


Sample Prospectus Make sure every leader tells you what the group is going to do; print a copy for your "responsible person"


Participant Information Form This pdf form can be printed and mailed or handed to the Leader if requested or required


Emergency and Incident Report Form Copy and print this form. Carry two copies with your Essentials


Participant and Group First Aid Kit Print this form. Make up your own first aid essentials (kits)


About our World Wide Website:


Information


Mission


Map, Compass and GPS
Map, compass and GPS navigation training Noodle in The Badlands
BLM guidelines for Geocaching on public lands
Geocaching on Federal Forest Lands
OpEd - Geocaching should not be banned in the Badlands
Winter hiking in The Badlands WSA just east of Bend
Searching for the perfect gift
Geocaching: What's the cache?
Geocaching into the Canyon of the Deschutes
Can you catch the geocache?
Z21 covers Geocaching
Tour The Badlands with ONDA
The art of not getting lost
Geocaching: the thrill of the hunt!
GPS in the news
A GPS and other outdoor gadgets make prized gifts
Wanna play? Maps show you the way
Cooking the "navigation noodle"