TRADITIONAL MOUNTAINEERING ™


www.TraditionalMountaineering.org ™ and also www.AlpineMountaineering.org ™

™
FREE BASIC TO ADVANCED ALPINE MOUNTAIN CLIMBING INSTRUCTION ™
Home | Information | Photos | Calendar | News | Seminars | Experiences | Questions | Updates | Books | Conditions | Links | Search

Soaring with Scott Weber from the Bend, Oregon airport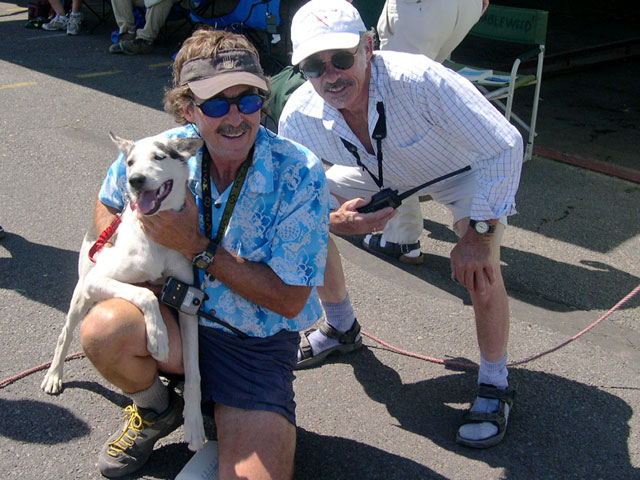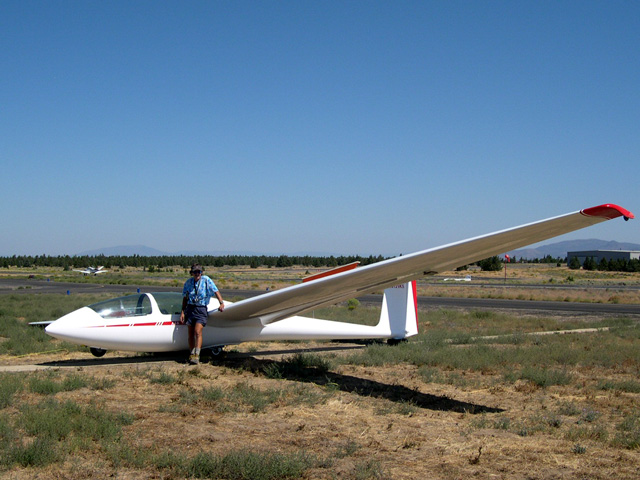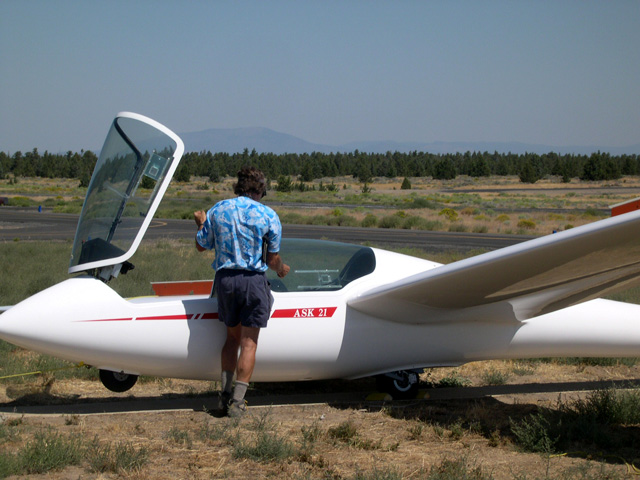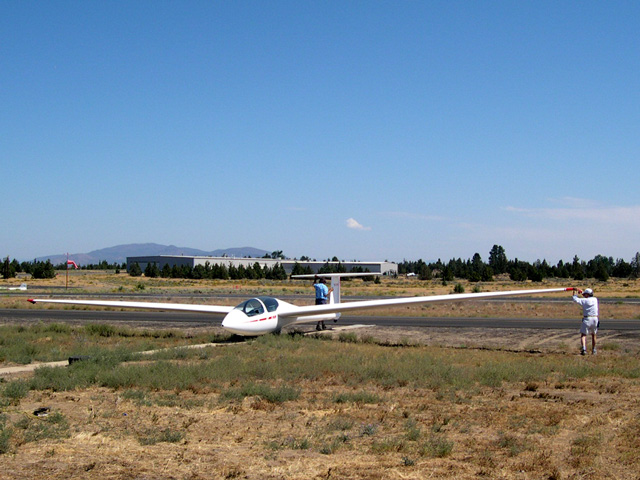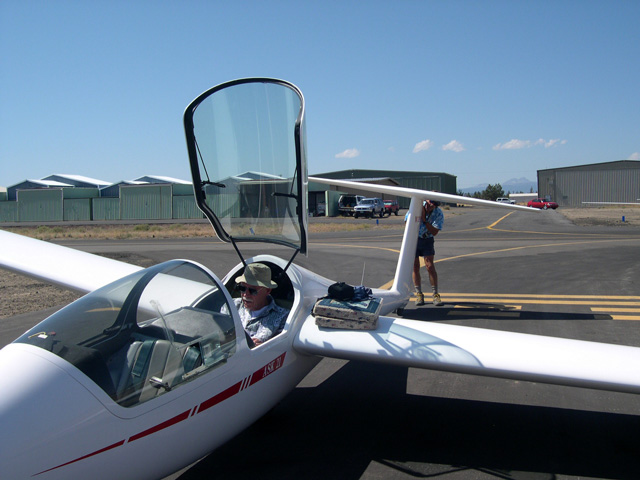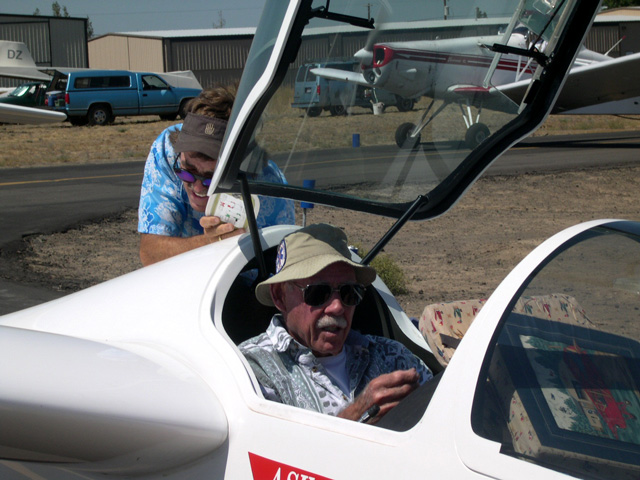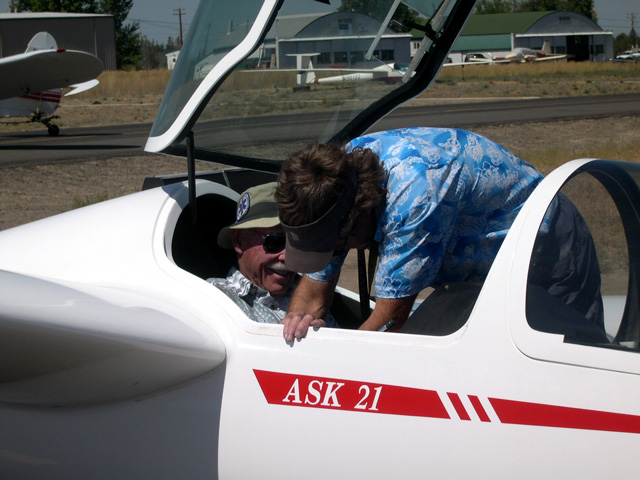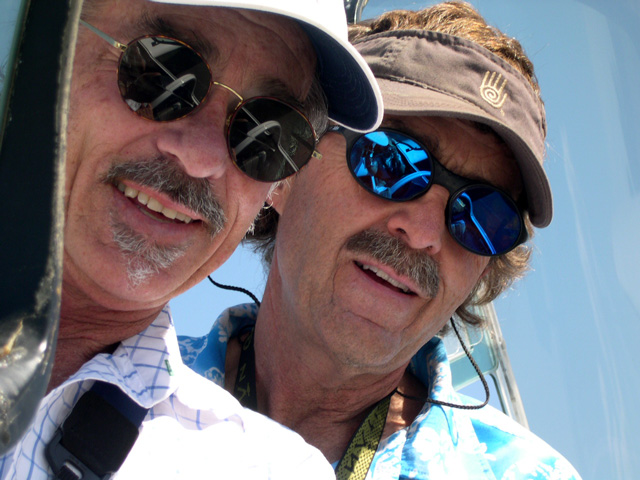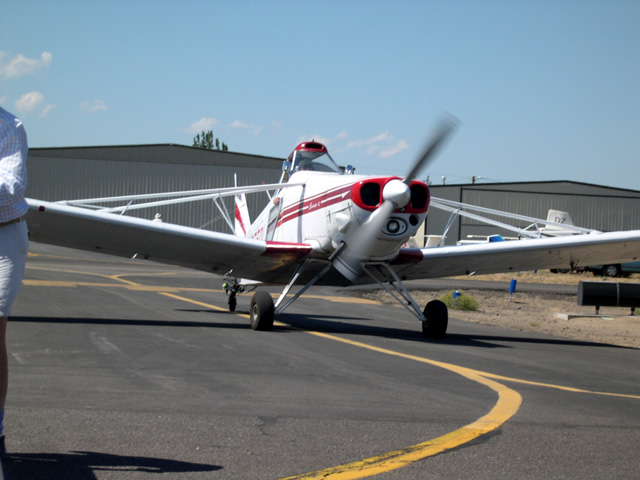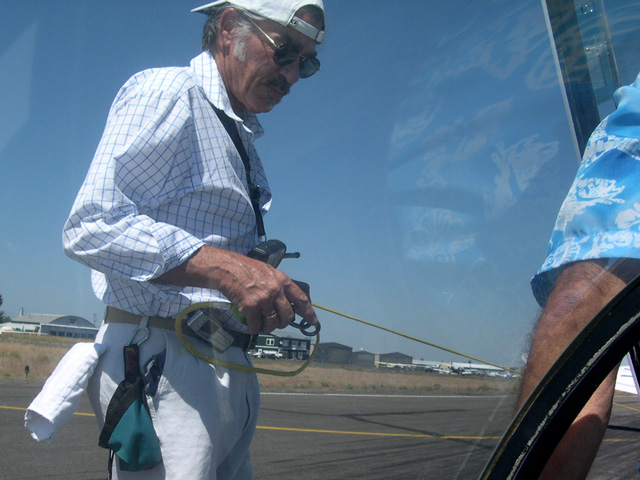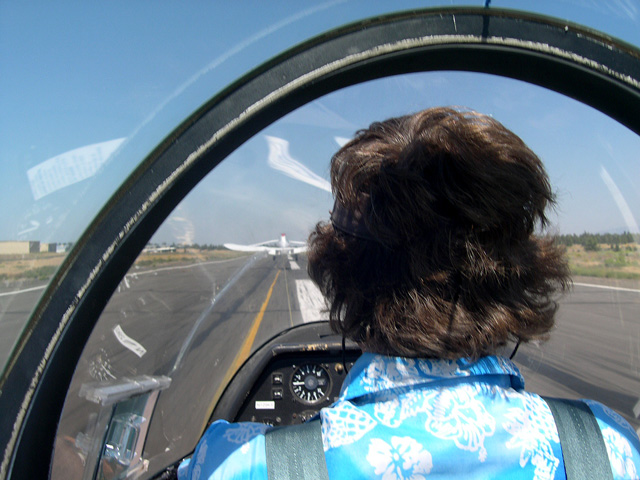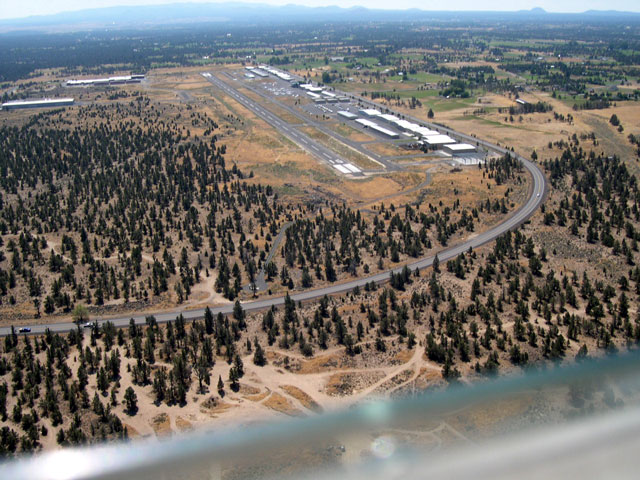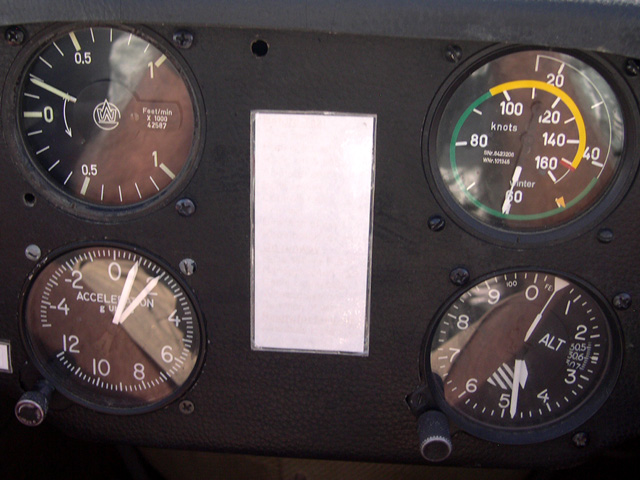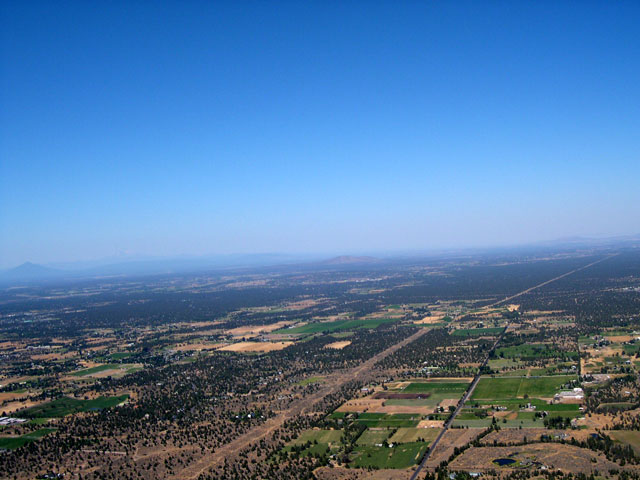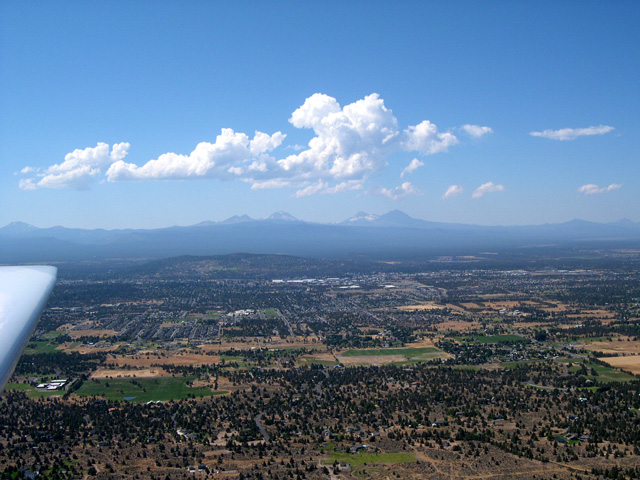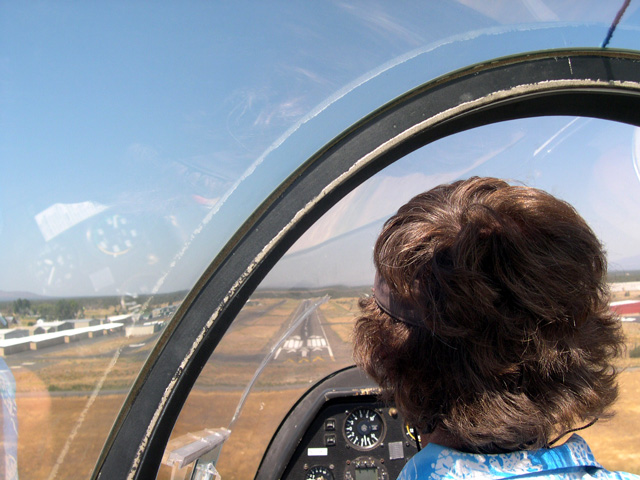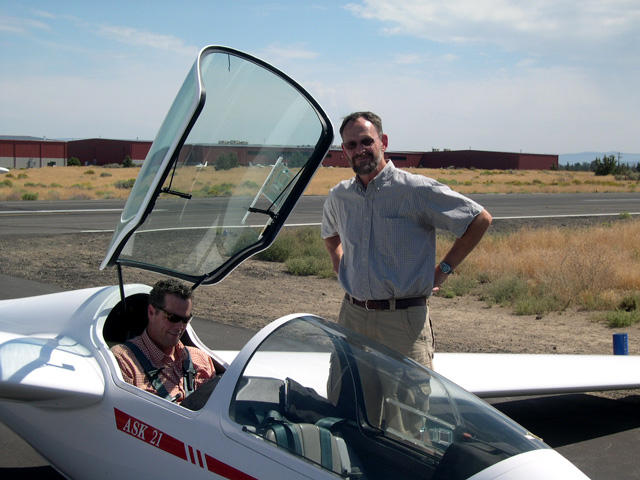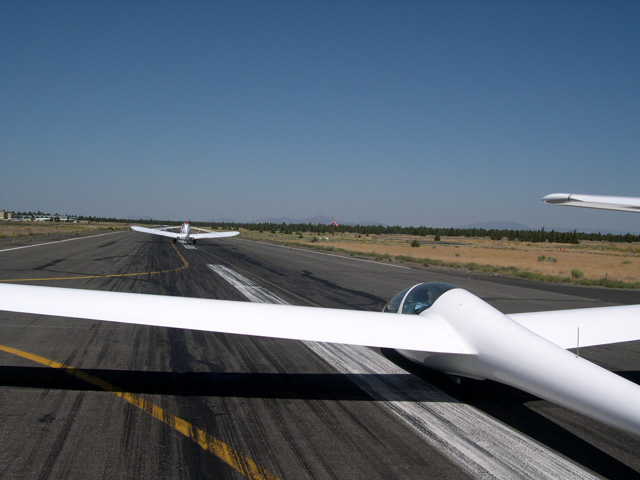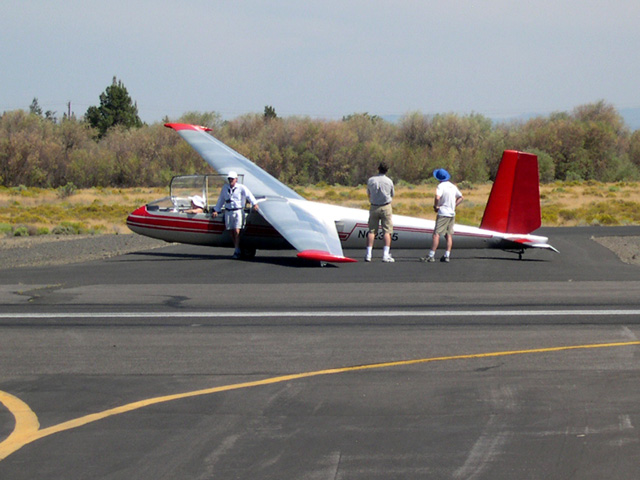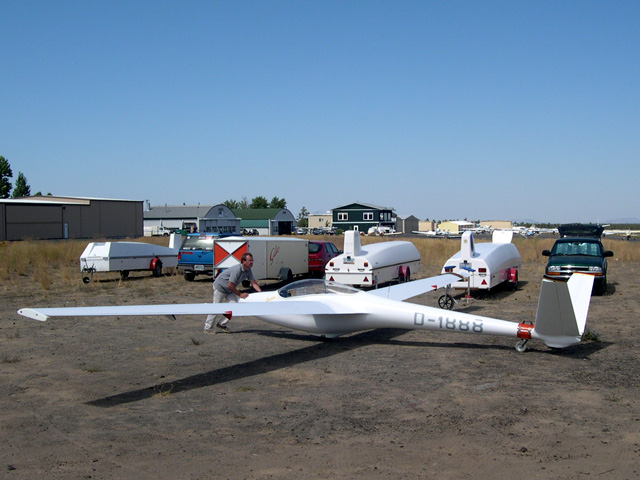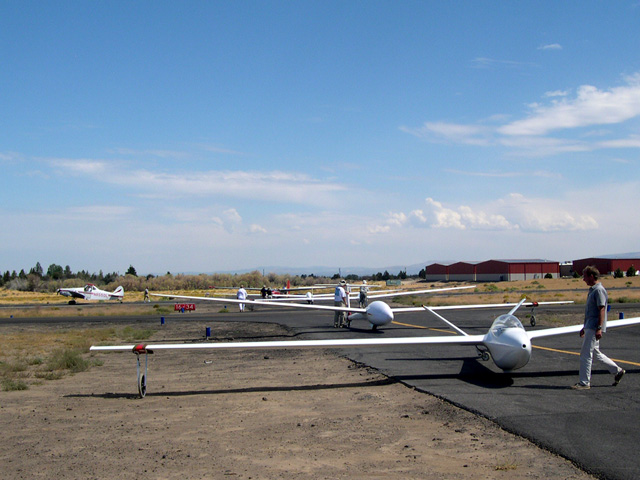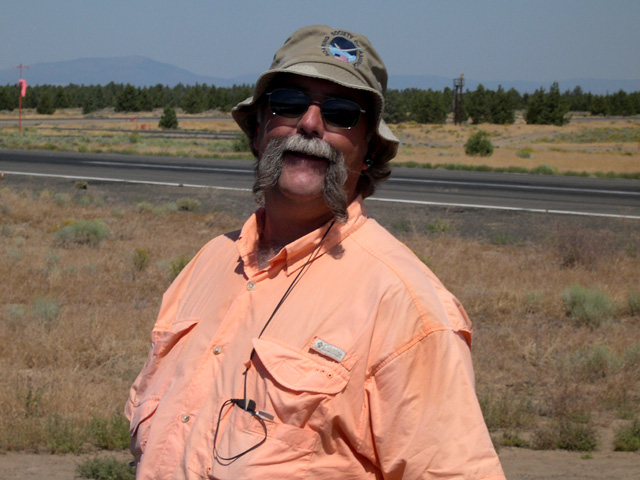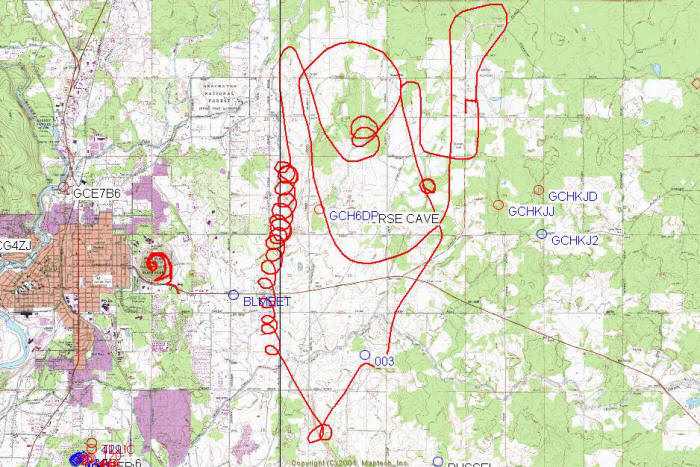 Copyright© 2006 by Robert Speik. All Rights Reserved.
Soaring with Scott Weber
My friend Scott Weber invited me on a different kind of climb to altitude - soaring in a glider from the Bend Airport. I arrived early on a Sunday afternoon and met Scottie (in the top picture with his Alaskan Husky dog Koosah ("sky") and Curtis Colton, the High Desert Soaring Club's Air Traffic Controller for the day. The bottom picture is one of the colorful Club Members, I believe).
I helped Scottie check the functions of all the controls and instruments (we reset the altimeter to zero out at the airport runway, for instance). The ATC helped Scottie roll out the light and fast glider, one of four owned by the Club. (Scottie explained that it only took two experienced folks to roll out the ship and that I could just take photos). Then I was inserted into the passenger seat and buckled in with a five point seat belt (this is getting serious, I thought). Then the canopy was locked closed by my two undertakers (see photo above).
The ATC hooked up the tow plane and Scottie continued to explained just what to expect: we would become airborne before the tow plane and he would tow us up to 3,000 feet above the runway. We maneuvered in a "box" above below and to the left and right of the tow plane. This was very precise and somewhat reassuring. We cut him loose and we were sailing on the wind beneath our wings!
I had been concerned about having to clean all my barf out of the complicated cabin, so I had brought two large Ziploc bags in the pocket of my shorts. To my great concern, I was not able to get into the pocket while sitting in the tight cockpit, but I did not feel sick at all.
I had brought a $95 dollar Garmin Geko to help us find the airport in a storm, but I could not get the GPS out of my pocket, either. Oh well, there was lots to do and see.
I was pointing out features to Scottie: Look there's Pilot Butte! Look there is St. Charles Hospital! Look at that guy's horse ranch! Look at at all the canals, Scottie! (See photos).
Scottie kept referring me to the instrument panel and looking for Thermals.
You can't see them but you can feel them in your butt and the instruments (see photo above) will sniff them out. We wanted to sail over to the gathering thunderheads over Paulina Peak, but this was not a stellar day for Thermals so we headed back to the Bend Airport before we ran out of altitude and had to land in a field or on a country road.
Scottie, who has his private pilot's license with commercial, instrument and seaplane endorsements (as well as his glider rating), flew a precise pattern right onto the runway, coming to a stop at at our precise point of departure. Wow! Thanks Scott Weber!
Scott took off again with a paying passenger. I hung around for a while and watched the Club Members (and their guests from an adjoining state who had trailered over to our high desert - see photos) lined up for rides from the tow plane.
The pictures came out well (I took about eighty - even though I had no film in my Nikon), including those taken by Mr. ATC.
And so did the GPS track! We covered 40 miles and 4,787 feet over the ground during the flight. The little GEKO worked even squeezed in my shorts pocket under the canopy.
--Bob Speik
Copyright© 2006 by Robert Speik. All Rights Reserved.

Read more . . .
Contact Scott Weber by email or talk to him on his cell phone at 541-312-4511

ATHLETIC EVENTS IN BEND
Cascade Cycling Classic
Cascade Twilight Criterium photos
X-Adventure Raid Adventure Race photos of the 2005 qualifier in Bend, Oregon USA
Just Around the Bend Marathon
Pacific Crest sports festival in Sunriver: Triathlon and Duathlon
News of this event!

X-Adventure Raid Adventure Race North America Qualifier in Bend!

Six pages!
News of this event!

X-Adventure Raid North American qualifier in Bend - racers' route map

Broadband only!>

Pole Pedal Paddle course transition photos for 2004

Results by age group 2004

Snowshoe Shuffle comes to Bend, Oregon
Atta Boy 300 dog sled race start and finish from Mt. Bachelor
Pilot Butte - hike and run to the summit
Bend Adventure Racing Klub - The Wild Juniper Berry Race

CORK, Central Oregon Running Klub plays in The Badlands
ABS Contest night at InClimb Gym
Pole, Pedal, Paddle 2002
Cascade Cycling Classic 2002

TRADITIONAL MOUNTAINEERING R&R
Weather Spotting during an Oklahoma spring
Soaring with Scott Weber from the Bend, Oregon airport
Hot air balloons over Bend, Oregon
McMenamins opens new pub, theater and hotel in downtown Bend
Bite of Bend at the Shops at the Old Mill in 2004


XC Oregon Active Winter Expo and gear swap at COCC
Traditional slacklining in Bend
Para-gliding off the summit of Mt. Bachelor near Bend in Central Oregon
Winterfest in Bend, Oregon
Bend's Tower Theater restored to 1940s elegance
Bend's Wednesday market near the Deschutes River in Drake Park
Central Oregon's High Desert Museum in Bend


Bend Log Jam celebrates the opening of the Deschutes southern crossing bridge


Bend's southern crossing bridge
The Beach Boys concert in Bend Oregon, Summer 2003


Cascade Music Festival in Drake Park, Bend Oregon


A sea kayak adventure on Puget Sound
Outdoor Retailer's 2002 Summer Market in Salt Lake City
Andrew Mallory offers scenic flights from the Sunriver Resort airport
Sunriver adventures with Andrew Mallory
Misty River Band plays a free concert next to the Deschutes River


Riverfest boat-demo in Bend Oregon
Earth Day in Bend, Oregon


Customer appreciation night at a local store
Nordic Club's fall ski swap
Sustainable living expo in Bend
Fall festival in Bend


Joan Baez concert at the Athletic Club of Bend
Sunriver Resort exotic car rally
Munch-n-Music R & R in Bend


Flashback rally in downtown Bend
• Alpine Mountaineering: This is the central interest of TraditionalMountaineering. This tradition-based sport includes: on and off trail hiking, scrambling, light weight wilderness backpacking, Leave-No-Trace camping and bivouacking, as well as technical travel and mountaineering on snow, rock and ice, glacier travel, technical rock climbing and summitting peaks.
• Related Activities: Alpine Mountaineering is an aerobic sport. It includes jogging, running, hiking the hills, backpacking, climbing, mountain biking, back country skiing, snowshoeing, telemark skiing and similar sports all acting together to improve aerobic capacity, strength, balance and athleticism.